Transferring Kerio Emails to Thunderbird with Attachments?
In this blog post, we'll show you how to transfer Kerio emails to Thunderbird using a professional method. If you are one of them, then you will benefit from reading this article.
In Mozilla Thunderbird, you can access Kerio Connect emails & contacts by using this Kerio Migration Tool. Since Thunderbird is free and open-source, millions of users use it. With this user guide, you can directly export Kerio emails to Thunderbird.
This guide will teach you how to import Kerio emails to the Thunderbird email client. To do so, use the Kerio to Thunderbird Converter tool, which offers a direct alternative.
If you're seeking a way to export Kerio emails to the Thunderbird client, you've come to the correct spot. This application is one of the best toolkits for converting Kerio to Thunderbird mail clients smoothly.
Is Mozilla Thunderbird Better than Kerio for Users?
Learn why people switch from Kerio emails to Thunderbird for their email. What makes people think that transferring their Kerio mailbox to Thunderbird, which is a tough task, is a good idea? How did they manage to migrate all of their data to Thunderbird without destroying it? Is it possible that they will be able to complete the migration? Find out more
For the past many years, I've been utilizing the Kerio email service to send and receive emails. However, because I cannot pay Kerio Connect, I have opted to utilize Mozilla Thunderbird as my email client. Do you have software to convert Kerio mailboxes to Thunderbird? I don't want to lose my old Kerio info.
Mick from New York
Kerio Connect is used by all workers in my company to manage their emails, contacts, calendars, and other tasks. Kerio has now become a source of frustration for me due to its expensive amount. As a result, I've settled on Mozilla Thunderbird, a desktop-based email client. However, I'm not sure how to transfer Kerio data into Mozilla Thunderbird, which includes emails, contacts, calendars, and other items.
Claire from Chicago
Conversion of Kerio to Thunderbird: Working steps
Let's begin by going over the processes for converting Kerio mail server emails to Thunderbird. Then he went on to explain why you should use this tool for exporting.
1: Select the Open option to begin the application.

2: Next, pick Kerio Files from the Email Servers drop-down list.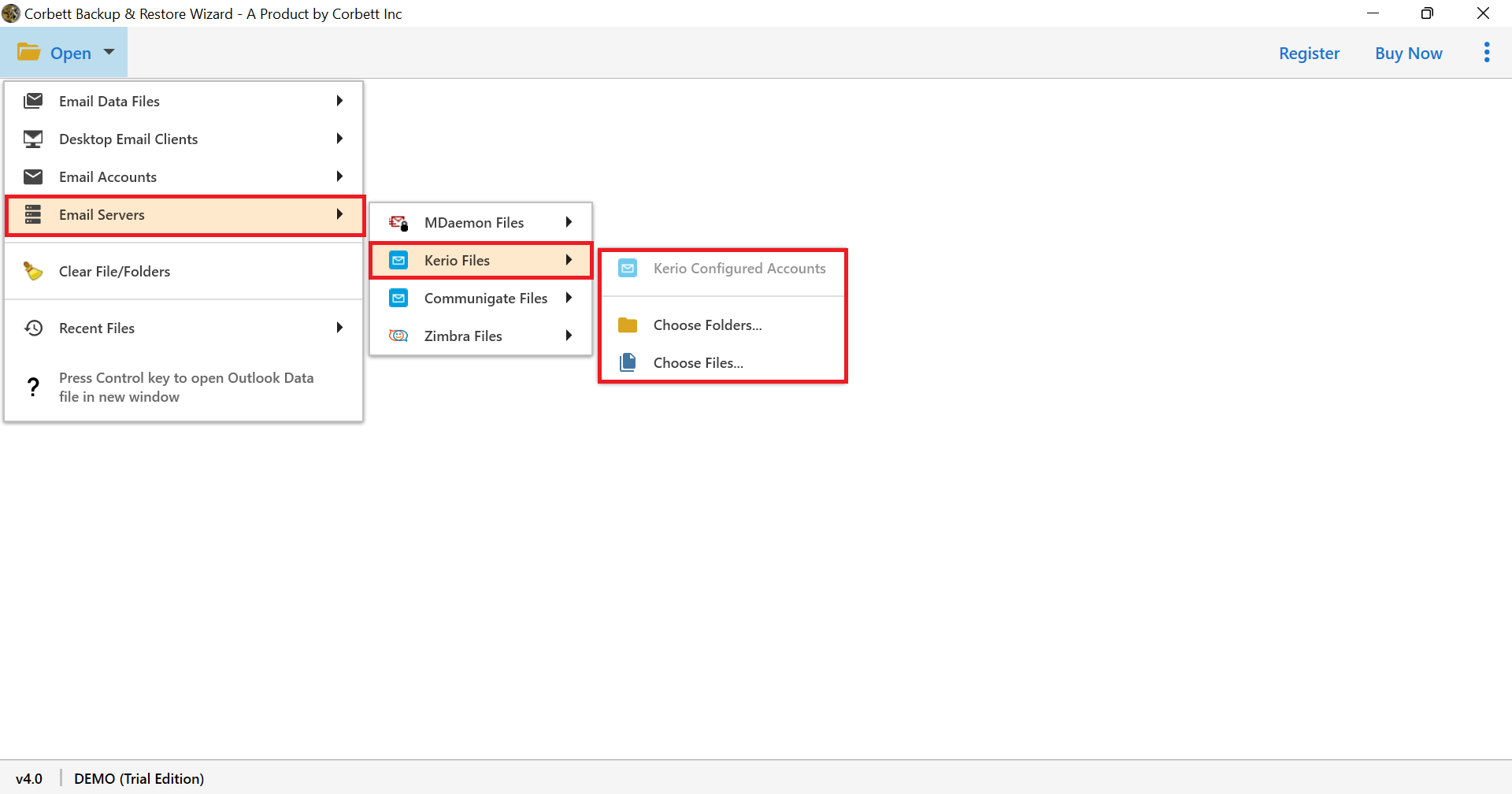 3: The utility gives you the choice of selecting files and folders from the system or configuring your Kerio account.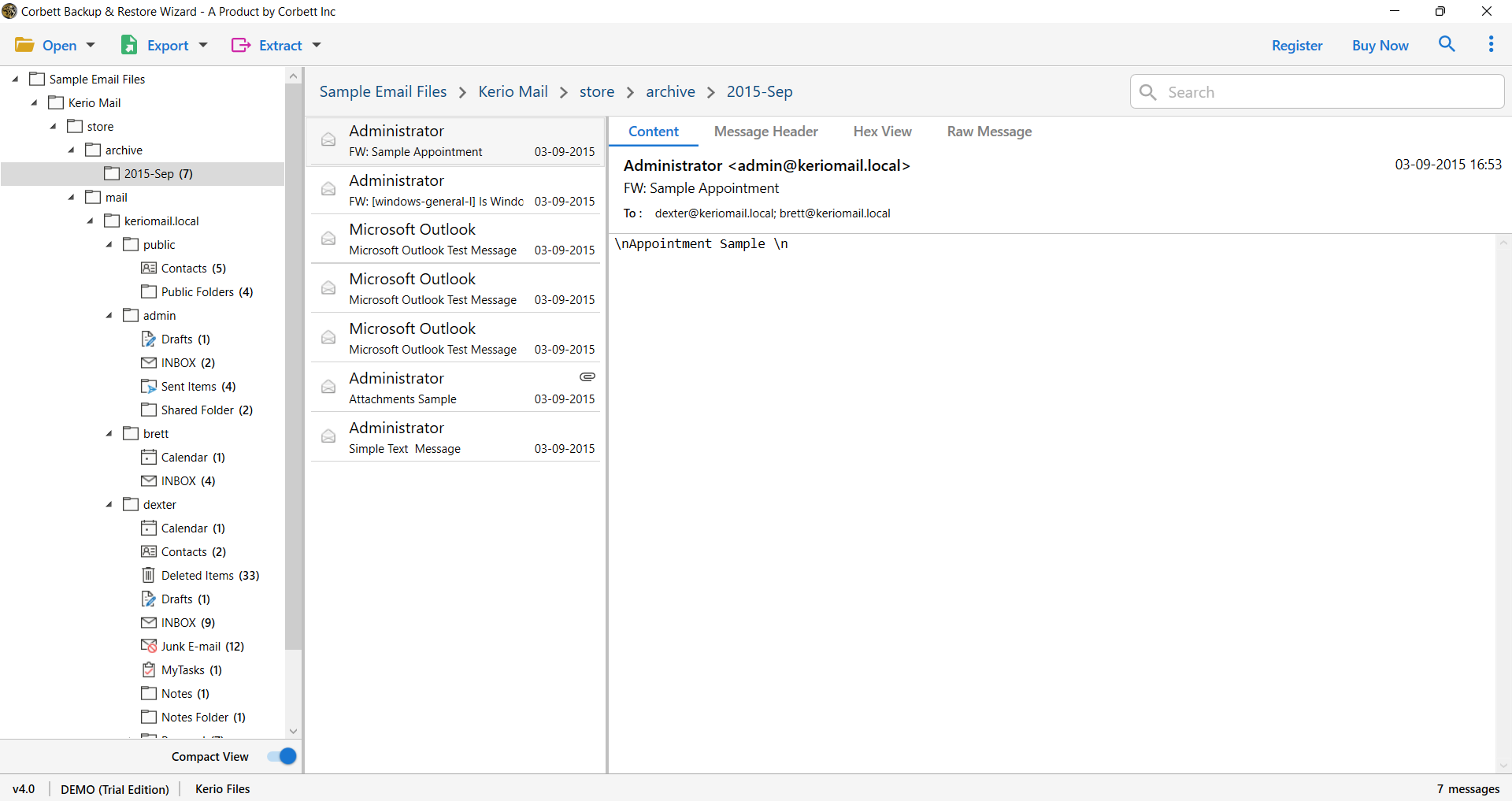 4: Next, pick Thunderbird from the Export menu.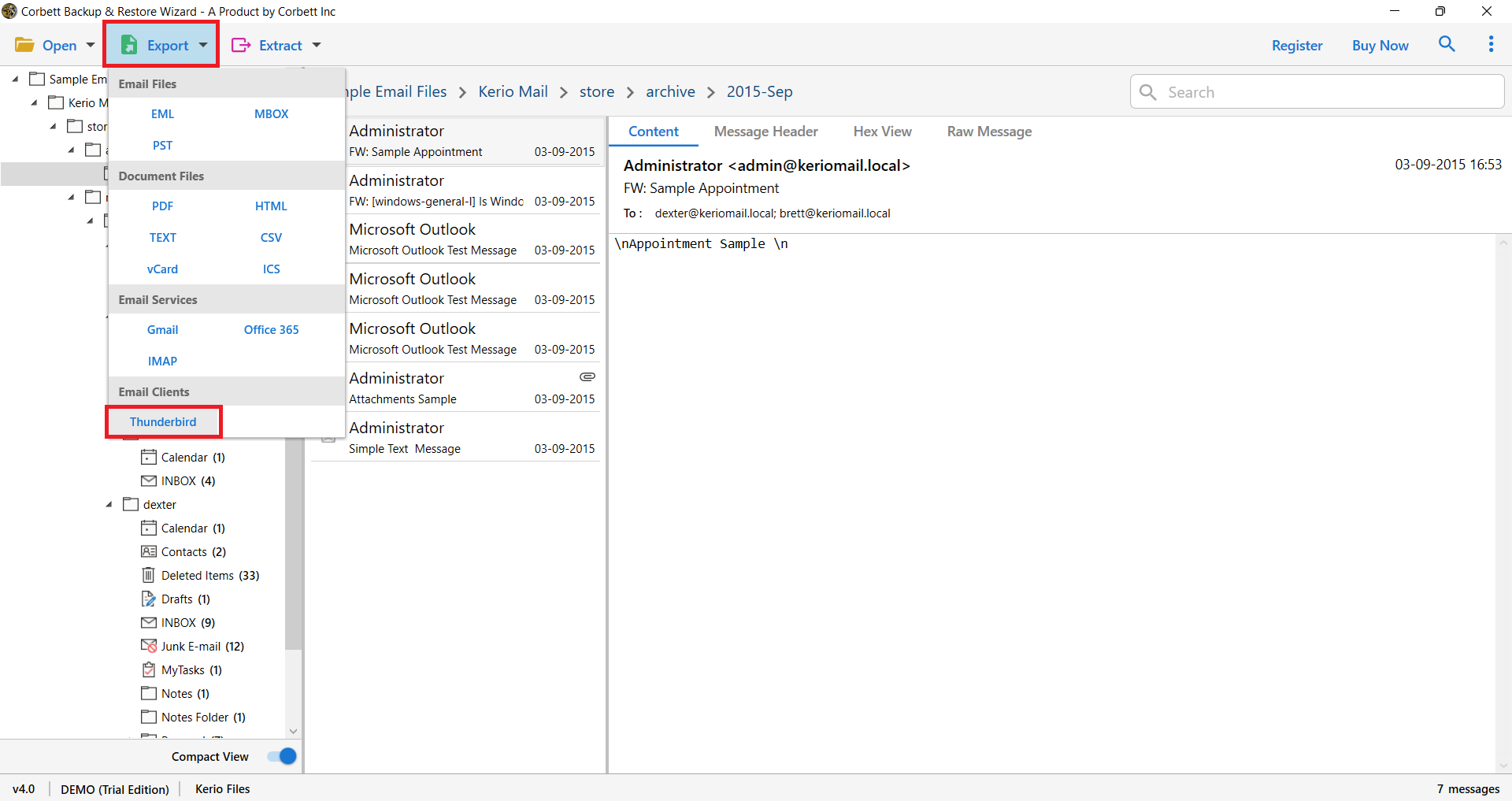 5: Begin the process by selecting the Save option and seeing the export process happen in real-time.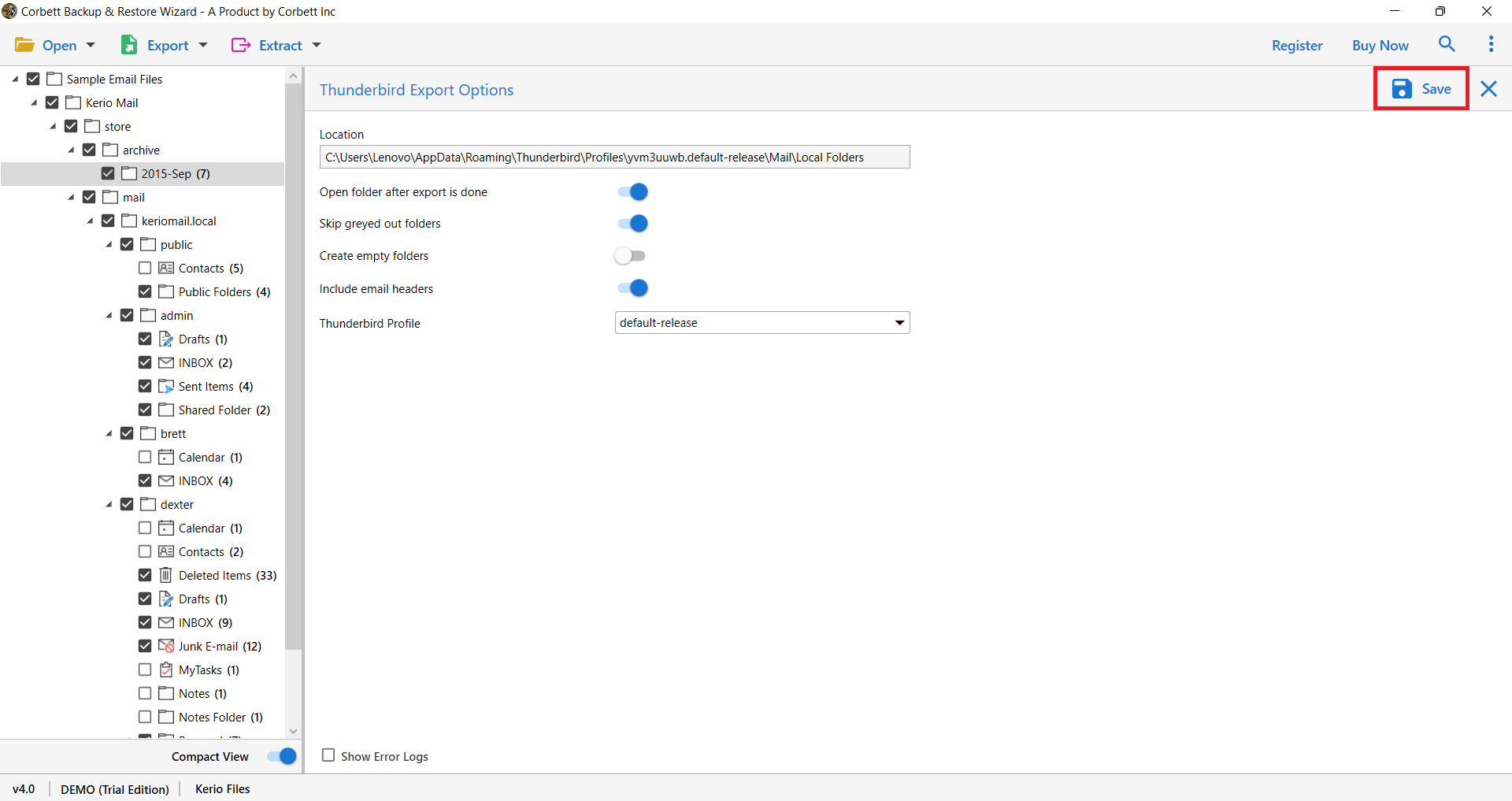 As a result of the above, we can easily assume that migrating Kerio mailboxes to the Thunderbird email client was the best option among users. This application provides a wide range of benefits for users. Kerio mailboxes can be converted in bulk to Thunderbird email accounts.
It is stand-alone software that can function without the need for the Kerio Connect application to be installed. It gives you a straightforward way to do so in a simple and safe manner.
Features and Advantages of the Application
It's a totally automated tool that allows you to transfer Kerio to Thunderbird without having to import or export anything.
The utility allows you to export Kerio emails to Thunderbird, including all attachments.
Email components such as To, Cc, Bcc, From, Subject, Date, Time, Year, and others are maintained by the Kerio to Thunderbird transfer tool.
Select Files or Select Folders are the two methods for loading Kerio mailboxes in the software panel.
From the whole database, users can convert chosen Kerio mailbox folders to Thunderbird.
Kerio contacts may be exported in vCard format, while calendars can be exported in ICS format.
The Finish
Finally, we'd like to express one thing. First and foremost, get the free Kerio to Thunderbird Converter, which is the greatest method to test the software's capabilities. Anyone can test the software's functionality before obtaining license keys by using a free trial edition. This software's freeware edition allows you to migrate up to 10 emails from each Kerio folder to a Thunderbird folder. Users can quickly decide to obtain software license keys after reviewing the product's features.