The Bat Email to Gmail Migration Tool – Export Data File to Gmail and G Suite
If you are using The Bat! email application, you should be familiar with its file formats. It uses the TBB file extension as the database format and allows you to export messages to the UNIX mailbox format (* .mbox). This file extension contains the email data for each folder. Recently we have received multiple inquiries on how to import The Bat to Gmail account.
In the upcoming section of the blog, we will undergo some user queries and provide you with a trustworthy solution, i.e., The Bat Email to Gmail Migration Tool. It allows users to export email data files effortlessly. The Migration process is divided into two phases, and we have listed step-by-step procedures for your convivence. So, without any further delay, let's get into it…
Export Data File from The Bat! | First Move
Note: The Bat! doesn't offer any direct option to save data in Gmail Account. Users have to extract the MBOX file to make this migration possible. So, follow the number of mentioned steps listed below:
1) Run your BAT Mail Application.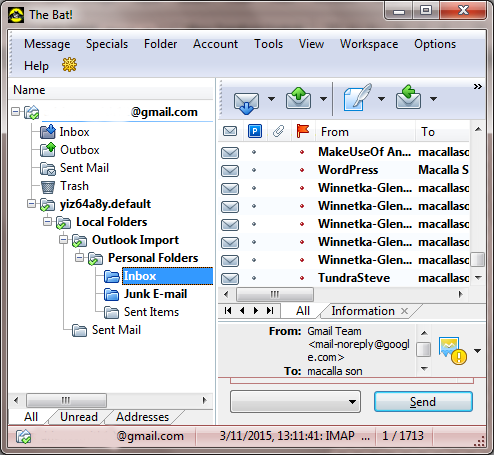 2) Now move to the ribbon bar and click on Tools >> Export Messages >> UNIX Mailbox.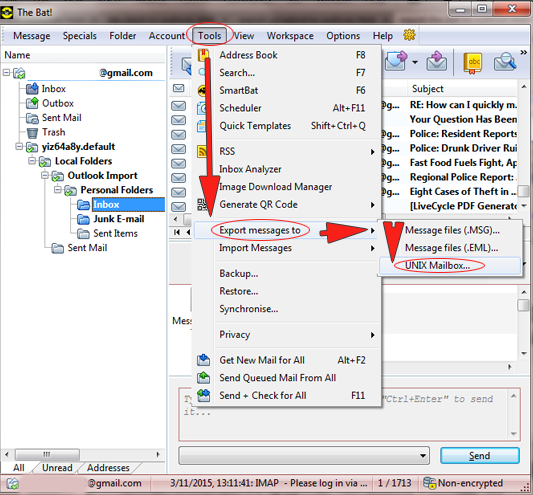 3) From the Next Window select the Destination and Name the file.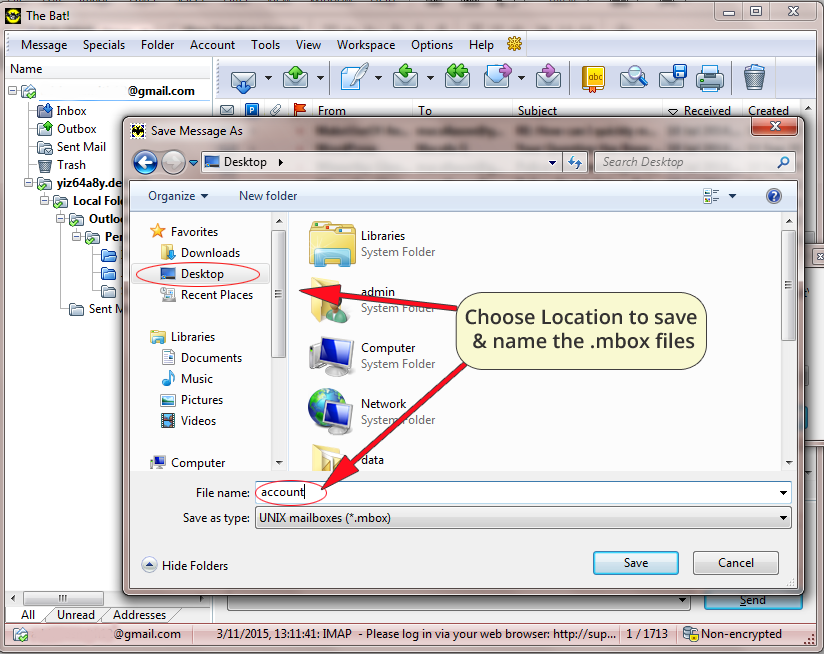 4) Last Step is to Click on the Save button.
By performing these steps the user can collect all mailbox data from The BAT. To perform the rest of the process users can download the software with the mentioned link.
The Bat Email to Gmail Migration Tool – Automated Solution to Migrate Data in G Suite and Google Mail
What's next after migrating the data file? If you want a trustworthy solution to migrate data from BAT email to a Gmail account, the user can make use of Corbett MBOX Converter Tool. This automated approach is built with advanced AI and offers multiple progressive features. We are mentioning some of the features provided by this utility.
The Bat Mail to G Suite Migrator comes with an easy-to-use graphical interface. Therefore, no technical assistance is required to use this application.
You can use this application to transfer data to more than one platform. It offers multiple saving options and web-based applications.
When you launch the tool, it will scan and display all the files. The user can sort the emails and can take a preview of the required email files.
The Bat Email to Gmail Migration Tool includes several data filter options that allow you to migrate a specific set of emails to your Gmail or G Suite account.
The Software maintains on disc file structure, and the user will get the same data formatting in G Suite 0r Gmail account with reading and unread messages.
A separate option is available to export the bat email attachments, contacts, email addresses, and contact photos. A user can operate Bat Mail to G Suite Migrator on all editions of Windows.
Now, what's your opinion about the tool? We have mentioned some of the features. To know more about the tool, download the demo edition that allows you to migrate 10 data files for good. Let's walk through the automated process to import The Bat to a Gmail account.
Migrate Bat Email to G Suite – Automated Tool Working Explained
Follow the number of steps to import The Bat to Gmail Account:
1) Download and Run Bat Email to G Suite Migrator on Windows OS.

2) Move to the Open Tab and click on "Email Data Files >> MBOX Files".

3)  The Software Scans and Displays all the Data Files stored in it.
4) Now navigate to the Export tab and select Gmail.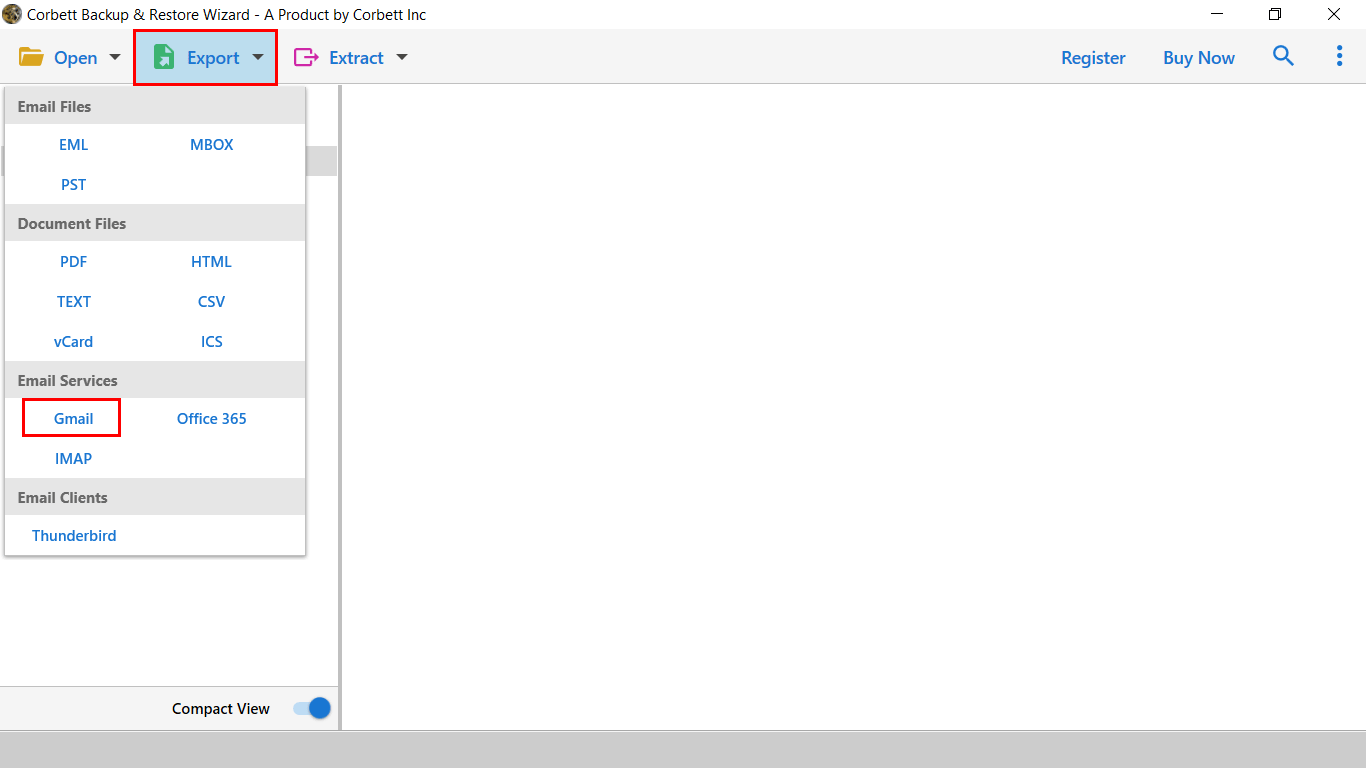 5) The Last step is to click on the Save Button after applying the data filers.
That's it for The Bat to G Suite Migrator. Anyone can easily migrate BAT email to Gmail Account by performing these six steps. You can also read How to Migrate The Bat Emails to Office 365/ Microsoft 365 account perdectly.
Migrate Bat Email to G Suite | User Scenario Discussed
Hi,
I have been using The Bat Email for about three years, primarily for business work. That email application is no longer useful for me. I've been focused on probably moving to Gmail or paying for G-suite. Is there any direct method available to import The Bat to Gmail or G Suite account?
David Kirk
Hi everyone,
After browsing a lot, I could not find a way to Import The Bat to my Gmail account. I am not technically proficient, and I don't plan on becoming that way. I want a reliable solution to migrate my complete data file to my Gmail Account. Please let me know if you have any trustworthy leads.
M Hooper
If you are also facing such errors, then the above-mentioned information will be valuable for you. Now, Users can leave all their worries about how to migrate The Bat Email to a G Suite account. By using the automated solution anyone can easily perform this migration task.
The Bat Email to Gmail Migration Tool| Guide Explained
This article provides a solution for migrating Bat Email to G Suite / Gmail account. We have listed a step-wise procedure to execute this migration process. No manual approach is available to transfer BAT email to a Gmail account. To eliminate the risk of data corruption, users can download the Bat Email to Gmail Migration Tool.