Download Attachments From Outlook Manually for Free
Summary:

If you are continuously searching for methods to download attachments from outlook then stop. Because in this blog we will discuss the most relevant solutions to easily save attachments from Outlook within a limited time. If you are a business person and don't want to waste your time on the manual methods then go with the professional's recommended solution with a 100% guaranteed result.
In other words, downloading email attachments from Outlook one by one is very tiring.  We recommended you the best utility in the market to save you time and easily download attachments from Outlook without any hassle. Because Attachments may include documents, images, spreadsheets, etc. which are required for reference and future use.
When you need to save batch Attachments then the manual activity of downloading each attachment becomes difficult. Download attachments from multiple emails outlook one by one is quite a slow and difficult process but with the help of this utility, you can easily and quickly do this task all at once.
Methods to Download All Attachments from Outlook
Saving email attachments from Microsoft Outlook, you can either opt for the free manual method or trusted and verified third-party software. Both methods are explained in the below sections:
Outlook Download All Attachments Manually – Solved
If you are using Windows OS then perform the steps listed below. Outlook downloads all attachments and it is a free manual method to save Outlook email attachments.
1. Open the Outlook application.
2. Open the email with multiple Attachments within it. The email can be read in the reading pane or opened in the new window.
3. Click on the downward arrow icon alongside the attachment's file and then click on Save all Attachments in the drop-down list.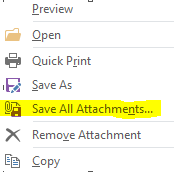 4. Alternatively, you can go to the File tab and then select Save Attachments as an option.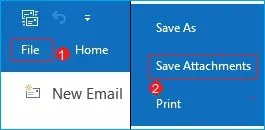 5. A small window of Save all Attachments will pop up. You can select the Attachments and then click on OK.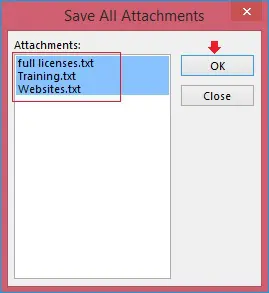 6. The selection of Attachments can be done in two ways:
7. Now, click on the OK button.
8. Choose the folder or the destination where you want to save the Attachments.
9. Click on the OK button. You can save attachments from multiple emails in outlook with the manual way
Limitations of Using Manual Method
It can download the Attachments from Outlook of the single mail only.
The Attachments of the multiple emails can be downloaded one by one.
 The one-by-one download of all the Attachments in multiple emails of Outlook can take a longer time.
Download All Attachments from Outlook Using Software
A third-party utility helps you to download attachments from Outlook straightly. The best utility in the market is  Email Attachments Extractor Tool by Corbett Wizard. This is professional software that provides you with the best solution to download all attachments from Outlook. That is adept at downloading all the attachments of all the emails in one go.
With its simple GUI. Technical and Non-technical users can easily understand the interface. We provide a Screenshot along with the working steps for non-technical users to easily complete the process. We know the main users fear using Automatic tools. Is it a complex interface with technical terms but in this tool you don't face such issues?
Steps to Download All Attachments from Outlook
This tool is tested and verified by IT admins. Complete the following steps to extract attachments from Outlook in bulk without any difficulties.
Download the Software and Install it on a Windows computer.
Either Browse Outlook Personal Data File or Provide Outlook Login Details
After that click on the Extract button Select Attachments and Browse the path to save attachments.
Wait until the successful message appears. You have easily downloaded all attachments from Outlook.
Advantages of Using Automatic Solution:
Helps to download PST file attachments from all emails.
Save the attachments from the multiple Outlook MSG files.
 It downloads the email attachments from multiple folders or selected folders.
Allows saving email attachments from Outlook Junk and Deleted folders.
Provides a date filter option to download email attachments within the date range.
No limit on the file size and volume of data.
Last Words
In this blog, We discussed the best solutions to complete complex work into easy. With the help of Corbett Wizard, you can easily save, and migrate emails perfectly. Download all attachments from Outlook 2019, 2016, 2013, 2010, and all the below versions.