How to Export Frontier Emails to Gmail Account With Attachments
Information on Transferring Frontier Email to Gmail
Do you have a Frontier email address? Would you wish to change or forward the email to your Gmail account? Then you've arrived at the ideal post. We'll go over the processes to get your Frontier email transferred to Gmail in this article.
Let's get started. First and foremost, users must be aware of the various options for account transfer. If you want to use your Frontier email address to access your Gmail account, you can use the following transfer options. The procedure is basic and straightforward, and users must follow certain procedures in order to receive a response to the question "How do I?"
What are the Available Transfer Options?
When it comes to transferring a Frontier account to a Gmail account, Users can choose from the following transfer options:
To get your email migrated to Gmail, contact someone from the Frontier email staff.
If users are suffering or experiencing problems transferring their Frontieemail to Gmail, Contact to the Namecheap this is one of the most accurate things to perform. Frontier employees will assist you with the full transfer process, and if you find it impossible to do it yourself, you will be connected to an expert who will complete the task for you over the phone.
You can contact Frontier's customer support department in a variety of ways. You might, for example, call the helpline or send an email to the address listed on the website. Frontier's official help page has an email address for customer care.
Manually Transferring Frontier email to Gmail can be done online
Users can easily migrate their Frontier email to Gmail via an online interface. All you have to do is go to the Login page or go to your Frontier account, and you'll be able to make the adjustments you want.
The procedure is straightforward, and users may follow along with step-by-step instructions to make the needed changes.
To perform the process manually read the Frontier Support article in detail. And perform the process manually by yourself.
Best Way to Forward Frontier Email to Gmail
With the help of this tool, you may export your Frontier email to your Gmail account. Corbett Software IMAP Migration Tool converts all of your data from Frontier to Gmail, including contacts, calendars, tasks, journals, and more.
During and after the export Frontier email process, this tool keeps your file structure and folder hierarchy intact. After the migration, you will have accurate data. This software is compatible with Windows 10, Windows 7, Windows 8, and Windows XP and all below versions.
Note: You can also use Gmail Backup Tool to create a backup of all of your Gmail data for future reference.
Steps to Forwarding Frontier Email to Gmail
Follow the step by step process of transferring emails from Frontier to Gmail:
1: Install the tool and run it on your Windows OS

2: Select Open from the top menu bar section in your screen

3: Hit Email Accounts and Add Account

4: Set up your frontier email account in the tool and hit Advance Settings

5: Select Export and choose Gmail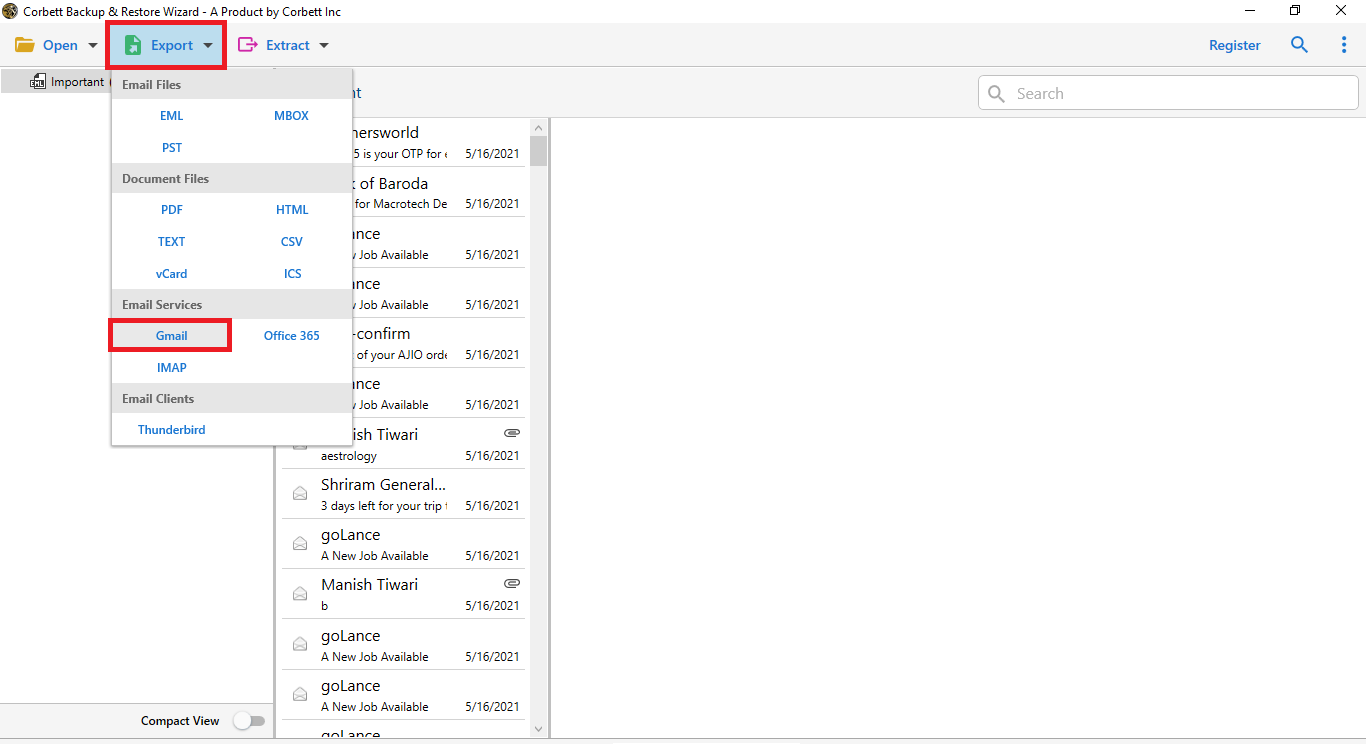 6: Hit Save to start the process.
Conclusion
By the end of this article, we hope to have persuaded you that using a proper and secure method to export your data is the best option. We've recommended the most accurate way to forward a frontier email to a Gmail account. This software is absolutely free of any risks or viruses.
If you're looking for the most effective methods to complete the migration cycle. This post will be really beneficial to you. Detailed information and step-by-step export emails from the frontier to Gmail with screenshots are easily explained.