Import MBOX to Office 365 Account Using the Best Approaches
This blog aims to provide a solution on how to import MBOX to Office 365 in a reliable way. In the coming section, users will get free solutions and the best MBOX to Office 365 migrator to complete this process without any interruptions. So, let's start the post.
As work expands with the passage of time, people require more reliable and secure platforms, and cloud email applications are a solution to this problem. Over time, most companies have moved from desktop-based clients to cloud platforms.
Cloud application, like Office 365, allows users to access their data from anywhere with an active Internet connection. As a result, many users started looking for a way to migrate MBOX to Office 365 account for better data security with the support of business applications.
If you are looking for the same, then this blog will be beneficial for you. Here's what we are going to discuss in this post.
Method 1: Import MBOX to Office 365 Using Open Source Application
To use this manual method, you must install Thunderbird Desktop Client. Once you have done that, follow the steps mentioned below to open MBOX in Office 365.
Step 1: Configure Office 365 to Thunderbird Application 
1. Install & Run the application on your Windows OS.
2. Then skip the creating new account option and choose the existing email.
3. Next, in the Mail Account Setup Wizard, enter your name, Office 365 email address, and password.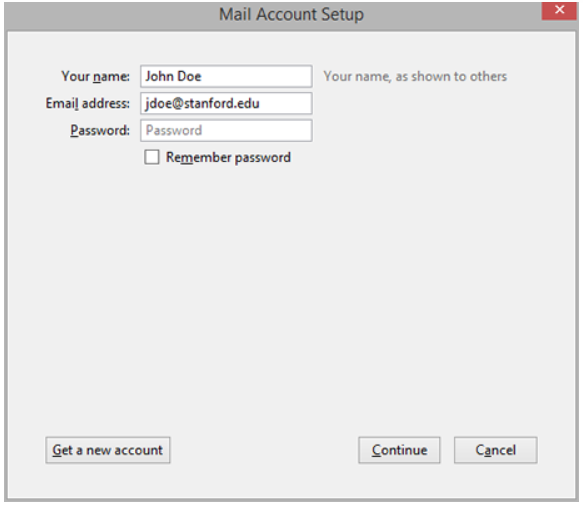 4. Now, click configure manually and enter the details like:
Incoming and Outgoing IMAP server settings
Protocol, server, port, SSL, Authentication, and Username.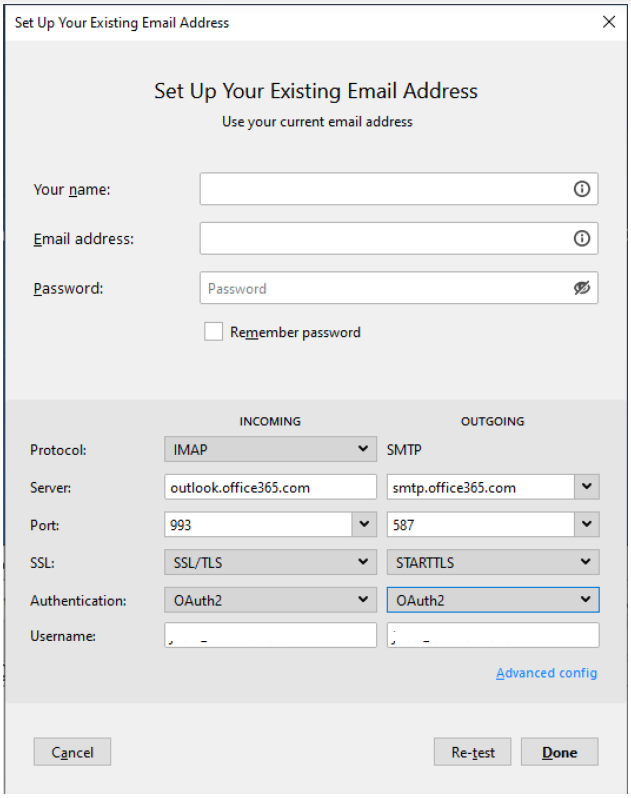 7. Click Done to start authenticating your account.
Step 2: Import MBOX file to the Application
To import MBOX to Office 365 account install the ImportExportTools NG add-on.
Click the Alt key in your keyword with the email client still open
Then Go to the Tool menu and select Add-ons and Themes
Search ImportExportTools NG in the search bar
Then click Add on Thunderbird and add it

Restart Email Client, then, right-click on Local Folders Click ImportExportTools NG, and then select Import MBOX File.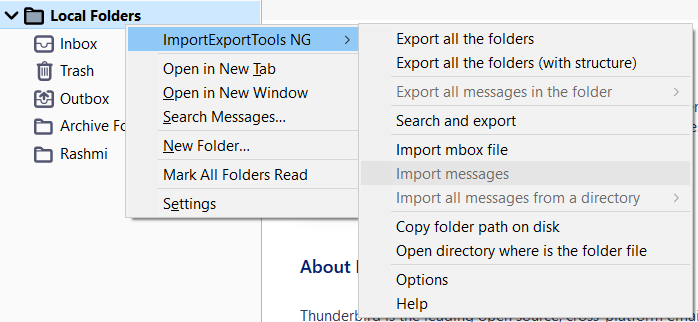 Once you have successfully imported the data to the application, then manually move the data to Office 365 account. That's how you can import MBOX file Outlook account.
Why does Manual Solution Fail to Open MBOX in Office 365?
Multiple email clients must be installed and configured
Use of O365 or other applications requires technical expertise
The integrity of the data cannot be guaranteed
Several MBOX files will result in a lot of complexity and time-consuming steps
Method 2: Expert Recommended MBOX to Office 365 Migrator
The above-mentioned solution is not the best fit for you in terms of data security and accuracy. For safer & secure results, users can go with Corbett MBOX Converter Tool. A professional solution to import MBOX files to Office 365 accounts without any worry. Additionally, the software works independently and doesn't require the installation of supportive applications.
You can import multiple MBOX files to Microsoft 365 account without any file size restrictions. A demo edition of MBOX to Office 365 Migrator is available that users can download for free to evaluate toolkit performance. Click on the download button, and follow the steps mentioned below:
How to Import MBOX to Office 365 Account? Software Working Guide
1. Start the migration procedure by selecting the Open button

2. Then select Email Data Files from the drop-down options and select MBOX files

3. After selecting MBOX files, browse the email messages and preview MBOX in the Tool's preview mode.

4. Next, click the Export button and select Office 365 option to import MBOX to O365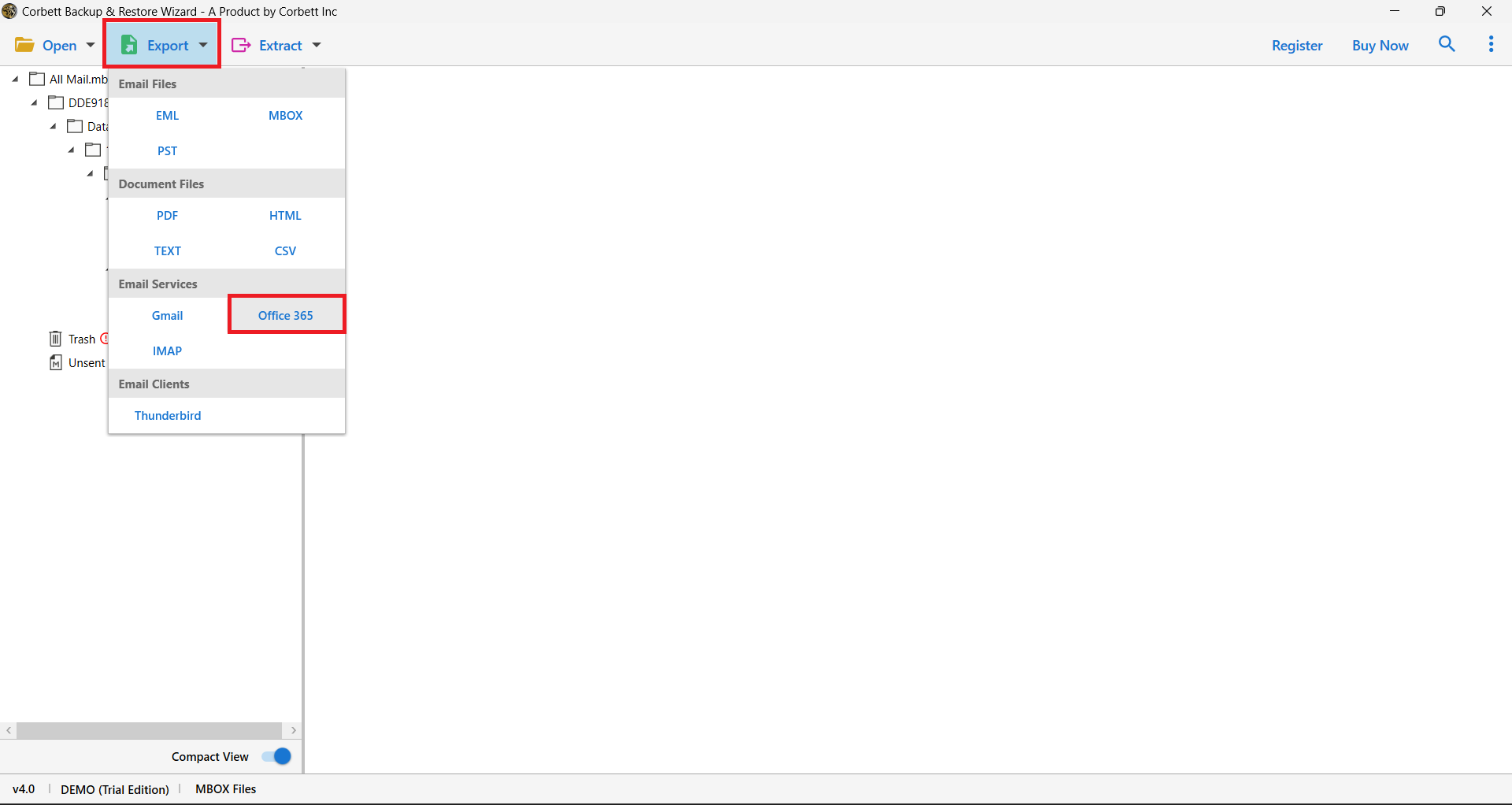 5. Hit Save in the Office 365 export options window to start the procedure.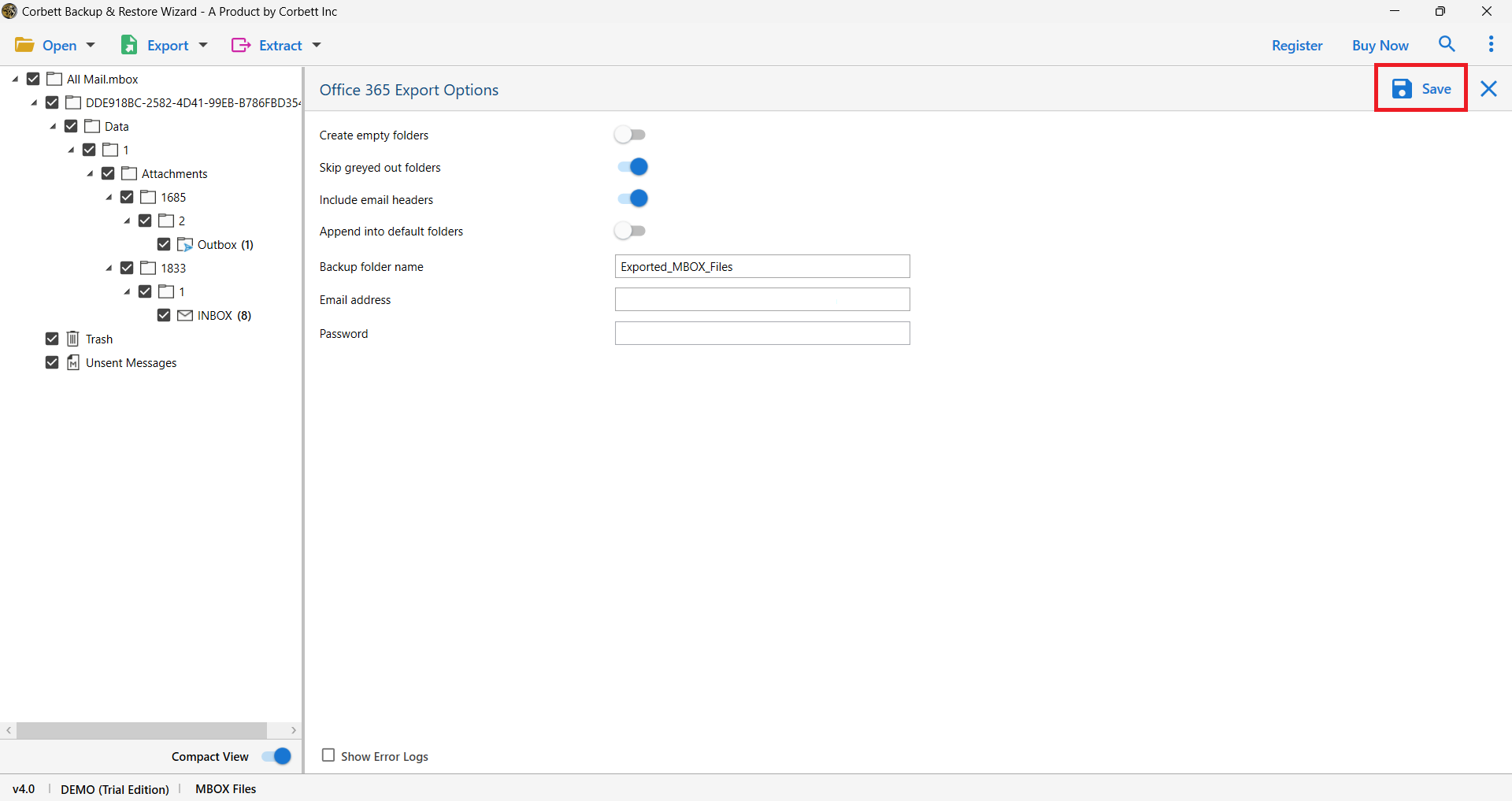 Prime Features of MBOX to Office 365 Migrator
Allows users to import MBOX to Office 365 account in batch.
Easily manage multiple Office 365 accounts in a single tool.
Supports all IMAP Supported email clients' MBOX files.
The date-range filter is also provided to export only selective MBOX files to M365.
It maintains file structure and folder hierarchy during the MBOX import procedure.
Migrate MBOX File to Office 365 with complete attachments.
Author's Suggestion
In this guide, we provide you with two best free manual solutions to import MBOX to Office 365 account. However, the manual solution is quite tricky & requires technical configurations. We have also listed a reliable MBOX to Office 365 migrator a professional solution to open MBOX file in Microsoft 365 without any error or failure.
Similar Read: Guide to Import MBOX to Outlook