How to Migrate BTinternet Emails to G Suite – Perfectly Solved
Are you seeking a way to Transfer BTinternet Emails to G Suite? Or are you looking for a way to transfer emails from your Btinternet account to your Google Suite account?
If that's the case, your search is over. In this article, we'll show you how to migrate emails from your BT Mail account to your G Suite account. So, stay a while and find out more.
An Overview of BTinternet
BT (British Telecom) is a well-known telecommunications company in the United Kingdom.
It operates in over 180 countries and offers a variety of services such as Btinternet and BT webmail.
Many users, however, are looking for a way to convert their emails from Btinternet to G Suite or another service. Because of BT Mail's
premium mail service, which costs 1.60 Euro.
As a result, many users desire to move their Btinternet emails to another platform.
If you're one of those people who's looking for a way to move emails from Btinternet to G Suite, this post is for you.
What Are the Reasons to Export BTinternet to G Suite?
Many individuals are curious as to what benefits they will have if they transfer from Btinternet to G Suite. If you're interested in learning more, continue reading.
In the professional sector, there are fewer people who have not heard of the G Suite email service.
It is one of the most widely used email platforms for both personal and professional email management.
In comparison to G Suite, BT Mail is less popular.
G Suite is a robust email service with unrivaled security capabilities. With the Btinternet email, this is not the case.
For commercial use, Google applications such as Drive, Calendar, Contacts, and others are available. With BT Mail, such a feature is not available.
The BT Mail platform offers a conventional interface, but G Suite has a faster and easier interface.
To manage your G Suite inbox, use the Label and Filter options.
Secure Solution to Migrate BTinternet Email to G Suite
We'll go over all you need to know about importing Btinternet (BT Mail) emails into G Suite in this article. IMAP Migration Tool
is a professional solution for migrating BTinternet (BT Mail) to G Suite without wasting time or resources.
This utility is completely secure and does not require any further installation to migrate from Btinternet to G Suite. It offers a user-friendly interface that anyone with no technical experience may use. Without any problems, you may effortlessly make BTinternet Backup through Email Backup Wizard by Corbett Software.
In the section below, we'll walk you through the entire process of transferring emails from your BTinternet account to your G Suite account.
Steps to Export BTinternet Emails to G Suite
 1: The Best BTinternet to G Suite Migration tool is available for download and installation.

 2: To get started, go to the Open Menu >> Email Account >> Add Account.

 3: The software creates a full preview of the data files it contains.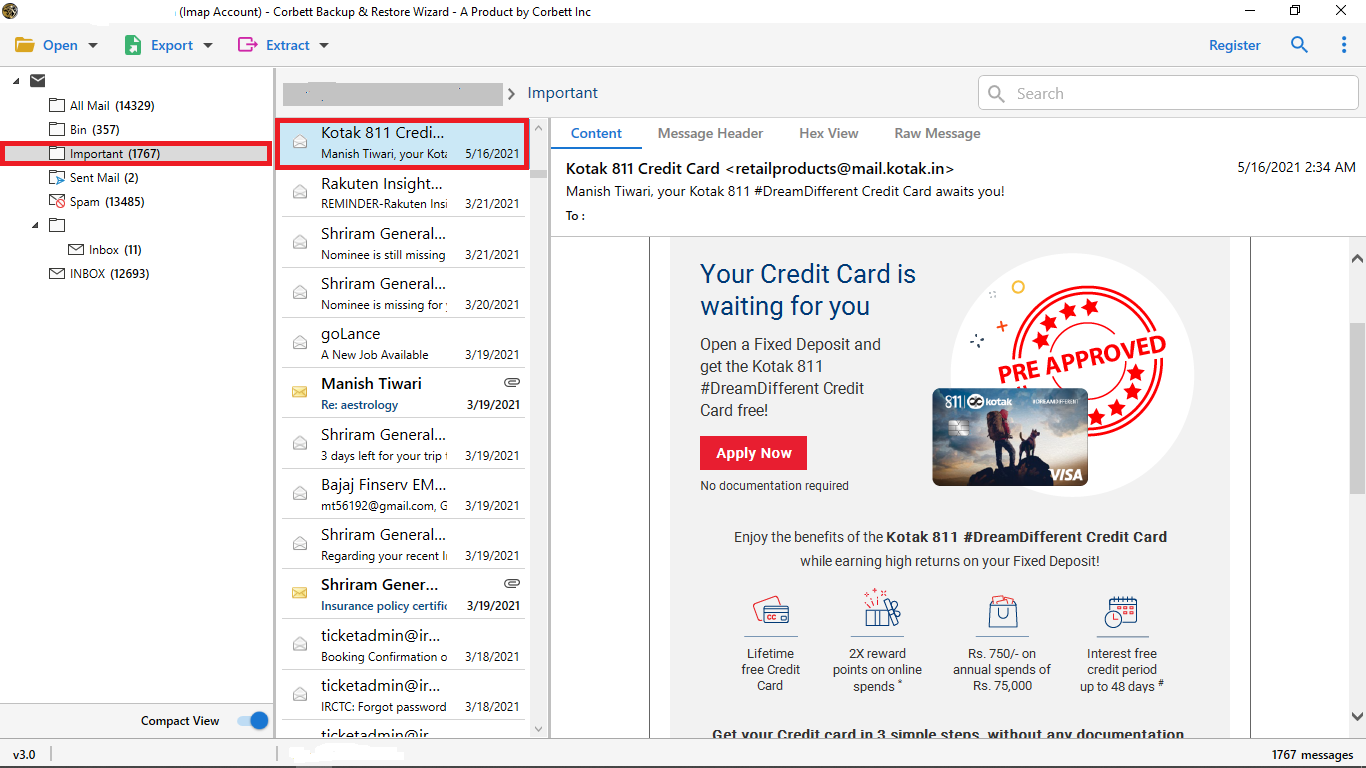 4: A user can access the email content based on their needs.
 5: Next, pick IMAP from the Export Button.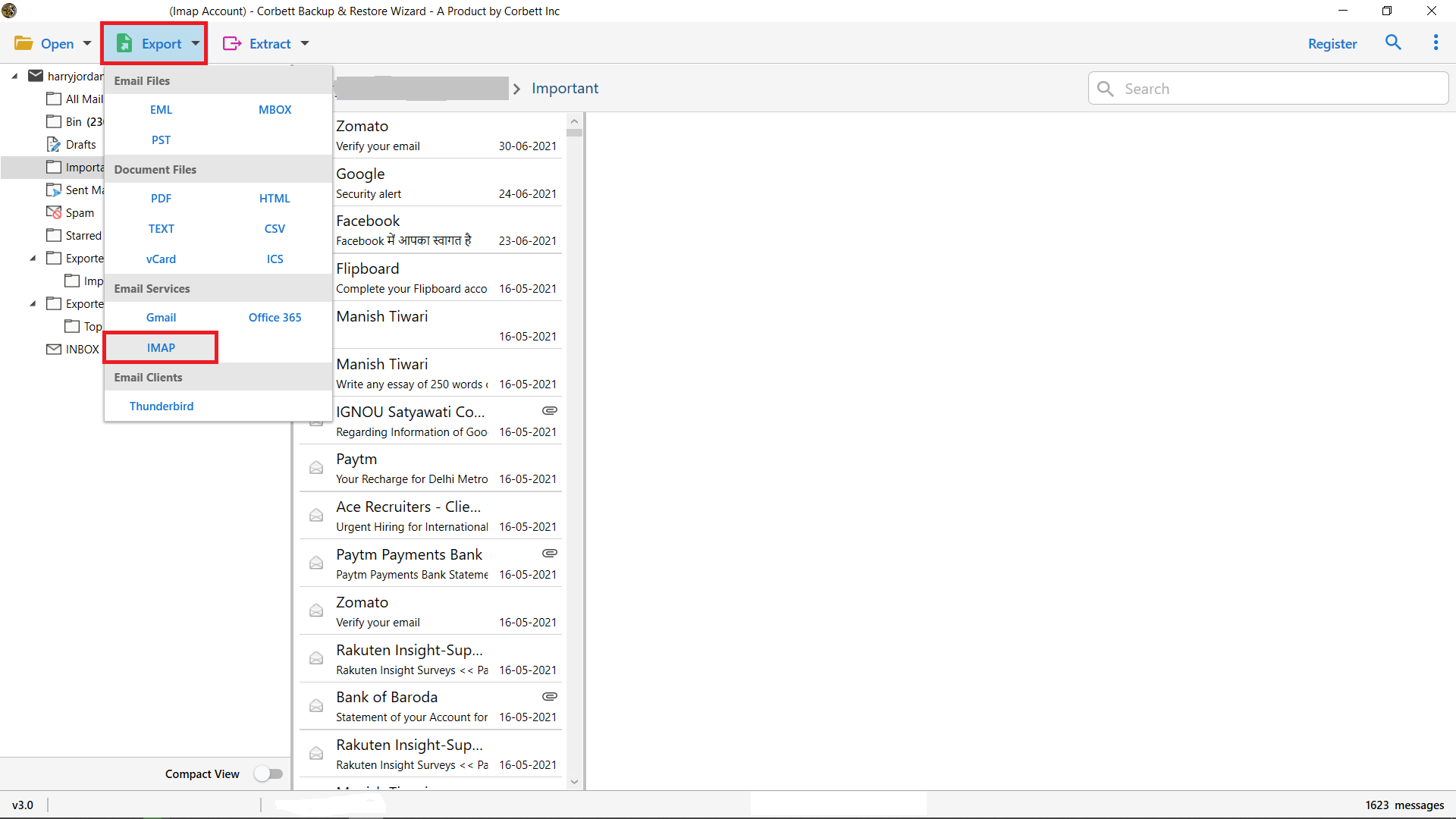 6: The final step is to press the Save button.
Use Free Utility Version
Without spending any money, you can use this Email Migration Tool for free. This solution includes a free trial version that allows users to better move from BT Mail to G Suite.
The user can import the first 10 emails from Btinternet.com into G Suite. It is a fantastic opportunity for the user to test the tool's functionality and capabilities. Once you're happy with the results, purchase the licensed edition to move all of your emails from BT Mail to G Suite.
The Benefits of Using the Btinternet to G Suite Migration Tool
Batch BT Mail Account Migration: We can use the solution to convert many BT Mail accounts to G Suite at the same time. To transfer many Btinternet accounts to G Suite, simply use the Batch option. Simply prepare a CSV file with all of your BT Internet account information and upload it to the software panel. In a matter of seconds, it will evaluate the whole mailbox of your different BT accounts.
Maintain Email & Folder Properties: During the Btinternet to G Suite migration process, the software keeps track of email properties. It saves email attachments, header information, email meta attributes, data and time, email addresses, and photos, among other things. As a result, once the process is completed, you will receive the original email structure. The answer is after the process is finished, the original email folder hierarchy structure is preserved.
100% Secure User Interface Panel: The solution includes a simple and easy-to-use user interface panel. The technique can be used to safely migrate BT Mail to G Suite. This tool can be used by both technical and non-technical people without difficulty.
Multiple Extra Email Filters: If you want to transfer certain emails from your BT Mail account, the solution offers a number of additional email filter choices. These filter options can be used to move emails by date, time, subject, and email address, among other things. When a user wants to relocate emails on the go, these email filter options come in handy.
A solution that is 100 percent compatible with Windows: This fantastic software is specifically intended for Windows-compatible devices. This BT Mail to G Suite Migration tool is compatible with the most recent versions of Microsoft Windows, including Windows 11, Windows 10, Windows 8.1, Windows Server 2019, Windows Server 2016, and others.
Conclusion
We've covered the entire process of migrating emails from BT Mail to G Suite in this article. If you're one of the people who want to move their BT Email to a G Suite account, you've come to the right place.
Then read on to acquire the solution on your computer by reading this post. The solution is compatible with all Microsoft Windows versions. A free demo version is available that migrates simply a few emails from BT Mail to a G Suite account. You must purchase the answer to learn more. If you have any problems, you may also seek assistance from the technical team.