EML to TEXT Converter to Convert EML File to TXT File Format
If you want to convert EML file to TXT file, you'll need to read this entire blog, Because in this article we will give you three questions' answers in this guide.
Why should I convert EML to TXT?
Why do users want to convert EML files to .txt files?
How to Convert EML File to Text File?
We'll go over all of the user questions, as well as manual and automatic solutions, in this article. Start reading this blog to acquire an immediate answer to the question of how to convert EML file to TXT.
What is the Benefit of Converting EML File to TEXT File Format?
Let's take a quick look at the differences between an EML file and a .txt file.
EML (Extensible Markup Language) is a plain text file that is used to store e-mail communications. It has a header and a body component that is designed in a specific order. The primary information in the header part is the sender's and receiver's addresses, as well as the date, From, to, and address, among other things. Body parts, on the other hand, include graphics, text, hyperlinks, and information [content].
.eml is the file extension.
Programs that go with it include: Microsoft Outlook, Thunderbird, IncrediMail, Apple Mail
Microsoft was in charge of the development.
TEXT FILE [Extraordinary Training and Equipping]: The.txt file is considered to be one of the most common file types. The file is made up entirely of plain text with no formatting. A.txt file can be opened with any application that can open a Text file. This is one of the most widely used and adaptable file formats. This file can be opened in any application or operating system without difficulty.
.txt is the file extension.
Programs that go along with it include: TextEdit, NotePad, WordPad
Developed by: Various
Why Do Users Convert EML File to TXT Files?
You might be wondering why users need to convert their EML files to Text format. We'll show you why people wish to convert multiple email messages into plain text format in this article. Read the following user's query:

The user wants to save the Windows Live Mail EML file to Txt file in this user query. Many users prefer to save their.eml files in .txt format since it is more flexible and stable.
One of the most secure and safe document types for storing data is the text file. There's no need to be concerned about email client support.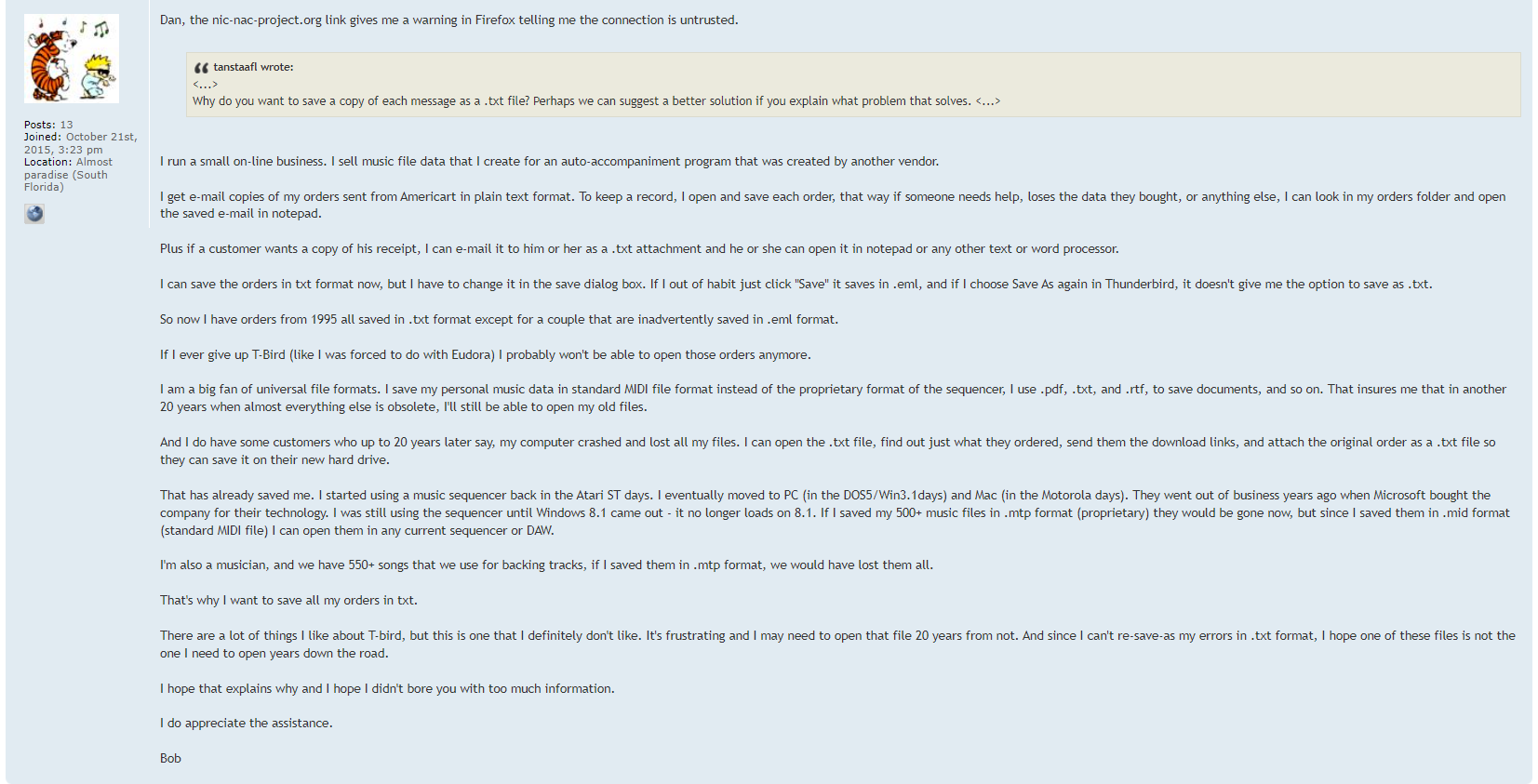 Let's look at how to convert EML file to .txt file.
How Can I Convert EML to TEXT File?
There are two methods for converting EML file to plain text files. You can either use the Manual approach or the Automatic method to convert Selective plan  Files to TXT format. The second option is to utilize a safe and secure automatic converting tool.
Both strategies are advantageous to you. Depending on your needs, you can select any of the solutions.
1. Manually convert EML file to TEXT file
2. Use an expert tool to convert EML file to .txt file format
Both strategies will be explained in detail. With their own set of advantages and disadvantages. Begin by following the steps outlined below.
Manually Convert EML File to TXT Format Using Thunderbird
Mozilla Thunderbird must be manually installed on your computer system. To carry out this procedure. Start the following procedure after installing Thunderbird on your computer.
1. Mozilla Thunderbird should be launched.
2. Set up your email account with any email id account.
3. Then choose the EML Message you want to save as a text file from the drop-down menu.
4. From the drop-down menus, select "Save Selected Messages" and "Plain Text Format" or "Plain Text Format (With Attachments)" are the options.
5. Look for the intended destination.
6. Your EML messages will be saved as.txt files when you select this option.
Note: You'll need to install Import/ExportTool NG on your Thunderbird account to complete this Convert EML File to TXT process.
1. After you've opened Thunderbird, go to the right side and select "Display the Thunderbird Menu."
2. To find more add-ons, go to "Add-ons and themes" and then "Find more add-ons."
3. Select "Add to Thunderbird" from the ImportExportTools NG search results.
4. After that, restart Thunderbird and follow the steps above to convert EML files to TXT files.
Query from the user
Many Mozilla Thunderbird add-ons did not work properly, causing a mess. Due to Mozilla Thunderbird updates, many older Mozilla Thunderbird versions no longer supported add-ons. Also, add-ons were not updated to work with the current Thunderbird versions.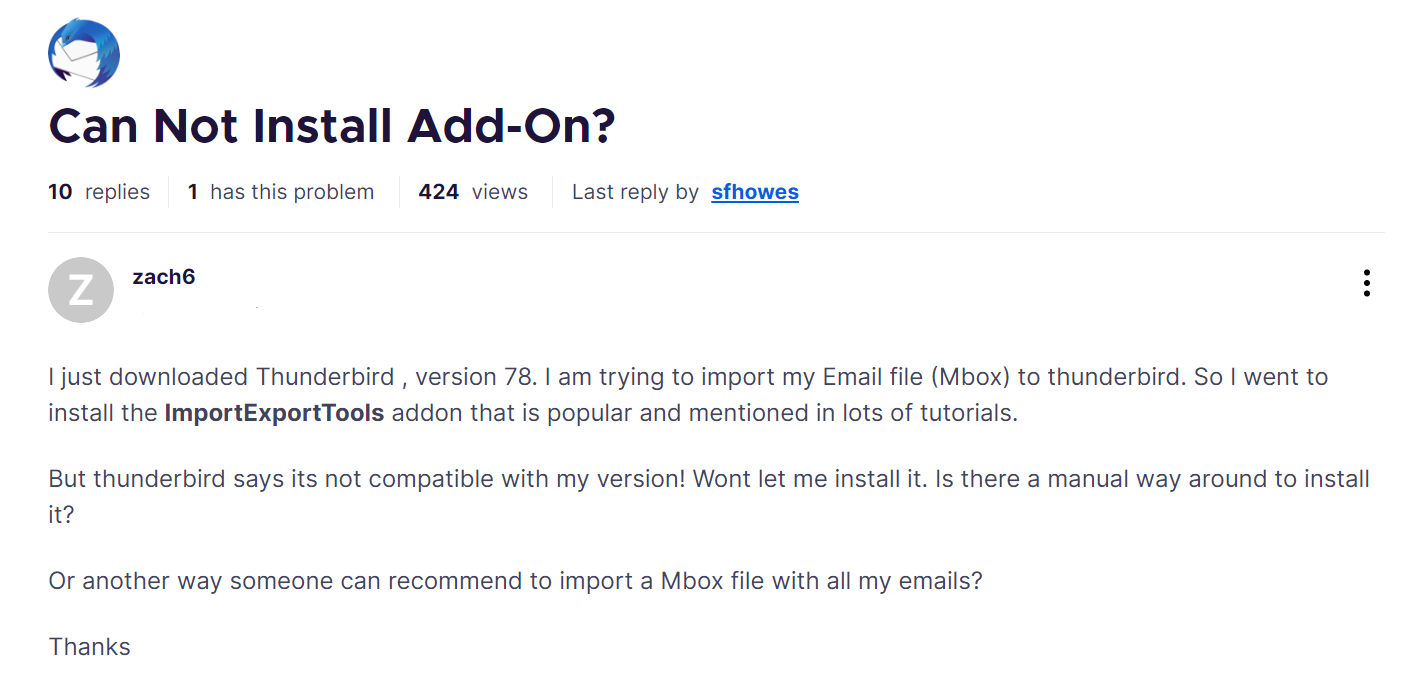 You can't convert.eml to.txt files without installing Thunderbird add-ons. If you're having the same trouble with the user mentioned below, you're not alone. Continue reading after that.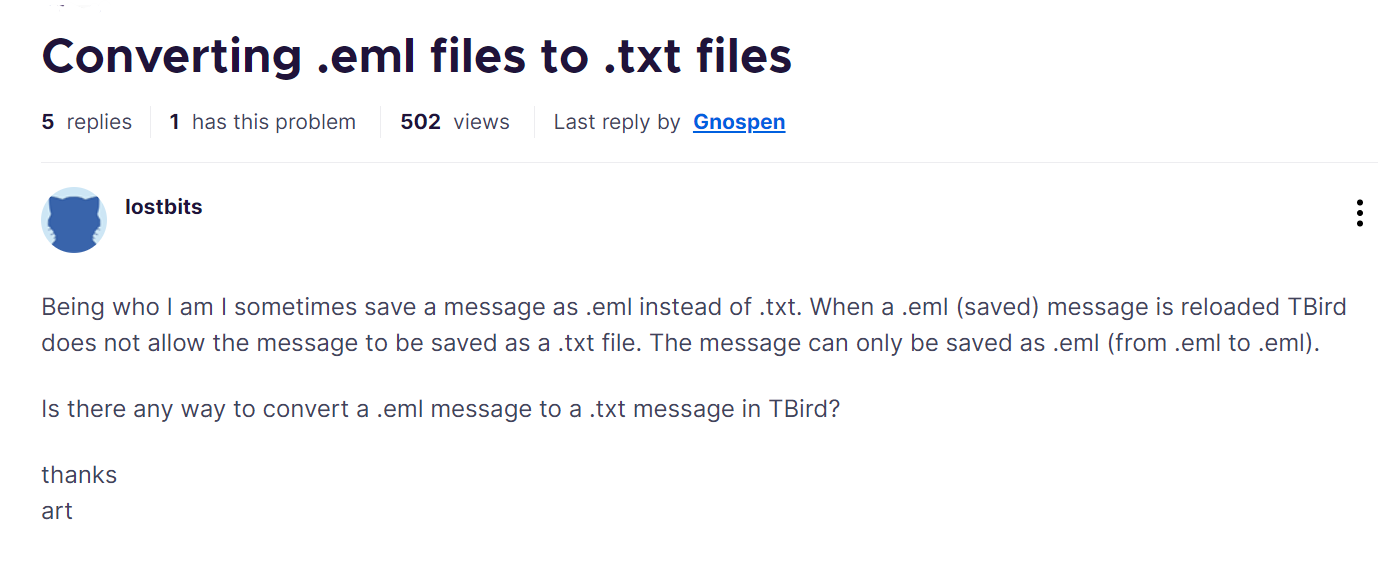 Expert-Recommended Tool to Convert EML to TXT File Format
To convert EML file to TXT file, use the Safe and Secure EML Converter software. This EML to TXT Converter utility is one of the best tools for converting EML files to Text files without having to install any additional software.
You can convert any EML files to.txt files in bulk with ease. Try the tool's free demo version to convert EML to TEXT with attachments without any errors or limitations.
How to Convert EML File to Txt File with Attachments
1. Install and launch the utility on your Windows operating system, then pick Open from the first window.

2. After that, choose "EML Files" from the "Email Data Files" selections.

3. Next, look through the saved.eml files and folder. And then, when needed, upload the files and directories.

4. Preview your EML files in preview modes in the next step.

5. Also, go to "Export" and select "Text" from the drop-down menu.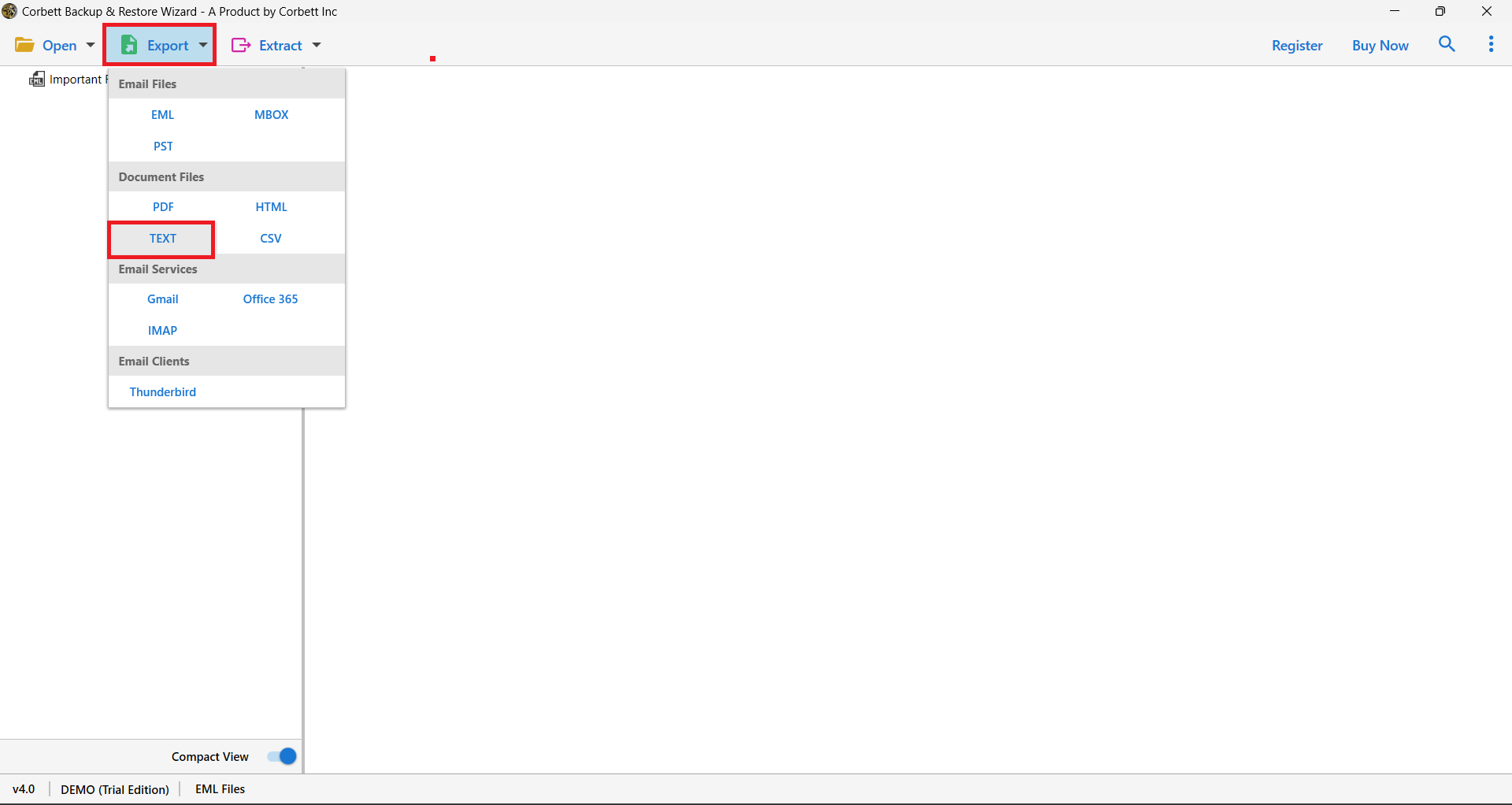 6. Finally, use the "Save" option to save the.eml file as an a.txt file.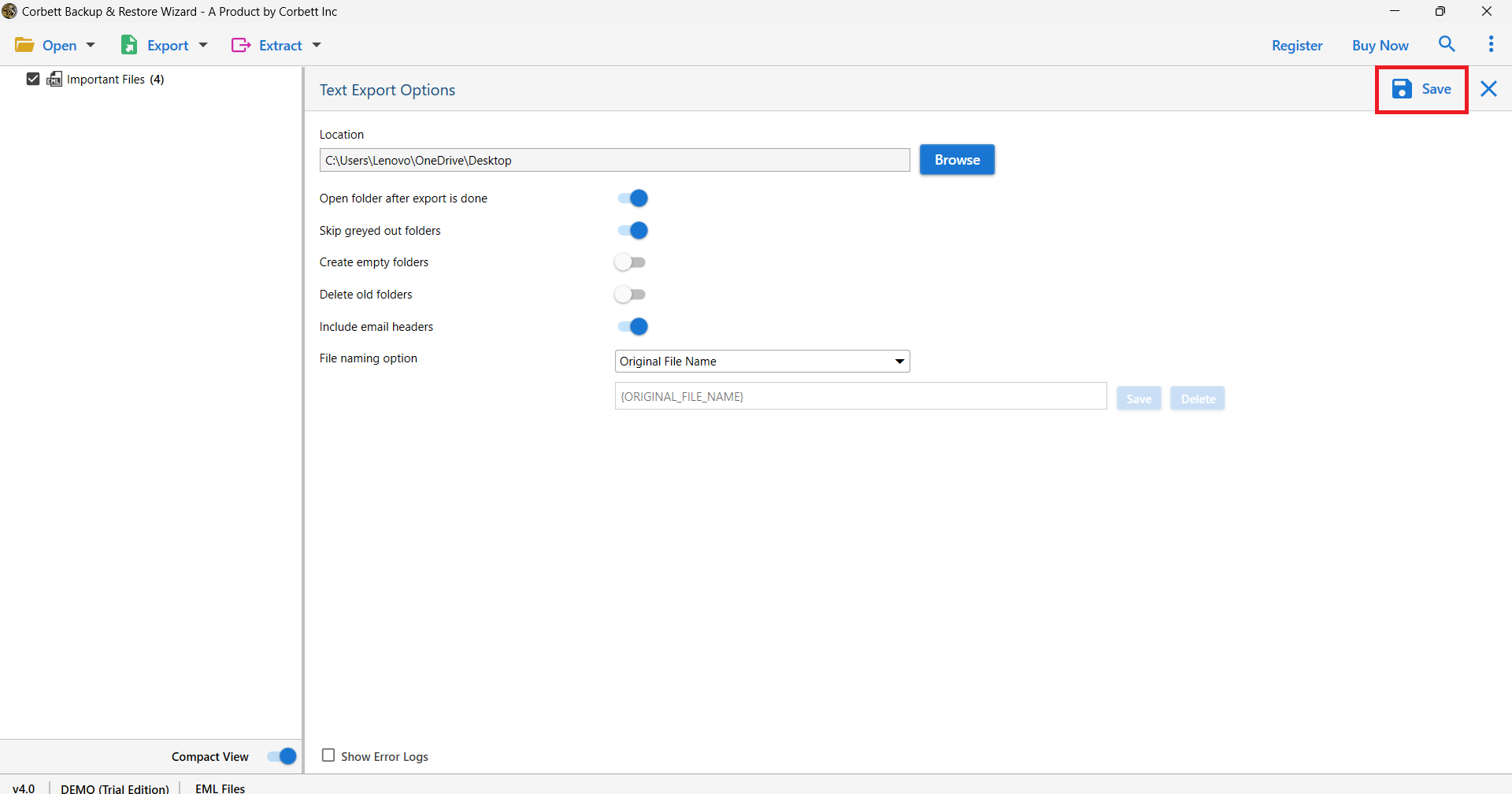 Your eml files will begin to convert to.txt format after you pick the Save option.
This EML to TXT Converter Tool's Advantages and Features
You can store your converted EML files to TEXT files at the desired location. With a.txt suffix at the end.
You can enable or disable the option to delete old folders. If you wish to remove old folders from your EML to TEXT conversion, follow these steps.
Include Email Headers: You can choose whether or not to include email headers in EML files and folders.
File Naming Options: You have another advantage, which is the ability to change the file name. You can choose from a list of custom names provided by the tool to store as a name.
Author's Recommendation
Convert EML file to TXT file manually or automatically. To complete the EML to TXT file conversion, you can use any of the methods. In comparison to manual solutions, using an automatic solution is more helpful to you. You will encounter numerous mistakes and difficulties if you use the manual way. It is also a time-consuming operation.