Convert Eudora Emails to PDF Format With Complete Attachments
We will provide you with a direct and secure technique to convert Eudora emails to PDF format in this post. keep reading for step-by-step instructions on how to convert Eudora emails to PDF format in no time. Let's start with an overview of Eudora and the PDF file format.
Why Do Eudora Users Prefer PDF Formats?
Eudora Mail: – Eudora is a popular desktop-based email client that allows users to manage their email accounts. It is a cross-platform email client that runs on Windows, Classic Mac OS, Mac OS X, and Linux. It allows users to handle mailbox data via IMAP, POP3, and SMTP protocols.
Portable Document Format: (PDF) Another widely used document file extension for sharing data is PDF. It is a platform-independent solution that allows users to view PDF files on mobile devices, tablets, and computers running Windows, Linux, Mac OS X, and other operating systems. It is capable of storing any data objects, including any sort of pictures, hyperlinks, headers, and their fonts, colors, and backgrounds, among other things.
The Benefits of Converting Eudora Emails to PDF
Despite the fact that Eudora has a vast variety of features, many users still need to convert their Eudora emails to PDF format. Users' favorite option in the early 1990s was Eudora, but it no longer exists. As a result, users should switch from Eudora to PDF, the most secure document file type. Some of the additional reasons why users need to save Eudora email to PDF format are listed below.
The PDF file has a password-protection function that protects all of your important data safe and secure. Because of this functionality, the majority of Eudora users prefer to save their essential emails in PDF format.
The majority of users save their Eudora email as PDF files, which may be accessed from anywhere at any time.
Eudora mailboxes did not accept any character encoding, including UTF-8, which caused plenty of issues when connecting with Western European nations. As a result, users must convert Eudora emails to PDF format in order to share their emails with others.
It is not possible for users to share numerous Eudora emails with anyone at any time. Users may quickly share selected emails by exporting their Eudora mailbox to PDF format.
2 Methods to Convert Eudora Emails into PDF Format
There are two ways to do it:
Let's get started with the approaches without further wasting any more time.
A Manual Method for Converting a Single Eudora Message to PDF
Open the Eudora email client and select the message you wish to save as a PDF.
1. Select File, then Print.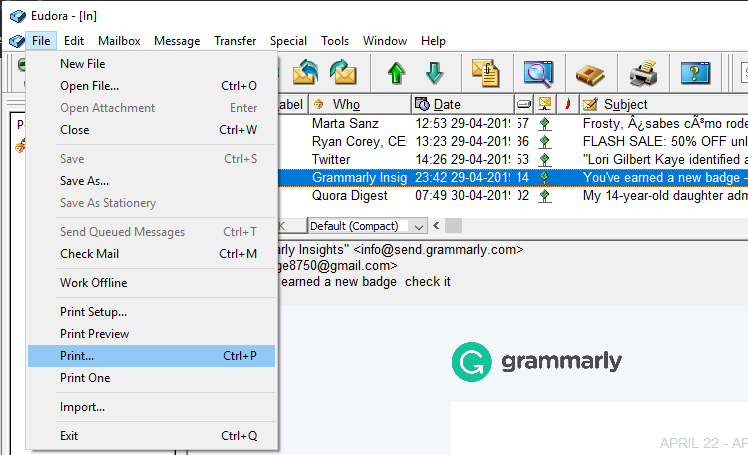 2. Check the box next to Print to a file and then press the print button.
3. Give the file a name and, after determining where to save it, click the Save button.
Important Note: This manual method is compatible with Eudora 7 and earlier versions.
Convert Eudora Emails to PDF Documents with Attachments?
Alternatively, there are several online solutions available that can convert Eudora emails to Adobe PDF. However, you should keep in mind that such online solutions only convert your emails and the risk of losing data is high. There are chances that you will lose your Eudora email data, header information, links that will not work, images, email formatting will also be disrupted, and most importantly, it won't convert any Email attachments to PDF in the process of Eudora Emails to PDF Document.
It is recommended that you use MBOX Converter to save Eudora emails to PDF format to export Eudora mailboxes to PDF format. It is the most effective way for users to save Eudora emails to Adobe PDF format without losing any information.
The application has a Duo mode that allows users to convert Eudora to PDF with attachments in one go. The Duo mode allows the user to select a particular Eudora mailbox file or a folder containing multiple Eudora mailboxes. this tool guarantees that the email formatting will be kept during the process.
It is the most comprehensive solution for non-technical users who want to convert their Eudora mails to PDF without losing any data. It converts Eudora mailboxes to PDF in a completely safe and secure manner, retaining all data integrity.
How to Save Eudora Mailbox to PDF Format in 5 Easy Steps
To convert Eudora emails to PDF, you must first determine the location of the Eudora mailbox file. Simply follow the specified path to the Eudora file location.
Unless the user has set the directory manually, all Eudora files should be stored in one of two locations: C:\Program Files\Qualcomm\Eudora\ (default)
1. To begin the procedure, click the Open tab.

2. Select Eudora Accounts by clicking Desktop Email Clients.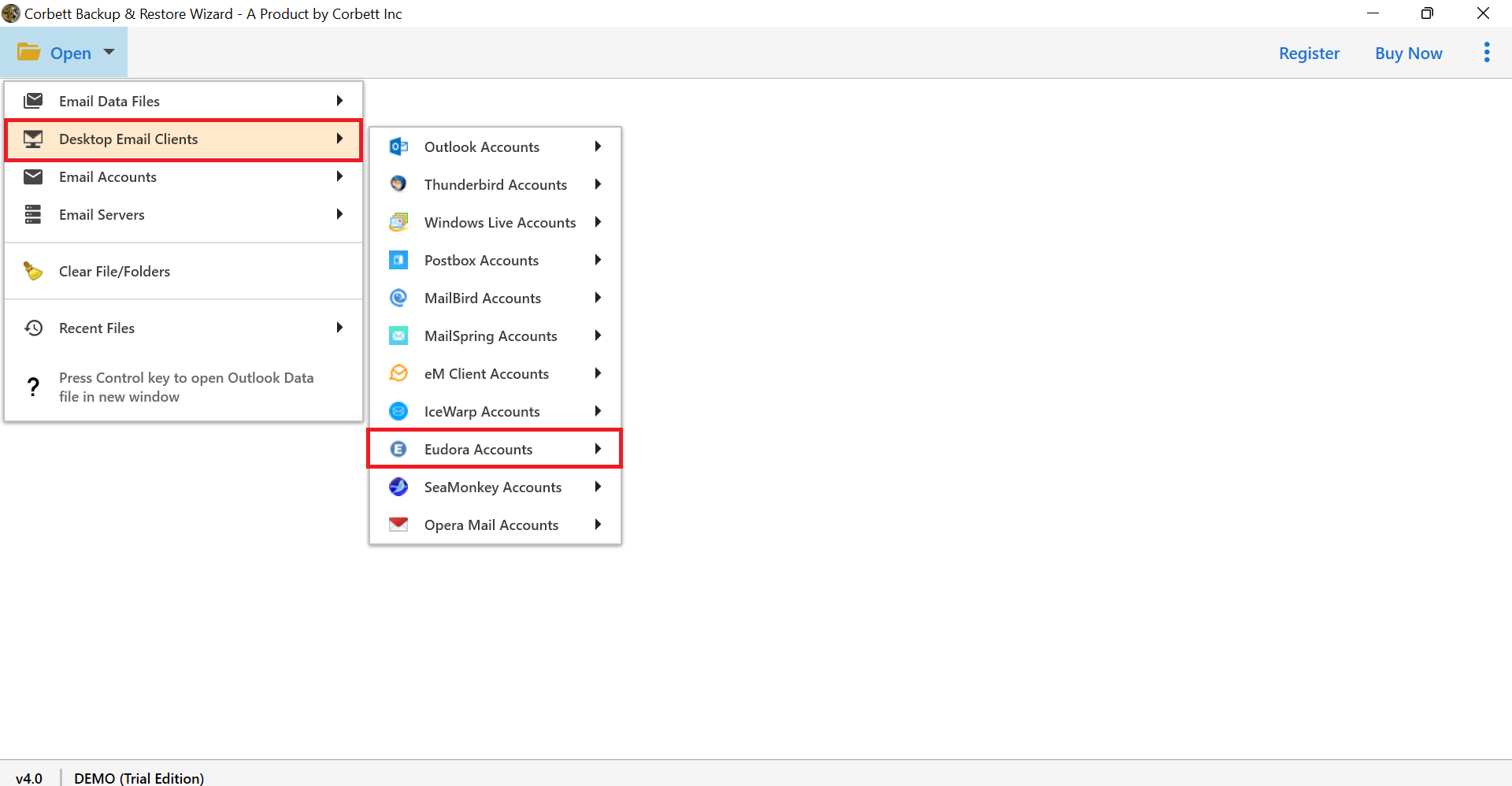 3. In the left part of the tool, the files and folders of your Eudora mail account are loaded.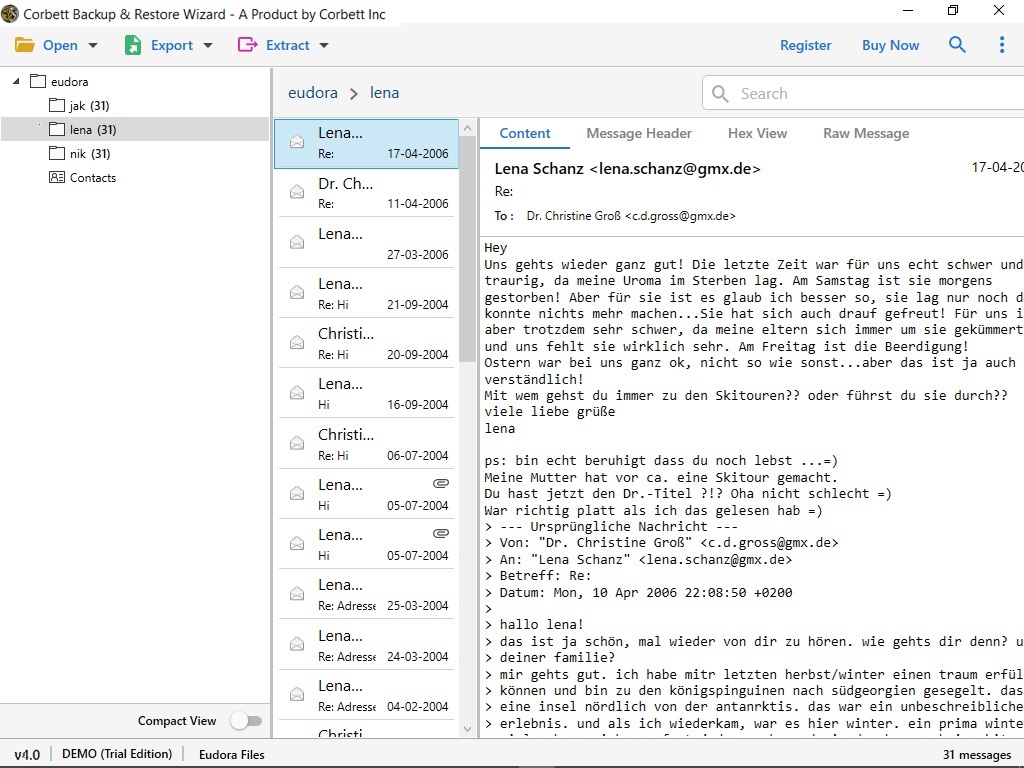 4. Now select PDF from the drop-down option under the Export tab.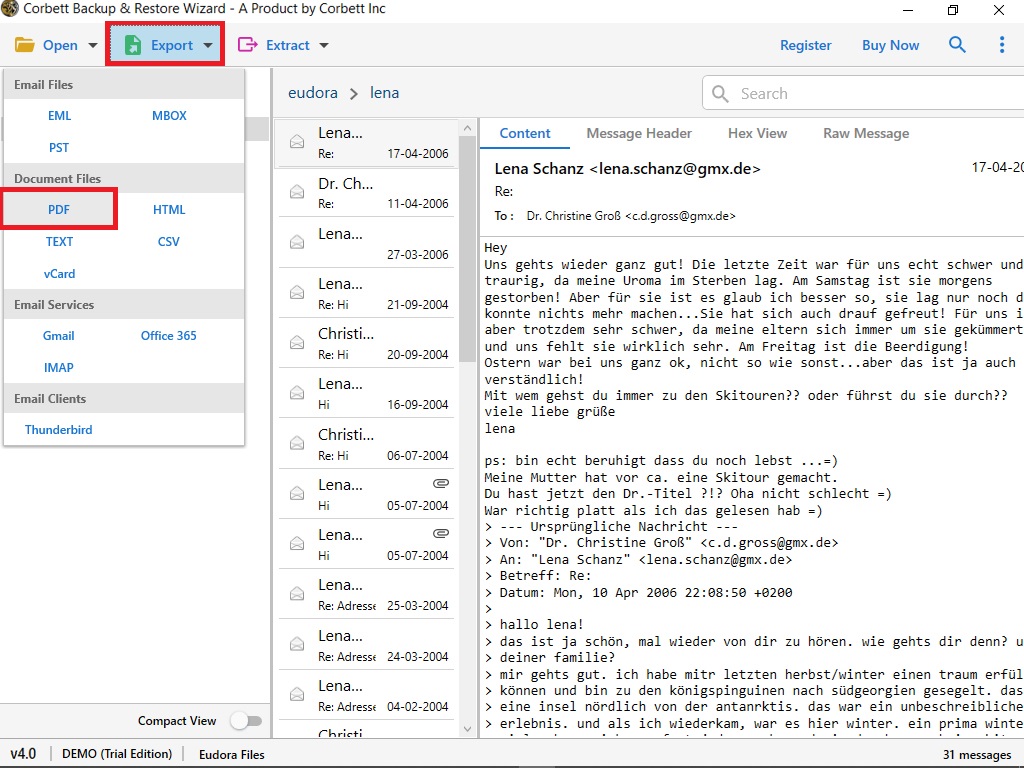 5. Choose a file naming choice and a destination path. Enable the provided options as per your need then select Save to start.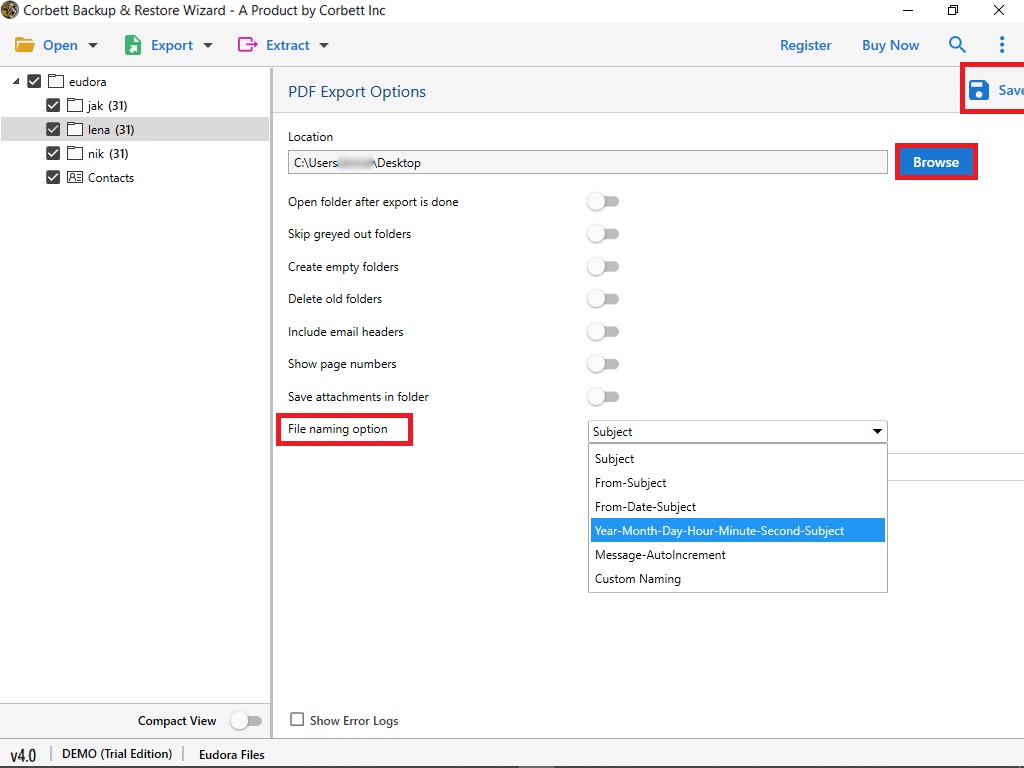 The conversion will begin as soon as you press the save button.
Your conversion process will be completed after selecting Save. You can view the live process of the Eudora emails in PDF.
Final Thoughts
Try this simple technique to export Eudora emails to PDF files whenever you need to print Eudora emails to PDF format. Because there is no guaranteed manual solution, you must select a reliable tool. We recommend that you use this fantastic application to convert Eudora emails to PDF with attachments in a matter of seconds.