How to Convert OFT File to PDF Using a Single Tool – Complete Guide
Are you seeking a simple and quick way to convert OFT file to PDF document? If you answered yes, then you should quit roaming about aimlessly. This blog will provide you with an effective and speedy OFT to PDF Converter for converting OFT file to PDF formats.
You've come to my blog because you have files with extension extensions (.otf). First and foremost, What exactly is an OFT file? Microsoft's tech created an OFT file, which is an Outlook file template. OFT is an email template file type that holds a preformatted layout that may be used to create a custom email message with a similar layout structure. It saves time and effort when writing fresh emails with the same style and layout.
What Is an OFT File and How Do I Make One?
Only Microsoft Outlook can build the OFT Outlook file template. Follow the instructions below.
Open the Microsoft Outlook application.
From the left side of the Outlook wizard, select the New Email option.
Fill in the needed information, such as To, Cc, Subject, Body, and so on.
Under the File menu, select Save As.
Choose .oft as the saving file type and give it a name.
Finally, save the .oft file by using the Save button.
However, there are a number of aspects that users must consider while converting OFT to PDF. The advantages of PDF document formats include simplicity of use, minimal file size, diversity, and more.
In addition, PDF document formats allow for the addition of a user and owner password, which protects the file from copying, modification, or data theft. To convert OFT files to PDF format, see the blog.
How Can I Convert OFT File to PDF Document?
Corbett OFT File Converter is the easiest and most convenient way to convert from OFT to PDF. It is a well-known software application that provides a positive user experience and meets the needs of users. To convert OFT to PDF, EML, HTML, PST, MBOX, and other formats, use our OFT to PDF Converter. It also has a number of other key advantages. Take a glance here.
Convert OFT file data such as Emails, Contacts, Calendars, and so on.
Compatible with single and many OFT files for conversion.
Extract Emails items from OFT files such as Email Addresses, Contacts, Associaltted Phone numbers & Emails, Attachments, and so on.
OFT may be exported to Office 365, Live Exchange, iCloud, GoDaddy Email, AOL, Gmail, Thunderbird, Live Exchange, and other email clients.
Convert OFT to HTML and TEXT for use on the web.
Allows you to convert chosen data elements from an OFT file using the Mail filter tool.
It's compatible with all Microsoft Windows versions.
After the conversion, the OFT file email structure is preserved.
What You Need to Do to Convert OFT File to PDF
To convert from OFT to PDF document formats on Windows, follow a simple and straightforward procedure.
Install and run the application on your Windows-based computer.
1. Select the Open option in the first window after opening the software.
2. Select Email Data Files and then OFT Files from the drop-down selection.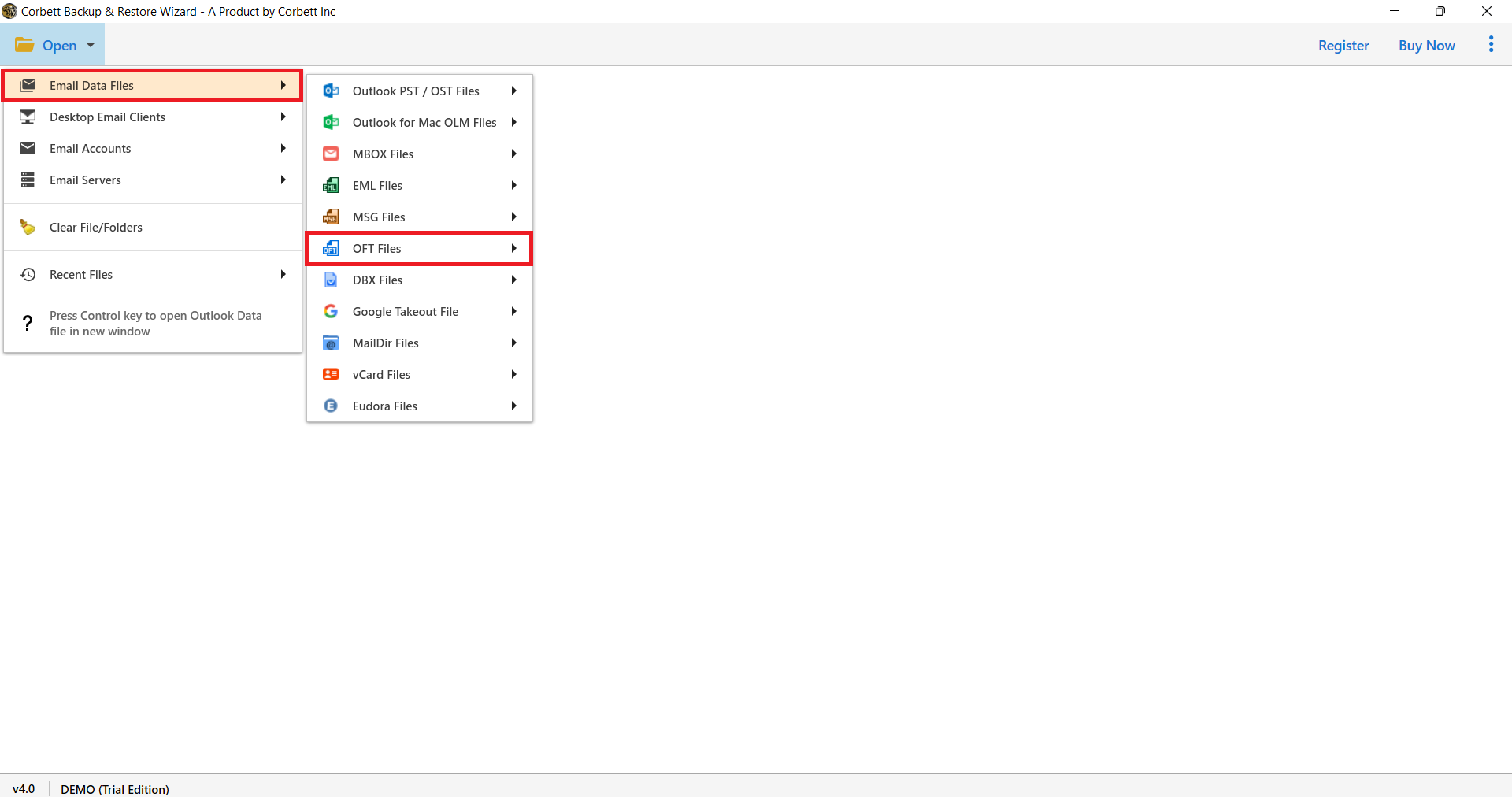 3. The tool then gives you two options for selecting files and folders. You can choose between selecting a single OFT file or a bulk OFT folder using these options.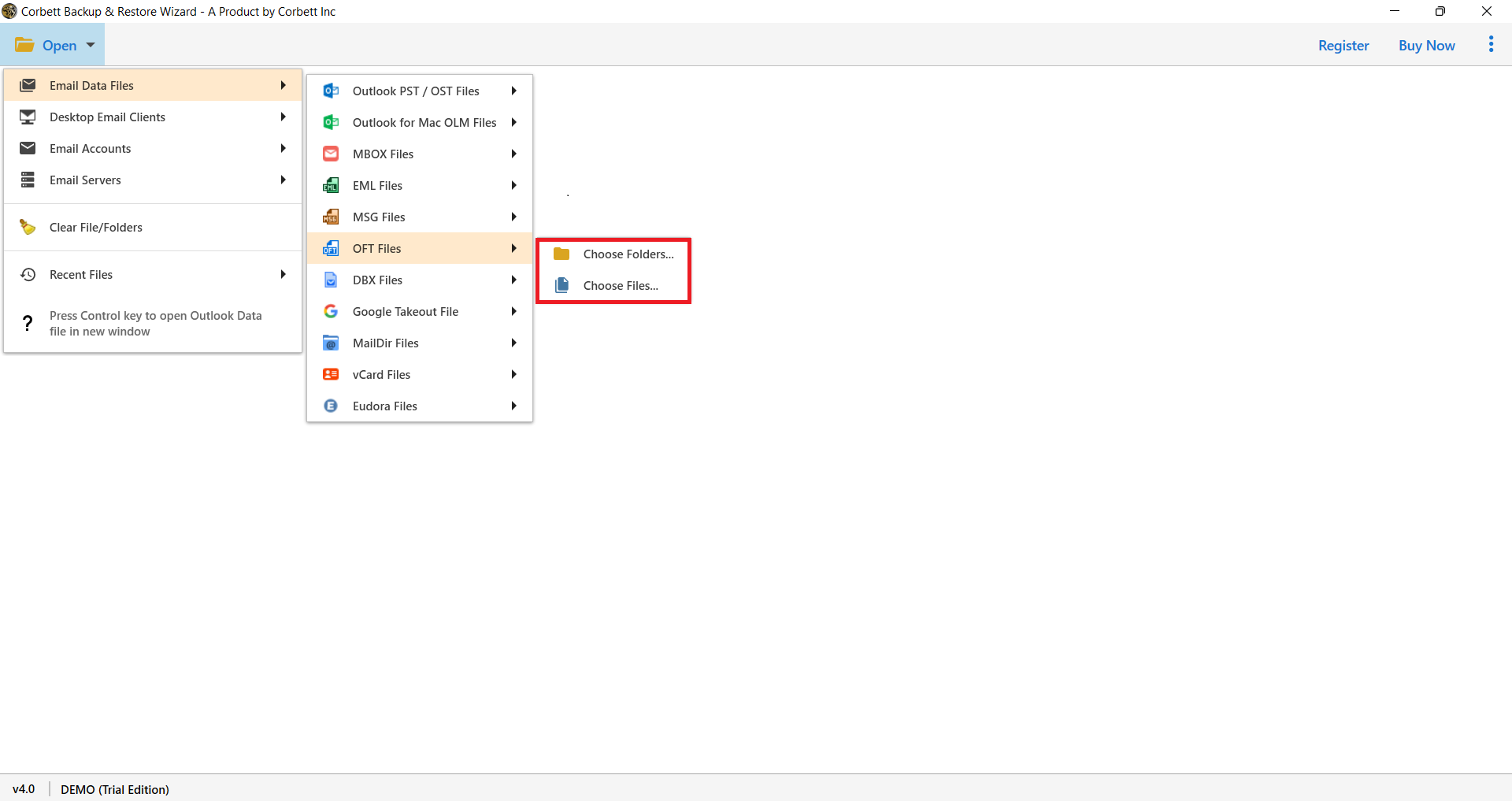 4. The utility begins uploading files and folders into the tool in order to offer you a preview of your email.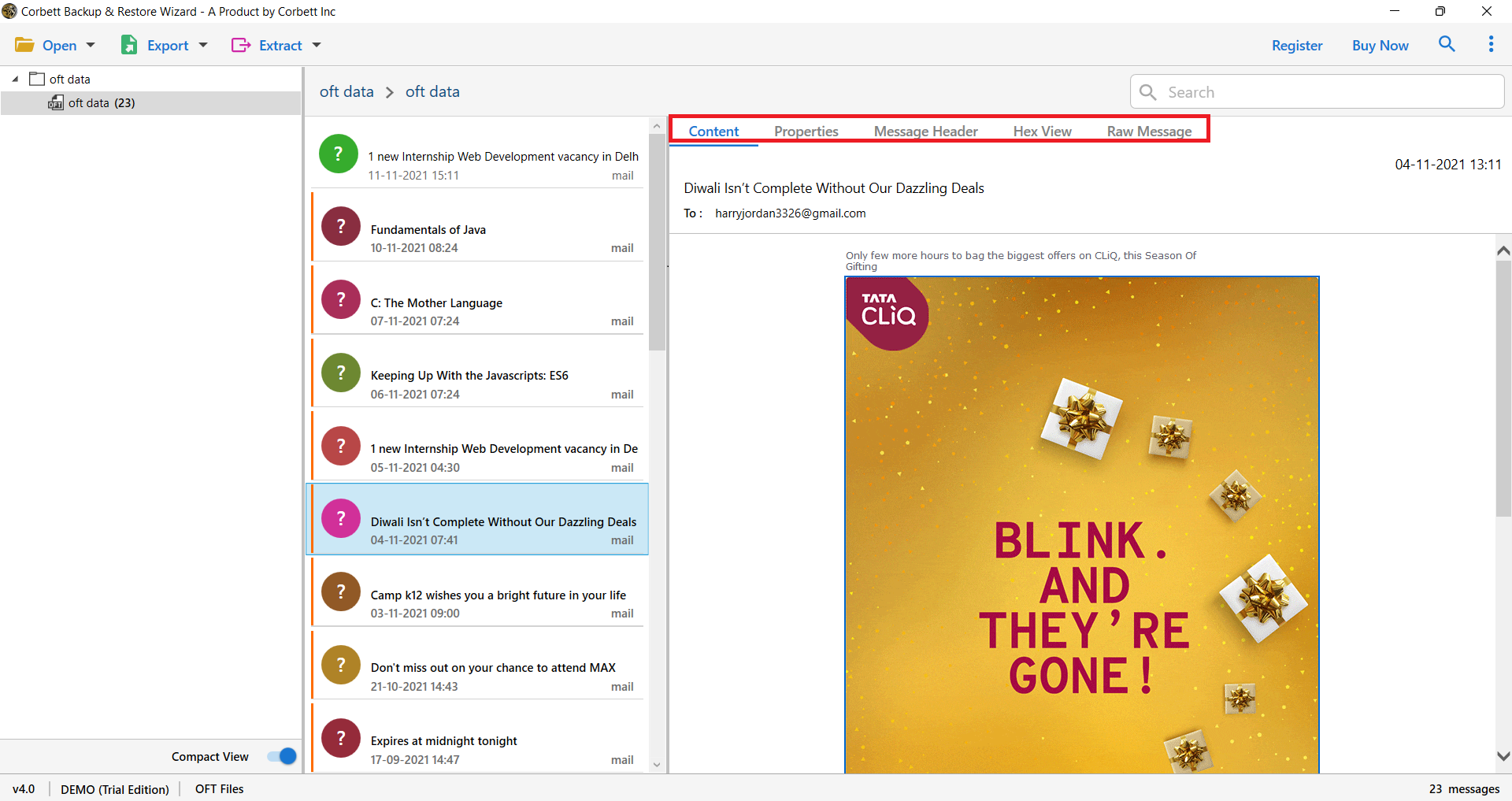 5. Choose Export Option, and you'll see a variety of export options. Choose PDF.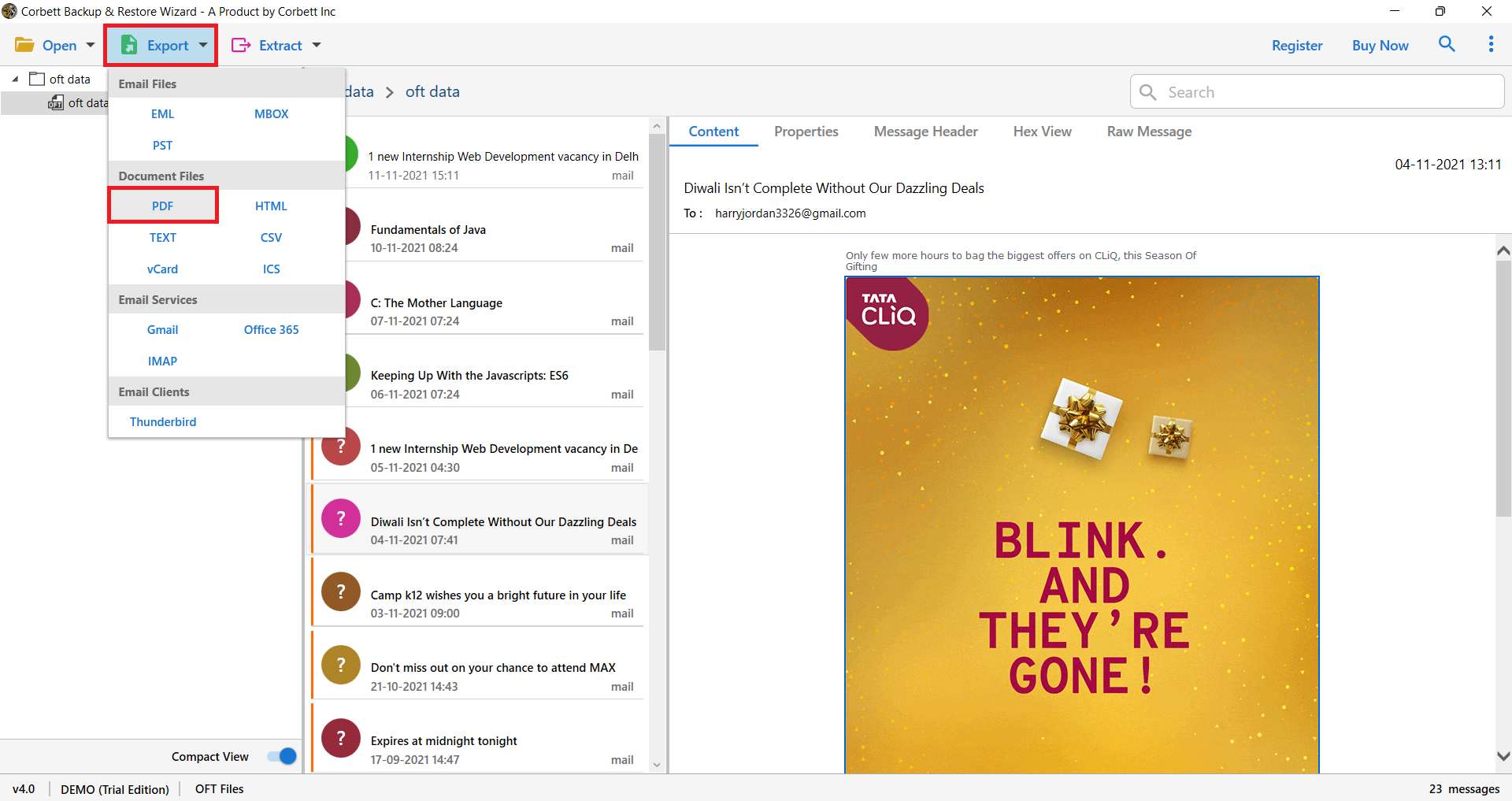 6. Finally, The PDF Export Options will be shown on the screen. You can browse the location as per your need and name your file through File Naming Option. Then press Save to begin the conversion process.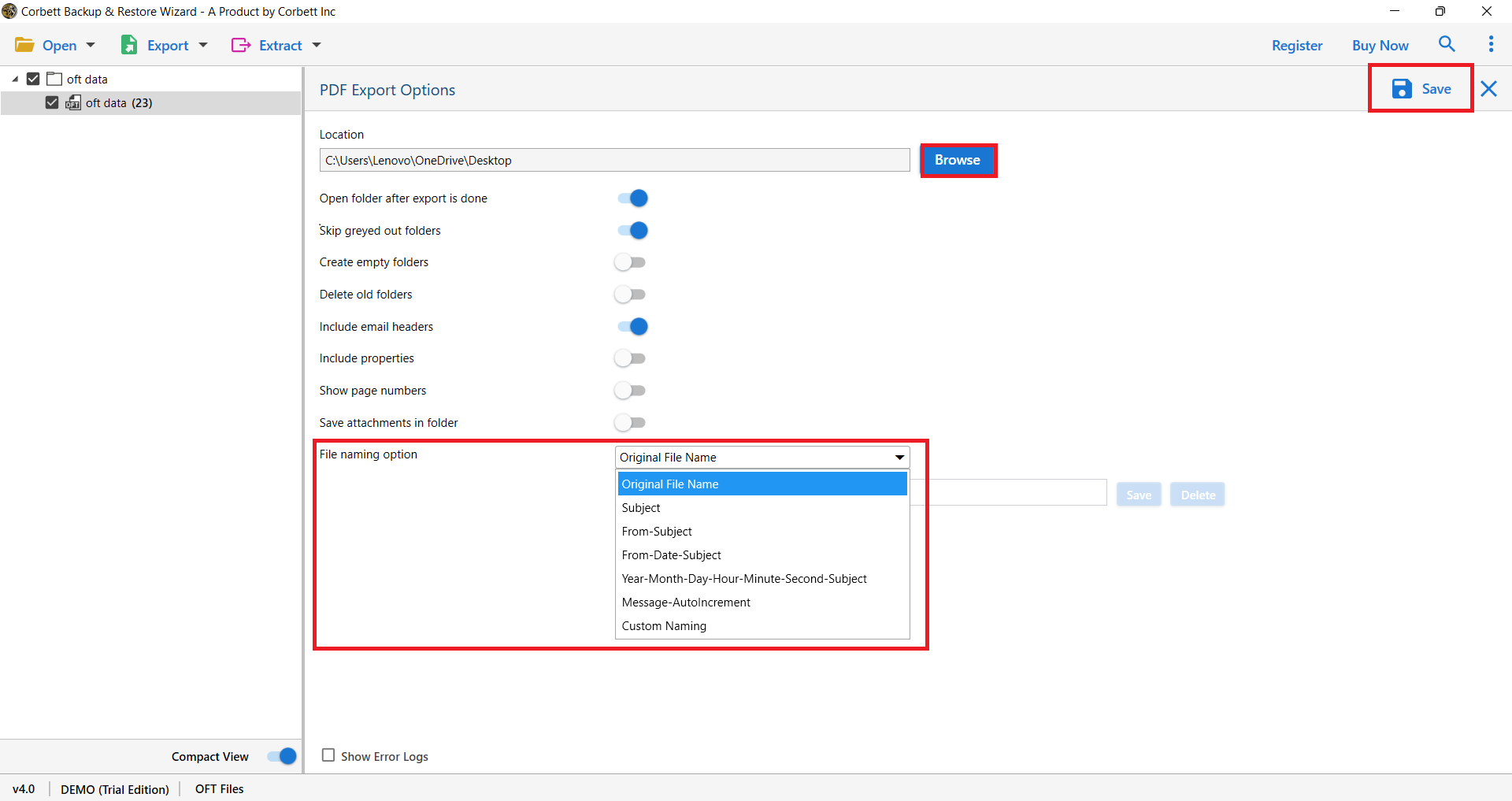 Conclusion
We've discussed what an OFT file is and how to make one in this blog. Nonetheless, you've put out a simple and straightforward procedure for converting OFT Files to PDF document types. It also makes it simple to convert a large number of OFT files to PDF. To convert OFT files, users can use various file formats and Webmail/Cloud-based email applications including EML, MBOX, Gmail, and Office 365. We also recommend trying out the trial version to see how well the software works.
Read Similar Blogs: