How to Batch Export Emails from Cox to G Suite (Google Workspace) Account in Batch?
Cox email is one of the best mailing platforms available to execute business communication. With the rise in innovation and technology, individuals started looking for a way to export emails from Cox to G Suite accounts.
In contrast, G Suite is the more conventional cloud mailing platform that numerous organizations utilize as their default email application. If you also want to shift from Cox Webmail to Google workspace. Then keep continuing with the blog…
There are many reasons why users want to move Cox webmail to Google Workspace account. From August 2019, Cox mail is not allowing the creation of a new email account. Also, we have a query that pop-up on the Reddit forum.

Why There is a Need to Switch Cox to Google Workspace Account?
The G Suite offers multiple functionalities to store email data files. It provides advanced email filtering options (Spam, Promotion, Inbox, Social, etc.).
The Google Suite account provides support for various business applications used to manage business activities.
Over time workspace roll out for improvements and provided necessary changes. That's why it's a good option to export emails from Cox to G Suite account.
Not just this, users will get extra cold storage depending upon the plan you purchase.
How to Move Cox Webmail to Google Workspace?
The manual data migration process from one email service to another can end up with monotonous work if there is no perfect guidance available.
However, an automated solution is available, i.e., Corbett IMAP Migration Tool, known for its smooth migration process. Any user can efficiently operate the software without any assistance.
Also, a demo edition of the toolkit is available that contains all the highlights and qualities, but it allows the export of only ten email files from Cox Webmail to Google Workspace account.
How to Switch Cox to Google Workspace Account? Let's Find
To move Cox Webmail to G Suite account, users need to click on the download button mentioned button.
1) Run the wizard and from the upper left you will discover an alternative named 'Open >> Email Accounts'. Tap on 'Add Account' Hit that and go on.

2) Afterward enter your COX email id and password in the given field.

3) After this, the software will generate a preview of Cox emails stored in your account.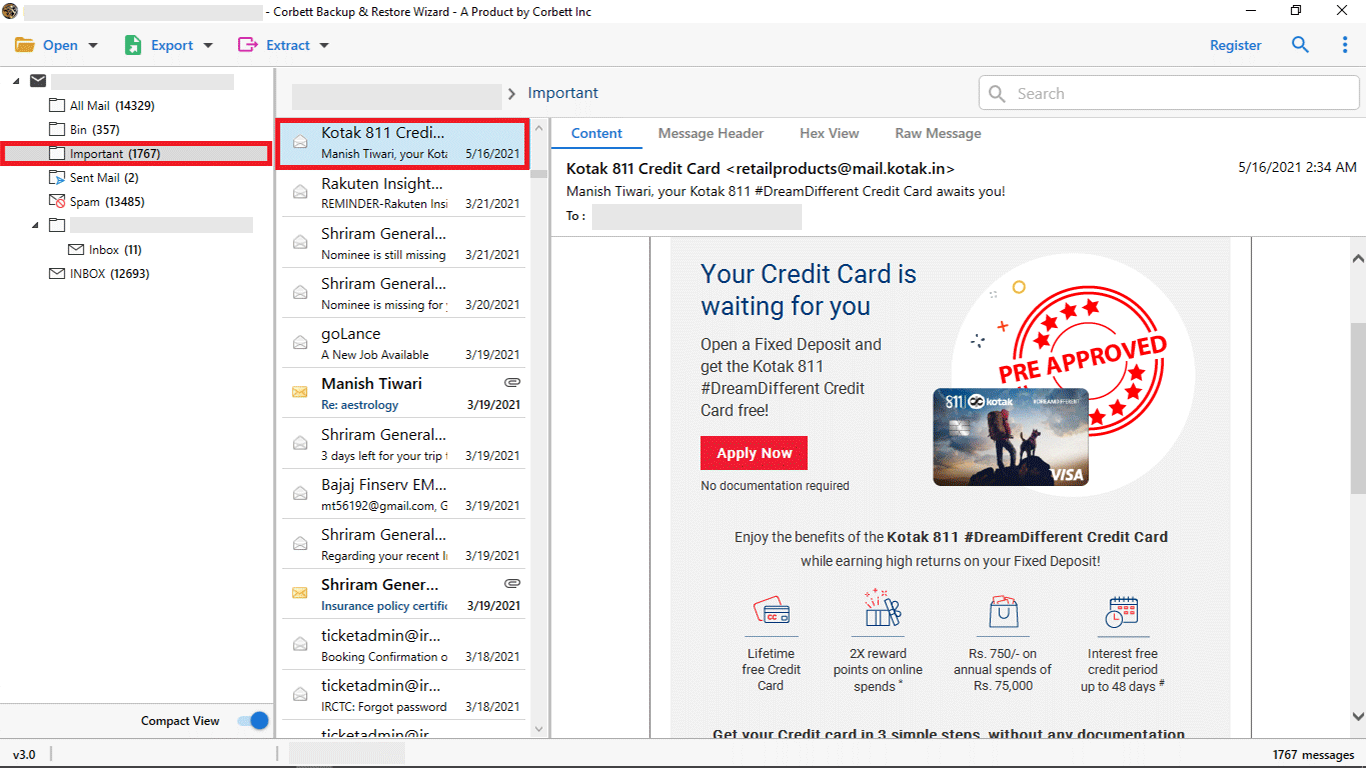 4) Ultimately will be required to click on 'Export' and hit 'IMAP' option to finish the interaction
In the last window of software you have to apply the data filters, and click on the "Save" button. Now, you have successfully export emails from Cox to G Suite account.
Why Automated Solution to Complete the Procedure?
Comprehensive Backup Cox Mail Emails: This automated wizard allows you to download multiple email files to your local computer or windows in the best possible ways. It also offers various file formats such as EML, MBOX, PST, etc.
Backup Cox Mail Emails to Cloud: The tool is well tried and tested and reliable utility that provides a backup facility to other Webmail clients accounts. You can export Cox emails to different email clients such as Gmail, Yahoo Mail, Office 365, etc.
Backup Cox Mail Emails Selectively: This tool comes with various smart filters for selective email data backup from Cox Mail emails to Windows OS. Eventually saves time and effort for users seeking Cox Mail emails backup.
Free Demo Edition: You can download the demo edition of Email Migration Tool that allows you to export emails from Cox to G Suite account with 10 data files from each folder. You can check the working performance of this utility by using the demo edition without any hassle.
Author's Suggestion
If you are discovering strategies to move Cox Webmail to Google Workspace account. Then this blog will be beneficial for you. Here we have described the entire solution to save Cox mail to G Suite account in a very few clicks. Then, also if you've got any questions, be happy to contact our support team.
Also Read: