Want to Extract Phone Numbers from Squirrelmail? – Complete Solution
If you are one of the users who want to extract and save Phone numbers from Squirrelmail emails then this blog is for you. Because in this blog we provide one of the best and professional solutions to download bulk Phone numbers from Squirrelmail.
Read the entire blog without skipping any part.
A Quick Look at Squirrelmail
SquirrelMail is a PHP-based webmail application that is free and open source. It is supported by practically any browser, including older ones because it uses HTML 4 and does not use Javascript. It's free to use and share because it's licensed under the GNU General Public Licence (GPL).
You are thinking why we give Squirrelmail overview because you are already using this email client and you know everything. But just in case who are looking for a solution for their colleagues and friends.
Who doesn't know about Squirrelmail, that's why we provide you a short overview of Squirrelmail that you can understand as well as get the best solution for your query.
Storage of User Data in SquirrelMail
Users' settings and address books are saved in simple text files by SquirrelMail. The data directory setting in the SquirrelMail setup determines where these files are stored. SquirrelMail can manage user preferences by using a database or another storage facility (if a plugin is available to provide the necessary backend).
.pref files are used to store user preferences. .abook files include address books, while.sig and .si files contain user signatures. Some plugins may store user data in other files.
Directory access time can be affected when the number of files in the data directory is huge. In such instances, the administrator can use directory hashing in the SquirrelMail settings to partition preference files into subdirectories.
How to Extract Phone Numbers from SquirrelMail?
The best solution to extract or save Phone numbers from Squirrelmail is Corbett Software. With this utility, you can easily extract and save Phone numbers from any email client directly.
This utility helps you a lot in the process and provides you with a wide range of file formats and extract options. This utility helps you to save not only phone numbers as well as attachments, contact photos, and so on. Follow the given steps to extract phone numbers from Squirrelmail in simple few steps.
Save Bulk Phone Numbers from Squirrelmail Account
Download this professional tool on your Windows Operating System. And start the extraction process step by step.
1: Open the Automatic tool and start with selecting Open choice. Shown in the image

2: Select the Email Account option to Add Account

3: After the tool shows you Email Account Detail windows to fill out Squirrelmail email id and password. Hit the Advanced Settings option to manually configure.

4: Then the tool upload your Squirremail account data into the tool

5: Click the Extract option after checking everything in the tool and select Phone Numbers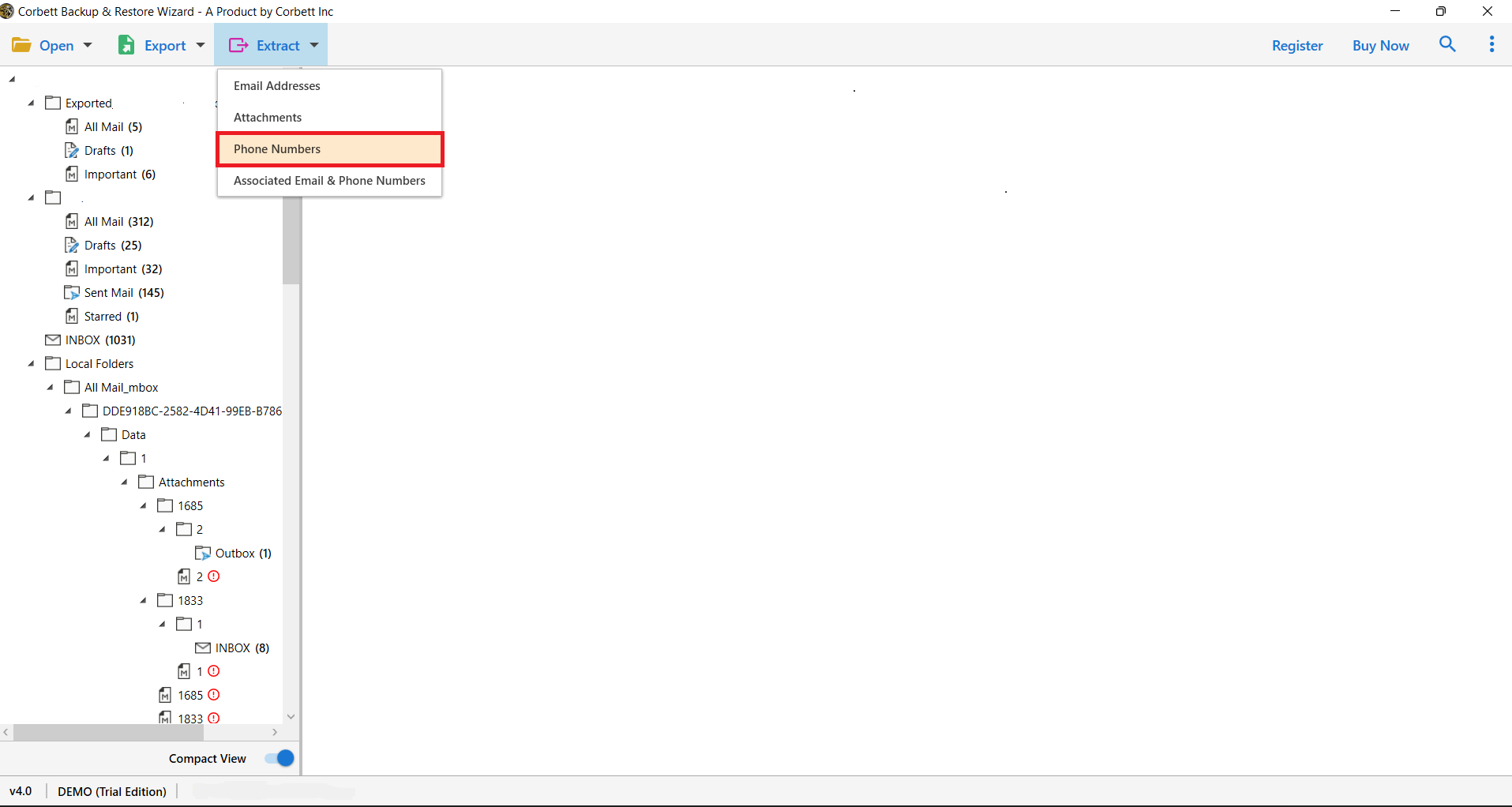 6: To start Hit Save and you can view the live extraction process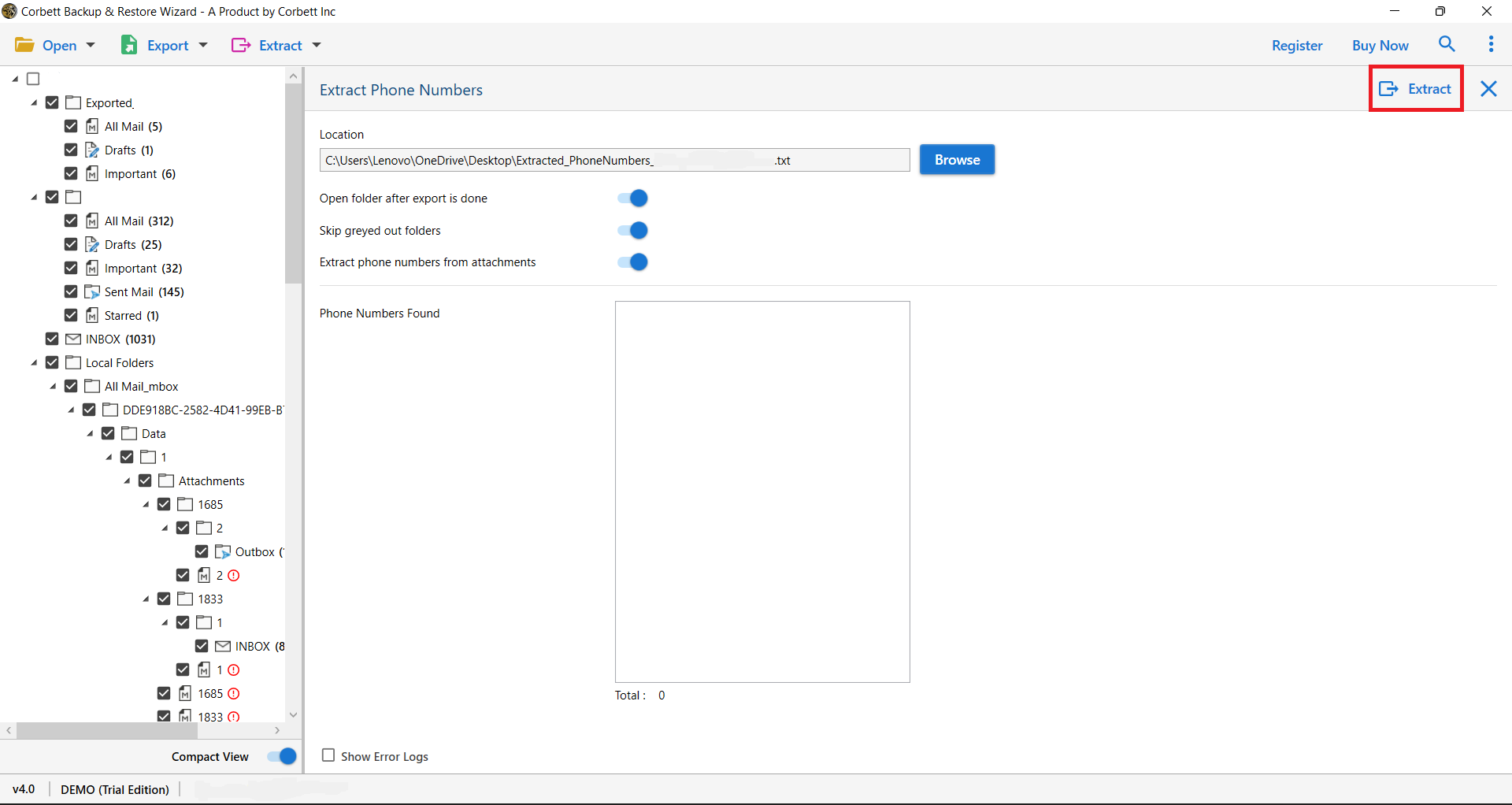 Finish the process step by step as we mentioned above and get your Phone numbers from Squirrelmail. You can save the extracted contact on the desired location. As you can see the tool show you Found phone numbers from the Squirrelamil account before the process and provides you three enabling option along with browsing the destination location to save phone numbers as your wish.
Understand the Key Advantages You Will Get to Use this Utility
Extract multiple Squirrelamil accounts Phone Numbers at once, by using this utility the user can save extracted phone numbers in a variety of formats without any complication.
Maintain the data security of the phone numbers after the extraction process, the advanced software maintains your data safety during and after the process.
This tool provides you with multiple formats to save phone numbers without losing data.
It has an easy-to-use interface that is designed to consider a non-technical user.
Preview the extracted phone numbers before saving them into the computer system
Extract multiple email items such as attachments, contact photos, and so on
Provide advance search and quick search options
Enable you to open folder after extraction is completed
End Thoughts `
In this blog, we mentioned the best solution to remove your queries on how to extract phone numbers from Squirrelmail. This tool will help you to complete it in a few seconds without any hassle. Start the process right by downloading the tool from the given button. Feel free to contact our customer support team for assistance. We are here to help you.