How to Export Hostmonster Emails to Gmail Account With Complete Files
As we all are aware that there are a lot of email services available in the market. So, what do you use for your tasks? If the answer is Hostmonster, then congratulations this blog is perfect for you. In case you are the user wondering how to export Hostmonster emails to Gmail, this is the right procedure to complete the process.
The Hostmonster is one of the most popular hosting services, which is being used by almost every type of business. So, if we talk about Gmail, this email service is being used by everyone, be it students, private sectors, government agencies, etc.
Because of various reasons like Google apps, glitch-free, upgraded security, and many more, most users are switching from Hostmonster emails to Gmail. So, if you are thinking about how is it possible, you can take a look at this blog:
Reasons for Transferring Hostmonster Webmail to Gmail
Well, there is not just one reason why most users are generally switching from Hostmonster webmail to Gmail. When we talk about the email service, we all know how amazing Gmail is especially for professionals. Other than this, it has some mind-blowing characteristics, and hence has a look at some causes behind the shift:
Gmail has been one of the most recognized email services which are there in the market. It is something which is majorly used by people due to its extraordinary and wonderful features. Its popularity is rising as compared to Hostmonster.
When you use the Gmail service, it helps you in saving time as compared to other email services
Being user-friendly, it even allows non-technical users to access the service without any hassles
The best thing that Gmail service gives you is the data management
Gmail's security and privacy features make it stand out from the crows
Until or unless you have a strong and reliable reason, you would not make this decision to Migrate Hostmonster webmail to Office 365. Now that we have understood the common reasons, let's get ahead with the process.
How to Export Hostmonster Webmail to Gmail Step by Step?
On the off chance, you are willing to complete the process of migrating from Hostmonster to Gmail, the tool which you need to use is IMAP Migration Tool. Well, the process of converting one email service to a different platform comes with lots of complexities but with this software, you can do it smoothly. One of the most wonderful parts about using the tool is that you can use it on Windows operating system. No matter whether you are a typical technical user or the non-technical one, this software can help you both.
Steps to Migrate Hostmonster Webmail to Gmail
Let's dive into understanding the process of migrating Hostmonster webmail to Gmail:
1: Download this software, and then open it in your system
2: Once you open the tool, you can see the 'Open' option on the top-left. Click on that
3: After that, you will have to tap on 'Email Accounts' and then head to 'Add Account.'
5: Thereafter, Enter your Hostmonster email login details and look below, you can see the 'Advanced Settings' option.
6: Click on that and provide the IMAP server or hit Find to auto-detect. Press Add to transfer Hostmonster webmail to Gmail
7:  The software will help you in browsing all the needed files. You can also enable Compact View
8: On the next page, tap on 'Gmail' from the available email service options and eventually go to 'Export' export to complete the entire process.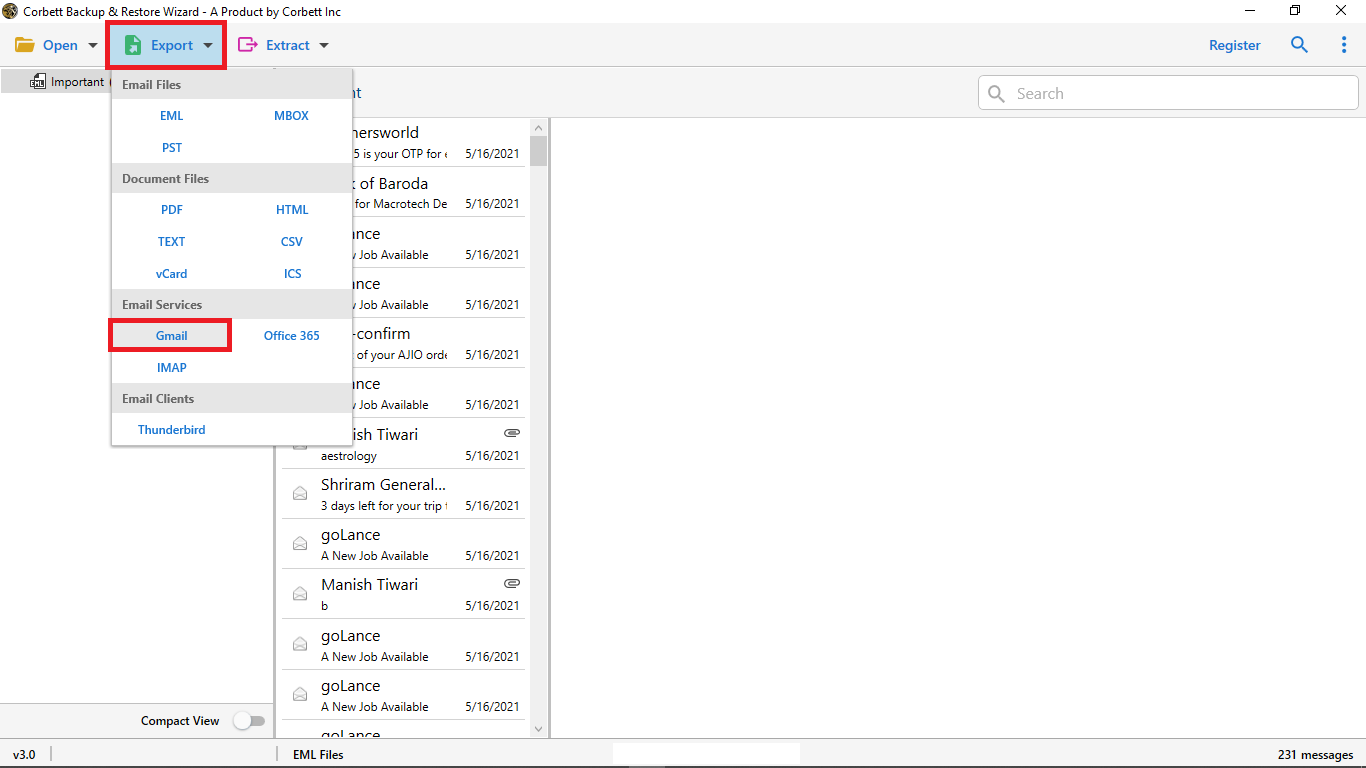 Execute all the above-mentioned steps and see how it works for you. So, Transfer Hostmonster webmail to Gmail in the best possible way, without compromising on data and without any hassles.
Extra-Ordinary Features of this Software
Quite easy and simple to use: Being one of the most used tools, This software is known for being user-friendly, which makes it usable for those users who are not much aware of technicalities
Selective migration of data: Selective migration of data becomes possible with the help of this wonderful software. It is not necessary to export the entire data and you can do it selectively
Easy and Fast Migration: If you are looking for a fast way to complete the migration process, this tool can do wonders for you
Secure and safe results: No matter what method you choose and what you do, the only thing that eventually matters is the result. With Corbett Software, you get 200% safe and secure results
Author's Suggestion
In this blog, you learn how to migrate Hostmonster webmail to Gmail without any hassle. Migrating the Webmails to Gmail process becomes easy and convenient with the help of this wonderful and flawless software. So, what are you waiting for? Import Hostmonster webmail to Gmail by following all the steps given above.