How to Export Hostmonster Emails to Outlook Account With Complete Data?
The purpose of this technical write-up is to guide users on the procedure of how to set up Hostmonster emails on Outlook account. In this article, you will find both manual and automated solutions to accomplish the task. We will also discuss the main reasons why users migrate from Hostmonster to Outlook. So, without any further delay, let's dive in and see how to accomplish the task in a smooth and efficient way.
To export Hostmonster emails to Outlook, let's first get a recap on both platforms. Hostmonster webmail is one of the known and reputed webmail services available and you can avail of all the outstanding services that it provides. On the other hand, Outlook is one of the leading and most popular email clients. When it comes to the features, we all are aware that Outlook is leading the market in every possible way. With the availability of incomparable features and a great security policy, this email service is grabbing the attention of maximum users.
As you see in the above-given description, most people choose to set up Hostmonster email on Outlook because of the splendid and enhanced features it provides. Thus, in this blog, we are going to talk about the reasons and solutions for exporting Hostmonster webmail to MS Outlook.
What are the Main Reasons for Migration?
If you are thinking to migrate Hostmonster emails to outlook, you must know the features and services provided by Outlook. And for that, you just need to have a look at the reasons given below:
Nowadays, Microsoft Outlook is one of the most known email services and is growing at a different level with each passing day
Outlook is famous for the upgraded and enhanced security and features it provides to its users
No matter whether your focus is just to export emails or contacts or anything else, Outlook is the best destination due to its seamless integration with other MS productivity applications
Having an array of tremendous features, Outlook has risen from something which nobody knew to something that everyone knows today
Best Solutions to Add HostMonster Emails to Outlook
There are two methods to add HostMonster Emails to Microsoft Outlook 2016 for Windows, Outlook 2013, 2011, 2010, 2007, 2003, 2000, Outlook Express, Windows Live Mail, Windows 10 Mail, and so on versions.
Both methods are best in terms of transferring from Hostmonster webmail to Outlook. But the reliable method is more accurate to complete the process within a limited period of time. Manually setup Hostmonster email on Outlook takes a long period of time and the user must possess the required technical knowledge to add emails from Hostmonster Webmail to MS Outlook.
Export Hostmonster Emails to Outlook 2016 for Windows Free Solution
This article shows you the best results related to your issues to easily complete the task. Task Involved in this method are How to Start, Auto account setup, and Manual account setup.
How to Start Outlook 2016 in Windows
Open Outlook 2016 from your Start menu.
If you've never used Outlook before or never have an Outlook id, you'll be prompted to create a new account.
Click Add Account under Account Information.
Then from the Add Account options screen, you can either continue with Auto Account Setup or select Manual setup or additional server types at the bottom to set up your account manually.
Auto Account Setup in Outlook
Microsoft Outlook 2016 supports Autodiscover, it mechanically configures the server settings using simply your email address and password and auto-fills the details. It's that easy!
On the Add Account screen, enter the subsequent information:
Enter Your Name or enter any display name as per your choice.
Then fill in your Outlook Email address in the given section
Your Outlook Password
Retype your Password
Then Click Next to complete the setup of HostMonster to Microsoft Outlook 2016.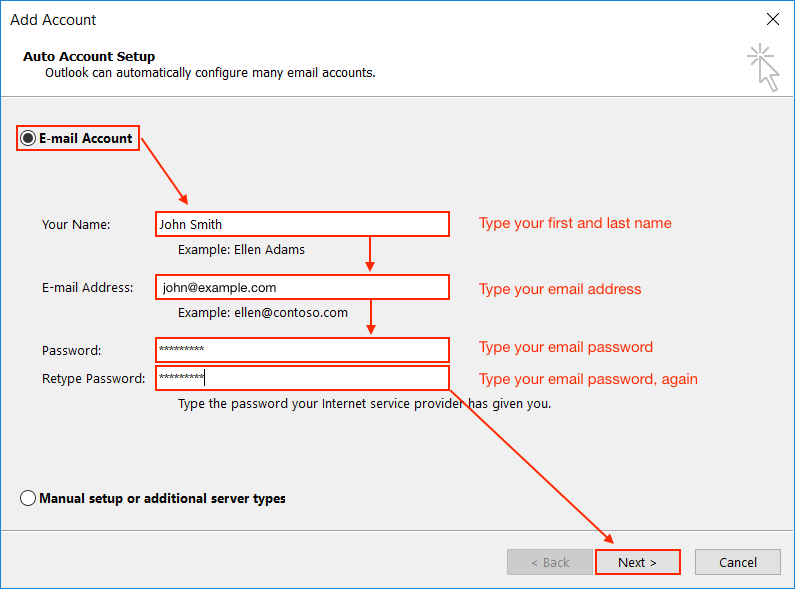 Manual Setup or Additional Server Types
If you are facing issues in the auto setup account you can use manual setup by filling up POP and IMAP Account Settings:
User Information: Write your Name and Email Address
Server Information: Account Type, Incoming mail server, Outgoing mail server (SMTP)
Logon Information: User name, Password
Click on the More Settings as per your requirement and then hit Next to complete the process of adding HostMonster emails to Outlook 2016 without any hassle.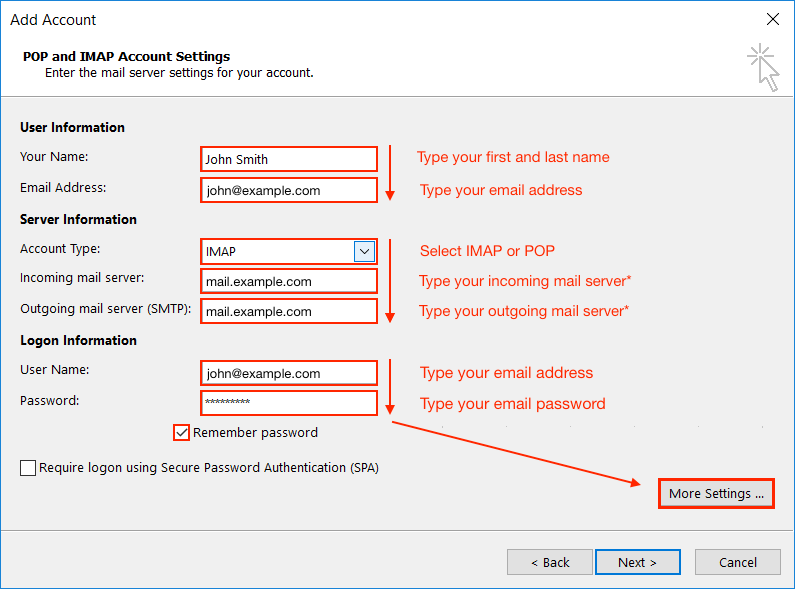 Limitations of Manual Method
There is a high risk of data loss and corruption
To execute this method, You have MS Outlook into your Windows OS, and should be fully functional.
The non-technical users can't add HostMonster Webmail to Outlook Directly because of the technical interface
Manual technique is a very time-consuming process and with less knowledge, it will turn into complex work
How to Migrate HostMonster Emails to Outlook Account Smoothly
Setup Hostmonster email on Outlook is a process full of technicalities and efforts but a Professional solution is a wonderful recommendation to complete the process within a single go. Corbett Software has made this process quite easy to perform. Are you confused that whether your device will be compatible with this tool or not? Well, forget all your worries as the software can work best with both old and new Windows versions.
Not only is its perfection limited to it, but this Email Migration Tool  by Corbett is also very simple to use, which makes it convenient for users to easily export Hostmonster emails to Outlook. Another thing you don't need to worry about is the technical things that it consists of. You can use the software no matter how weak you are in technicalities.
Steps to Transfer Emails from Hostmonster  to MS Outlook
let us perfectly understand the solution using which you can Transfer Hostmonster emails to Outlook:
 1: In the very first step, you require to visit your internet browser and then download the software, install and open the tool
 2: Hit 'Open' from the top left
 3: Thereafter, you need to tap on 'Email accounts' and then click on 'Add account' to export Hostmonster emails to Outlook.
 4: Provide your Hostmonster email id and password Now, press the 'Advanced Settings' option below.
 5: Then you will be required to enter your IMAP server in the space. or hit find to auto-fill and select Add
 6: The tool  browse your files once you enter the correct details
 7: Choose 'Export' and then you should hit 'IMAP' to Import Hostmonster emails to outlook
Why This Software is Best Fit to Migrate Hostmonster Emails to Outlook?
If you want to go for some new service, you must be knowing the exact features of that particular service so that it could be beneficial to you. This is why let us understand some major perks of this utility
Security: One of the most important aspects, when you go exporting from one service to the other, is whether your data is secure or not. With the help of this data, you will be able to save and secure your data in the best possible ways.
Migrate emails selectively: If you want to migrate emails selectively, this tool can help you out.
Fast and Simple: It is a fact that no user wants to go for a tool that is difficult to use. So, This tool has come up with an easy user interface, making it convenient for people to use it
Do not make any changes: When you export Hostmonster emails to outlook, there are certain risks involved. One such risk is that you might end up losing data. But, with this tool, there is no such risk.
Author's Suggestion
This article provides the complete solution of how to set up Hostmonster email on an Outlook account using manual and automatic methods. Users can choose any method to accomplish this task without any hassle. The manual method required some technical skills but on the other hand, the automatic tool is completely technical-free. Users can easily and safely Migrate Hostmonster Emails to Outlook accounts.