Here are Two Methods to Import EML to Apple Mail With Attachments
Are you seeking a way to import EML to Apple Mail? Then we guarantee that this blog will 100% assist you in effortlessly converting eml to Mac Mail. By employing the most effective of the two methods.
The user may either use the manual technique to import EML messages to Apple mail or utilize an automatic solution to speed up the process of importing EML to Mac Mail.
What Are the Benefits of Importing EML Files to Mac Mail?
A user recently contacted our support team with a question about converting EML to Apple Mail. The user's request!
"My name is Mack, and I'm looking to convert 10,000.eml files to Apple Mail. I'm going to convert them to Mac Mail first. It is necessary to convert the .eml file to the .mbox format. The only software that converts EML files to .mbox files is required. Please help me."
So, after hearing this user's concern, our team recommended our Best EML to MBOX Converter Tool to him. However, this user is not the only one who faces this problem. There are many others who are presently exploring the internet for a trustworthy solution to import EML to Apple Mail.
As a result, our research team locates additional sources, and we receive yet another user inquiry. We'll get to that later.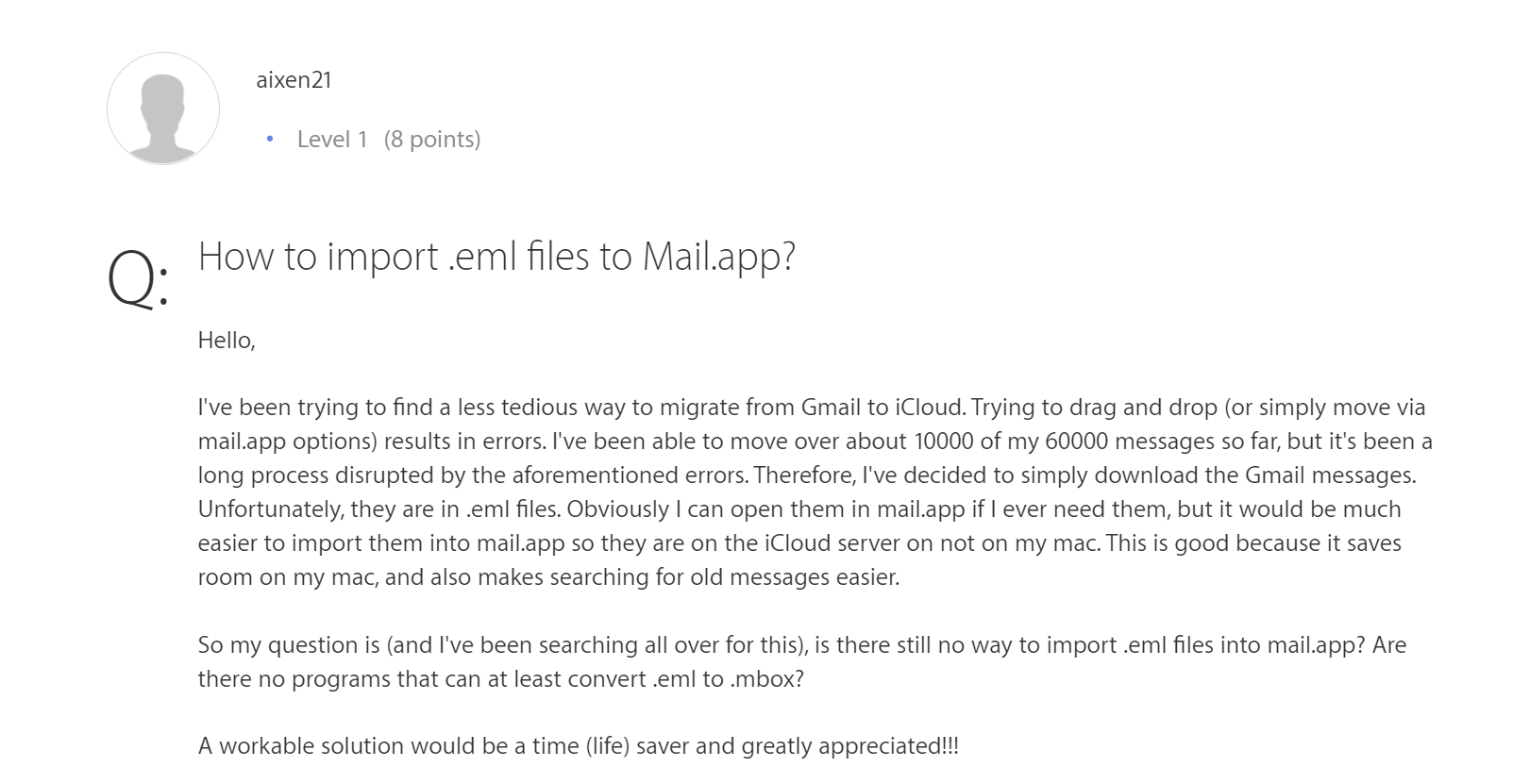 Same user query that we solved. So if you are also one of them who wants to import EML to Apple Mail. Then read this complete blog.
How to Import an EML File into Apple Mail Including All Email Data
To convert EML to Mac Mail, you can use one of two methods: the manual way or the automatic method. Because EML to Apple mail conversion can be done manually for free, an automatic program is used. However, the only way to convert.eml is to use the software.
As a result, the procedure of importing eml to Mac Mail is split into two stages. First, use any automatic software to convert EML files to MBOX format. The second option involves manually importing converted EML files into Apple Mail.
Steps to Manually Import EML to Mac Mail
This method is only beneficial for limited .eml files. If you want to convert only a few .eml messages to Apple mail. Let's understand how this manual method works.
Using Mac's secondary storage device, you can copy EML files from a Windows machine.
You can now open the folders that contain the EML files.
The next step is to select all the .eml files and drop them into the Apple Mail mailbox folder. You can also drag and drop the individual EMLs into Mac Mail if you want the desired email.
How to Convert EML to Apple Mail Automatically
Use this EML File Converter Wizard to Import EML to Apple Mail automatically. IT administrators and specialists have tested and confirmed this product. This program is available for Windows users to download.
This toolbox offered you a free trial version. As a result, this EML to Mac mail converter is available for free download. You can convert the first 10 files and directories for free with our free demo version. This free version is designed to help you learn how the product works and what it can do before you buy it.
By utilizing this program, you may learn how to convert EML to Apple Mail.
Importing EML to Mac Mail: Step-by-Step Instructions
1. Start the tool by selecting the Open button in the first previewable window.

2. After that click Email Data Files and select EML Files from the tool's drop-down list.

3. In the next step, choose the EML files or folder. And preview emails into the tool's panel.

4. After that, select the Export option and click MBOX from the provided options.

5. In the end, click Save to start the process.
In a meantime, your .eml files will convert into .mbox format that can easily be imported into Apple Mail. After completing the process you can select the Open Folder button to view the resultant files.
What are the Advantages of This Toolkit?
This software allows you to convert a large number of EML files at once.
In less than a minute, this tool will upload your massive EML data.
EML files can be converted to a variety of email client file formats.
Convert EML files into multiple Documents files like HTML, PDF, Text, and so on.
EML messages can be directly exported to any of the 100+ email clients that support IMAP.
Content, Messages Header, and other EML content preview modes are available.
After the export is complete, open the folder automatically.
Using the browse option, you can easily choose your destination.
Input or remove the EML files message header
Extract Multiple EML file items like Email Attachments, Email Addresses, Contacts, and so on.
In one try, both bulk and selective conversion can be completed.
Converting greyed-out files and folders isn't necessary.
Convert EML files with many attachments to other file types.
Use the advanced and quick search options to find emails.
Import EML files into Thunderbird, Gmail, Microsoft Outlook, and so on.
Author's Suggestion
In this blog, we describe the best methods to import EML to Apple mail using manual and automatic methods. We strongly recommend you download the tool and convert EML to Apple mail for free without worrying about data. This tool is 100% secure and safe.