How to Fix: Outlook Inbox Showing Unread Messages? Complete Guide
Throughout this blog post, we will discuss the "Outlook inbox showing unread messages" issue. To rectify the problem, we will share a variety of solutions and troubleshooting methods. Along with that, an automated utility backed by numerous technical experts to solve the problem in the long run. So, read this entire blog post and find out the best solution to your query.
Outlook is one of the best and popular email clients used by a plethora of people worldwide. Despite all the upgraded and advanced features it provides, its users still suffer with issues like "Outlook inbox showing unread messages". Therefore, we have drafted this technical writeup to guide you on how to rectify and eradicate this issue. In addition to that, we have also shared what experts suggest doing when faced with this problem. So, before we get to the solutions and troubleshooting techniques, let us first get a clear idea of the potential reasons causing this issue.
Reasons Behind Outlook Showing Unread Emails
Email Notification Settings: If you have enabled your new email notifications, it can cause the email client to show you unread messages even after reading them. To correct this, disable your new email notifications and mark all your inbox messages as read.
Server Synchronization Issues: An unstable internet connection can single handedly cause server connection issues which can ultimately lead to your Outlook inbox showing unread messages.
Issue with Email Filters: If set incorrectly, email filters can redirect messages into different folders of MS Outlook. This could lead to unread messages notifications in the inbox folder.
Deleted Email Messages: When you delete an email message, it doesn't disappear immediately. This is another reason that often leads to emails showing as unread in Outlook inbox.
Junk or Spam Mail Count: Frequently receiving high numbers of spam or junk email is another reason why Outlook inbox shows unread messages that aren't there.
Now that we are aware of the potential reasons that cause this issue for users, let's proceed further and get to know the solutions. In the following segment, we have shared the top six troubleshooting techniques to help you rectify the issue. Along with that, we have also shared the expert take on this situation.
How to Fix: Outlook Inbox Showing Unread Messages?
Here, we share six different solutions as well as troubleshooting techniques to rectify the issue. From checking the server and internet connection to repairing your MS Outlook profile, we covered it all. So, let us proceed and see all the shared solutions in detail.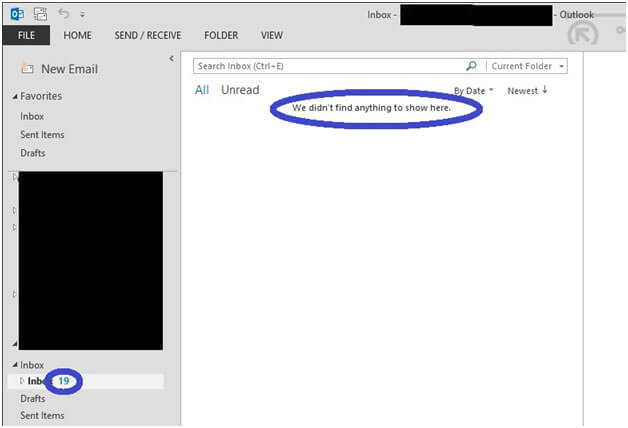 1. Examine the Server Availability
If your emails are showing as unread in Outlook, then, first and foremost, you must check your connection with the server. You can do so by heading to the bottom-right corner of your Outlook interface. However, keep in mind that server connectivity is rarely the cause behind the issue.
2. Ensure A Stable Internet Connection
Next up, examine if you have a stable internet connection. This is because the stability of your internet connection plays a crucial role in timely delivery of emails in your inbox. You can mitigate this cause by disconnecting and then reconnecting to the internet. Then, check and verify if Outlook still shows unread messages when there are none.
3. Reset the View of Your Email Client If Inbox Showing Unread Emails But None Exist
Launch the email client on your system.
A pop-up will appear asking for confirmation if you want to reset the view. Click "Yes" to confirm the setting change.
Upon doing so, your View settings will change.
At last, head to the inbox folder and start a "Send/Receive" operation to verify if you receive your emails as expected.
And this was the tutorial on resetting the view setting in your desktop email client.
4. Adjust the "Mail to Keep Offline" Settings
Launch the desktop email client on your system.
Click File, select the "Account Settings" option, and then select "Account Settings" again.
Next, double-click on your MS Exchange account in the email tab.
Afterward, in the "Change Account" dialogue box, adjust the "Mail to keep offline" slider and set it to the desired number of months or simply set it to "All" in order to synchronize all your email messages.

Click "Next" and after that, click "OK" to restart the MS Outlook application to complete the changes made.
Upon doing so, click on the "Finish" tab.
At last, restart your desktop email client to work as usual.
Follow the above-mentioned step carefully in order to configure the synchronization of your MS Exchange account in Outlook.
5. Turn-Off the Auto-Archive Settings
Launch the desktop email client on your system.
Then, right-click on the inbox folder and then, select the "Properties" option from the dropdown list.
Afterword, in the "properties" window, select the "Do not archive items in this folder".
At last, click "OK" to save the changes made.
Follow these above-given steps to turn off the auto-archive settings in order to eradicate the "Outlook inbox showing unread messages" issue.
6. Repair your MS Outlook Profile If Emails Showing as Unread in Outlook
The Outlook profile includes all the accounts and personal details. The functionality of the profile is controlled by certain settings. If your Outlook inbox shows unread messages that aren't there, then repairing your profile might turn out to be helpful in this scenario.
Launch the desktop email client and navigate to "Account settings" using the "File" >> "Account Settings" >> "Account Settings".
Then, click on the "Email" tab and expand it. Next, select your account and select "Repair".
Follow through and at last, restart your email client.
So, these were the top six solutions gathered from all over the internet. Unfortunately, these techniques could turn out to be risky and unsafe as they require making changes to the data files and settings of the Outlook application. Even one single error could lead to data corruption, data loss, or any unexpected issue with users data or the email client itself. Therefore, to avoid these gaps and hassle, technical experts recommend that users take a different route. Let us know more about it in the following segment.
Expert Way to Rectify the "Outlook Inbox Showing Unread Messages" Issue
If your Outlook inbox frequently shows unread messages that aren't there and you do not want to face this problem again and again, then it is time to switch to another desktop email client, for instance, migrate Outlook to Thunderbird email client. Making the switch ensures that your data does not get compromised while trying to rectify the issue. Thus, to protect your data from any harm, experts suggest transferring data to another email client.
As we know, migrating data from one desktop client to another is no less than a hectic task, and to make it easy and achievable for users, experts recommend that you use Corbett Email Migration Tool to make the switch. The astonishing utility is power packed with the best features that are specially designed to make the entire data migration smooth and hassle-free. It supports transferring user's Outlook data in batch mode which saves a significant amount of time and effort. Moreover, the Quick and Advanced search settings help users sort out their data on a finer level and even perform selective migration. In addition to that, it is compatible with all the latest as well as the older versions of the Windows Operating System, so you can use it on any Windows machine without any issues.
So There You Have It
In this article, we discussed what to do when Outlook inbox shows unread messages that aren't there. To rectify the issue, we shared several solutions gathered from all over the internet. We shared six different solutions that you can use to eradicate the problem. However, the solutions are deemed risky as they involve changing the settings which can easily corrupt the data if not executed properly. Thus, if the methods turn out to be non feasible for you, then technical experts suggest using the above mentioned utility to transfer your data to another desktop client.