How to Save Mailspring Attachments – A Complete Guide
If you are one of the users who are intent to extract attachments from the Mailspring account. Then your search ends here.
Because in this blog we will explain every step of extracting and saving email attachments from the Mailspring account in bulk.
As we know that there is only one way to extract or save any attachment from any email account. Is to open your email which contains attachments and download it to your computer system or mobile device directly.
Opening all the emails and obtaining attachments takes a lot of time, and there is a risk of losing data in the process, or some attachments might get left behind or double-downloaded.
Historical Overview of Mailspring
A desktop-based email client by Nylas, Nylas Mail emphasizes community-built extensions. From January 17, 2017, Nylas Mail took over the name formerly associated with Nylas N1. A fork of the software called Mailspring has been created by one of the lead developers.
Mailspring allows you to manage multiple email accounts from a variety of providers within one inbox. You can choose which account to use to send or reply to emails. Notification settings are customizable and the design is simple and clean.
Email Attachments: How Important Are They for Users?
The attachment to an email is a file that someone sends to another along with the email. Usually, it is designed to enhance the value or benefit that the email offers to the reader by providing extra information that can't be expressed in the body of the email.
The attachment is now a major part of business email because they make it easy to convey complex ideas, information, and instructions.
A business person usually gets a bulk of emails along with attached items i.e. Documents, PPT, CSV, Images, and so on.
Attachments come in a variety of formats and sizes, with the most common attachments being large text files, various types of documents, spreadsheets, scanned documents, forms, and images.
How to Save Bulk Attachments from MailSpring Account
If you are also looking for the same query "How to Save Attachments from MailSpring in bulk" then attempt this solution as soon as you read it.
There is only one solution on the internet to solve this user query which is Corbett Software Email Attachment Extractor. Which helps you to extract first and then Save attachments from the Mailspring account directly.
With this tool, users can easily perform the process of saving MailSpring attachments from email without any worry. This tool enables you to extract any file extension attachments, any documents, images, scanned documents, and so on.
Let's go through the steps of performing the process of email attachment extraction from the Mailspring account.
Steps by Step Guide – Save Attachments from Mailspring
To download attachments from Mailspring starts with the Downloading of Utility in your Windows OS. To ease your working we provide a Download Now button for you to directly download the tool.
 1: To begin the process download and open the application and hit Open to proceed next.

 2: Select Desktop Email Clients to select Mailspring Account from the drop-down options.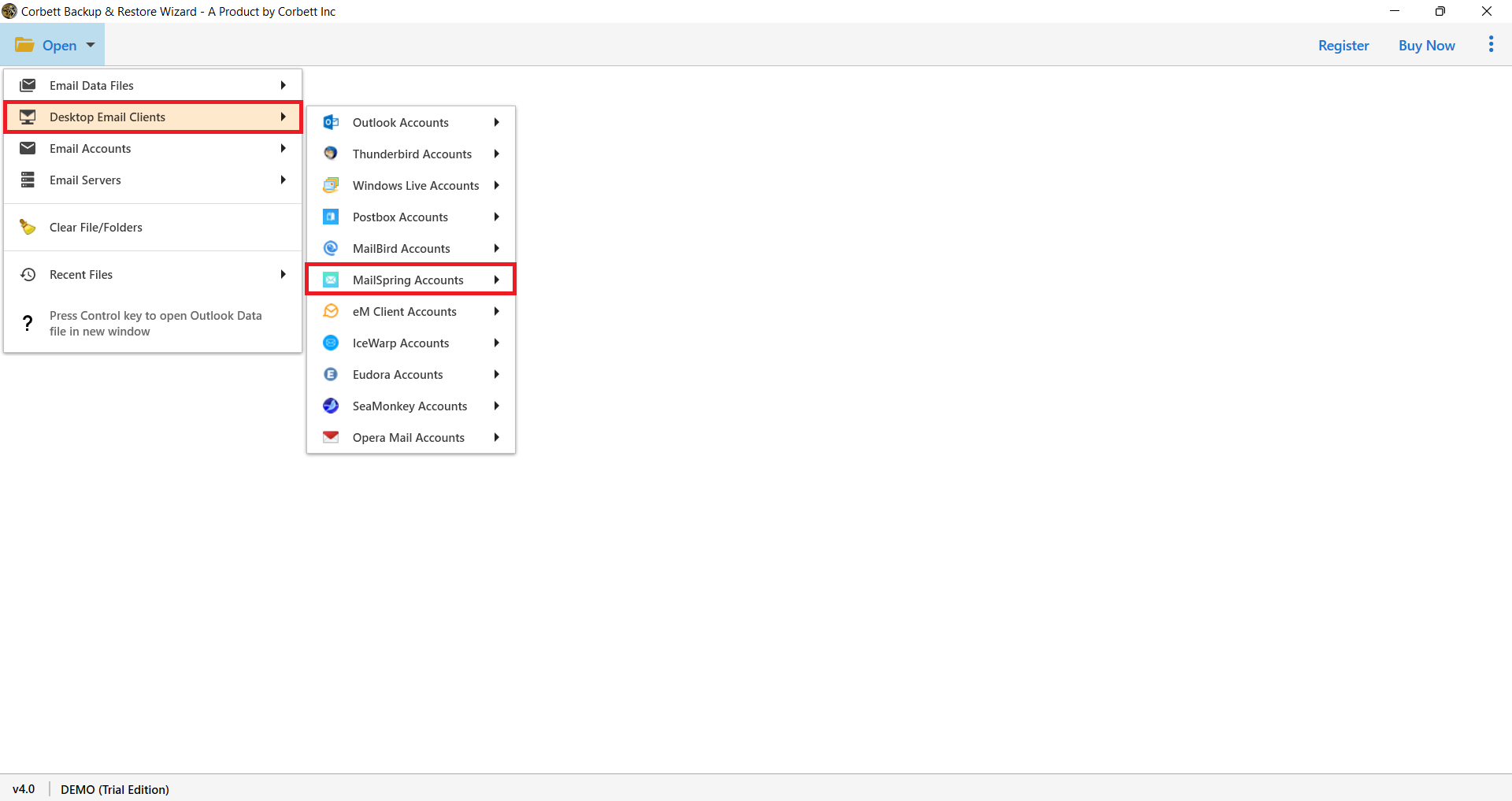 3: After selecting the Mailspring option you can directly configure your account or Choose a folder. In case users have the Mailspring emails in their computer system.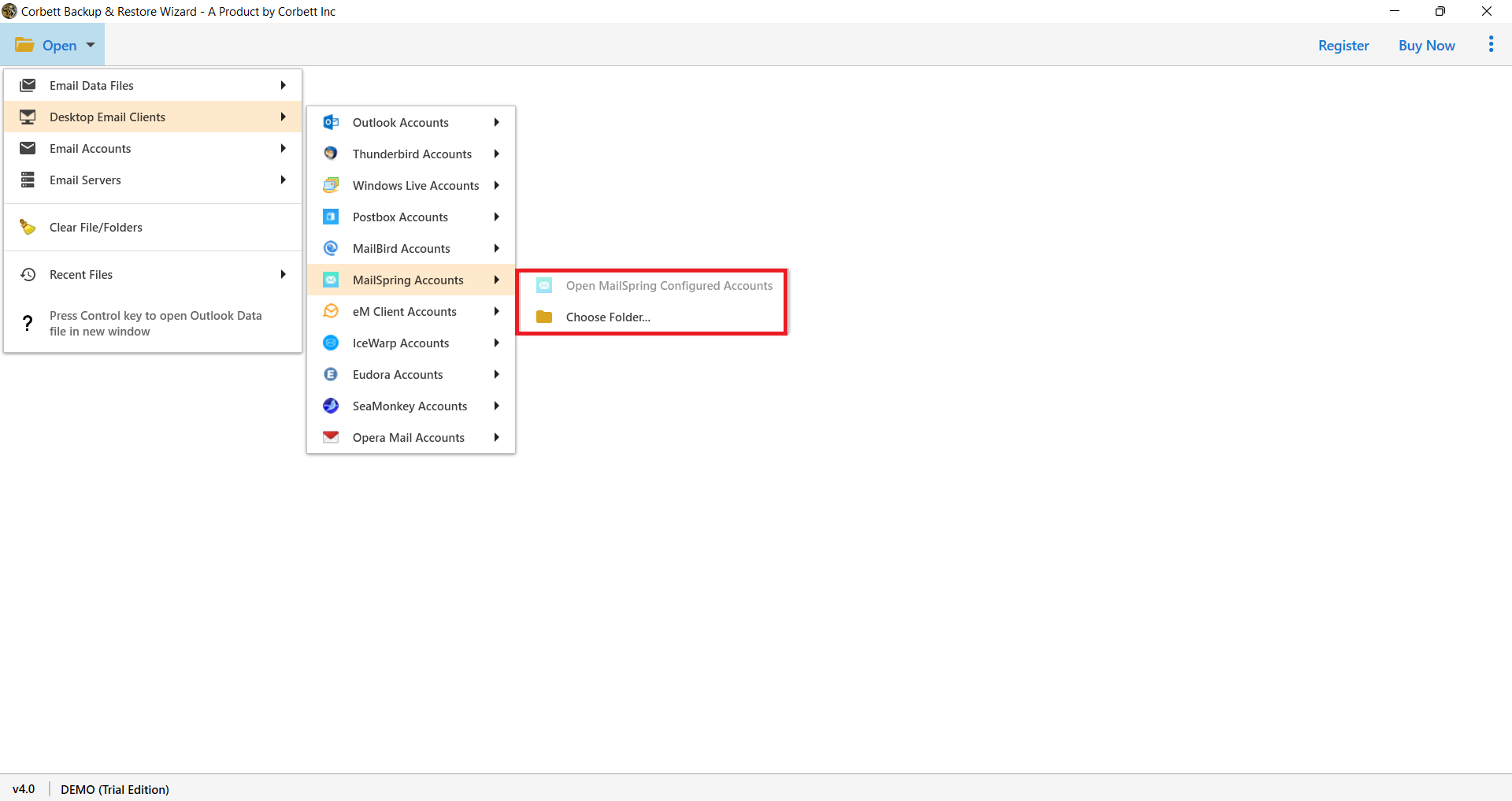 4: Next, the tool starts to upload your Mailspring email files and folders into the tool to be able to start the process.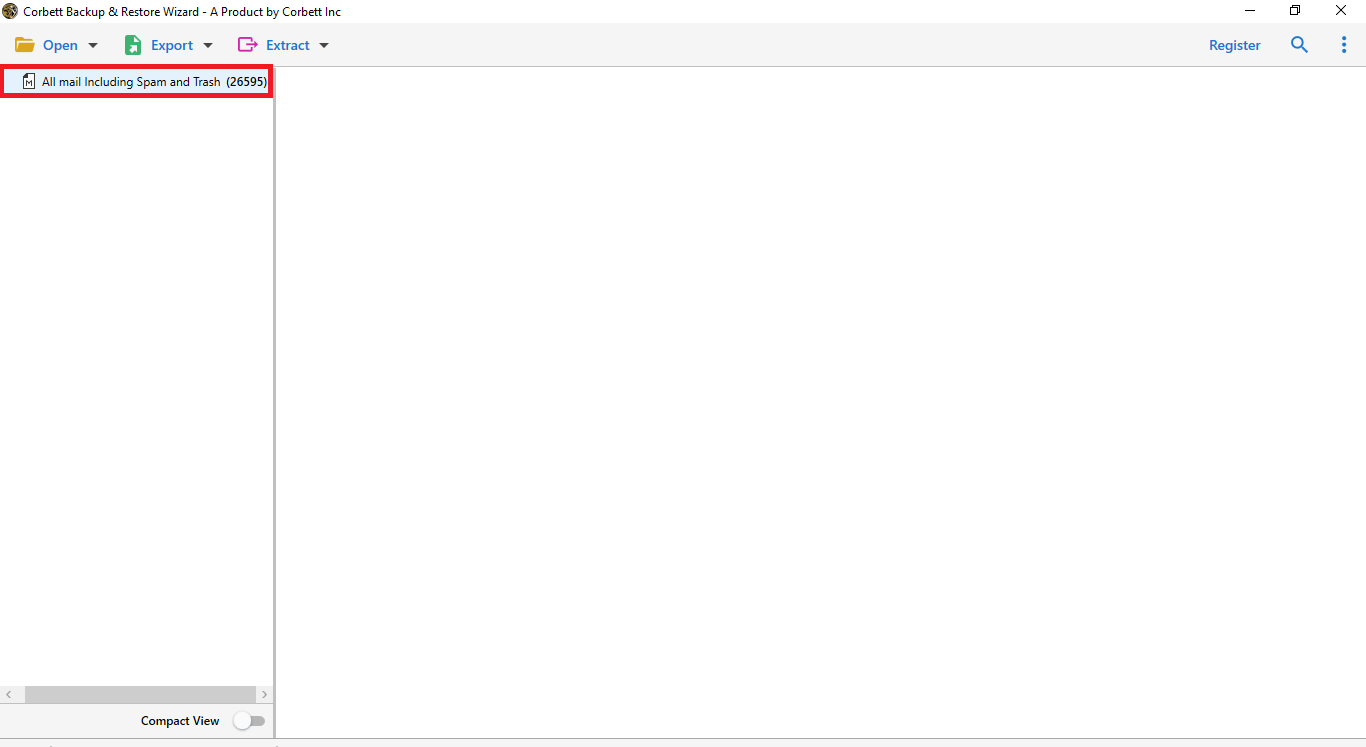 5: After completing the following steps, hit the Extract option in the top section and select Attachments from the given options.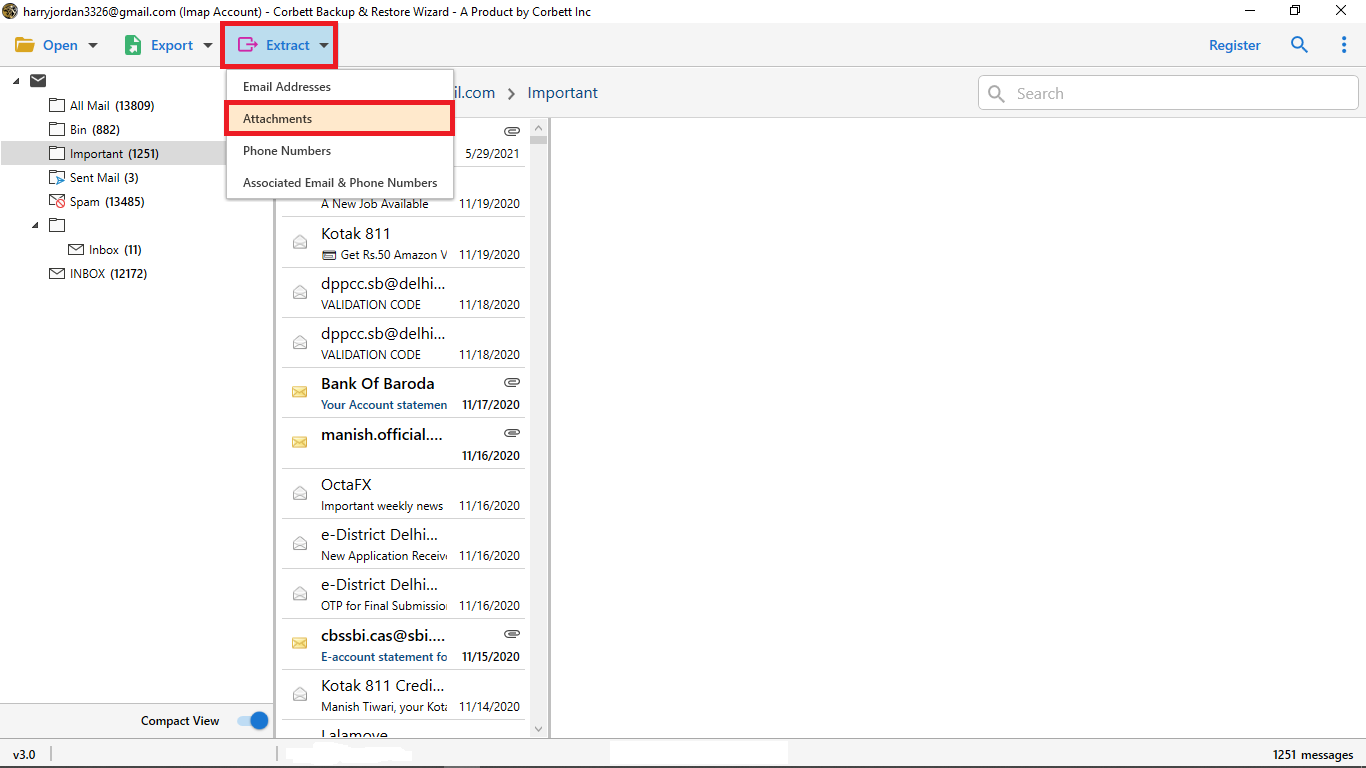 6: To save attachments from Mailspring click the Save option to download attachments from Mailspring emails.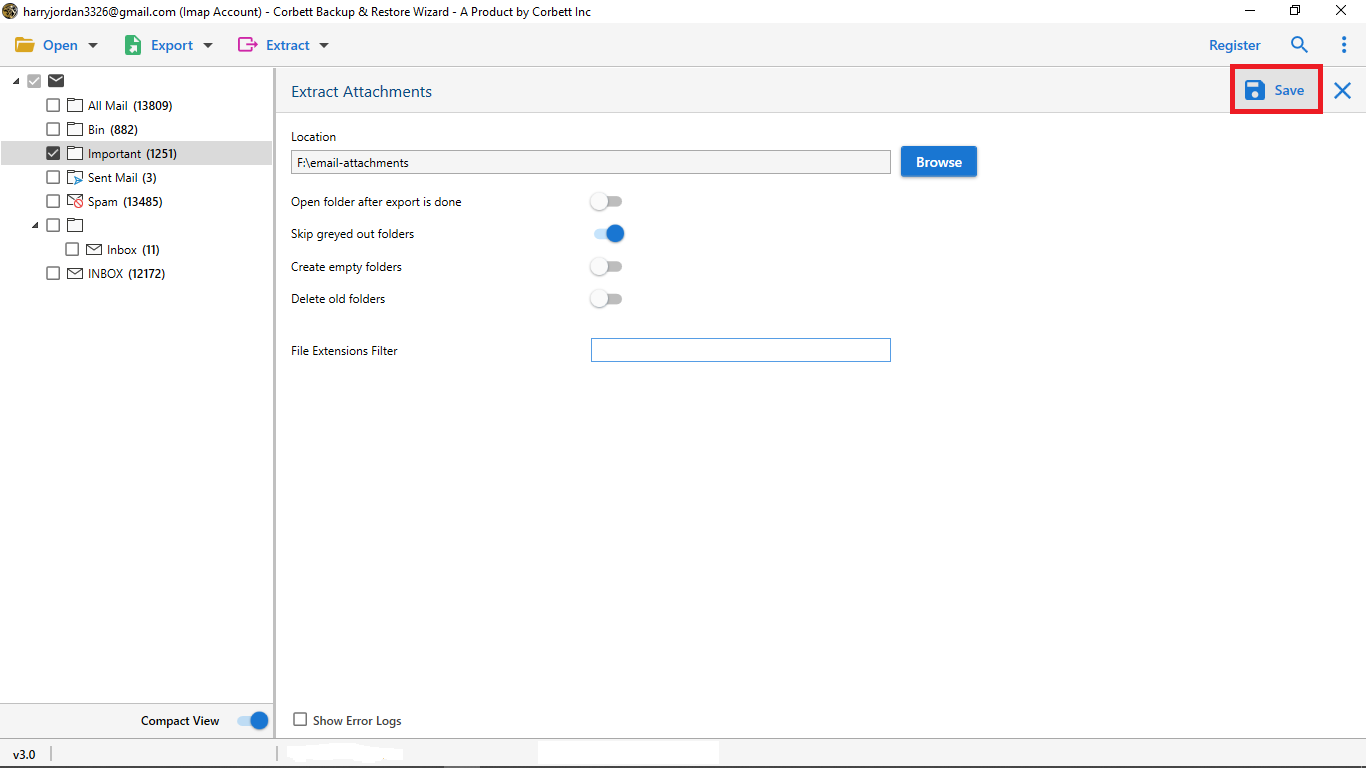 Follow the given steps from the above section and extract attachments from the Mailspring emails in bulk with 100% security.
Benefits of Using this Utility
If you are looking for benefits or advantages of the utility. With a reason why you should use this Email Attachment Extractor utility then read the blog to the end. Not many tools provide you with the features that this tool is giving you along with extracting attachments from Mailspring email.
This application enables you to extract bulk email attachments from the Mailspring account without any size limitation.
Manage several accounts in the tool or extract attachments from multiple MailSpring accounts.
Add file extension filter in the saving process to download only specific file extension data from the Mailspring account.
Users get the opportunity to save attachments from the Mailspring emails in the desired location.
Enable the option to open the folder after completing the extraction process. To view the extract attachments from Mailspring.
Time to Wind up
In this blog, we provide the most prominent solution to extract attachments from Mailspring. With this automatic tool, users can able to extract bulk email attachments in a single go without wasting any more time. If you face any difficulty in the process you can directly contact our technical support which provides you 24×7 support.