How to Convert EML File to CSV File Formats – Best Expert Solution
Want to convert EML File to CSV File format? Why do you want to convert EML to CSV? There must be some very important reasons and needs for EML file to CSV conversion.
And we all know that you are in hurry to get an instant solution to convert your eml to CSV with complete security and safety. In this guide, we will guide you on how can you convert EML file to CSV format with complete data. Without wasting any more time, let's understand the process of converting EML files to CSV file format.
Best Way to Convert EML File to CSV File Format?
EML Converter Software is the best solution to convert EML files to CSV File format. This tool enables you to convert bulk eml files into multiple file formats like CSV, EML, PST, MBOX, PDF, and so on.
There is no requirement to install any additional software to run this tool. This utility is completely freestanding. With a straightforward graphical interface easier the EML to CSV File Conversion.
Steps to Convert EML File to CSV File Format
Obtain the tool from the website and install it on your Windows operating system. Once the tool is installed, follow the steps below.
1. Select the Open option after opening the tool.
2. Then click Email Data Files and select EML Files
3. After selecting EML Files browse the location of Saved EML Files. And Upload eml into the tool
4. In the next step, hit the Export option and select CSV from the drop-down options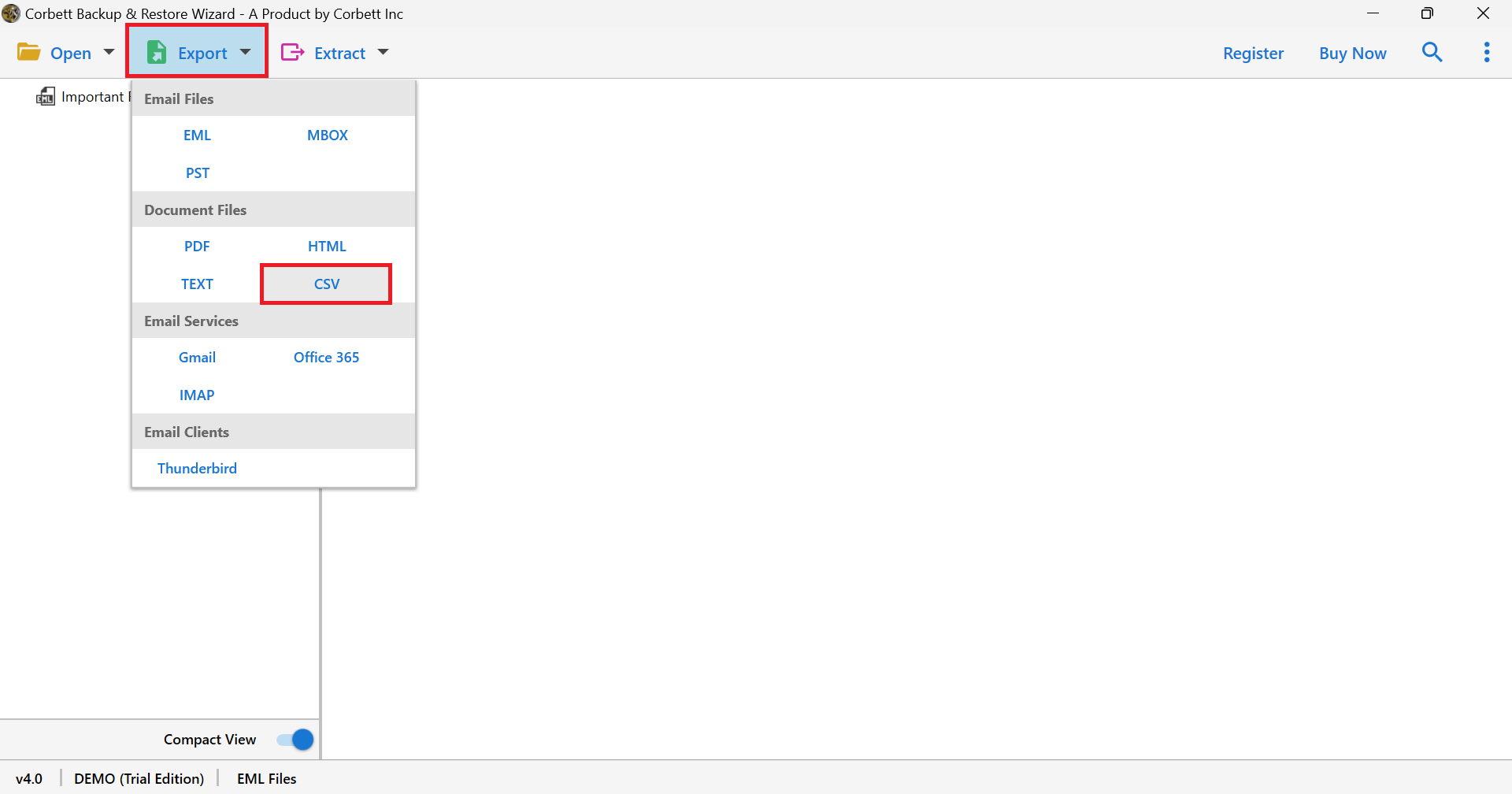 5. Finally, select Save in the CSV Export Options Window.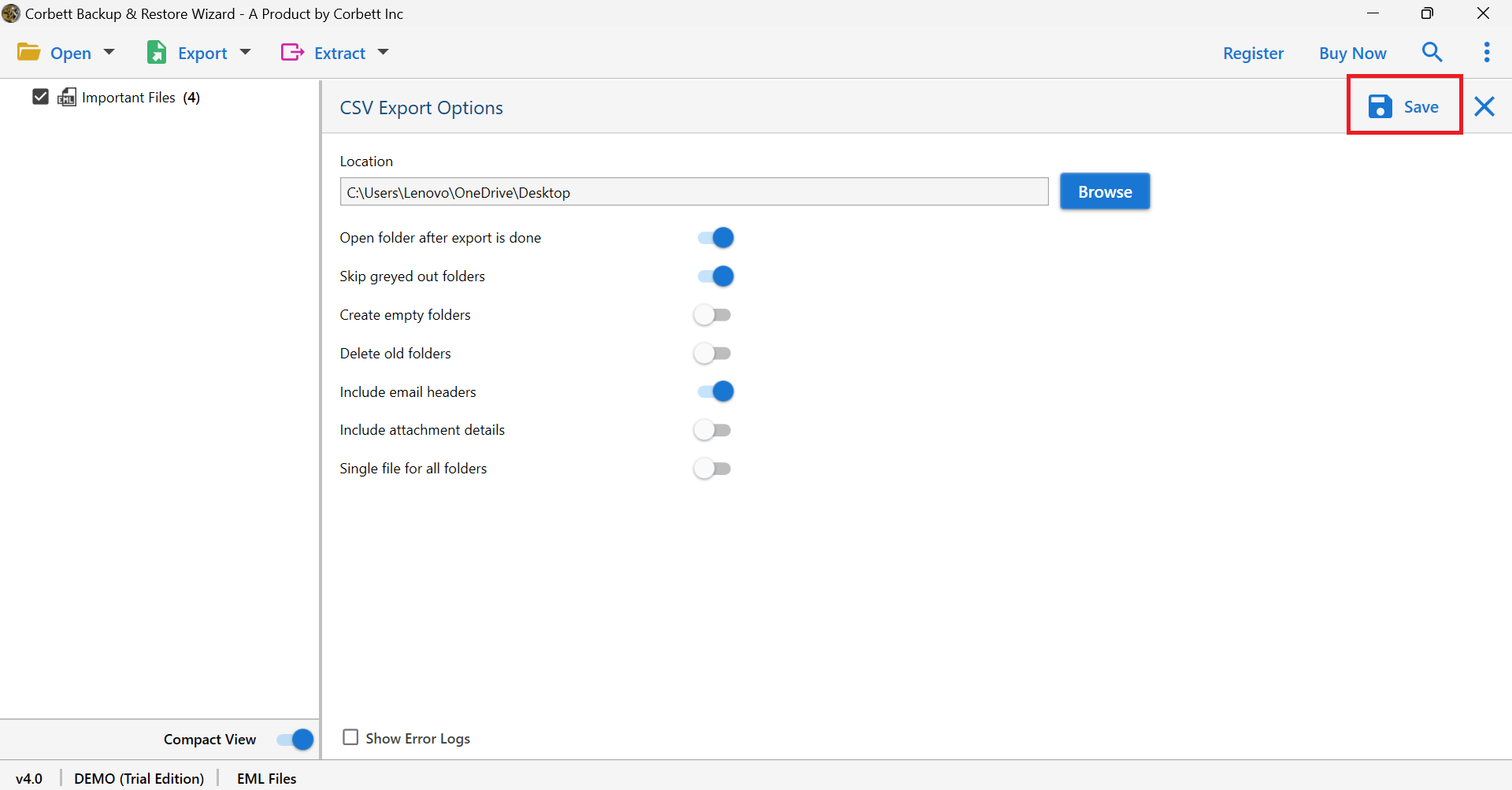 After following all the steps your EML files will be converted into CSV format. Now, it's time to understand what are the benefits of converting EML files to CSV File format.
Benefits of Converting EML File to CSV File Format
There are plenty of advantages to converting EML to CSV File format. Some of the main benefits are mentioned below. All these benefits are common for all users who convert EML file to CSV Format. However, more benefits are based on the user and how deeply the user can use the converted CSV files.
CSV files are common separated files that separated your data into tabular form.
It provides simple and easy documentation of data
These CSV files kept your EML file structure and folder hierarchy maintained with a sequence of field data.
The benefit of separating raws and columns for particular records or data.
Performance is simple to utilize and normal
It helps you to view EML files without using any email client.
CSV Files are supported by multiple email applications and are flexible to use and store.
Easily accessed by any text editor without any restrictions.
It separates your EML files into multiple tabular formats
Preview From, To, Cc, Bcc, Message Header, Body, into an individual cell.
These are multiple benefits that you will get after converting the EML file to CSV format. If you are looking for a manual solution to complete this process. Then, we tell you that there is no manual method available in the EML to CSV File conversion.
How to Convert EML File to CSV Free?
Looking for a free solution that can help you in this EML to CSV conversion process. Then, you are landed on the correct webpage. Because this EML to CSV Converter Tool provides a free demo version for their users. The free edition provides you for learn and understanding of the tool's graphical interface.
Users can easily download this tool's free version to try the EML to CSV Conversion. The demo version has some limitations i.e., You can only convert the first 10 files and folders to CSV format. If you want to convert bulk eml files to CSV, then you need to purchase the full edition.
Advantages of this Automatic Expert Tool
Bulk EML Files and Folders Conversion: This tool provides you with a double mode to upload eml files. Users can choose files or folders as per their requirements. However, it also enables you to select or unselect the files and folders before starting the EML to CSV Conversion.
Convert EML With Attachments: This tool not only converts your .eml files but also converts your .eml file attachments into CSV file format.
Maintain Data Fields: The best tool to convert EML file to CSV with a properly maintained data structure. This tool ensures that you will get exact data without any alteration.
Select Destination Location Without any worry: this tool doesn't restrict you in terms of storing your data. You have complete freedom to choose the end location for your resultant files.
Single File for All Folders: In the CSV Export Options, this tool provides you with this option to enable and disable. You can create an individual file for all your folders or can create only one.
Include Attachment Details: This EML to CSV Converter offers you to enable the option to include or exclude attachment details. You can either store your attachments details in your CSV files or not.
Final Thoughts
Try this tool's demo version for converting EML to CSV File format. This tool offers you multiple features and benefits along with EML to CSV Conversion process. In case, you are stuck in any step or have further questions feel free to chat with us.