How to Convert Google Workspace Account to Personal Account?
Throughout this article, we will discuss the best solution internet-wide to convert Google Workspace account to personal account. Today, we have brought the ultimate solution that is recommended by numerous technical professionals to accomplish the task in a smooth and proficient manner. So, read this entire blog and see how you can migrate a Google Workspace account to a personal account successfully.
Google Workspace (formerly known as G Suite) is a productivity suite with a strong user base. Unfortunately, nowadays, Google Workspace accounts have become extremely pricey, however, the customers are unsatisfied with the services they are receiving. Therefore, people are looking to migrate and convert Google Workspace account to personal account. And thus, we are here with the topmost solution from all over the internet to solve your query about converting from a G Suite account to a personal one.
Why Users Switch Google Workspace to Personal Account?
Now there are countless reasons why users decide to change their G Suite account to a personal account. Here, we have gathered and presented you the three most prominent ones.
Cost-Appropriate: Unlike a Gmail account, users actually have to pay a subscription fee in order to get access to a Google Workspace account. Thus switching from a business account to a personal one saves you big bucks.
Numerous Services & Features: A Gmail account provides the same number of services and features to every user across the globe. Whereas, the features and services of a Google Workspace account depend on the subscribed plan.
Abundant Cloud Storage: A personal Google account provides users with a whopping 15 GB of storage space which is quite generous. A business Google account, on the other hand, provides 30 GB storage that may turn out to be unnecessarily excessive for many users.
As you see, these are the prominent features for why changing from G Suite to a personal account is a beneficial idea for most users worldwide. So, how can one actually accomplish that, let us see the solution in the following segments.
Can I Convert Google Workspace Account to Personal Account?
Unfortunately, there is no way to do the opposite. Google itself stated that it is not possible to directly convert a Google Business account to a personal account. However, you can migrate Google data to your personal account or use both accounts simultaneously.
But transferring your data has its own limitations and there is no direct way to do that either. Therefore, technical professionals recommend users go for an automated utility that assists them in executing the migration in a smooth and efficient manner.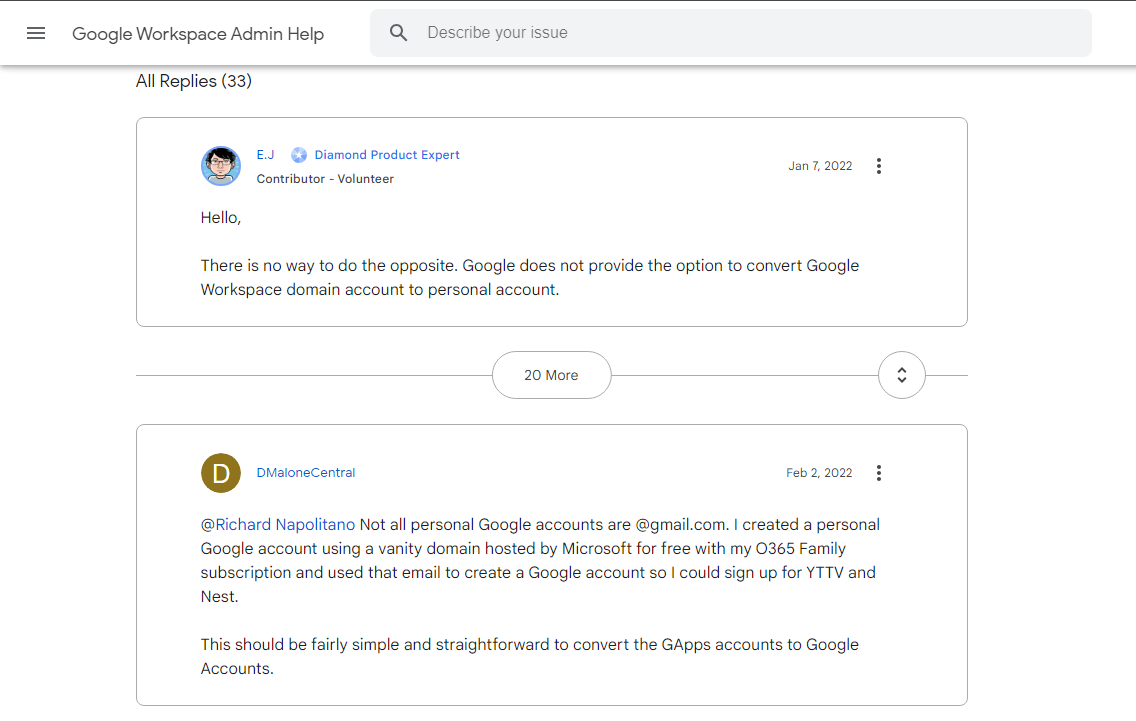 Quick Steps to Convert Google Workspace Account to Personal Account
Download the Google Workspace Migrator on your system.
Click on Open >> Email Accounts >> Add Account.
Enter your Google Workspace account credentials.
Preview your data and click Export and select Gmail.
Enter the credentials of the target account and hit Save.
Upon following these given steps, your account is successfully changed from G Suite to a personal account. Now, once you have switched, you must cancel your Google Workspace subscription in order to cut unnecessary costs.
How to Cancel Google Workspace Account Subscription?
Once you complete the G Suite account to personal account migration, you obviously have no use of your Google Workspace subscription anymore. Therefore, it is better to cancel the subscription of the account altogether. This will also help in saving money that is being spent on the account subscription. Here's how to cancel your subscription to a Google Workspace account:
Sign into "Google Admin" and head to "Billing".
From the "Actions Menu" in the Subscription List of your G Suite account, select "Cancel Subscription".
At last, click Continue. Upon doing so, your subscription will be canceled immediately.
Note: Once you cancel your subscription to your Google Workspace account, you will not be able to undo the step.
Expert Take on How to Change Google Workspace Account to Personal
Migrating data is undoubtedly an overwhelming task, thus, we have brought the best solution to execute it in a smooth-sailing and secure way. Yes, we are talking about none other than the Corbett Gmail Backup Tool. This expert-favorite utility singlehandedly makes the entire data migration task extremely hassle-free. It provides its users with a variety of features that are rare to find in any other available solutions. Moreover, this tool is compatible with all versions of Windows OS, thus, users can download and launch it on any Windows machine regardless of the version.
Detailed Steps to Convert Google Workspace to Personal Account
Download and launch the above-mentioned professional utility on your Windows system and click on the Open tab on the top-left corner.

Then, from the dropdown menu, select Email Accounts and then click on Add Accounts.

Next, enter your Google Workspace credentials in the required fields to add your account to the software.

Upon doing so, the software loads all your data into the dedicated preview panel with four different modes that display different attributes. Preview your G Suite data before migrating it.

Then, click on the Export tab and select Gmail from the provided options in the dropdown list.

Utilize the provided advanced features as per preference, enter the credentials and App Password of the target account in the required fields, and lastly, hit the Save button.

And that is all for changing a Google Workspace account to a personal account. Follow the above-mentioned steps to ensure a smooth-sailing and hassle-free procedure to securely accomplish the task. Furthermore, there are multiple benefits that you get when you choose to use this automated utility to execute the migration process.
Advantages of Opting for the Professional Utility
There are numerous benefits one gets when they opt for this expert-recommended utility to convert Google Workspace to personal account.
This utility easily auto-detects the port number and host server address as users only need to provide the account credentials to add their accounts to the software.
One can also perform selective migration of their Google data using the Date Range Filter of this tool as well.
Throughout the conversion process, this utility maintains 100% data integrity along with original structure and hierarchy of user data.
This tool provides two different search settings: Quick and Advanced for users to sort through their uploaded data on a granular level on the basis of keywords or email fields like CC, BCC, To, From, etc.
You can use this utility on any Windows machine regardless of the version as it is highly compatible and fully supported to work on all versions of Windows OS.
So There You Have It
In this blog on "Convert Google Workspace Account to Personal Account", we discussed the top solution to accomplish the task. Here, we shared an automated utility that is handpicked by numerous technical professionals across the globe. Not only is the above-mentioned utility an expert favourite but it is also an extremely secure option. Furthermore, you get a plethora of advantages and features when you choose the professional recommendation to convert Google Business Account to Personal accout.
Read More Articles: