Expert Solution to Convert MBOX to TEXT File – Complete Step by Step Guide
Looking for a solution to convert MBOX to TEXT Files with complete data? Then, read this complete blog to get the most accurate results to complete the process without any data loss.
In this article, Before starting the MBOX to TEXT conversion procedure. Let's understand the MBOX and TEXT File overview.
MBOX Files: Most of us store emails in the MBOX format, which combines all messages into one file. Using this format email messages can be stored on hard drives. As a result, an MBOX file is a long text file with messages arranged in a string. Each message starts with the word "From", followed by a space and the email address of the sender. Originally, MBOX files were used on Unix. The files can be accessed by Qualcomm Edora, Microsoft Entourage, Mozilla Thunderbird, and Mozilla clients.
TEXT Files: Text file formats that do not support formatting are TXT and DOC. Additionally, Files in these formats contain characters such as tab and line feed. Although it is outdated in functionality, it has one major advantage – compact file size, data export/import, and ease of sharing. There are several charsets supported (DOS, WIN, ISO, KOI-8). You can change the charset to make TXT files compatible with any text reader. Setting up format parameters in the reader program fixes the lack of formatting.
How to Convert MBOX to TEXT File Format Quickly?
1. Download MBOX Converter Tool and select Open
2. Click Email Data Files and select MBOX Files
3. Browse .mbox files and preview them in the tool's panel
4. Hit Export and select Text from the given list
5. Finally, select Save to start the procedure
Overview of MBOX to TEXT File Converter
One of the best ways to convert MBOX to TEXT files is by using Corbett Software Flowless MBOX Converter. It is capable of converting emails from MBOX to Text Files with attachments. Thus, using this solution, You will get a 100% guarantee of data security and data safety.
Download the MBOX to TXT Converter Tool and get the most advanced features.
Prime Benefits of this Application
Use Notepad or WordWrap to open multiple mailbox messages
Extraction of phone numbers from Mailbox files
Obtaining Email Addresses from an MBOX File
Extraction of attachments from MBOX file
Migrate bulk Mailbox files in a single so
MBOX files can be imported into Gmail, Office 365, G Suite, Yahoo Mail, and many more
Convert MBOX files to TXT files in batch
.mbox files are supported by 30+ email programs
Compatible with all Windows operating systems
Steps of Export MBOX to TXT
1. Firstly, Run the MBOX to the TXT Converter tool and hit Open

2. Secondly, Select Email Data Files then select MBOX Files. Then click Choose files and folders to add the .mbox file

3. Thirdly, Preview MBOX files into the tool's preview panel.

4. Click Export and select the TEXT File format from the drop-down list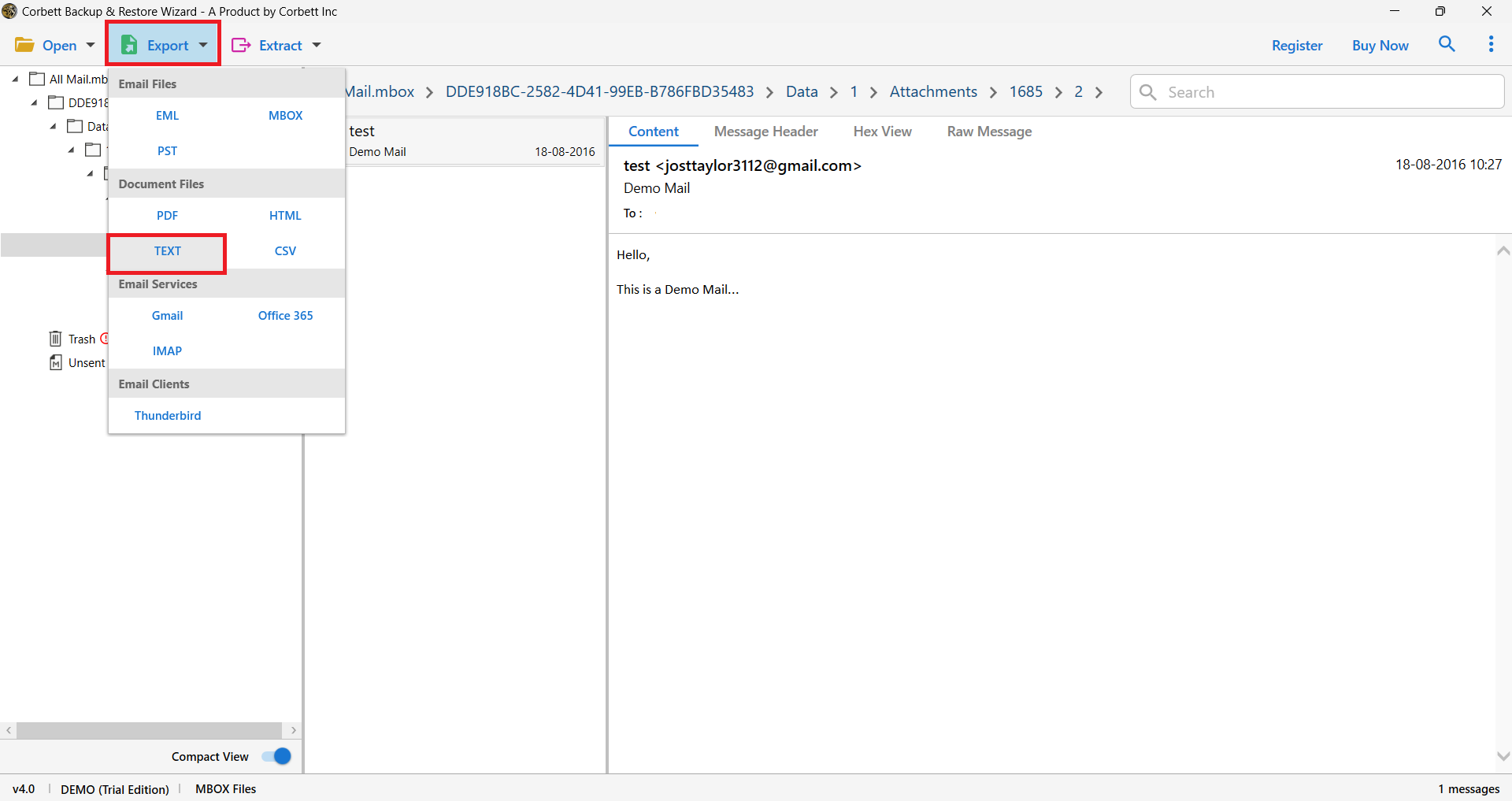 5. Select the Save button to store the output in the selected location.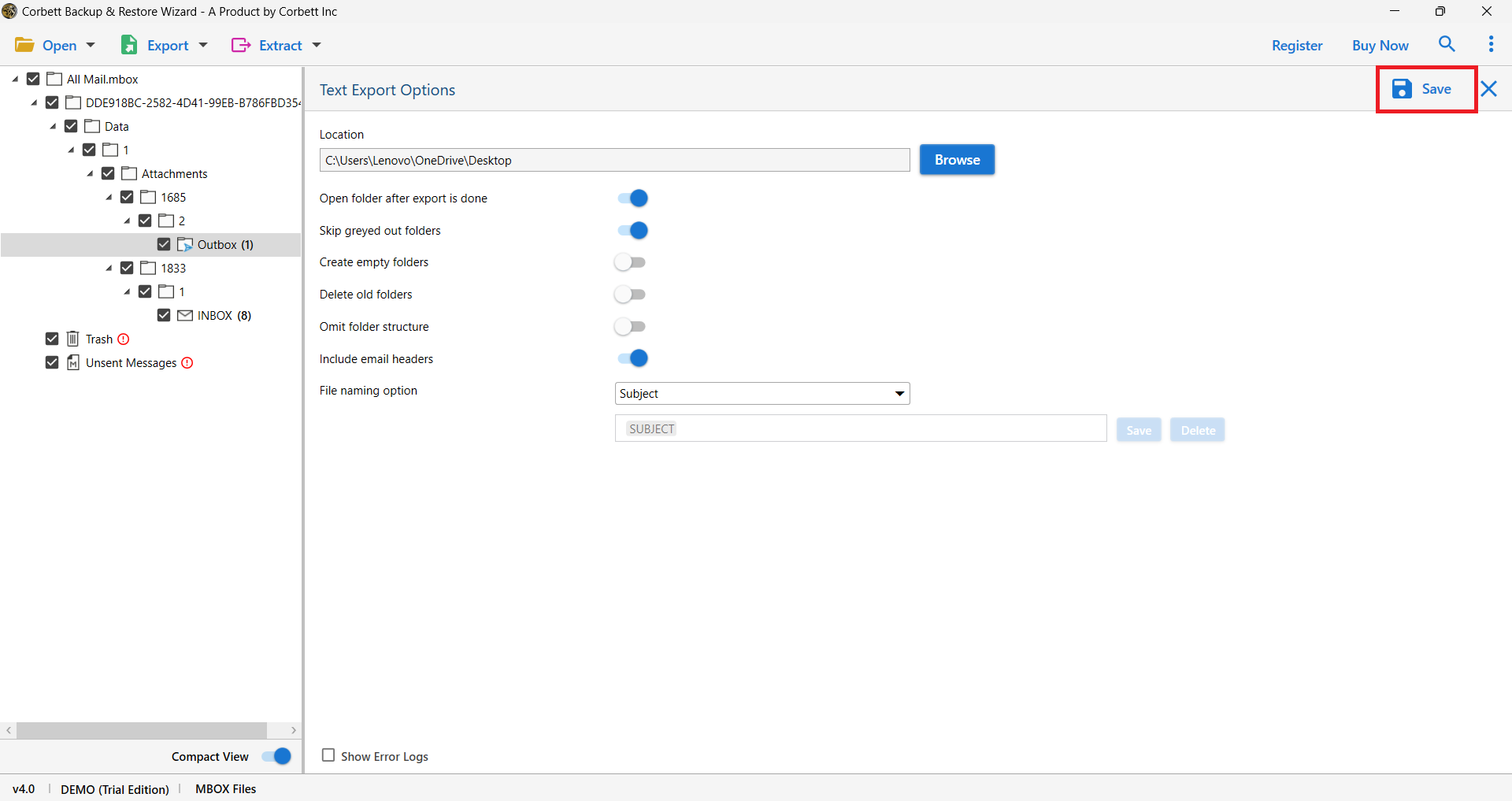 6. Settle back and relax. Also, You will not lose any information when converting .mbox to .txt files.
Why Do You Choose this Tool to Convert MBOX to TEXT?
Browse Destination Location: With this tool, you have full access to select the destination location. Also, You can save mbox files into any external hard drive by browsing the location.
Omit Folder Structure: This option enables you to remove folder structure from your MBOX to TEXT conversion. In addition, This is based on your requirements to enable or disable this option.
Include Email Headers: There are plenty of users who want to include their email headers. With this tool, you can include the email headers in your converted MBOX to TEXT Files.
File Naming Option: This tool provides you with complete freedom of changing the folder name. Also, You can change the convert MBOX file to TEXT file folder by Subject, From-Subject, and so on.
Delete Old Folders: This option enables you to delete the old folders from your MBOX to TEXT conversion. You can easily enable the option to remove the old data from your TEXT files.
Author's Suggestion
You should use MBOX to TXT Converter to convert MBOX to Text files. Moreover, The application is specifically designed for converting files without causing any corruption or errors. Advanced functionality makes it effortless to convert files. Download now!