Convert MSG Files to PDF File Format by Reading This Expert Guide
Microsoft Outlook produced or saved email messages, contacts, appointments, or tasks in the MSG file format, which stands for Outlook Message Storage. It saves all of the email message's content, including all attachments. In this article, we will discuss how to Convert MSG Files to PDF Files with complete attachments.
Why is it Necessary to Batch Convert MSG Files to PDF With Attachments?
Typically, Outlook is the main email client used by many businesses to manage their email service. As a result, IT administrators employ MSG and EML files to archive data for an organization or as part of their email-retention strategy.
Additionally, the best file format for storing email client data for later usage is PDF. Because it is versatile and not device independent. and so forth, which we shall cover later.
Let's learn how to convert MSG to PDF with attachments immediately.
How to Convert MSG Files to PDF By Using Multiple Ways?
So, in this section, we'll examine the two most effective ways to batch convert emails from MSG to PDF with attachments. First, you may use Microsoft Outlook directly, and second, you can use a specialized automated program.
Method 1: Save Email as a PDF Using MS Outlook Directly
The manual approach in this method is dependent upon the demands of the user. Any of the approaches that work best for your situation can be chosen. Here, we'll go through the two best methods for using Outlook to convert MSG files to PDF files.
Approach 1: MS Outlook and MS Word Were Needed for this Approach
Step 1: Double-click your MSG file to open it in Microsoft Outlook. Then, open the Outlook inspector window, select File, "Save as," and then select HTML File from the list of available file types.
Step 2: Right now Before saving the file as a PDF, open it in Microsoft Word. Please take note that only MS Word 2007 and later versions support this export capability.
Issues with this Manual Convert MSG Files to PDF Method
For users to open the MSG file, MS Outlook must be installed.
MSG file conversion to HTML file, followed by PDF file conversion
Users must modify, organize, or move the data from MSG files in MS Word.
The files' text and image structures were broken.
The time-consuming, length, and complex procedure
Users can only execute the procedure in a single file, batch files are not suitable.
Approach 2: Utilize Outlook's Microsoft Print PDF feature
Outlook had to be opened to use this convert MSG Files to PDF technique. Then, begin the procedure by choosing File > Print > "Microsoft Print to PDF" as the printer choice.
In addition, PDF files may be exported from the attachments (if any). Make sure this option is turned on in the "Print Options" section. It's vital to keep in mind that this method only works with Windows 10 and Windows 11, not the earlier Windows OS versions.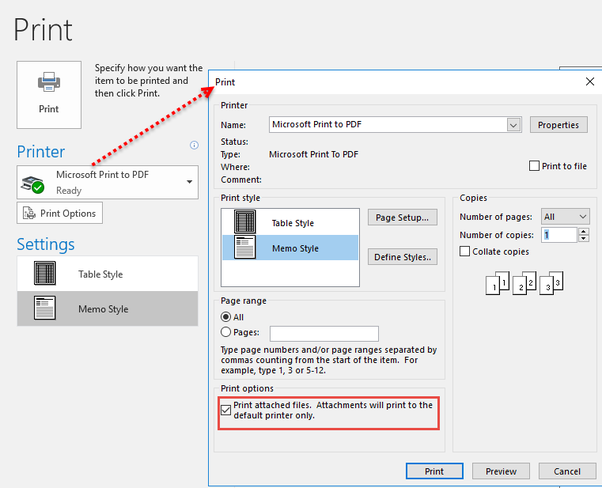 Limitations of this Manual Non-Automatic Process
Installing the Microsoft Outlook program on your computer
Can only convert MSG files to PDF a single email file from MSG to PDF.
Batch MSG to PDF conversion with attachments not working
Method 1: Use Professional MSG to PDF Converter Tool
With this technique, you may convert Outlook MSG files into PDF files without using Outlook or any other Outlook application by utilizing a Highly Specialized MSG File Converter.
The ability to bulk convert MSG files to PDF without changing any file data is the finest feature of this program. Additionally, MSG files may be opened without Outlook being installed. With this program, you may open and examine Outlook MSG files in a variety of preview modes as well as convert MSG to other file formats including EML, MBOX, PDF, HTML, and CSV.
How to Convert MSG Files to PDF Format in Bulk Step by Step
1. Launch the app after downloading it for free, then click the Open option.

2. To add the files, click on the Email Data files, and then select MSG File from the list of available file types.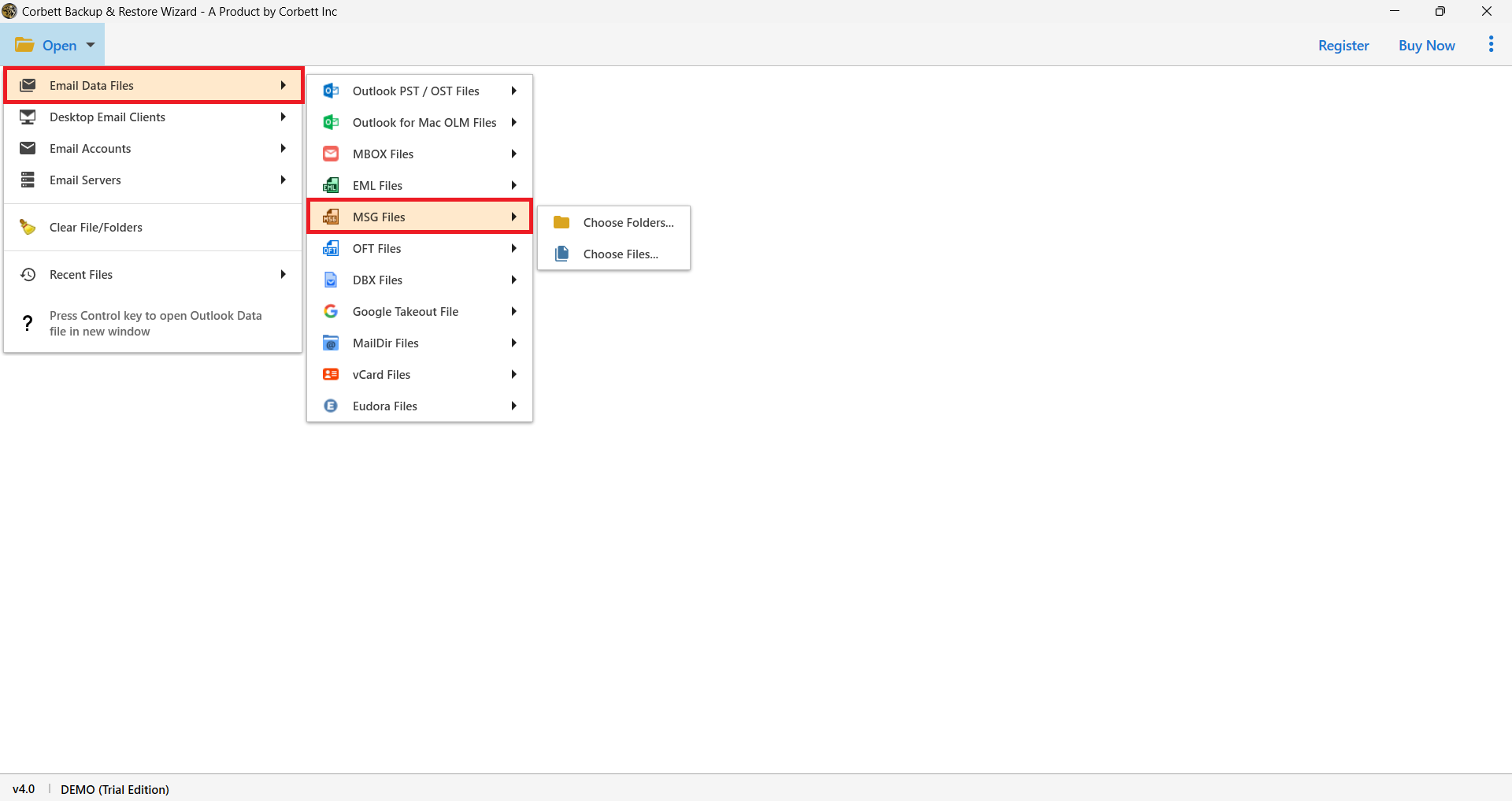 3. The MSG file is then uploaded into the tool's preview screen by selecting one of the file or folder choices. also, preview the MSG files that have been uploaded in the preview modes.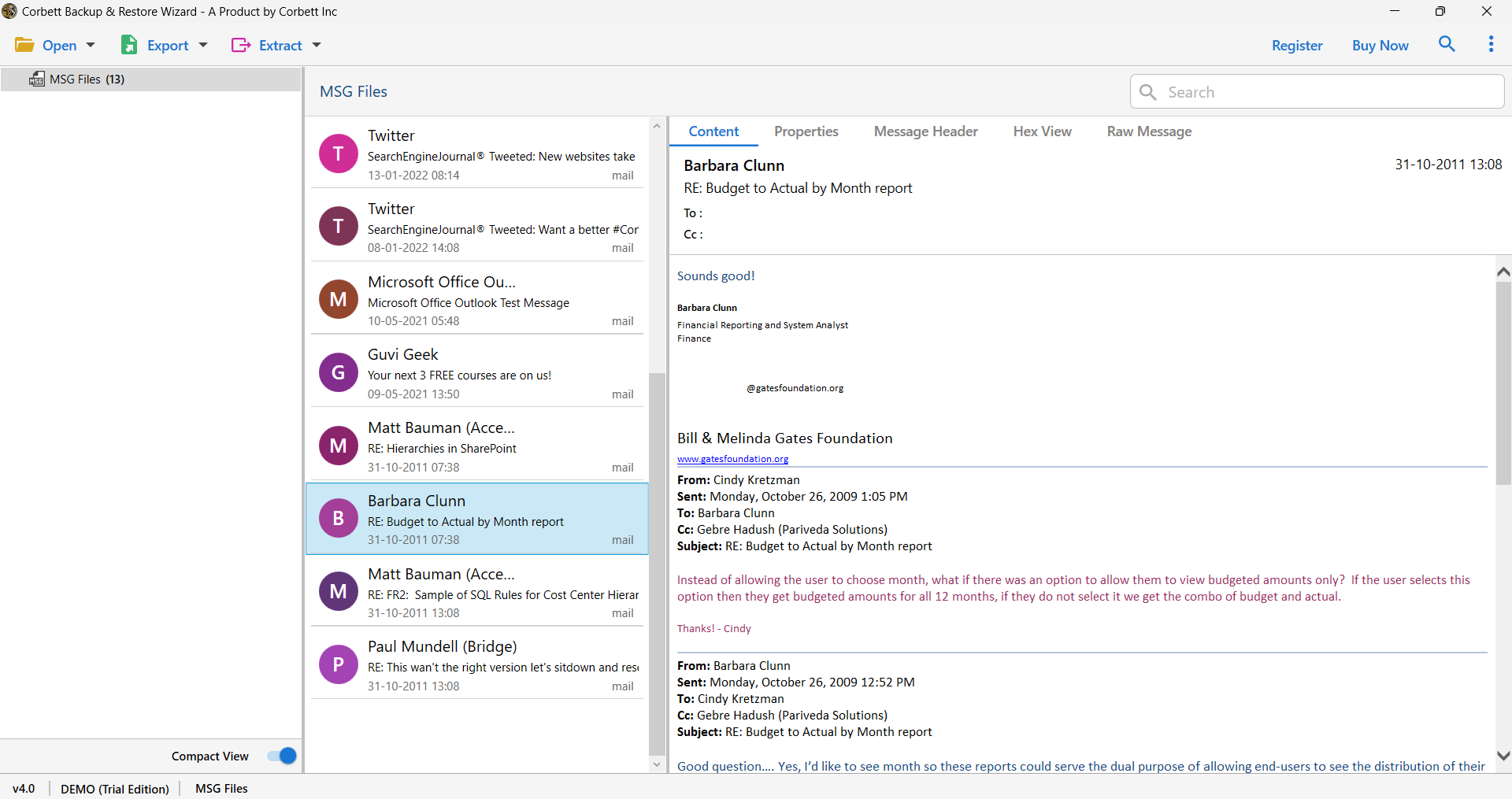 4. Press the Export button to change the MSG file's format to PDF. Likewise, choose PDF as the preferred file type.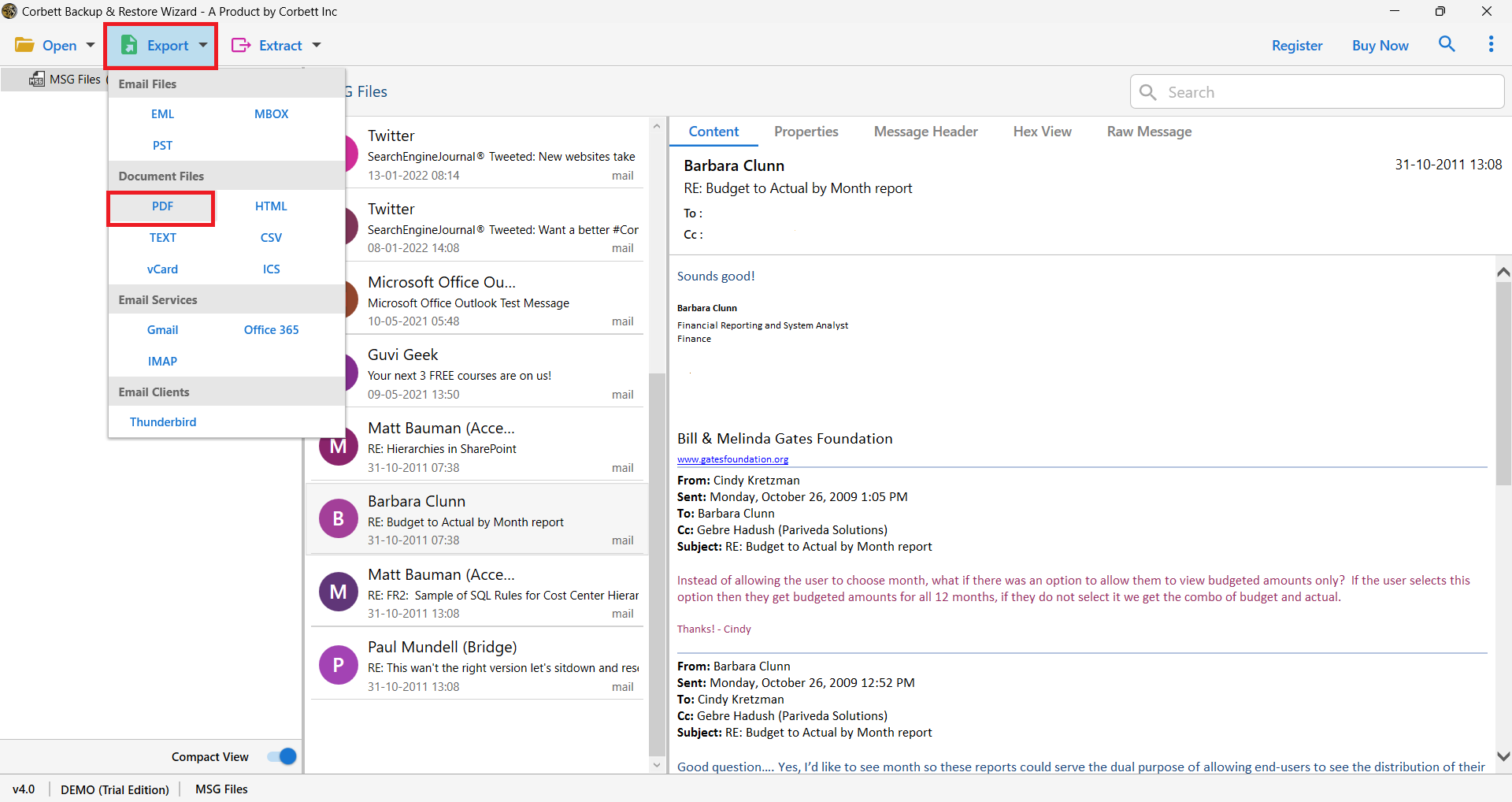 5. Once you have enabled the advanced settings as necessary, the program will open the PDF Export Options box, where you may start the process by clicking the Save button.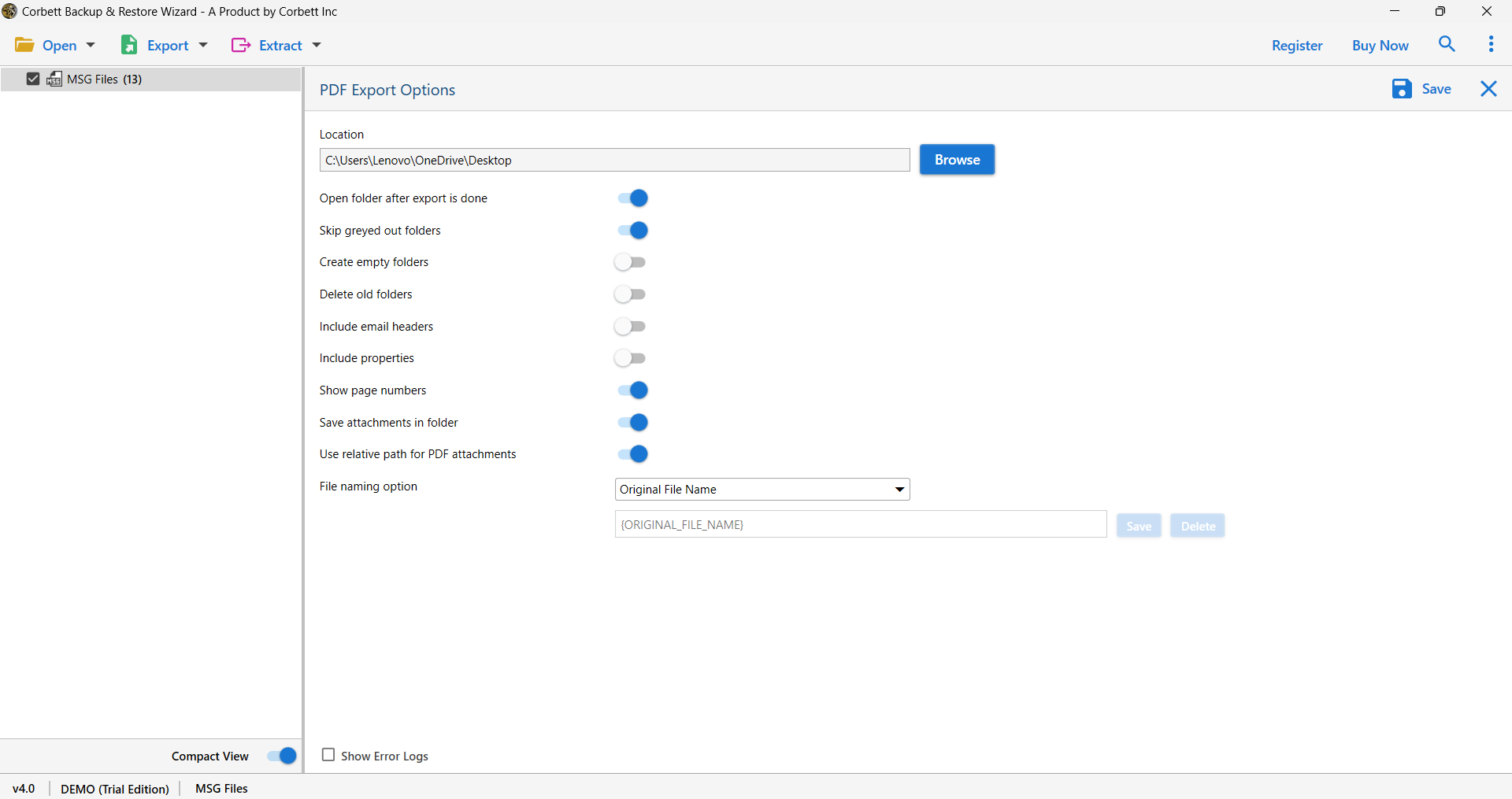 6. After the batch conversion of MSG to PDF is completed, the tool will provide you with an Open folder button to view the restaurant file.
Benefits of Bulk MSG to PDF Conversion?
Converting MSG files to solely PDF file types has several advantages. Below are a few of the most prevalent and important advantages. All these advantages you will get if you want to Convert MSG Files to PDF.
Portable Document File, or PDF, is a safe and secure file type that is simple to distribute and save.
The Outlook program is the only way to open and view MSG files. It is not necessary to install any additional software to open PDF files.
In addition, all data contained in the MSG file is securely stored in PDF with full data quality management.
Benefits of Using a Tool that Automatically Converts MSG to PDF
One may choose any location: You may easily store your batch converted MSG Files to PDF file format by selecting the target place from the location option in the PDF Export Options.
Exclude MSG File Email Header: Using this tool, you may exclude the From, Sent, To, and Subject lines from MSG File emails. All of your MSG file headers might be deleted during the conversion of MSG to PDF.
Include MSG File Properties: You will also have the choice to omit or include MSG file properties in the PDF file, which is a more sophisticated feature.
Display Page Numbers: When bulk converting MSG Files to PDF files, this MSG to PDF Converter gives you a page number function. Additionally, if you wish to include page numbers in the converted .pdf files, you may enable this functionality.
You may store MSG file attachments in a folder using the "Save Attachments in Folder" option without affecting the attachment's quality. The email attachments you get will be identical to those in the MSG file.
Users have the choice to select a designated route for PDF attachments if they choose to use relative paths. You can save the converted MSG File to PDF with attachments to the same relative location by turning on this option.
File Naming Option: Using this option, you can change your batch's naming conventions for MSG files to PDF files, including the original file name, the subject, the from-subject, the from-date-subject, the year, month, day, hour, minute, and second subjects, as well as message-autoincrement and custom naming.
Advanced Email Filter Search Option: Depending on your requirements, you may additionally filter the MSG files using the advanced email search option by Date, Time, To, From, Subject, and other data fields. You may more precisely convert MSG to PDF using this option based on your requirements.
Author's Recommendation
The MSG File to PDF File Converter makes it easier and simpler to rapidly create safe PDF files from all types of bulk MSG files. It integrates seamlessly with your Windows OS and has a minimal, straightforward interface. This utility is unique in that it doesn't require Outlook or any other supplementary software. During the conversion, all of the data in your MSG file is completely preserved. Convert MSG Files to PDF by using the above mentioned methods.