How to Convert Rediffmail to Gmail in Two Methods – Perfectly Explained
Are you finding ways to convert Rediffmail to Gmail account in the best and most secure manner? All you need to do is make some changes in the settings in the Rediffmail account but many users still do not have a decent idea about how to do it. This blog is here to provide you with a comprehensive guide on how to convert Rediffmail to Gmail.
Gmail is one of the most reputed email services in the market because of its awesome features and added products. More and more users are driving towards this email service by seeing its tremendous service and top-class security features. So, let us understand the reasons and step-by-step instructions to convert Rediffmail to Gmail:
Reasons Behind the Users Switch from Rediffmail to Gmail
Well, there is no single reason why people are generally planning to convert from Rediffmail to Gmail. The main reason behind it is the professional needs and ultimate characteristics of Gmail.
So, let us understand the reasons thoroughly
When it comes to the email services available in the market, Gmail is nowadays at the top due to the features it has been providing. With a wide range of exclusive features, it is working on a great level as compared to Rediffmail
One of the best parts about switching to Gmail is that it helps in saving time
Because of its user-friendliness, people are stepping toward it
You will be able to manage data in the most efficient manner
The privacy and security features of Gmail are something that sets it apart from other services
Moving from one email service to the other is a daunting process and hence nobody can do it without any reason. So, these are the reasons why users are continuously planning about how they convert Rediffmail to Gmail.
Methods to Convert Mailbox from Rediff.com to Gmail?
There are two methods to convert Rediffmail to a Gmail account:
Well, although both of these approaches are effective, let's understand both of them one by one.
Method 1: Migrate Rediffmail Emails to Gmail With Attachments
In case you are looking forward to completing the process of Rediffmai Migration, one of the most suggested tools you can use is Email Migration Tool. As we are versed with the complexities of the conversion process, About how to convert Rediffmail to Gmail with this software can do wonders in helping you go through it smoothly.
A lot of tools are there in the market but many of them either support Windows old version or the new version. but this software has the power to work with both of the versions. Irrespective of whether you are a technical or non-technical user, this software will not give you a tough time at all. Here is a look at solutions available to transfer Mailbox from RediffMail to Gmail:
Steps to Convert Rediffmail Mailbox to Gmail Account
 1: First of all, you need to download the software from the given facility provided for you. Which is Download Now button to easily install on your device
 2: Hit the 'Open' option which is on the top 'left' of the screen
 3: Click on 'Email Account' and then go to 'Add Account.'
 4: Provide your Rediffmail email credentials and look below, you will find the 'Advanced Settings' option.
 5: Tap on that and then give your 'IMAP server' in the available space
 6: Now, with the help of the software, you can browse all the data that you are planning to export
 7: Click on 'Gmail' from the available options and finally click on 'Export' to finish the procedure.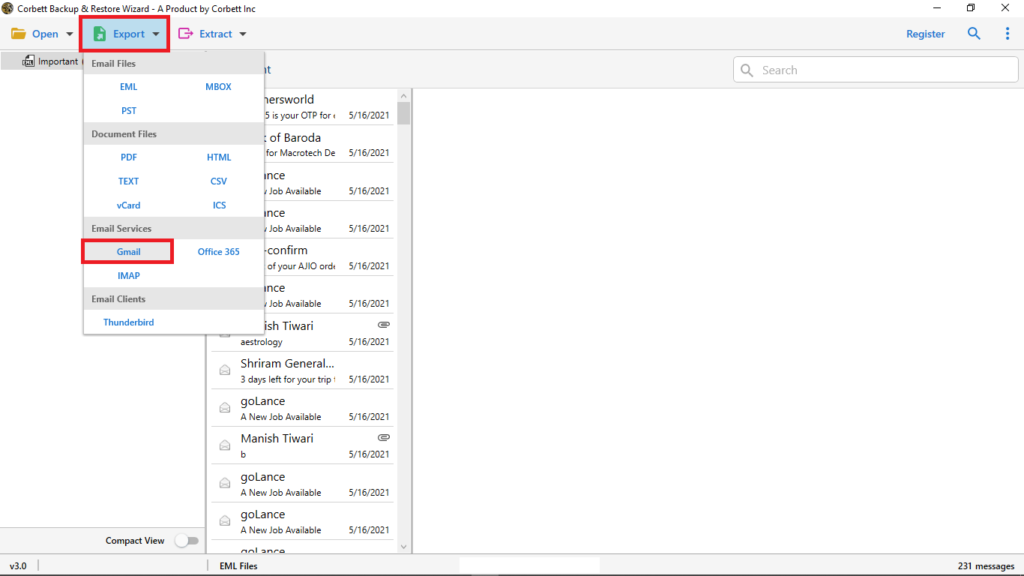 After you execute all the steps given above, all your issues will be solved. So, export Rediffmail to Gmail with the help of this fantastic software.
Method 2:
Manual

Solution to Accomplish the Conversion

Follow the given steps to understand how to convert Rediffmail to Gmail:
Enter your Rediffmail email credentials and tap on 'My Settings' once you reach the dashboard
Then go to 'Auto Forward' or 'Forward your Emails' and then tap on it.
Provide your 'Gmail id' in the required space and then save the settings
After that, hit 'Start forwarding my emails.' Once you do it, your Gmail address will get all the information about Rediffmail
Conclusion
In the above blog, the light has been thrown on why users seek to convert Mailbox from Rediffmail to Gmail.
The possible methods for migration have been discussed. The automated way is preferably the best solution as it has been tested and verified by IT experts. You can use this software to convert Rediffmail to Gmail on Windows or Mac without any difficulty.
However, the manual method is cumbersome and does not assure complete data integrity. Therefore, the free trial version of the automated tool can be done to arrive at a suitable decision.
Convert Mailbox from Rediffmail to Gmail process completed. You can also Export emails from Rediffmail to Outlook Application.