How to Export Gmail Email to EML File Format: Complete Guide
Overview
The following article provides instructions on how to export Gmail messages as a (.eml) file using some of the common methods. In this blog, we will explain two methods to export Gmail emails to an eml file.
Gmail is a popular email client that is used for our day-to-day life. And Gmail enables you to same Gmail messages as per your need. Google never disappoints its users that's why Google provides you Google takeout to save Gmail Emails. EML documents are utilized by various email customers like Outlook Express, Mozilla Thunderbird, MS Outlook, and so forth These EML documents empower you to save the email message, connections, email addresses, header data to your PC. Along these lines, you can import this email message to other email clients.
This article post likewise manages something very similar. It describes methods to utilize which you can export Gmail messages to EML Files. Let's understand why we need to Transfer Gmail Emails to the EML File as well as solutions of how to save an email as EML.
As we all know Google provides everything that a user wants that's why Google provides you their Google Takeout application to take out Google Data. Google Takeout saves Gmail messages in .mbox format. So you need to try the second method. But don't worry we have one more way to export Gmail messages to EML files manually for free. Let's get started with the Gmail export email to EML file.
Gmail Export Email to EML Format With Attachments?
Gmail export emails in .eml format? If your question is this then Yes. Gmail enables you to export messages to EML files. There are two ways to save Gmail messages to EML files with attachments that will explain in this blog with step-by-step instructions.
Method 1: Export Gmail Original Message
In Gmail, you can export Gmail original message in EML Files. But you need to use this method repeatedly if you want to save bulk emails. By selecting one-by-one emails.
Login to your appropriate Gmail Account
You can download email messages by opening them
Click on the three vertical dots icon. Then select Show Original
Select Download Original button and your Gmail export email to the EML file.
Method 2: Download Gmail Messages Manually
You can download Gmail emails to the EML file by selecting emails. This method can be used for only selective email messages that you want to export into EML File.
Login to your Google Mail Account
Select the email message that you want to export
Click on the More option and select Download Message
As soon as you select the option your email will download. Both the manual method can be used for only selective export of Gmail emails to EML files. If you have bulk emails and want to export then this method takes 2-3 days to complete and a person can be completed them by selecting them one by one.
Limitations of Moving Gmail Email to EML Files Manually:
You need to follow the above strides with every single email that you need to export to the EML file.
The process of moving Gmail email to EML file is tedious
This doesn't permit the mass transformation of the messages.
This technique doesn't permit you to export schedules and contacts to your nearby drive.
But if you need these Gmail messages for your business purpose then we highly recommend you to go with an automatic solution.
Best Way to Export Gmail Email to EML File in Bulk
The best tool to export Gmail email messages to the .eml file is Email Converter. You can use this utility to export bulk Gmail messages to EML File with email attachments. Any normal user can utilize this tool for personal or professional use with any technical guidance. A user-friendly interface and easy-to-use steps help you to accomplish this process with fewer worries.
There is no worry about your file structure and attachments, links, images, documents, and so on. You will get the exact outcome without any distortion in the message content. You can preview the emails before the export process.
Start the export process step by step with images to complete the Export Gmail email to the EML file without any worry.
Steps Guide to Export Gmail Email to EML Files
Before going on to benefit from definitive highlights of the tool, let us see how might we introduce and use it:  First of all, Download this tool and install it and open the tool in your system.
1: You will see a choice of 'Open' on the upper left of the screen. Tap on that

2: After that, you will see the 'Email Accounts' option tap on that. Then, 'Add Account'

3: Enter your Email Account Details and Press the' Advance Settings' option. Then, Fill the IMAP server and Select the 'Add' option to proceed

4: The tool is loaded files and folders from your account you can enable the compact view button to view the important folder for the backup process.

 5: Tap on 'Export' and select 'EML'. From that point forward.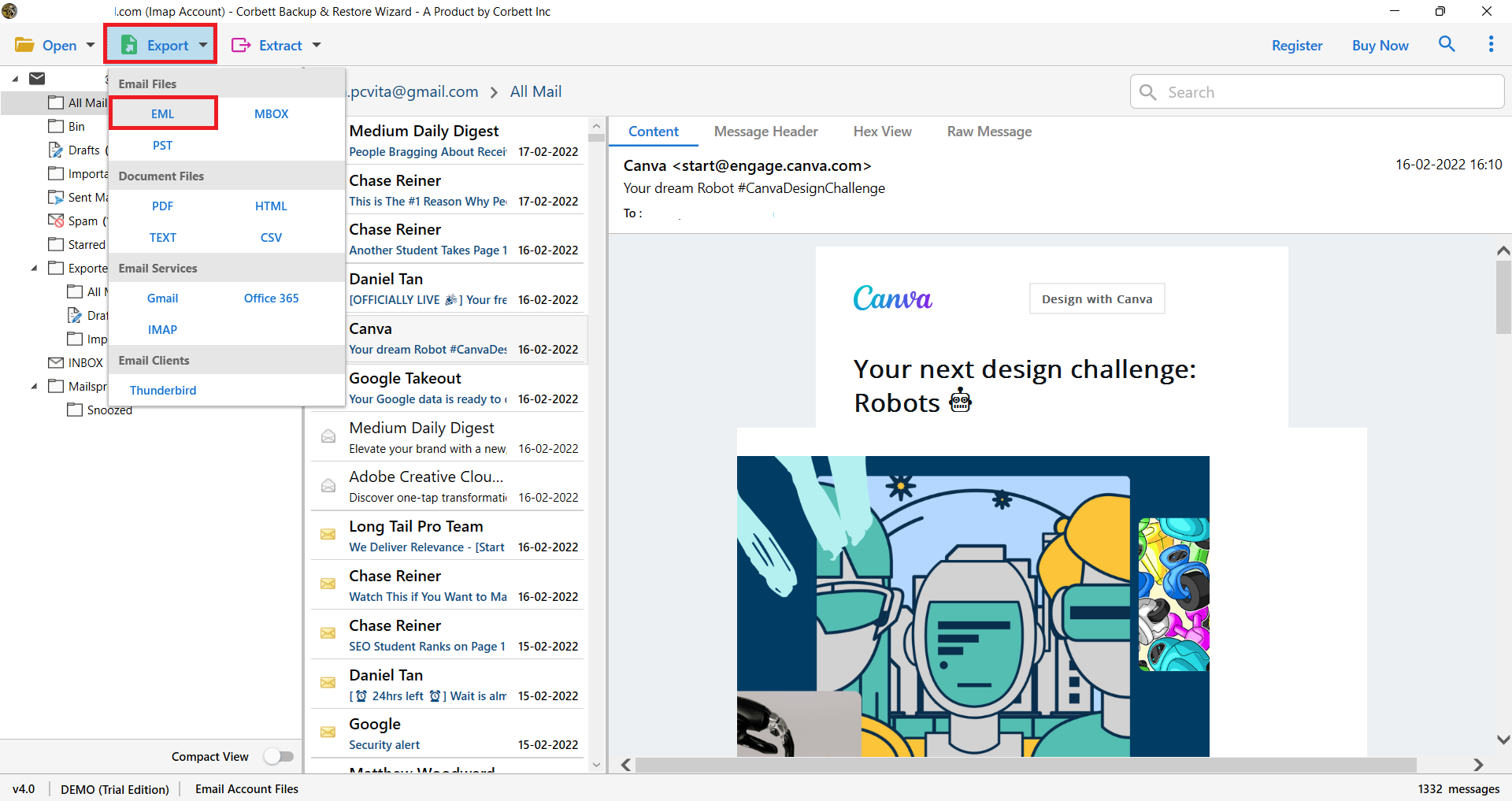 6. Hit the 'Save' button to finish the Gmail export email to the EML file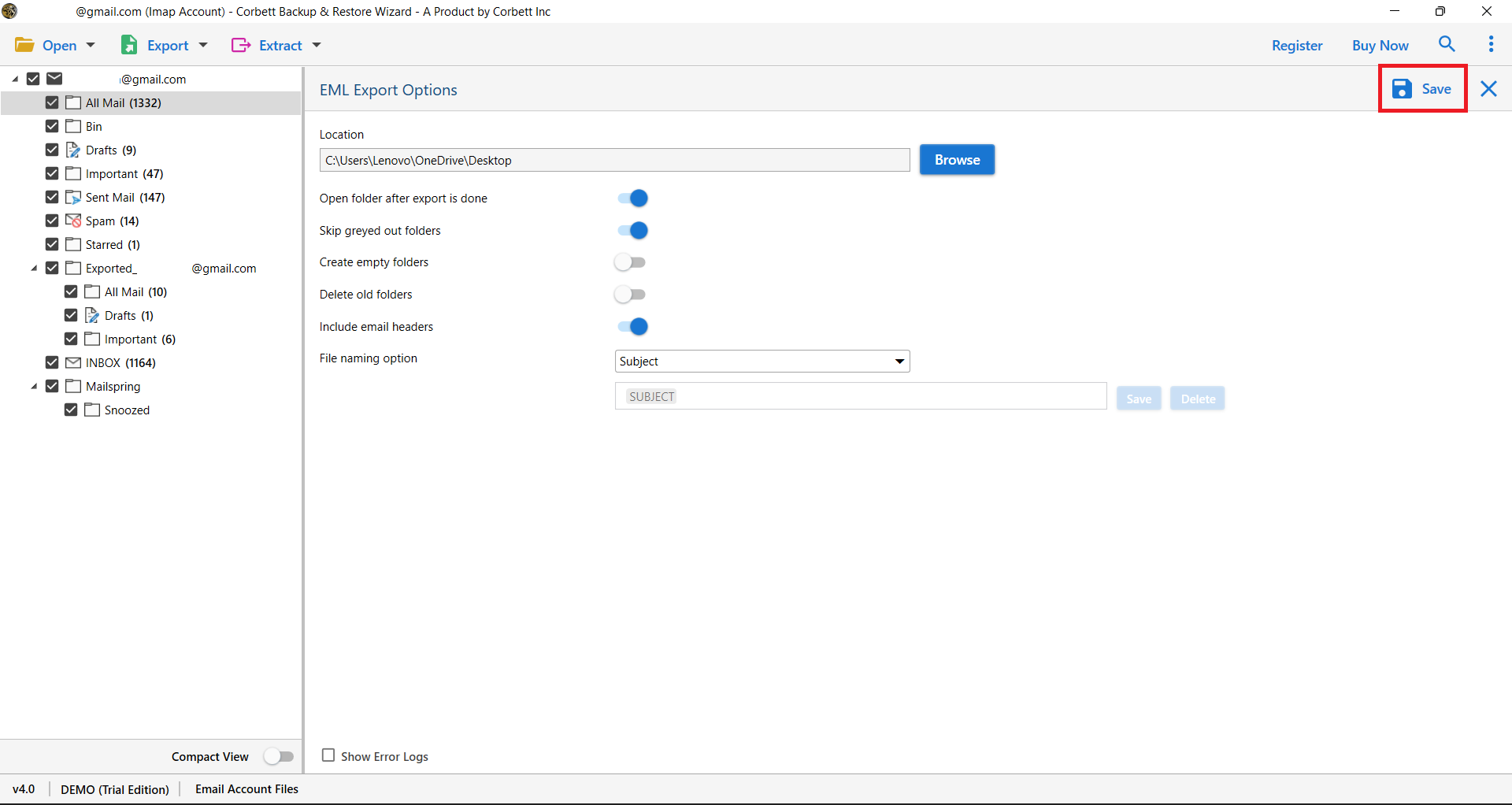 Author's Suggestion
In this blog, we will discuss the manual method to export Gmail to EML Files but the manual method has lots of limitations in converting Gmail email to EML files. The best solution for importing emails from Gmail to EML format is an automatic method with multiple options. You can export the bulk of email from Gmail to an EML file format without any hassle.