Export Gmail Emails to Text File – Complete Step by Step Guide
Are you looking for some amazing ways to which you can export Gmail messages to text files? If the answer is yes, then this blog will give you a hassle-free solution.
Gmail users want to save their Gmail emails to text files or can say export Gmail emails to text file to keep backup copies of the crucial data. However, Gmail does not allow users to export emails to any other format. One thing you can do is you can copy every email and then paste it. Of course, this is a very illogical thing because there are more than a million email messages in our Gmail account.
This blog is a comprehensive guide that can help you export emails from Gmail to text file format efficiently. As no manual method is available for the solution, we will have to go for an automatic approach. So let us explain what is the importance to export Gmail to a text file and how can we do it efficiently:
Main Reasons to Export Gmail Emails to Text Files?
No matter what platform you use for accessing the file, plain text files can be accessed not any of them. This is one of the major reasons why users want to convert Gmail to text format
When it comes to the file size, these are the files that are very small files that use less space
Just by entering the subject and the name, you can get access to any of your emails. This is another reason that matters a lot
Being easy to work with, users prefer this sort of file because it can be saved in the same folder as well.
Users get the ability to print multiple emails in just one click with the help of text files.
Also Read How to Migrate Gmail to Office 365 With Attachments
How to Import Emails from Gmail to Text File Step by Step?
One of the most important things when it comes to converting an image from Gmail to a text file is that you need equipment for the same. Being one of the renowned tools, the Email Converter Tool is known for providing a wonderful service when it comes to migration. All it needs you to have is a reliable system where you can perform the process effectively.
Easy Steps to Export Gmail Emails to Text File
Let's get through the blog to understand the steps involved to change Gmail to Text File(TXT)
1: You can begin the process by downloading the backup and restore wizard on your window. Install it and then open the same
2: When you will look at the top left of your screen, you will find an option named 'Open' Hit that
3: Select 'Email Accounts' out of the available options. In the next step, you need to click on 'Add Account' to go ahead with the process of migration.
4: Enter all the required details of Gmail email id and password. Click the 'Advance Settings'
5: Fill the IMAP server as well. Finally hit on 'Add'.
6: The software is loaded files and folders from your account you can enable the compact view button to view the important folder for the backup process.
7: Select Export then you will be asked to choose a file format where you need to choose the Text file.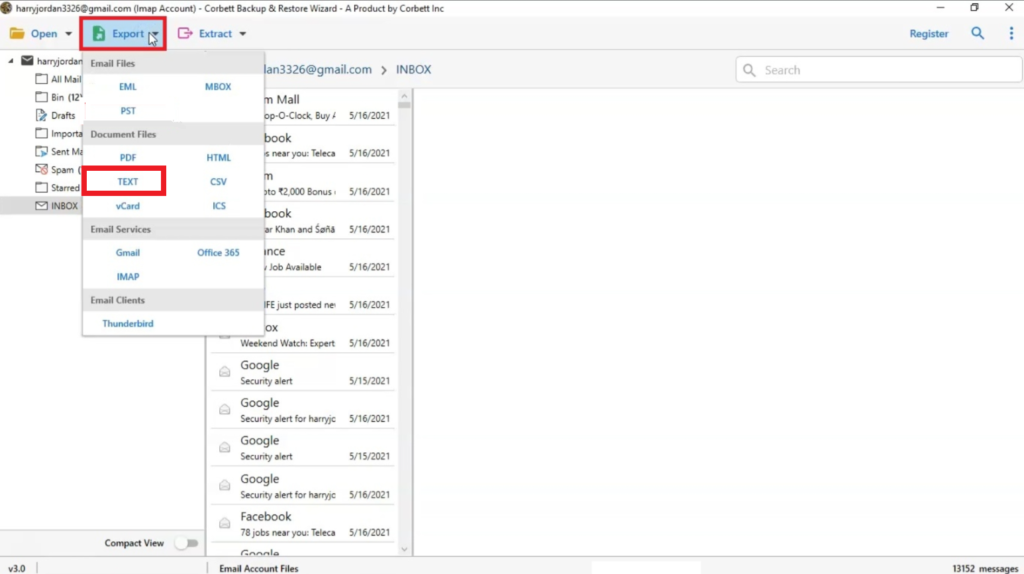 Once you are done with every step, the time has come to use it to implement all these suggestions.
Features of this Professional Software Solution
When it comes to choosing the right tool to export Gmail emails to text file, it is very important to understand its benefits as well. Now in this section, you will get to know the advantages of using this tool for completing the migration process.
Being one of the most popular migration tools, it gives users the ability to use it without any hassles
Batch export Gmail emails to text file, as well as selective migration, is possible with the help of this tool
One major problem that most of the users have with exporting emails is that they worry about Data loss. This Gmail Backup Software makes sure that you do not come across any such issue
Another issue most users generally face using that they do not want any alterations or modifications to the original format. Using this expert tool, there is no need to worry about this too will ensure that you do not encounter any of these issues.
Author's Suggestion
So, after going through this blog, it must have become quite clear to you how you can export Gmail emails to text files in bulk. Other than that, we also explained some major benefits of doing the same and you also got to know about one fantastic tool.