2 Best Way to Send Gmail Messages to WhatsApp – Verified Solution
Are you wondering how to send Gmail messages to WhatsApp in the most effective manner? Well, if we talk about these days, WhatsApp is one of the most widely used communication channels around the globe. Launched in 2009, this service has taken a boom in the market with around 2 billion downloads till now. With the help of this application, users are permitted to communicate over messages as well as calls on both mobile as well as desktop.
Due to some extraordinary features, it has become the topmost priority of most people for both business and personal use. It also gives an option to create a business profile for users. Although WhatsApp provides you with all the services, you cannot transfer Gmail emails to WhatsApp. So, if you are a user who is looking forward to getting their emails from Gmail to WhatsApp, then read this blog properly.
Here, we have explained the entire process of sending messages from your Gmail account to WhatsApp. Also, let us get to know why is it important:
Reasons for Sending Gmail Emails to WhatsApp
Here, we are about to discuss the relevance of transferring your Gmail emails to WhatsApp. Let's get to know the major reasons for most users migrating Gmail emails to WhatsApp:
When you use WhatsApp rather than Gmail, you have an Unsend option using which you can delete the messages immediately, in case you sent something by mistake.
Being a free-to-use app, users can immediately share their documents from their mobile phone or laptop without any hindrance.  WhatsApp is a great way through which we can communicate with customers without any issues
With its ability to help users share different sorts of media, be it audio, videos, documents, or photos, it makes the lives of users quite convenient
It is not possible to send one email to a lot of people using Gmail. But, WhatsApp provides you the option to broadcast it. It enables you to share something with a large group of people at once.
The best part about WhatsApp is that it keeps your conversation end-to-end encrypted, which means no third person can ever read your messages unless you show them.
Best Ways to Send Gmail Messages to WhatsApp
In this article, we discuss two methods to send emails from Gmail to WhatsApp directly. You have to convert Gmail emails into PDF format to send easily in WhatsApp by using the Whatsapp desktop. Let's start the process of saving Gmail emails and then send them to Whatsapp.
Both the methods are best but in the manual method, you have to face some limitations. In an automatic solution, you can easily export batch messages from Gmail to WhatsApp in PDF form.
Export Emails from Gmail to WhatsApp Manually 
You have to save emails individually one by one. Start the export process from the given below steps:
1. Open your Gmail Account in your browser

2. Select Emails that you want to save into Pdf Format.

3. Open an email and press the More option. select Print 

4. Or print email directly by hitting on the Print Icon 

5. By pressing the Print option. The email is shown in the new window. Save Gmail emails in a PDF format by selecting Save as PDF

Limitations of Manual Method 
Manually saving Gmail emails take a long time
You have to save each Email one by one
Gmail doesn't Save emails in a bulk form
Save emails without attachments
How to Send Gmail Messages to WhatsApp Step by Step?
Well, one of the most common ways of sending Gmail emails to WhatsApp is by creating a backup of them to PDF files. By doing this, we can simply export the files without any hassles. But, of course, you need a flawless solution, and here comes Corbett EML to PDF Converter for helping you out.
The tool has been quite popular because of its perfection in the migration process and more users are inclining their interest towards this From being user-friendly to understanding users' needs and requirements. Gmail Backup Tool has been playing a tremendous role in helping users download Gmail emails for safety purposes and security.
Steps to Send Gmail Emails to WhatsApp
Look at the steps given below to complete the process of sharing Gmail emails to WhatsApp:
 1: The first step is that you will have to download and launch the utility in your system
 2: Just by accessing the software, you will find an 'Open' button on the screen.
 3: Click on that and go ahead by choosing 'Email accounts' from the next list. Hit 'Add Accounts'
 4: In the next step and then you will have to enter all the required details of your Gmail Account. The details include email ID and password. Then, hit 'Advanced Settings'
 5: Thereafter, you will be asked to provide your IMAP server. Enter that and go-ahead
 6: Finally, the utility start transmitting your Gmail emails with attachments
 7: All the files will be visible. All you need to do is click on the 'Export' button which is on the top and choose PDF as the file format. By doing this, you are selecting PDF as the file format in which you want to import Gmail messages to WhatsApp with attachments.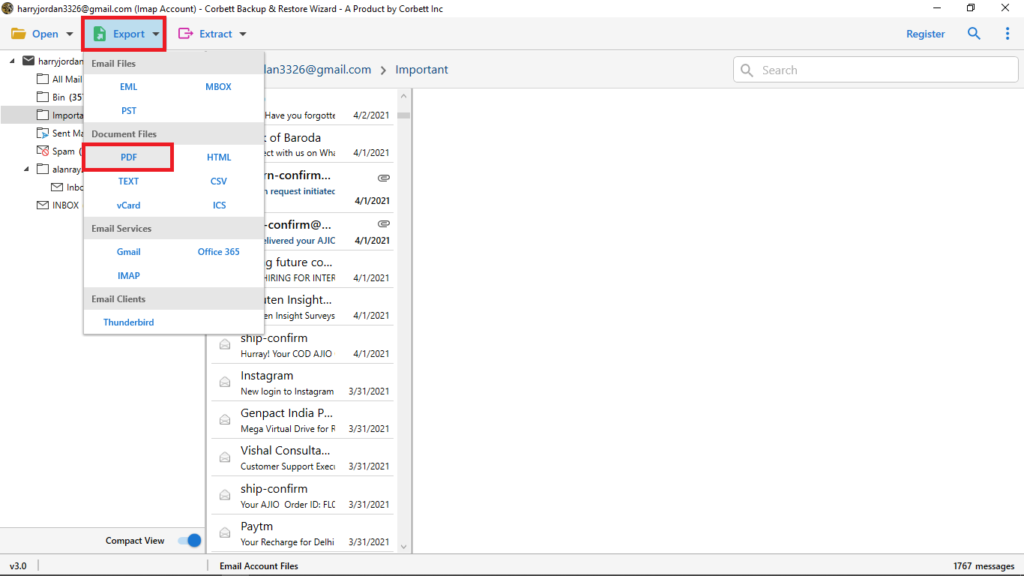 Now you have PDF files, simply send them using WhatsApp. Apart from PDF, you can also use the TEXT export option. It will create a text file. Choose any option that best fits your needs.
Author's Suggestion
Once you get done completing all the steps given above, the process of converting emails into PDF format is successfully done. Now, you just have to send that PDF file to WhatsApp and that's all. You are now ready with all your emails on WhatsApp. You can also read How to Import Gmail Contacts to Outlook without using any additional software.