Convert Gmail to HTML Web Pages in Bulk With Attachments
This Corbett post explained to you how to export Gmail to HTML (Hypertext Markup Language) files that open in your browser. HTML is better to save Gmail emails rather than PDFs. Using this method, emails will retain their images, hyperlinks, and text formatting, and take up less space than PDFs.
If you are looking for a Gmail to HTML Converter then don't worry because in this blog we will explain how to convert email from Gmail to HTML with steps
There are unbound features when you convert Gmail to HTML. Understand why do users convert Gmail Messages to HTML.
Introduction to Uses of HTML
HTML is a Hypertext Markup Language that is heavily utilized for creating web pages and web applications. HTML, when combined with CSS, and JavaScript it has become a milestone for web development. A useful aspect of HTML is that it can embed programs written in scripting languages such as JavaScript, which influence the behaviors and contents of web pages.
Documents on the web, internet navigation, etc., are written in HTML. Throughout this article, we will highlight some of the most prominent methods to convert Gmail to HTML.
The Easiest Way to Convert Gmail to HTML
Use Email Converter that is also called Gmail to HTML Converter. With this tool, you can easily complete the process without any data loss. Convert Bulk Gmail messages to HTML Files. This utility is available for all windows versions.
Download the tool and start the export process. This tool has a very user-friendly interface and easy-to-use steps. A non-technical can use this tool without any additional assistance.
Steps to Export Gmail to HTML in Bulk
Download this tool on your computer operating system by selecting the Download now button.
1. Select the Open option in the first tools window as shown in the image.

2. Then select the Email Account and then Add Account option.

3. After that configured your Gmail account into the tool. By filling out your Email id and password.

4. Tool uploads your Gmail account data into the tools panel so that you can easily preview Gmail emails before exporting.

5. Select the Export option in the top menu bar and click the HTML option from the drop-down list.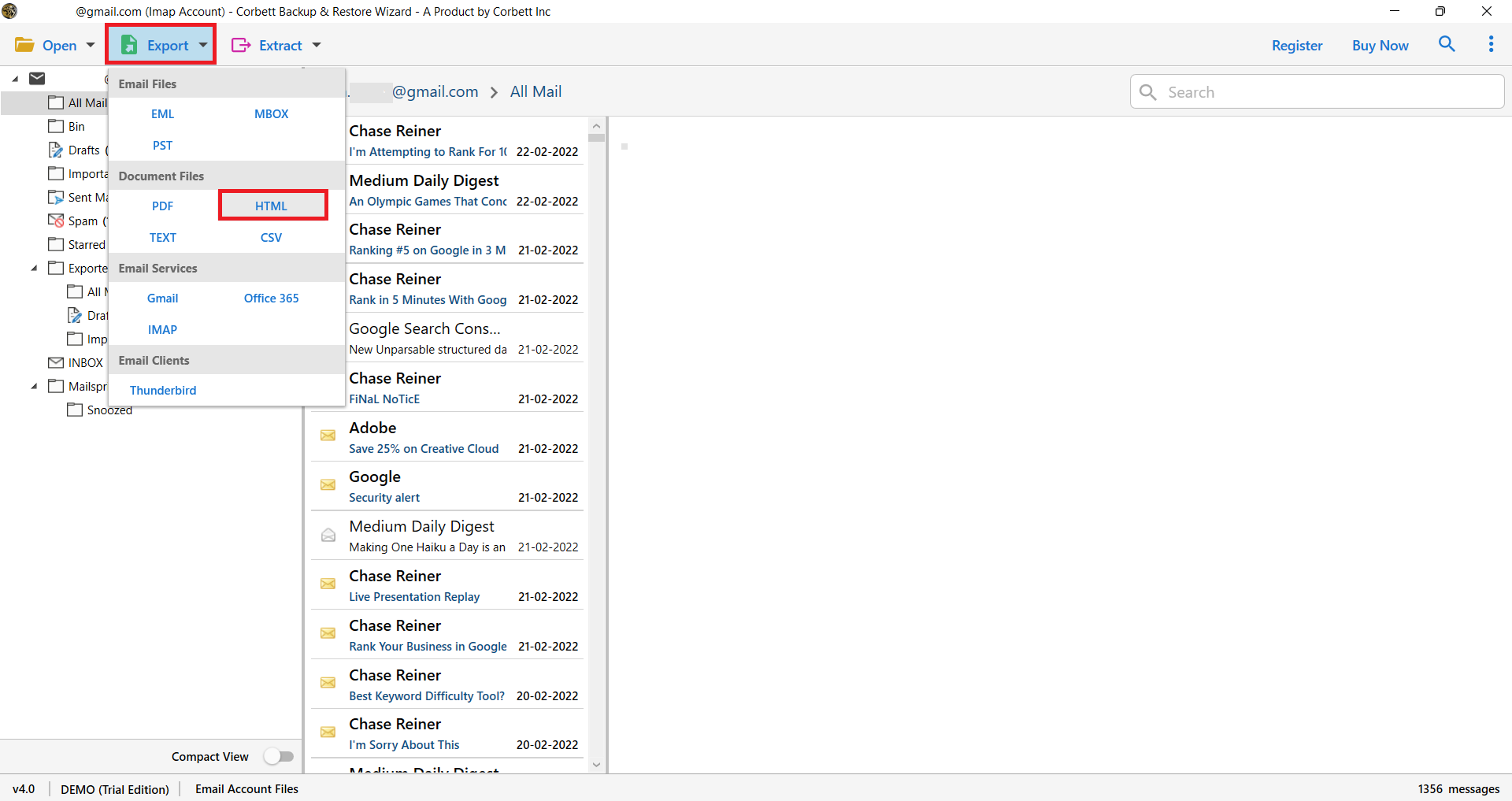 6. Finally, Click Save after enabling all the advance email options.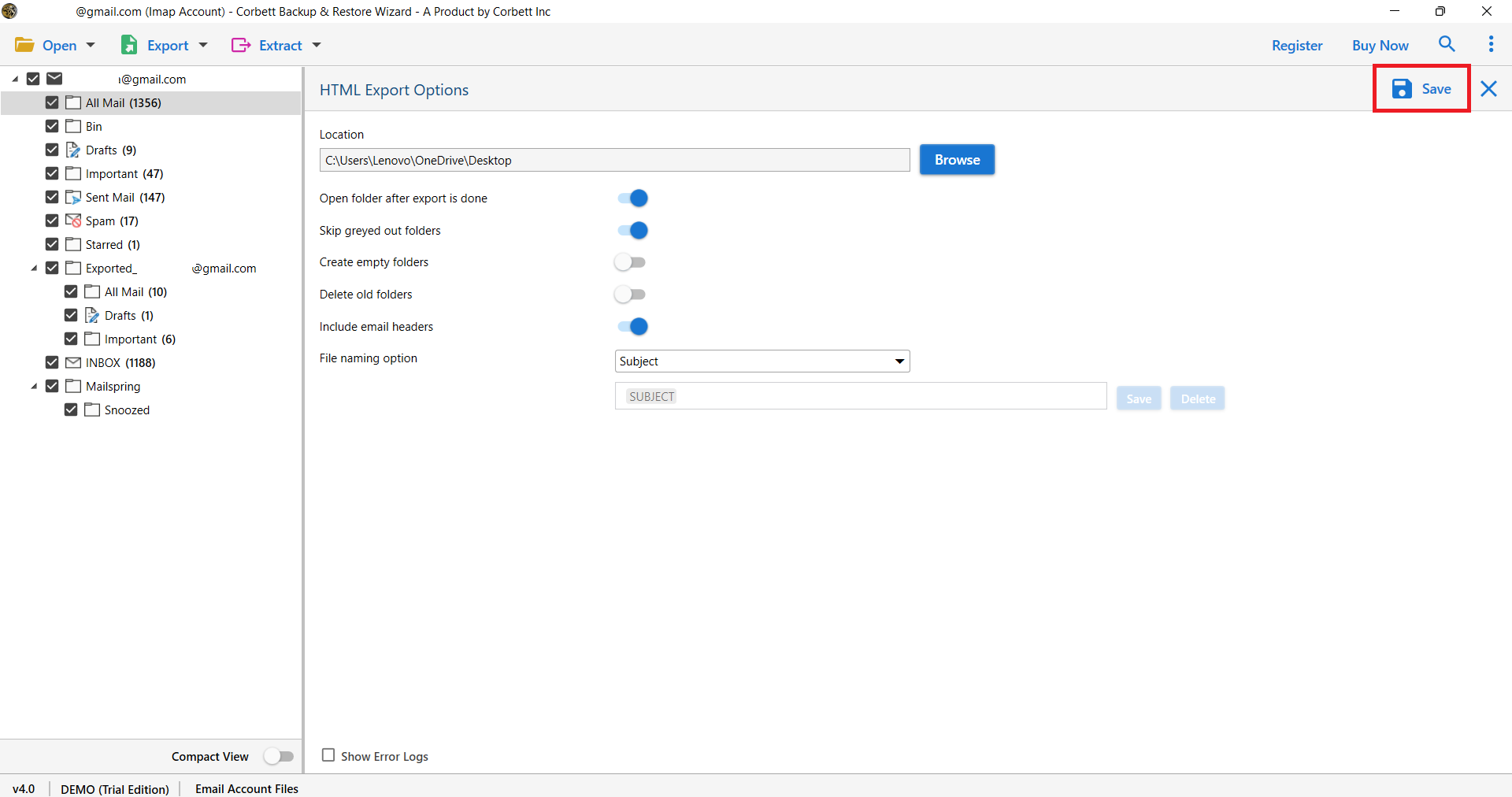 You can view the live Gmail to HTML Conversion and then Open the folder after the export is done.
The Benefits of Using This Tool to Convert Gmail to HTML?
You can ask, "Why should I use this tool to convert Gmail to HTML?". You can bulk convert Gmail to HTML Format without any worry by using some of the best features.
Convert Multiple Gmail Account Data: With this tool, you can easily convert Multiple Google Account to HTML in bulk. It provides you Manage account option that helps you to store multiple accounts in a single tool. This option saves users time and effort when they need to convert Multiple Gmail accounts' data to HTML.
Easy to Configure Account: This Gmail to HTML Converter is a fully automatic utility that enables you to configure an account in less than a minute. It only requires an email id and password to configure.
Multiple Sections to Preview Email: A user can preview emails into multiple options i.e., Content, Raw Message, Hex View, and Message Header. One can preview emails based on their concerns.
Freedom to Select Destination Path: In the HTML Export Option you will get the Browse option to select the end location for your Converted Gmail to HTML Files. It helps you to save Gmail to HTML on your computer or any external device.
File Naming Option: For managing resultant HTML files, this application offers several file naming options. Ou can select from Subject, From-Subject, From-Date-Subject, Year-Month-Day-Hour-Minute-Second-Subject, Message-AutoIncrement, and Custom Naming.
Advance Email Filter Search Option: This Advanced search option helps you to add a filter to specify the email in the bulk data. Such filters are Name, Subject, From/To, Date From, Time From, Has Attachments, File Name, File Size, and so on.
Final Thoughts
In this blog, we described the best method to Convert Gmail to HTML. Download the Gmail to HTML Converter and start the export process as soon as the tool is installed. Export Bulk Gmail messages to HTML files with attachments.