Best Methods to Export Gmail Emails to MBOX Format: Complete Guide
Did you know that you can export Gmail emails to MBOX? Is it possible to export emails from Gmail to MBOX? If you're unfamiliar with this, you can learn how to convert Emails from Gmail to MBOX Files. We'll go through how to export Gmail emails as MBOX files with attachments in this technical guide.
Introduction
Solutions: There are two ways to export Gmail Mailbox, Gmail Calendar, and other information as MBOX files. The first method is to use Google Takeout or Takeaway, and the second method is to use a Gmail Backup Tool.
Let's examine both processes more closely.
Working on Gmail Archive's Option
Gmail emails can be archived. Log up to your Google account, create an email archive, and check for fresh Gmail entries by going to the Google data download page. When a user chooses the Gmail archive option, Google sends an email with a link to the archive destination. This method might take many minutes or hours, depending on the amount of data. Many users receive the link the same day.
MBOX is an email storage file type that stores email messages as a single text file. This MBOX file saves emails in a focused way, meaning it saves data files one by one. Starting with the header.
To start the process first understand how to export Gmail email to MBOX File. First, understand the manual method to export Gmail to MBOX.
Method 1: Steps to Export Gmail Emails as MBOX – Using Manual Method
Start the steps to Download the copy of the messages in your Google mail account in an MBOX file.
Use your Google account to access Gmail.
Visit https://takeout.google.com/settings/takeout
Then select Gmail labels under "Select data to include".
One of the two options may be more suitable for your needs.
Select "All mail data included" to download your entire Gmail inbox.
Select the Gmail email folders you want to archive as MBOX under the "Mail Formats" option.
Press the Next Step option and after that Select the Delivery Method, Frequency, File Type & Size from the list.
And select the Create Export
Your Gmail archive data will be sent to you by email as a ZIP file or any other file type, based on the delivery method you select. In case your
Google Takeout not Working
then read this linked blog.
Method 2: Using Gmail Backup Utility to Transfer Gmail to MBOX (Recommended)
Gmail Backup Software is a professional solution for exporting Gmail emails to MBOX format. The whole Gmail inbox can be simply transferred to the MBOX file format by a Gmail user. All Gmail emails with various attachments, such as Notes, Contacts, Calendars, Journals, Tasks, Appointments, Meetings, and so on, can be converted to MBOX in a matter of seconds using this tool.
Using a dependable MBOX to PST Converter application, you can afterward convert MBOX files to PST, EML, MSG, and other file formats. To easily export Gmail emails to MBOX files, simply follow the steps below:
Steps to Transfer Emails from Gmail to MBOX
Download the tool in your computer system and start the export process.
1. Select the Open option in the tool's first window

2. Then click Email Accounts and select Add Account option

3. Enter Email account credentials such as Email id and password and hit Advanced Settings

4. Next, the tool uploads all your Gmail account data into the tool's panel

5. Then select the Export option and click MBOX format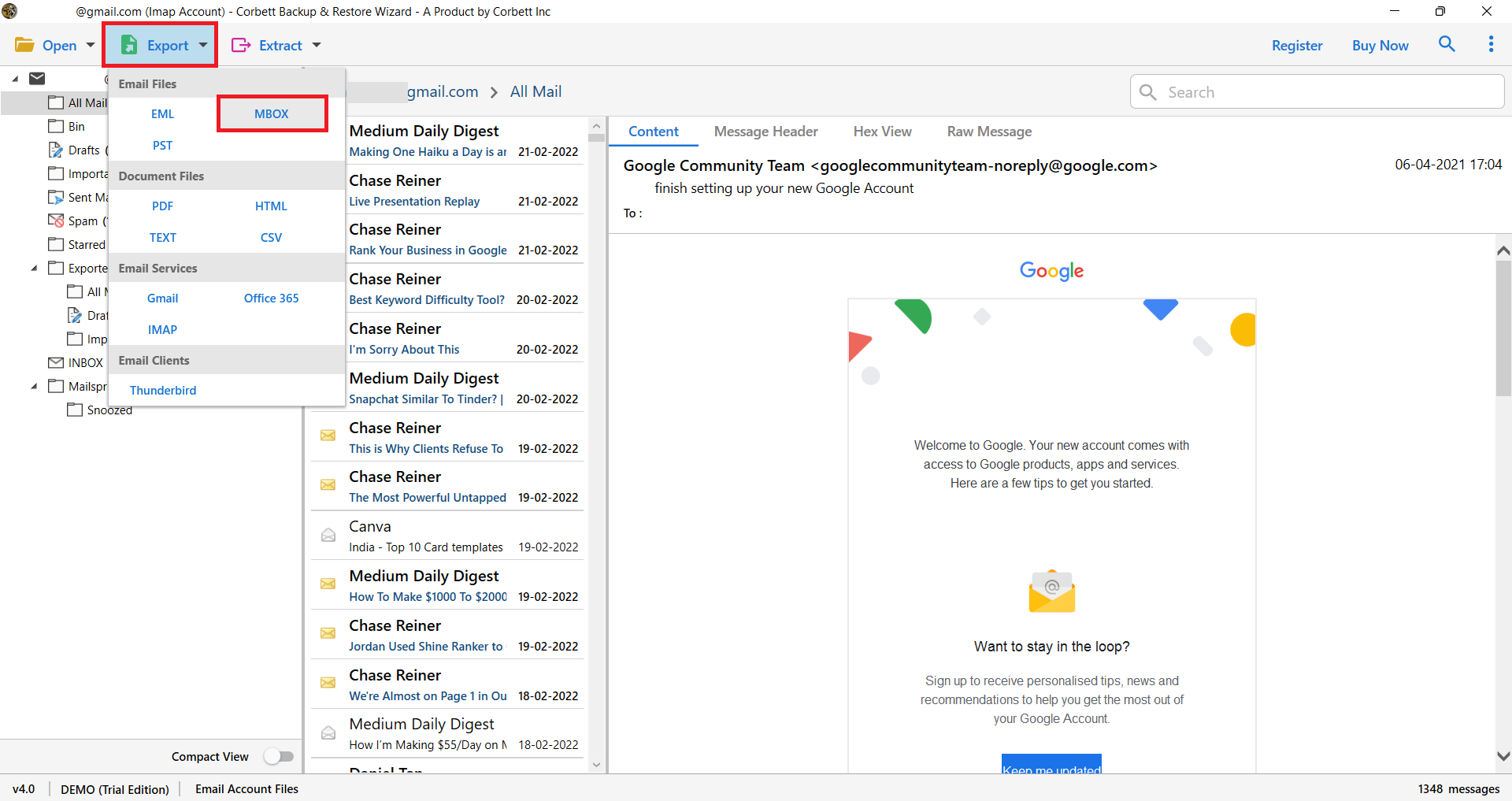 6. Finally, select Save to start the process.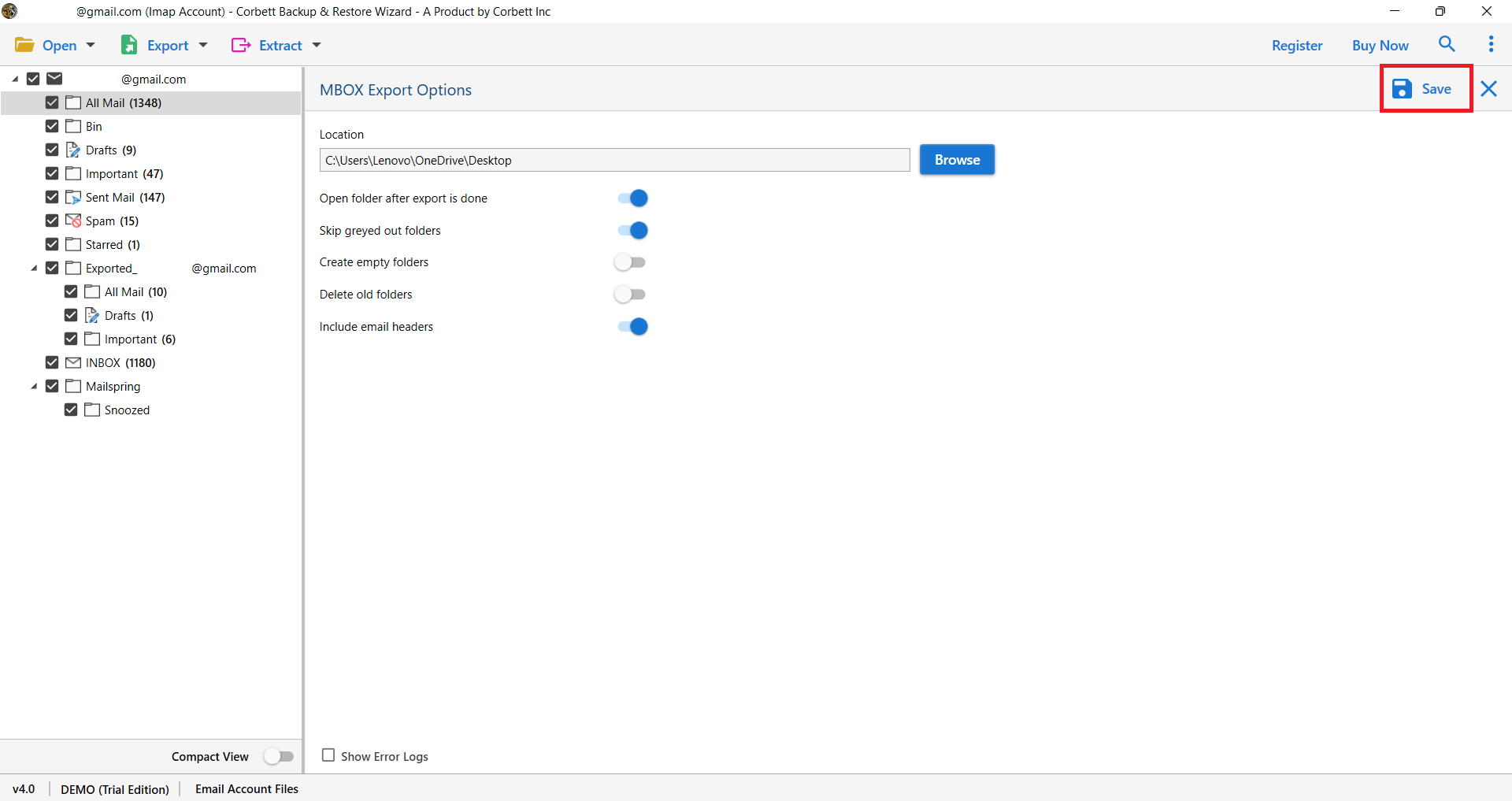 Features of this Automatic Solution
Browse the Destination Location: With this tool, you can select the destination location to save your exported Gmail emails to MBOX files. Otherwise, it will save your data on the desktop.
Open folder after export is finished: You can enable the option to open the folder after export is done. So that you can easily see the exported email in case you are away from your system.
Delete Old Folders: With this feature, you can easily delete old exported folders from the export Gmail emails to the MBOX process.
Include Email Headers: After enabling this option you can also download email headers in your MBOX files.
Skip Greyed Out Folders: This option enables you to remove additional folders from the export process. Those folders are greyed in the color.
It's Time to Wrap Things Up
We've discussed two techniques for exporting Gmail emails into MBOX files. The first is a free method, which necessitates patience due to the lack of a set time limit. To apply the first method, one must also be technically proficient.
The second option is to use an automated solution to easily move all of your Gmail data to MBOX. For selective conversion of Gmail to MBOX, the tool also has a date range filter option. In conclusion, if you want to export your Gmail account data to MBOX file format without encountering any problems or losing too much time, the Gmail backup Software is the perfect solution for you.
Read More: