Download Gmail Emails to Computer in Multiple File Formats
Are you looking at How to download Gmail emails to computer? If yes, stay on this page to know the best methods to complete the process of downloading all emails from Gmail. In this blog, you will know all the solutions to Export Gmail Emails to PC directly. Before starting this blog, know What is Google Gmail? Gmail is an email client.
All over the world users use Gmail as their default email client. Many users use it for their personal use and many professionals use it for their Business entrepreneurs. But, at a certain time, we all need to download Gmail emails to computer.
Reasons to Download Gmail Emails to Computer
There can be several reasons that you may think of. Maybe you are looking to save your important emails from any unknown contingencies. There can be many such situations like malware or virus attacks, data corruption, unauthorized access, etc.
If you're indeed looking to download Gmail emails to your computer due to any of the reasons then you have come to the right place!
The emails in Gmail are crucial, and it is equally important to keep a backup of the data. The loss of data is irreparable. And this is where the need to download Gmail emails comes to safeguard your Gmail from suffering any misshapen and use them for future reference.
Methods to Download Gmail Emails
There are various methods to download all Gmail data and save it to a computer locally. All the methods have their benefits and disadvantages. Choose a solution that best suits you.
The manual method has some limitations read it out to choose the correct solution. Because your data is precious and by using a manual method there is no safety of your data. There is no guarantee to complete the downloading emails from Gmail with a manual method.
Method 1: Download Emails from Gmail to Computer Manually
Google provides a free tool Google Takeout to download Gmail account emails to the desired location on a PC.
The following is the step-by-step procedure to download Gmail emails to the desktop using the Google Takeout feature:
1. Go to the web browser and type myaccount.google.com. After opening it log in to your Gmail account.
2. After opening the Gmail account click on Manage your data & personalization option.

3. In the next window scroll down and click on Download your data option.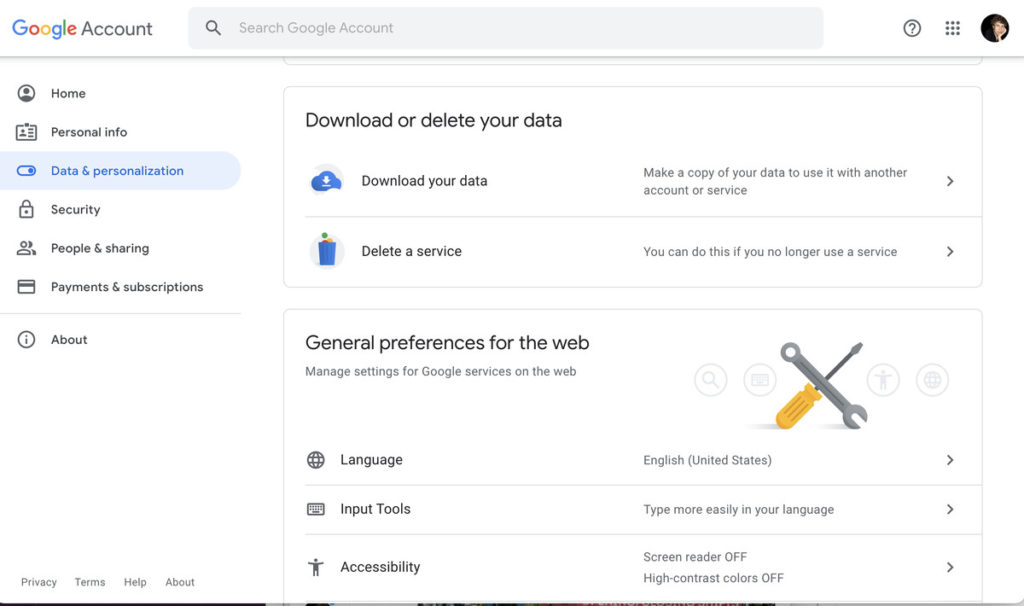 4. As you click on the above option, a next window will open then click on Deselect all, then scroll down select Mail, and click on All Mail data included.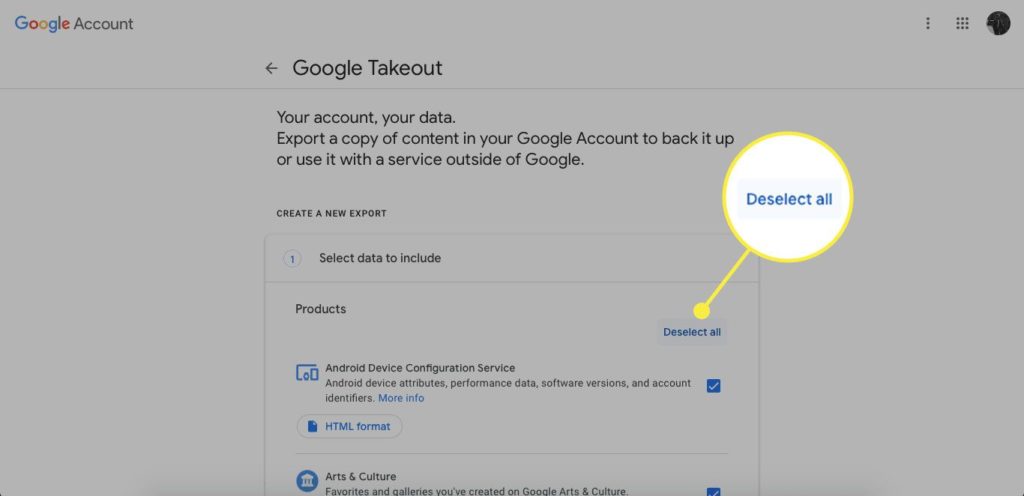 5. After clicking on All Mail data included, a pop-up window will open then first deselect Include all messages in the mail then you will be able to select what type of messages you want to download, click OK. scroll down and click on Next Step.

6. As you click on Next Step you will reach the top then click on Send download link via email and choose a file format to the download and preferred delivery method from the drop-down menu and click on Create Export.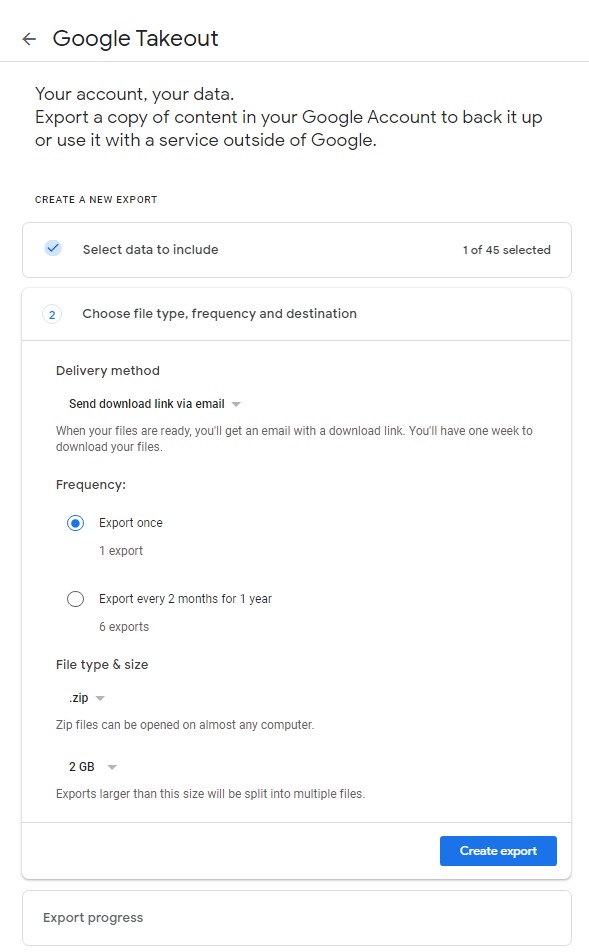 7. After clicking on Create Archive, a message will show to apprise you that an archive is being created, please wait. When it is finally created, you will find a single file containing all the messages in an MBOX format.

You will receive the mail regarding the download link which can be downloaded at the desired location or downloaded right now.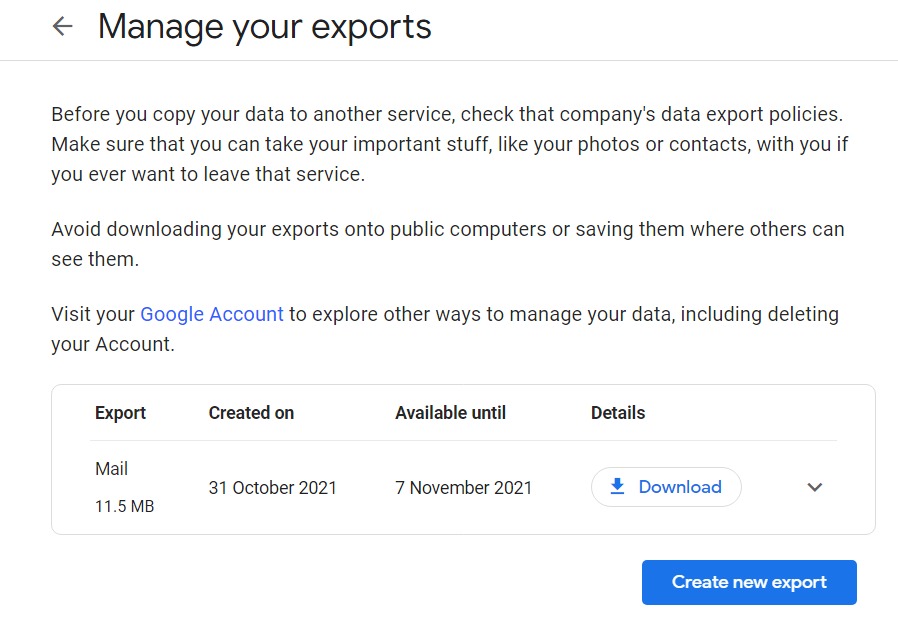 Note: You can also read How to Transfer Emails from Gmail to Text File?
Drawbacks of Using Manual Method
The manual method provides only the selection of the folders and does not provide a date filter and email filter.
It is a lengthy and time-consuming process.
The time taken to complete the export process depends upon the amount of data. If the data is huge then it may take several hours or days to complete the process.
Uninterrupted internet connectivity is required to download Gmail emails.
The resultant files would be saved in MBOX format only.
It does not provide a delete after download option. Hence, space does not get free in the Gmail mailbox.
It does not provide incremental backup. It means that every time you take the backup, the data gets duplicated.
Method 2: Save Gmail Emails to Computer With All Data
In this case, Gmail Backup Tool by Corbett Software is an efficient tool that will help you to easily download Gmail emails to your Computer. It caters to fulfill the needs of IT Admins, IT Support, and Managers.
The simple GUI makes it easy for home users. It is the perfect utility to secure your complete data.
Steps to Download All Gmail Emails to Computer
All the steps are verified by IT experts and recommended to perform on Windows computers.
1: – Download and Install The Tool on Your Computer System to Start the Gmail emails download process.
 2: – In the software window, click on Open
3: – Choose Email Accounts in the drop-down list and click on Add Account.
 4: – Enter the Gmail credentials and click on the Advanced Settings
 5: – Under the Advanced Settings, click on Find to locate the IMAP Server and click on Add.
 6: After completing the details, the Software browses the Gmail emails into the software
 7: Click on the Export button from the menu bar, here you will find multiple export options. You can choose any of them, here I am opting for PDF.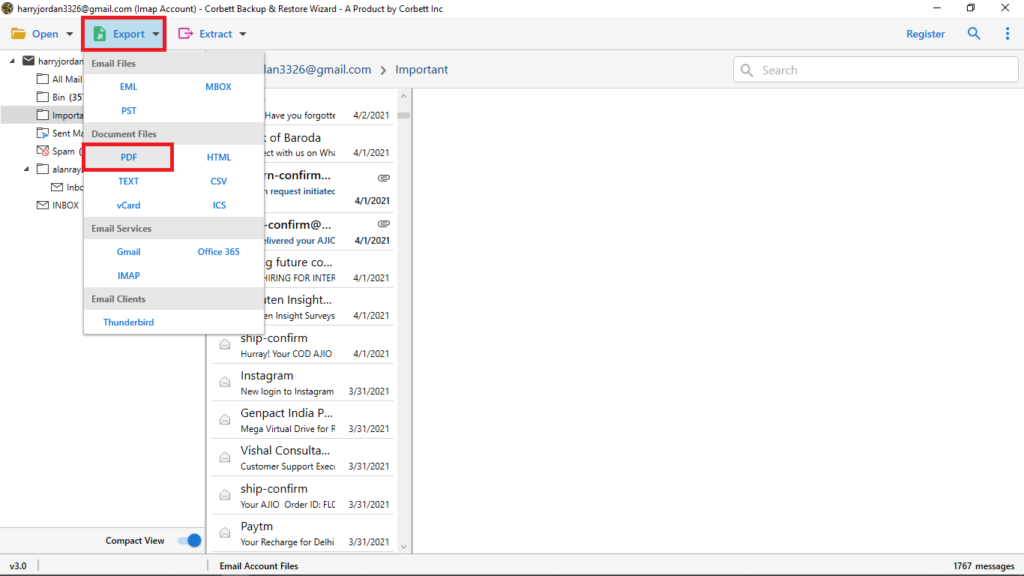 Soon, the export process will start. Lastly, the exported files would be saved in the destination folder. You have successfully downloaded all emails along with all attributes.
Benefits of Using Third-Party Tool
Following are the benefits:
The automatic method is Faster, Reliable, and Secure to save Gmail emails to a computer. It helps you to complete the process within a limited time.
It allows 100 % data integrity. You can easily download Gmail emails to a computer with no loss of data. With the help of the tool, there is no fear of losing information.
This software helps you to maintain folder hierarchy. You can easily save emails with folder structure
Professional tools recommend your customized selection of emails using a date filter and email filter. It is very helpful to save important Gmail emails directly.
Third-Party tool offers you to save emails in multiple formats such as PDF, EML, TexT, HTML, etc.
Supports all versions of Windows OS and you can export Gmail Contacts to iPhone without any worry.
Author's Suggestion
In the above blog, you have learned about the working solution to download all emails from Gmail to a computer. The manual method provides results but with fewer customized features. However, the automated tool provides faster and best results for downloading complete mailboxes from Gmail account to computer locally with 100% data integrity without any hassle.