Export Gmail Emails to CSV Files: Step by Step Instructions
In the CSV file format, users can access their emails easily and at a low cost, and it is universally accessible. This technical blog will provide you with the complete answer to the following question: How to Export Gmail Emails To CSV?
CSV files are Comma-Separated Values files. They are commonly used in MS Excel. Spreadsheets are used to store and manage large amounts of tabular data easily. You can also download the Gmail email and its contacts as CSV files.
Among all email clients applications, Gmail is widely used by users all over the world and it provides 15GB of Cloud storage per user. Once the storage gets full, the user may face difficulties to manage the data in their account. That's why users search for an alternative solution to free up space before running out.
Continue reading the article till the end, and you will get the solution for exporting emails from your Gmail account to CSV. But before that, let's go through the reasons that inspire the users to do so.
Why Should You Export Gmail Emails to CSV Files?
The most common reasons that inspire the users to export Gmail Emails to CSV files are listed below:
CSV files can be stored in your computer operating system and it is easily accessed whenever we need them. Therefore, it works as a backup of your Gmail mailbox that comes in handy in various scenarios.
It helps you to free up the Google storage that is only 15GB provided by Google. Hence, improves the proper functioning of Gmail and helps it from lagging.
Excel can open CSV files as spreadsheets since they are a common and easy-to-access file format. You can view it offline when you are unable to access your Gmail account due to a poor internet connection.
All the reasons mentioned above show you the need to export Gmail emails to CSV File. You can also enable to export emails from Gmail to CSV through the mentioned below methods.
How Do I Export All Gmail Emails to .csv?
Gmail emails can be exported into a .csv file using the methods mentioned below. You can take the help of one of these methods and perform your task accurately. There are plenty of methods to accomplish this task.
You can export Gmail emails to CSV with the help of other email clients or can directly convert Gmail emails to CSV through an automatic tool to remove the unnecessary mess in this process.
Let's understand the process to export all Gmail emails to a .csv file.
Two Methods to Export Gmail Emails to CSV File with Attachments?
There are two approaches to start the conversion of Gmail messages to CSV files. Both the methods will explain in-depth so understand carefully and start your export process as soon as you finish reading.
The first method we describe is how to export emails to CSV using Outlook. Because Microsoft Outlook can be used to access a Gmail account in it through its IMAP settings. If you are using Microsoft Outlook, then you can easily export the Gmail emails to a CSV file containing emails.
But as we all know Outlook is a paid email client. So there is no way to complete this method in Outlook. But don't worry because we can export Gmail email to CSV through Thunderbird.
Thunderbird is an open-source email client that can be used by anyone. Start the manual export process in Mozilla Thunderbird.
Methods 1: Export Gmail to CSV using Mozilla Thunderbird
Thunderbird can export emails via an add-on, while Outlook has inbuilt functions for exporting and importing emails to CSV files. ImportExportTools NG can be added as an additional feature in the email client.
You can right-click on any folder and it will appear as the first option. You can expand it and select Export all messages in the folder and then select Spreadsheet (CSV) as the destination.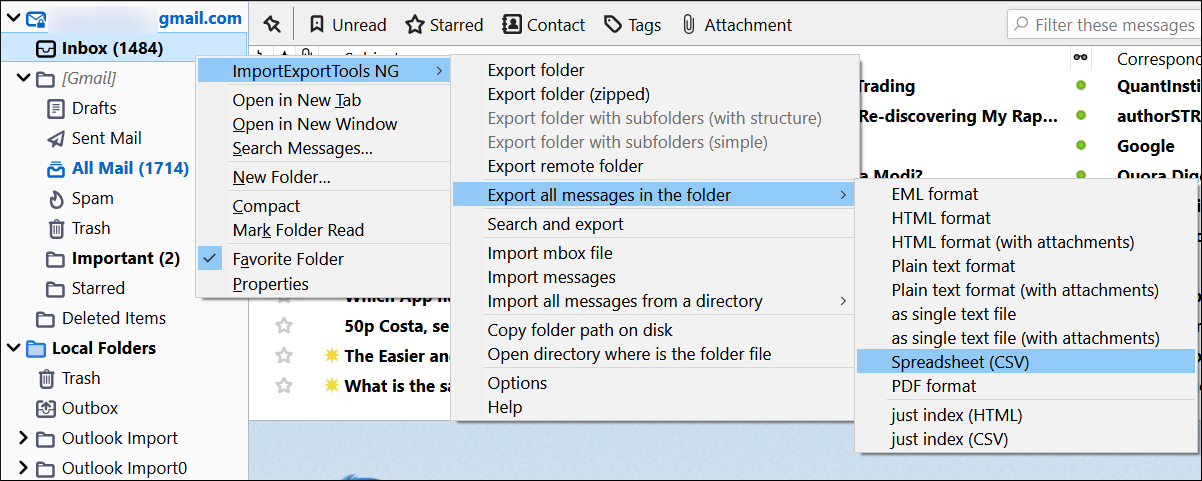 Once you choose CSV as the output format, you can save it anywhere you wish.
Method 2: Save the Gmail Emails Manually
Another option is to download individual messages in EML format and save them in the CSV file you created earlier.
1. To save a message, go to Gmail and select it. To see more options, click the three dots. Then select Download.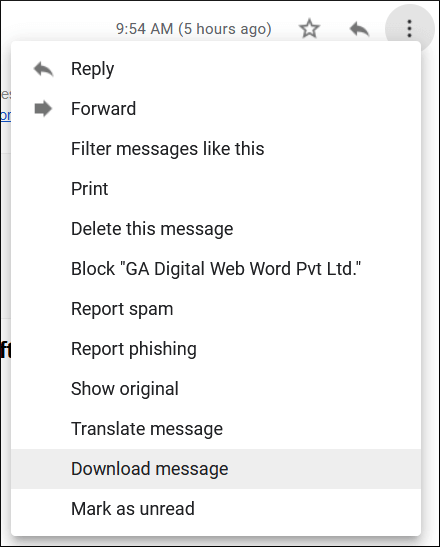 2. You can save the message in any folder and the default format will be EML.
3. Drag and drop the EML message into a CSV file.
4. The Excel window will display that the EML does not match the extension and format. Select Yes to open it anyway.
5. To edit the email, click Enable Editing in Excel to open the Email in Excel.
Limitations With Manual Method
In manual methods, you will face tons of difficulties to complete the export Gmail emails to CSV files with attachments.
The manual process takes time to complete and you can not resume or pause it in the middle of the export process until it finishes.
When exporting Gmail emails to CSV, there is a high risk of data loss.
There is a high possibility of data misplacement and disorder in the folder hierarchy.
Automatic Solution to Export All Gmail Email to CSV File
Corbett Email Converter Tool enables you to export your Gmail Emails to CSV File directly from the tool. There is no need to open Gmail or any other additional application to run this utility. You just simply need to start the tool and add your Gmail account and export it to a CSV file.
You can do this process in just 6 simple steps. Export Bulk Gmail messages to CSV file with attachments. And can save the files wherever you want. Start the steps to complete the task without any hassle.
Working Steps to Export Gmail Emails to CSV File
Download the tool by selecting Download Now button given below and start the process as shown in the below steps.
1. Open the tool and select the Open option in the welcome tool window

2. Then click the Email Account option from the drop-down list and hit Add Account option.

3. After that Enter Email Account Credentials i.e., Email id and Password. You can also select Advanced Setting for manual configuration.

4. Next, The tool uploads all your Gmail mailbox data into the tools panel. And you can preview emails one by one in the given view options.

5. Then select the Export option that is given in the top ribbon bar and select CSV from the drop-down list.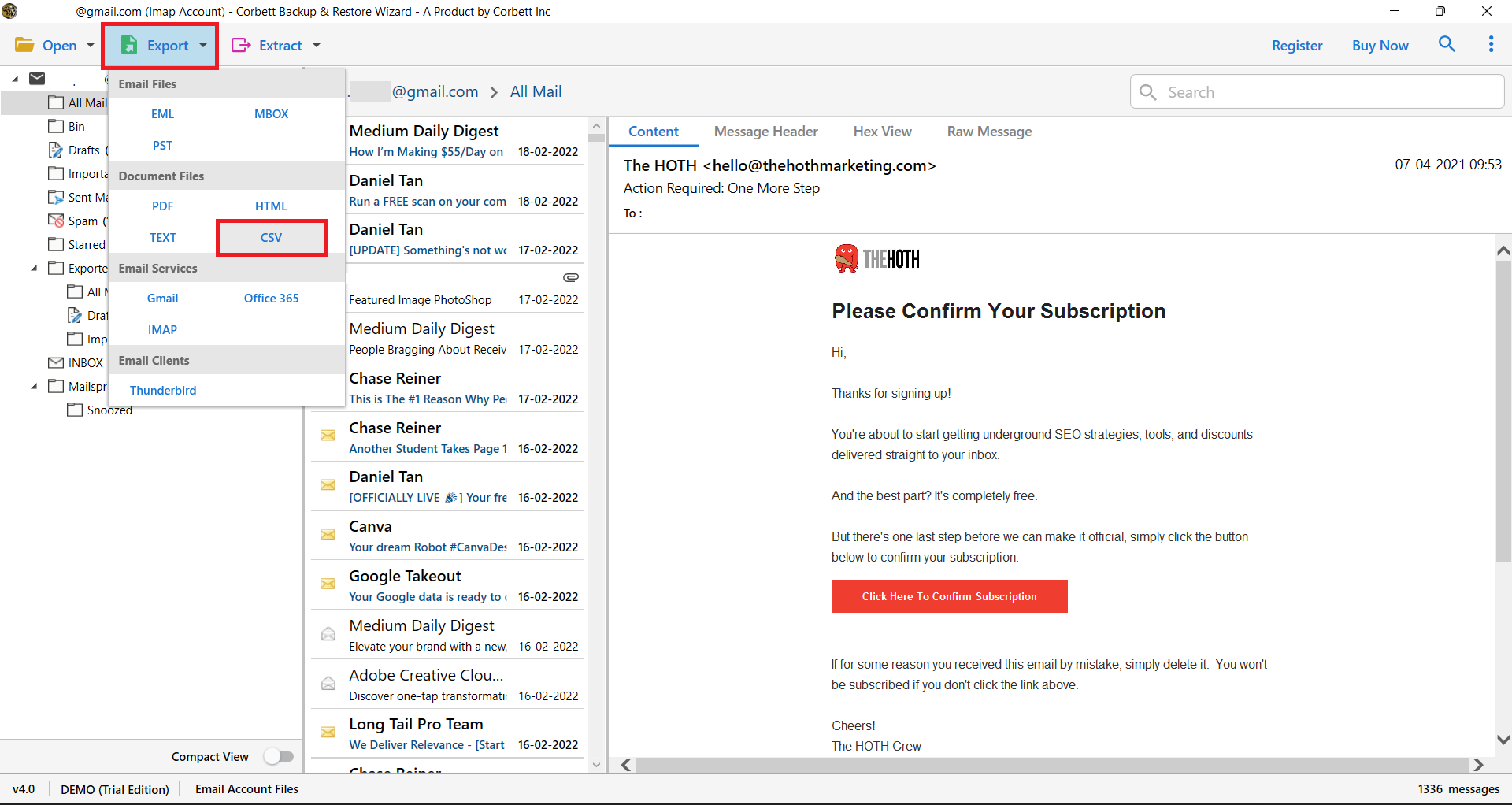 6. Start the export process as soon as you press the Save button. You can also enable the options before the export as per your requirements.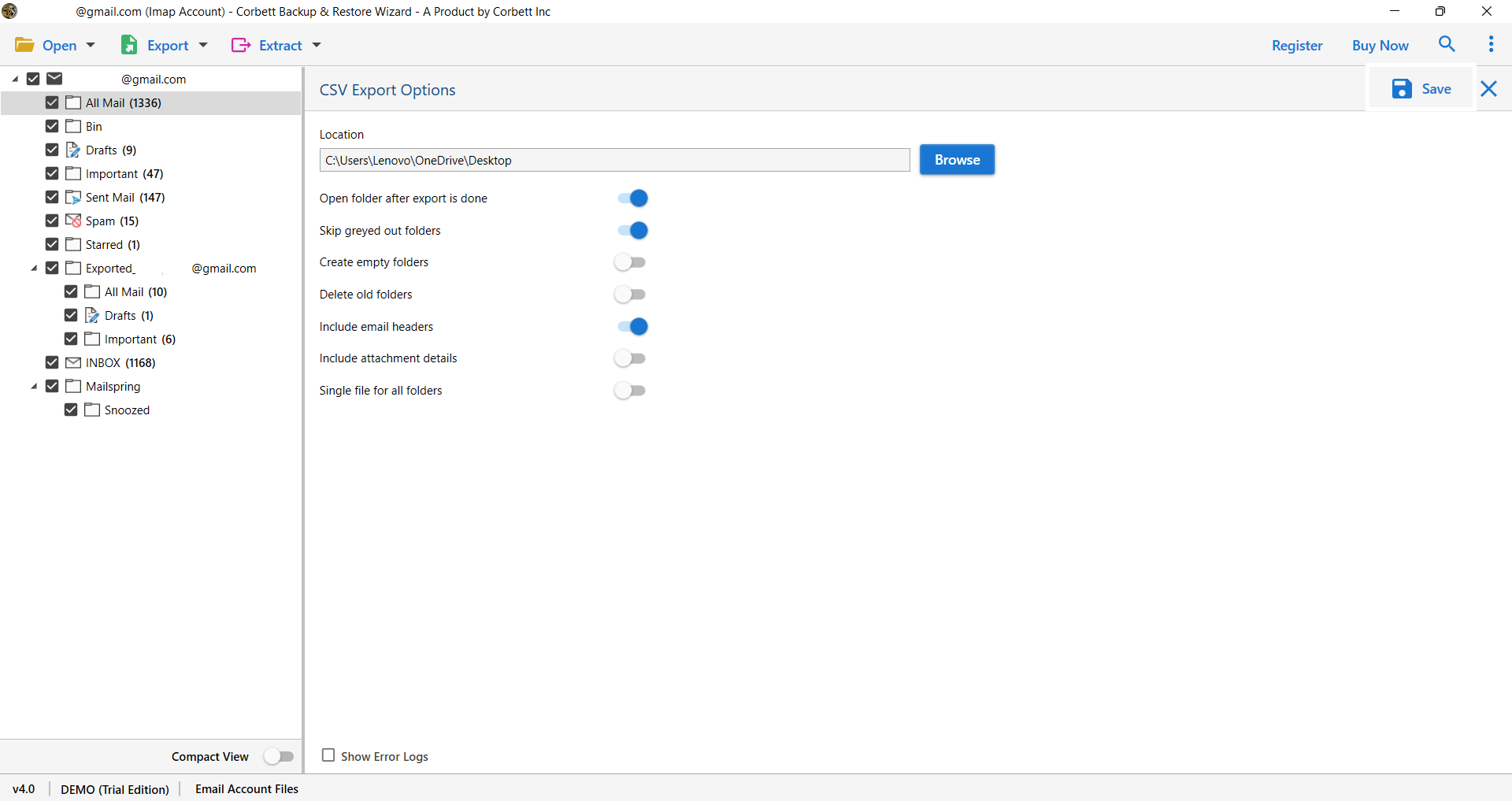 Author's Suggestion
In this blog, we explained the best methods to export Gmail Emails to CSV Files. There are two methods to complete the process manually or automatically both methods help you to accomplish this task. If you will be stuck in the Automatic solution then feel free to reach us.