How to Export iPhone Contacts to CSV Format? Complete Guide
Want to export iPhone contacts to CSV format but don't know the procedure? We got you! Throughout this blog post, we will discuss various ways to accomplish the task. We will share a manual solution as well as an automated utility that you can choose to convert your iPhone contacts to CSV. So, sit tight and read this entire blog to see which method better fits your criteria.
Numerous reasons may cause you to export your iPhone contacts to CSV format. Perhaps you need to share some work-related contacts with your colleagues or maybe you're switching to Android. As we mentioned above, these things can only be done via CSV format. Regardless of the reason, we are here to help you accomplish the task. So, without taking any more of your precious time, let's start with the article.
CSV aka Comma Separated Values is one of the standard formats to store and manage data. It is widely used and appreciated by users. This format is supported by popular applications such as MS Excel, Google Spreadsheets, and even text editors like Notepad. Thus, it is a great option to convert your contacts into this format for versatile use. However, an iPhone is of no help in this conversion.
First and foremost, you need to export your contacts in vCard format in order to further convert them.
How to Export Contacts from iCloud?
On your Mac, PC, or iPad, sign in to iCloud.com
Click "Contacts"
From the top left corner, select "All Contacts"
Then, select the "Settings" gear icon at the bottom left
Next, click "Choose All"
Now, choose the "Export vCard" option from the "Settings" icon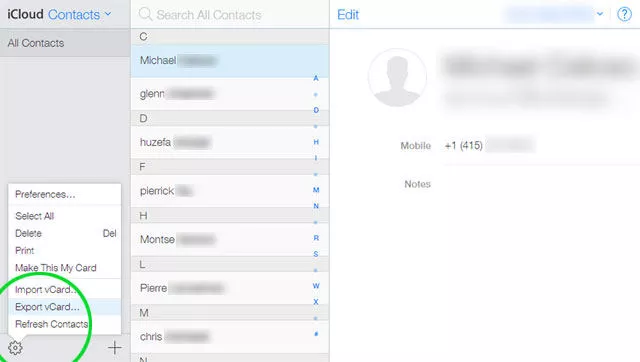 Now that you have exported your iPhone contacts into vCard format you can proceed to convert them into CSV format. For that, you have two options; to convert manually or to convert your contacts with the help of an automated tool. Let us see how both methods unfold.
How to Convert vCard File into CSV Manually?
Go to Google Contacts.
On the left side, click Import and proceed to add your VCF files.
Upon importing, select the contacts you wish to export and select "Export" from the dropdown menu.
Then, select Google CSV or Outlook CSV to save the contact file in CSV format.

So, this is the manual solution to accomplish the task. Unfortunately, using this method, you can only export 500 contacts into CSV format at once. This limitation hinders the users from bulk converting their iPhone contacts to CSV. Thus, technical professionals suggest users go for an expert-recommended solution, in order to convert their contacts in bulk mode.
How to Export iPhone Contacts to CSV? The Expert Way
For the automated solution, technical professionals recommend going for the Corbett vCard Converter. This tool is, without a doubt, the best tool available on the internet. Not only does it smoothly exports user contacts to CSV format but also supports bulk conversion. Thus, unlike the manual procedure, you can convert any number of iPhone contacts as you wish, and that too, without any difficulty. Along with that, you can use this tool on any Windows machine as it is supported by all Windows OS versions.
Steps to Export iPhone Contacts to CSV
Install and run the utility. Click on the Open button from the top left corner.
Click on Email Data Files >> vCard File >> Choose File to select and load desired vCard data.

Preview the uploaded vCard file data in two different view modes in the dedicated preview panel.

Click Export and select the CSV format from the provided list.

Lastly, utilize the advanced options at the end and click Save.
And that is all for the steps to successfully export iPhone contacts to CSV format. Furthermore, there are multiple benefits of using this utility as well.
Advantages of Using the Automated Utility
Proficiently export and convert VCF to CSV format.
Supports batch export so you can convert any number of your iPhone contacts without any restrictions.
Provides two different search settings for users to filter data on a finer level.
It is compatible with all Windows OS versions and thus can be used on any Windows system.
It also offers dedicated technical support to guide users through the procedure in a hassle-free manner 24/7.
Before We Go
In this article on "Export iPhone Contacts to CSV", we shared various ways you can choose to accomplish the task. We shared a manual solution and, with that, an automated utility. However, the manual method comes with a conversion limitation. Hence, if you wish to convert iPhone contacts to CSV in bulk mode, then, numerous technical experts suggest going for an automated utility.
Read Similar Blogs: