How to Export MDaemon Emails to Thunderbird
Overview: You'll learn how to quickly convert MDaemon Emails to Thunderbird client in this post. We use a strong MDaemon to Thunderbird migration tool for this. The output data will be stored in the default Thunderbird Profile location, which will be automatically detected by this sophisticated toolkit.
Many people desire to export MDaemon emails to Thunderbird under the current circumstances. If you wish to transfer your emails from MDaemon to Thunderbird, this post will help you solve all of your difficulties.
Why should MDaemon Users Export their Emails to Thunderbird?
Converting emails from one email client to another is a popular practice these days. In the email market, there are a variety of email clients to choose from, all of which are unique. Among them are MDaemon and Mozilla Thunderbird. We have discovered that a large number of customers wish to export their MDaemon accounts to Mozilla Thunderbird. MDaemon to Thunderbird conversion is influenced by several factors, including:
In comparison to MDaemon, Mozilla Thunderbird has a minimal maintenance cost. As a result, choosing Mozilla Thunderbird versus MDaemon is a cost-effective decision.
Mozilla Thunderbird has a faster response time than MDaemon. Mozilla Thunderbird, according to several independent surveys and users, is quicker than MDaemon.
Because Mozilla Thunderbird has a junk filtering option, it is more secure than MDaemon.
Mozilla Thunderbird is the best option if you want to personalize your email client. You may personalize your profile in Mozilla Thunderbird to meet your specific needs.
After reading the points above, it should be clear why Mozilla Thunderbird is superior to MDaemon. We'll show you how to convert MDaemon profile data to Mozilla Thunderbird in the most effective way possible in this blog.
Here, we'll go over the MDaemon to Thunderbird conversion process and all the other details. So read the blog to the end to learn how MDaemon correctly exports mailboxes to Thunderbird.
Professionally Export MDaemon Mailbox to Mozilla Thunderbird
MDaemon Migration Utility is a reliable automatic solution that transfers MDaemon files and folders to Mozilla Thunderbird. The utility is compatible with both 32-bit and 64-bit Windows operating systems.
The MDaemon to Thunderbird conversion solution works quickly and efficiently, converting multiple MDaemon files to Thunderbird in a single step. The advanced utility precisely moves all MDaemon files, attachments, contacts, and calendars. To utilize MDaemon to import a user account into Thunderbird, you don't need any technical skills.
Know the Steps for MDaemon to Thunderbird Migration
Install and run the software on your Windows computer, then follow the on-screen instructions.
1: After installing the software, run it and pick the Open option

2: Select MDaemon Files from the Email Servers drop-down option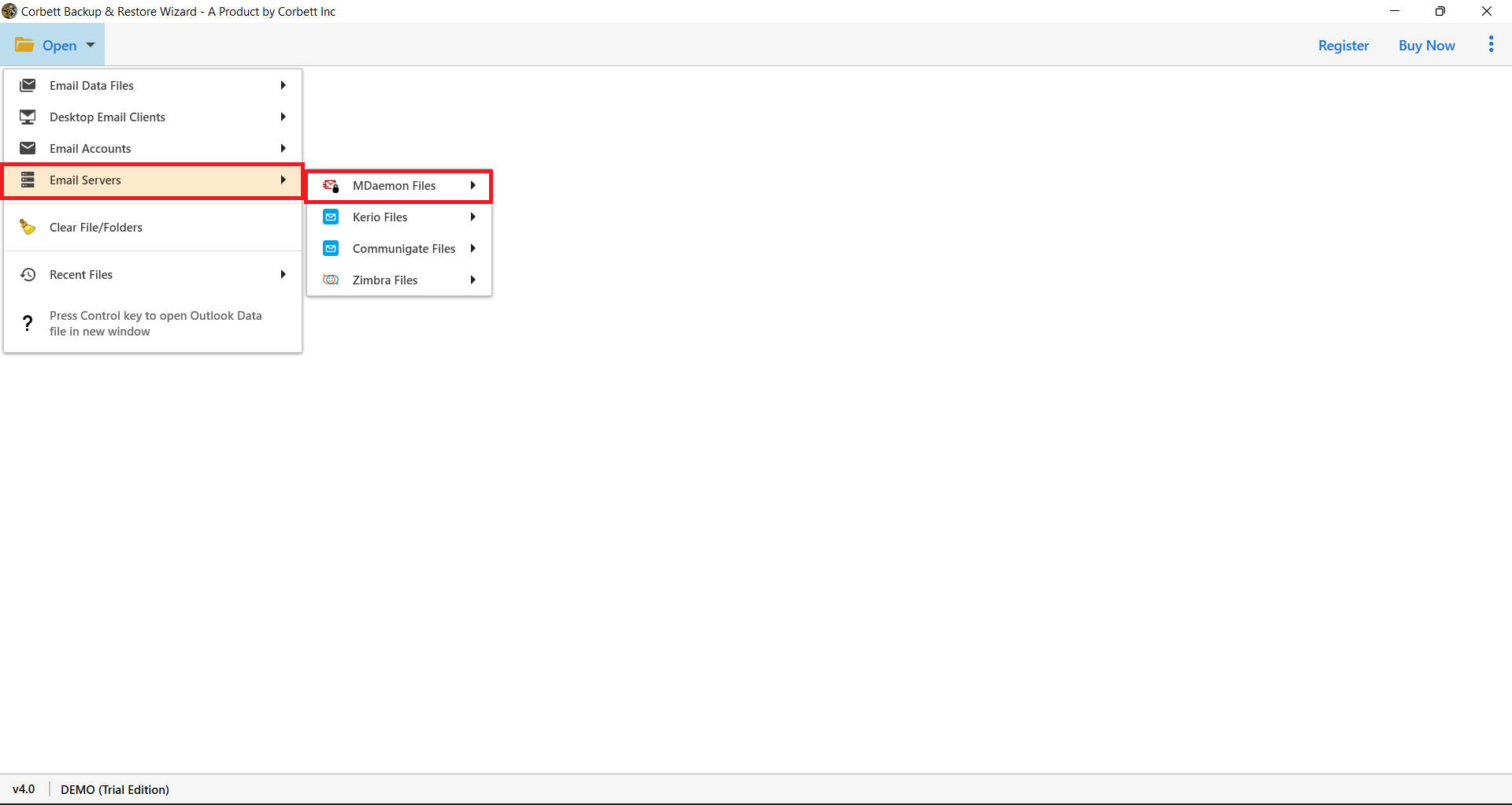 3: You have the choice of using the Files and Folders option or manually configuring your account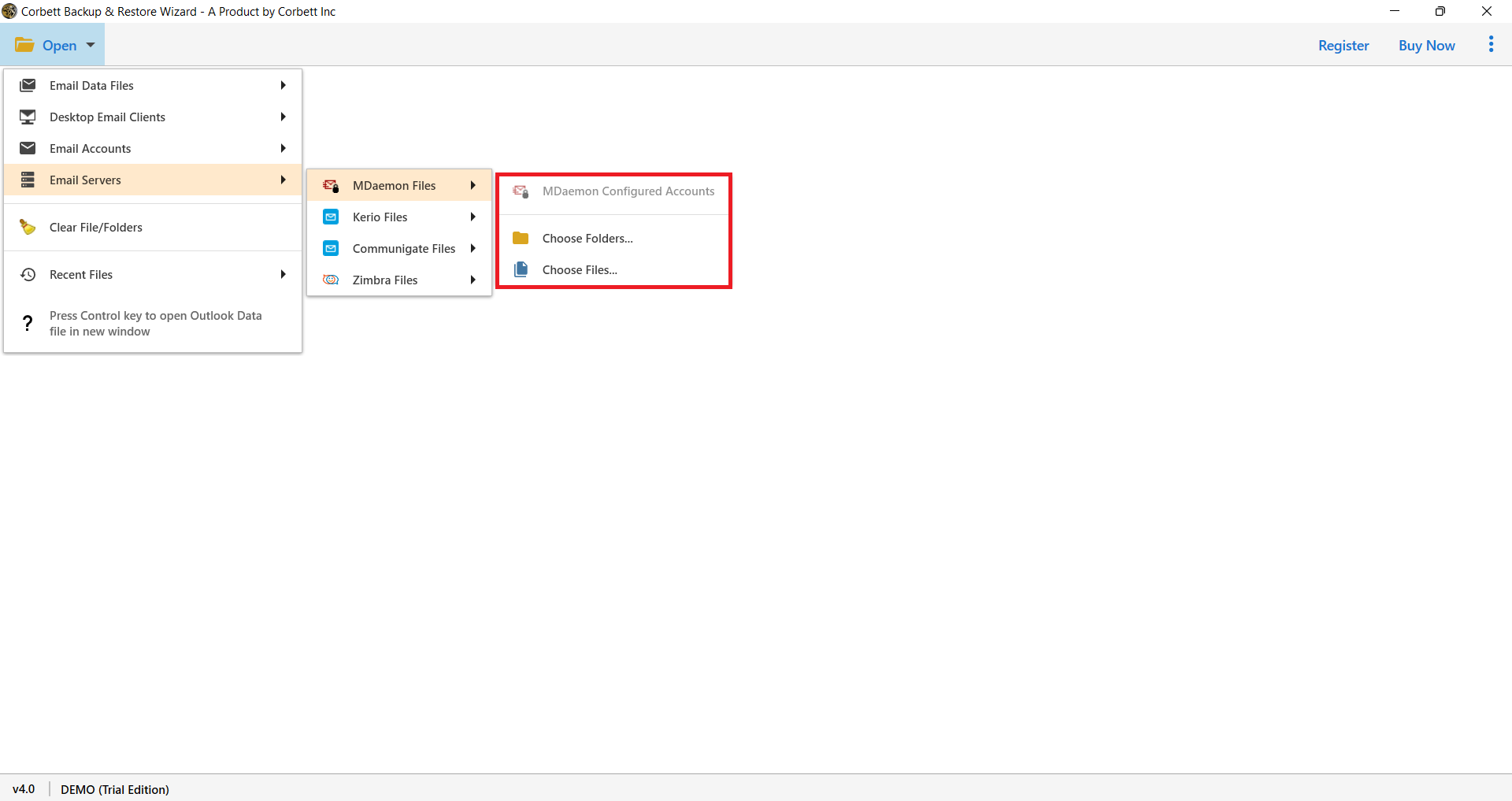 4: The utility then begins working on the account's files and directories. You can preview emails into various options by selecting an individual email.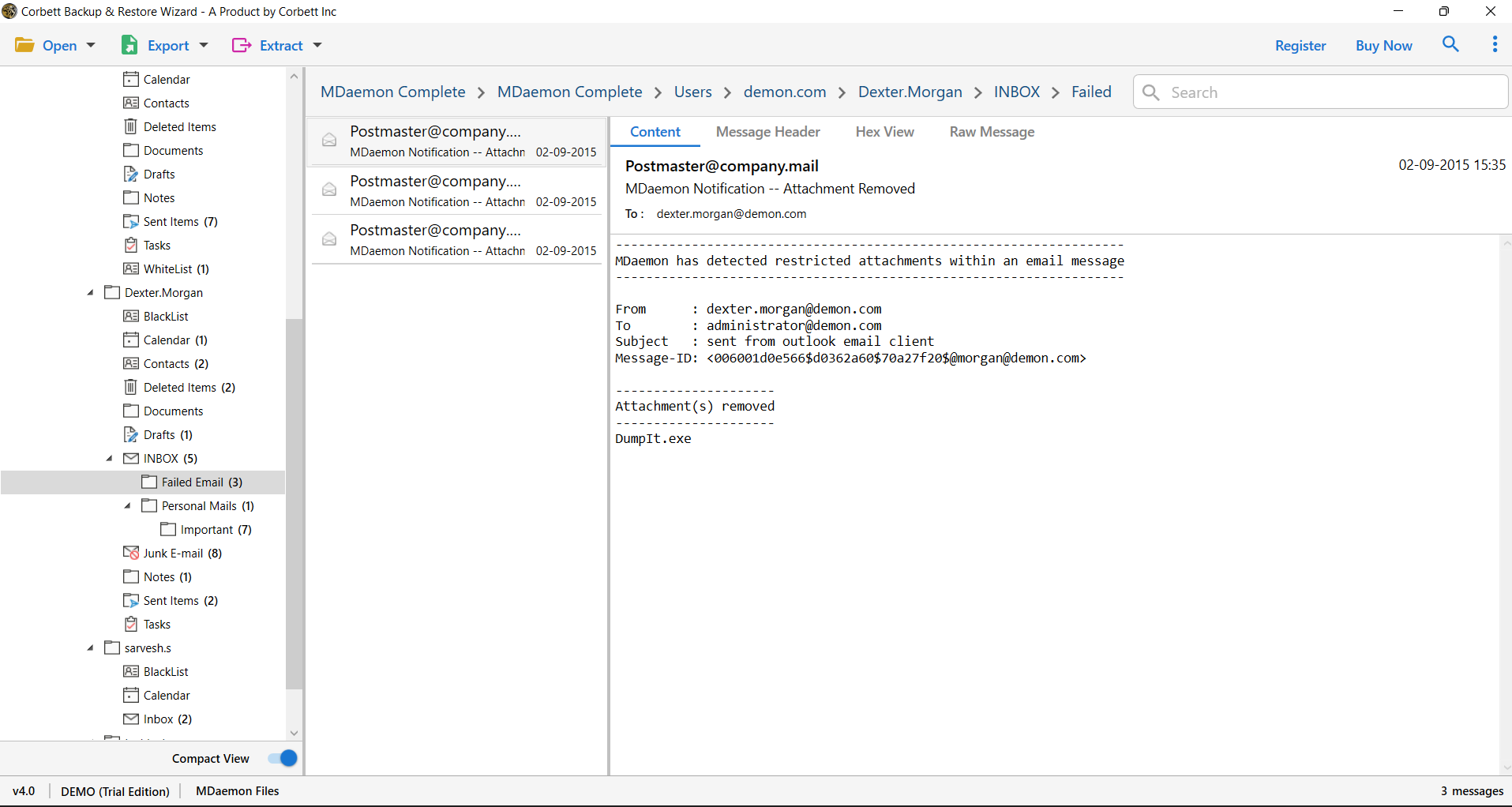 5: From the ribbon bar, select the Export option and Thunderbird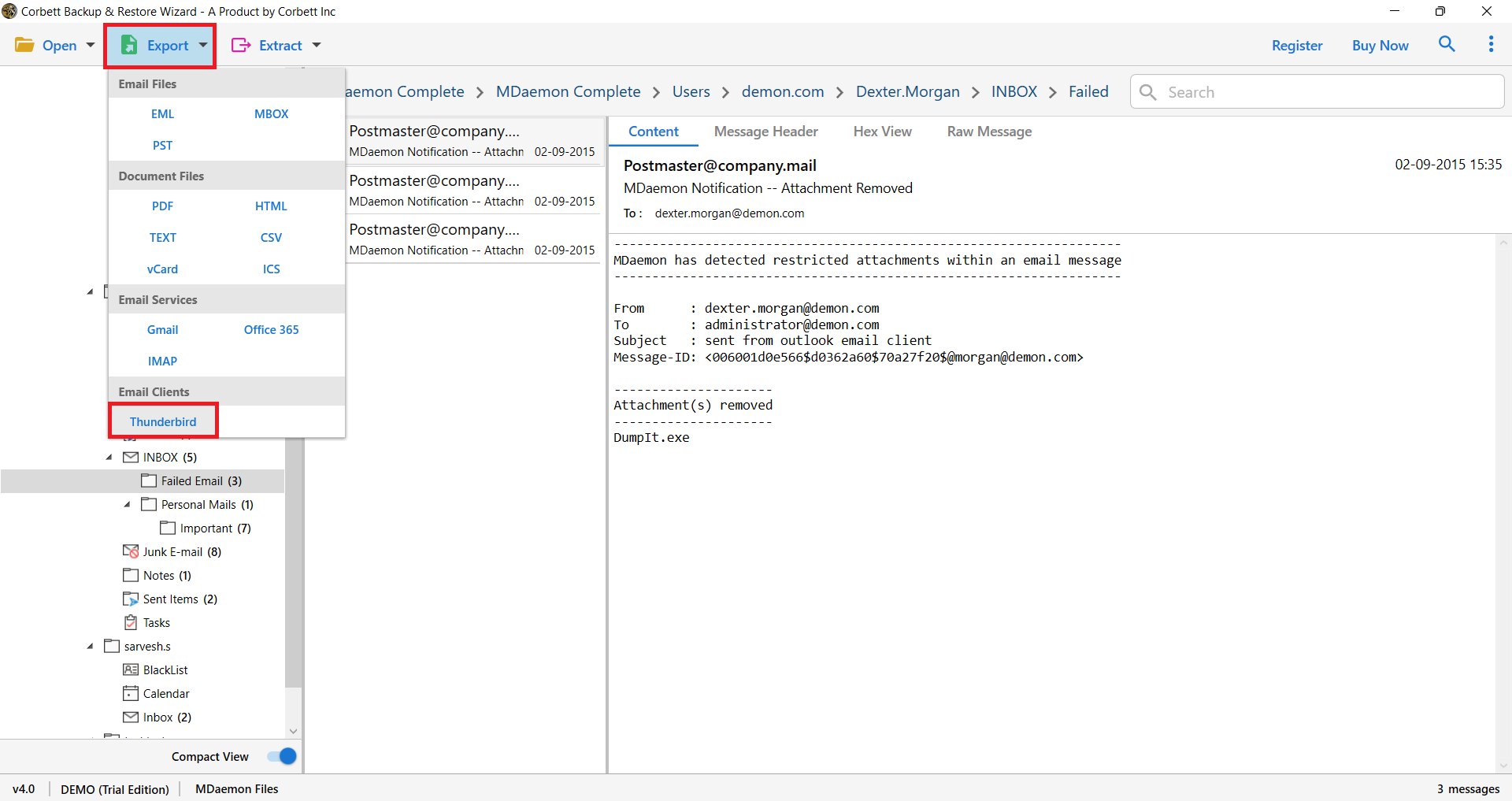 6: To begin, click Save and watch the live export process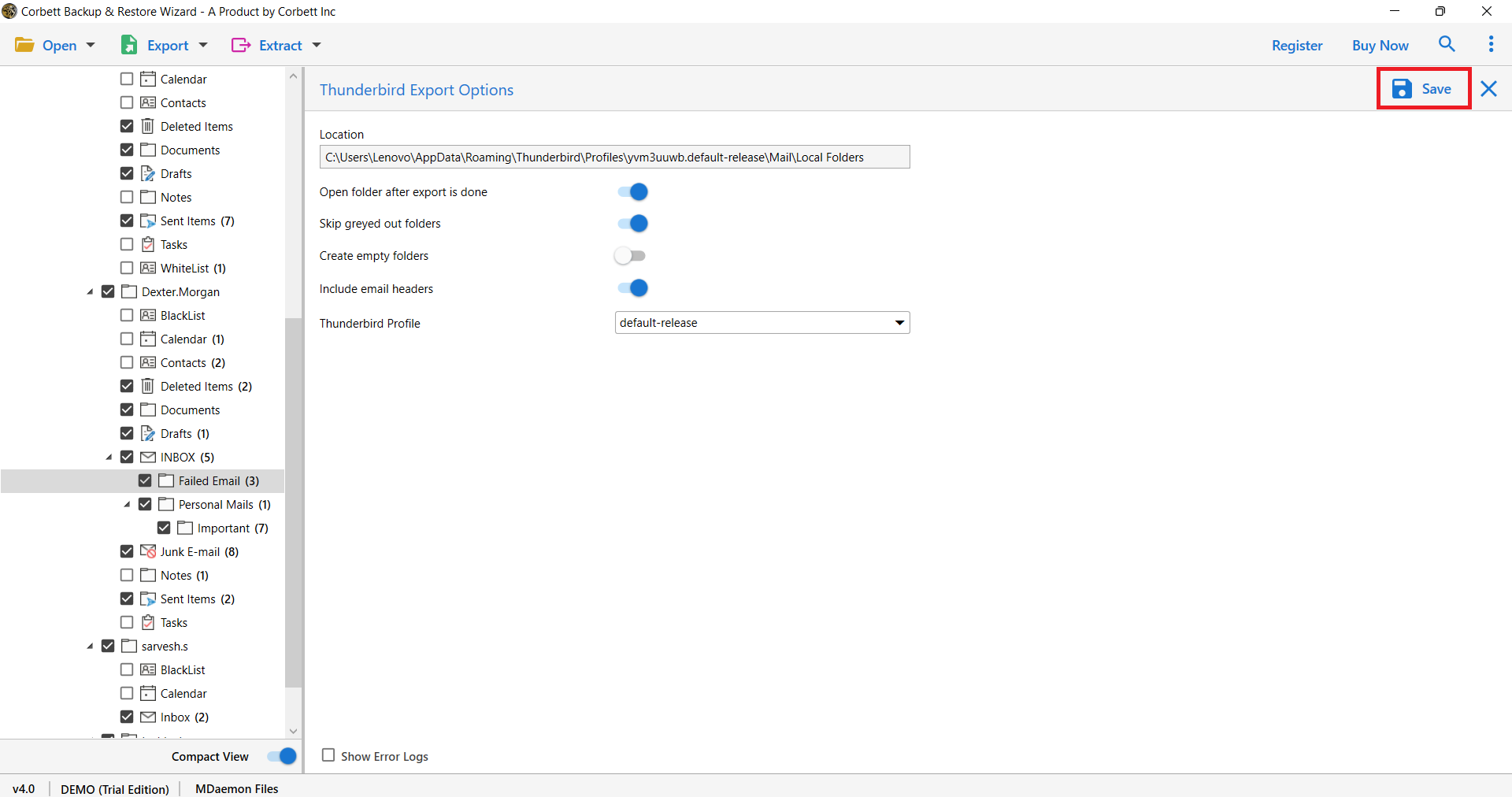 The advanced solution migrates MDaemon files with precise mail attributes including headers, hyperlinks, email addresses/content, time stamps, font, style, and so on. There is no change in the MDaemon folder hierarchy after conversion.
MDaemon to Thunderbird Utility is a fantastic software that allows you to convert MDaemon to Thunderbird at a low cost. You may also test the MDaemon to Thunderbird Utility demo edition to see how the software works. The free demo edition exports the first 10 MDaemon files to Thunderbird. For an immediate solution of MDaemon backup folder to Thunderbird, click the button above.
MDaemon to Thunderbird Tool's Most Important Features
The MDaemon to Thunderbird Utility is quite efficient. It allows you to transfer MDaemon mail items in bulk to Mozilla Thunderbird in a single process without losing any files.
MDaemon to Thunderbird conversion is facilitated by advanced utility facilities. Simply install Mozilla Thunderbird on your computer, and the software will relocate all of your MDaemon files to the default place.
Or, if you don't want to install Thunderbird, you may just configure your Thunderbird account via the tool without having Thunderbird installed.
You won't have to worry about the security of other databases like contacts and calendars if you use this clever method. The clever MDaemon to Thunderbird utility automatically converts contacts and calendars to CSV and ICS formats.
The multitasking tool transfers all attachments and emails to Thunderbird with precision. PDF, JPG, TIFF, GIF, DOC, PPT, ZIP, and other types of attachments are all exported to Mozilla Thunderbird with no modifications to their attributes.
Another advantage of MDaemon for Thunderbird is that it keeps the original folder hierarchy. Even after conversion, none of your work will be harmed.
With this advanced method, only specific MDaemon files may be imported to Mozilla Thunderbird. Selective conversion is a highly useful option since it saves a lot of time and space.
The application also includes filters for selective MDaemon mail transfer to Mozilla Thunderbird, including to, from, subject, date, cc, and bcc. While transferring MDaemon data to Thunderbird, you can use any or all of them.
This tool is compatible with both 32-bit and 64-bit Windows operating systems. The utility is compatible with all Windows versions, including 10, 8, 7, 8.1, Vista, and XP.
The Final Word
We'll walk you through the entire process of exporting MDaemon emails to Thunderbird in this post. We'll utilize the Corbett Software MDaemon Migration tool in this case. Contact us via live support chat if you have any additional questions.