The Simplest Way to Convert MDaemon Contacts to vCard Format?
Overview: This article will show users how to transfer MDaemon contacts to vCard format in the easiest method possible. Each MDaemon contact will have its own VCF file created.
MDaemon is a one-of-a-kind mail server that assists businesses in expanding their operations. We all know that email has become the primary means of communication for any company's employees, associates, and clients.
They employed the MDaemon Mail Server to keep track of the users' mailboxes and contacts. MDaemon Address Book allows you to save an infinite number of contacts.
At some point, a user will be forced to move their MDaemon contact information. Especially when transferring MDaemon contacts to other devices such as Android phones, iPhones, Windows phones, and so on.
All of these devices can only import vCard files as contacts. vCard, often known as VCF, is a standard file format for storing contact information. VCF files are useful because they allow users to communicate vCard contact information in a more legible and user-friendly manner.
This is why storing contacts as vCards is a suitable option for MDaemon Mail Server users.
How to Convert MDaemon Contacts to vCard?
There aren't many options for migrating MDaemon Contacts to the vCard file format right now. Fortunately, users may convert MDaemon to vCard format utilizing the Best MDaemon Migration tool, which is a robust application.
Users will be able to easily migrate MDaemon contacts to VCF files with the help of the utility. The software will produce individual VCF files for each MDaemon contact when the user selects the contacts for conversion.
Steps to Start Converting MDaemon Contacts to vCard
This utility's overall process is simple and straightforward. Simply take these easy steps:
1. On your Windows PC, install and run the MDaemon to vCard conversion utility. To see more options, select the Open option.

2. Then, to see MDaemon Files, go to Email Servers.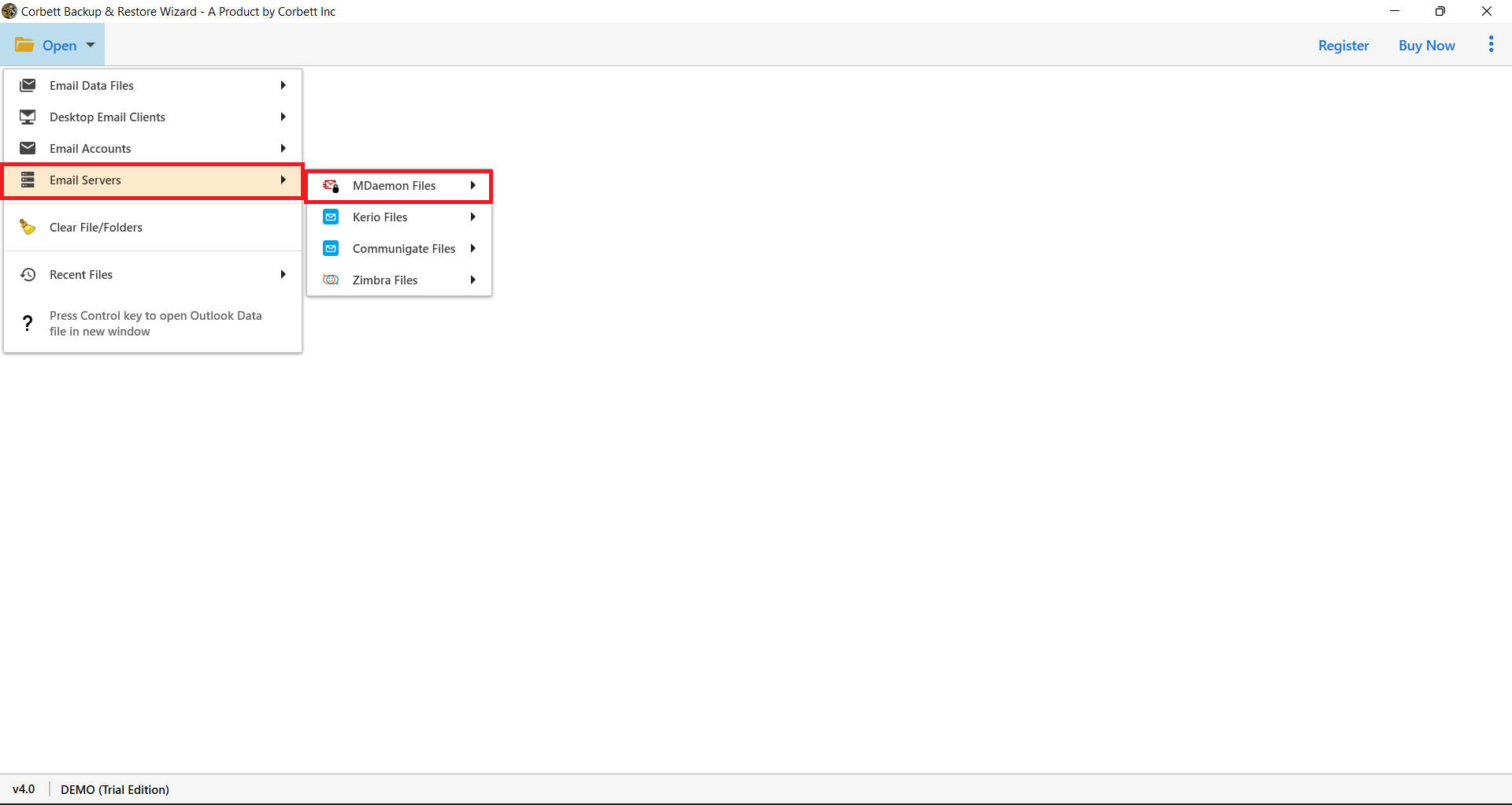 3. Afterward, select Files or Select Folders to load MDaemon mailbox contents into the application or configure the MDaemon account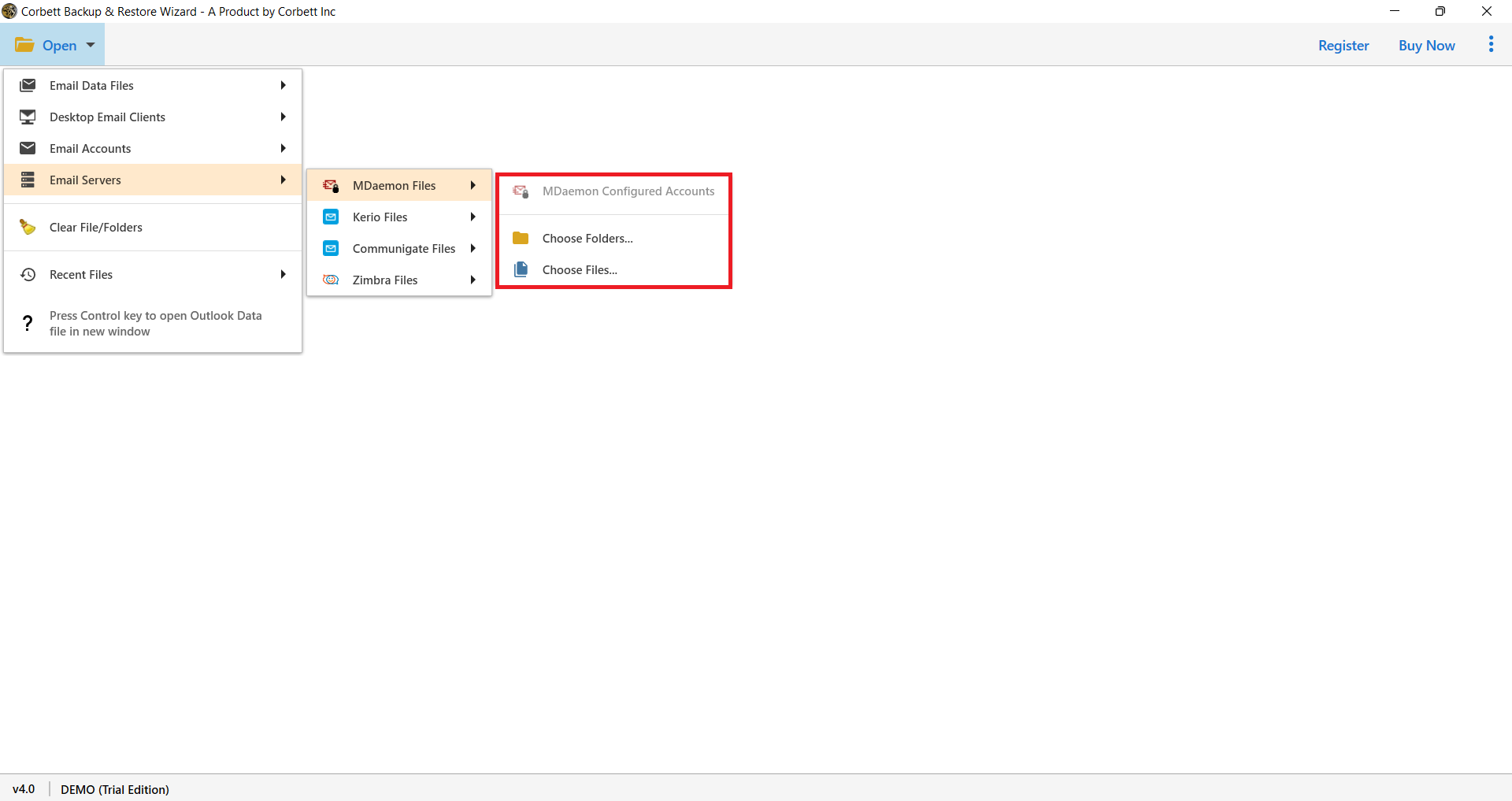 4. In the application panel, all of the MDaemon mailbox items are listed. For the conversion, choose all of the needed contact folders.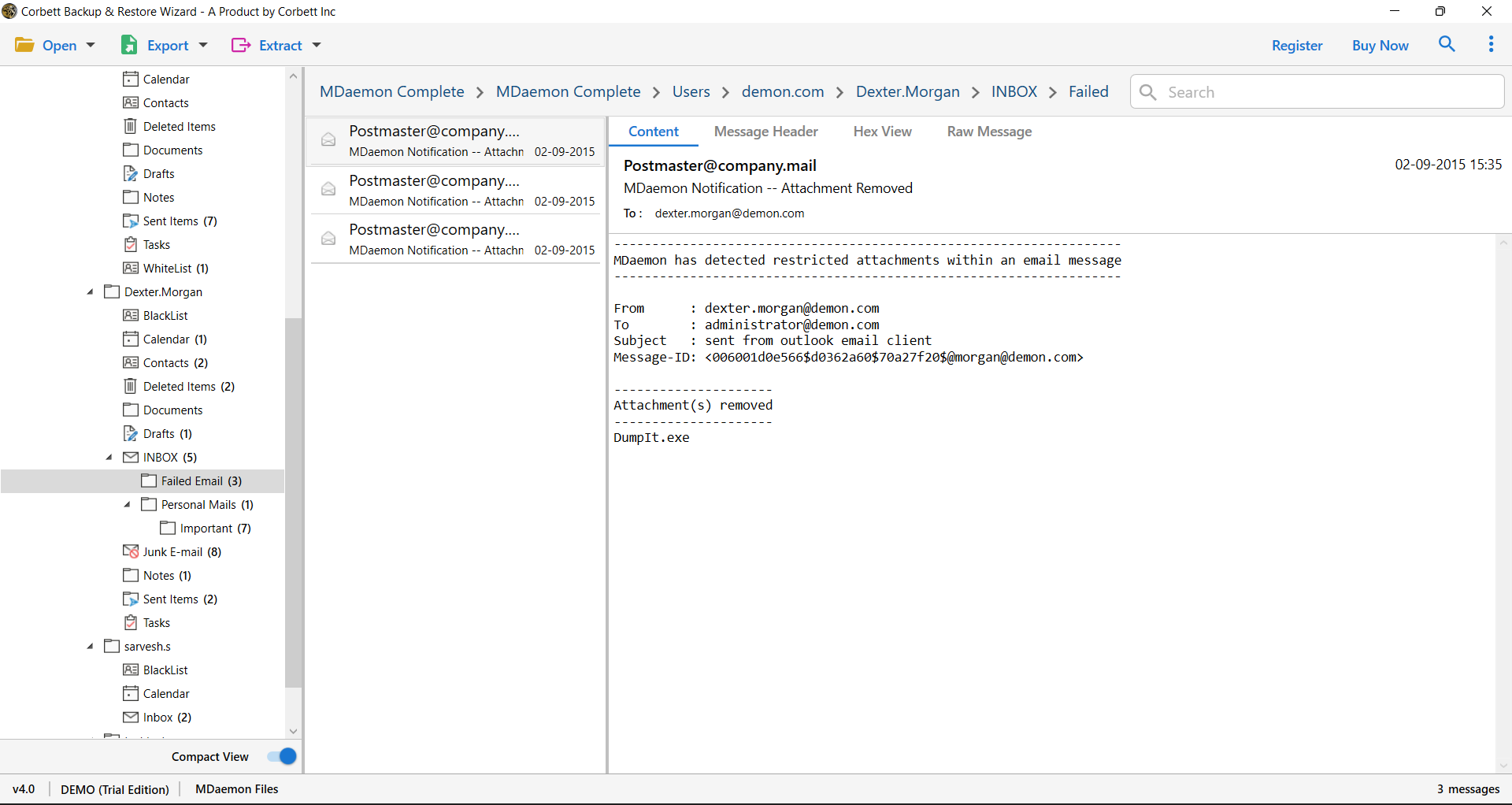 5. A selection of alternatives will appear when you pick Export in the phase. From the drop-down menu, select vCard.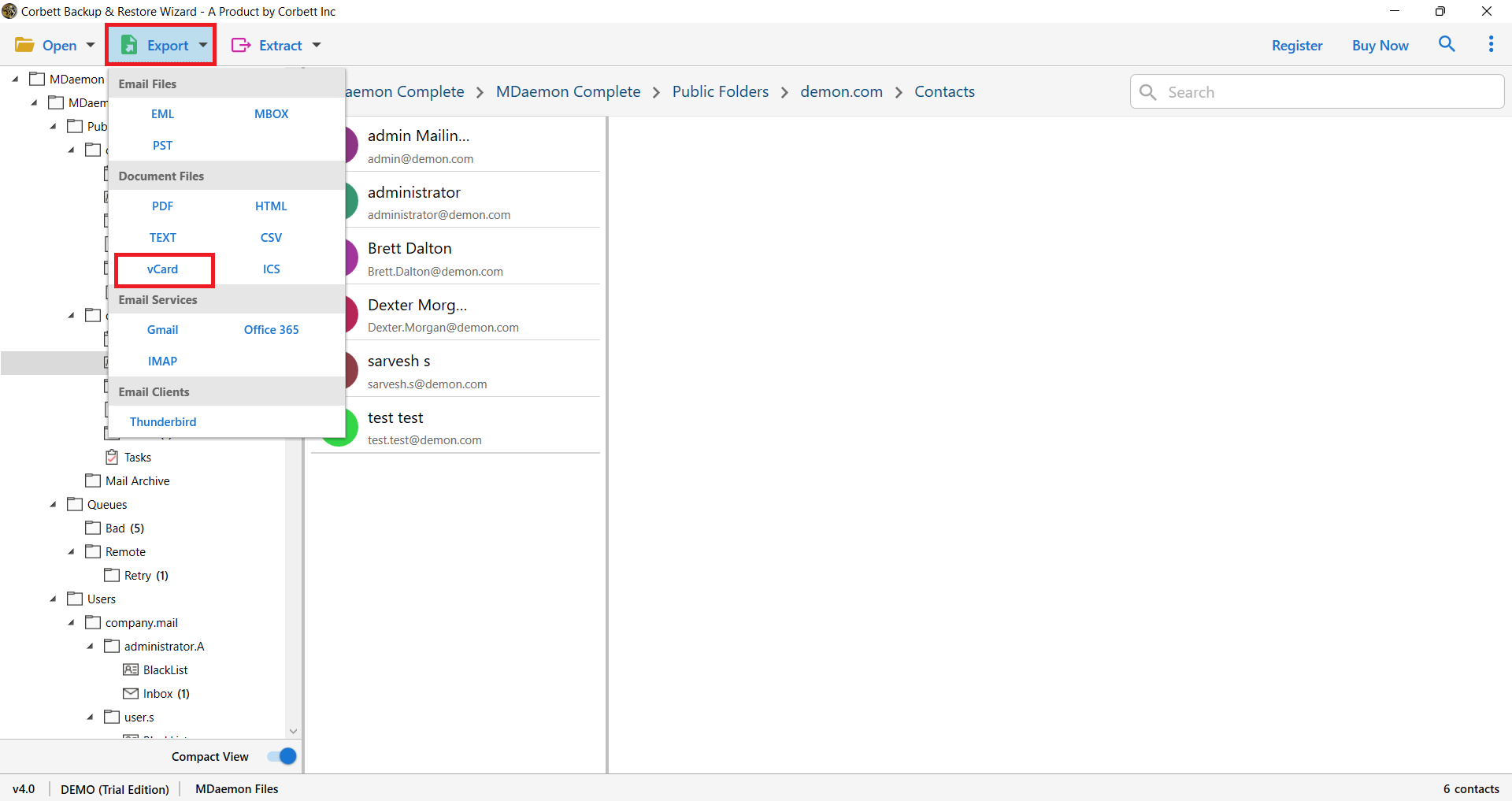 6. Change the destination path, etc. in the MDaemon to VCF file conversion settings in the utility panel. To begin the MDaemon to vCard conversion procedure, click the Save button.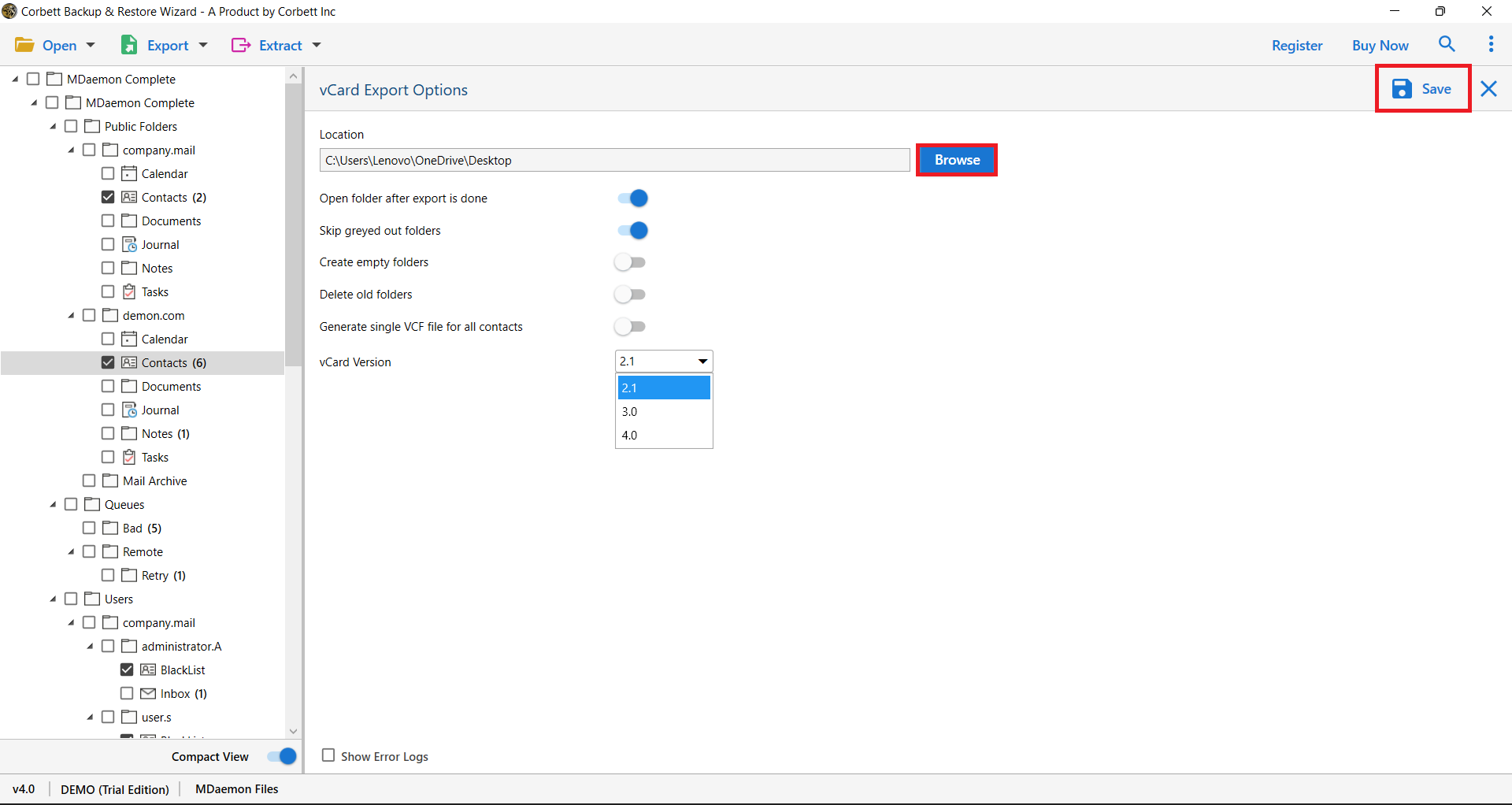 All of the resulting vCard files may be accessed immediately from the destination folder. Although, you can see live conversion process.
MDaemon to vCard Converter Tool's Main Features Include
The utility provides users with a limitless number of benefits when converting MDaemon contacts to vCard files.
Using this tool in batch mode, a user may migrate the data of numerous MDaemon users to a vCard file.
The application offers users two options for loading MDaemon data: Select Files or Select Folders. Choose these settings carefully based on the needs of the users.
The MDaemon to vCard Converter utility uses complex algorithms to selectively export selected objects. It has a number of advanced filtering options that allow users to apply filters based on the email's To, From, Subject, or Date.
Users will be able to migrate Bulk MDaemon Emails, contact, Attachments, Email Addresses, Contact photos, and so on with the help of this utility.
Users will be able to export MDaemon contacts to a vCard format, which will include all address book details such as Name, Address, Title, Job, Designation, Company, Company Address, Home Address Phone Number, Business ID, and so on.
A user can transfer an infinite number of MDaemon address book items to a CSV file without having to worry about file size.
After the migration, it will not make any modifications to the original content of an MDaemon contact.
The utility is totally self-contained and does not require any third-party applications, such as MDaemon Mail Server, to function.
It will produce a vCard file that may be used with Mozilla Thunderbird, Windows Live Mail, Google Contacts, Microsoft People, Android Phones, Cellular Phones, iPhones, Tablets, and other applications and devices.
This software is fully compatible with all current Microsoft Windows versions and editions, including Windows 10 for both 32-bit and 64-bit OS editions.
Final Thoughts
In the preceding post, I discussed one of the easiest ways to easily move MDaemon contacts to vCard files. Users may export their MDaemon address book to a VCF file with complete details using the software.