Easy Way to Fetch Email Addresses from MDaemon Mail Server
Are you looking for a way to extract email addresses from MDaemon Mail Server? Have you been seeking an expert tool but haven't been able to locate one?
If that's the case, this blog will prove to be very helpful. When a user wants to extract MDaemon Server email addresses, there might be numerous causes. As a result, we created an expert application that can easily fulfill all of the needs of various users.
So, are you interested in learning more about the application? It's available for download below.
Extract Email Addresses from MDaemon Emails Directly
With this Best Email Address Extractor Tool, this task can be completed quickly. With this software, You can extract email addresses from MDaemon emails quickly and efficiently. The user interface for this application is quite simple and straightforward. Without the assistance of specialists, non-technical individuals may simply utilize this tool.
The tool has been thoroughly tested and is completely safe to use to extract email addresses from MDaemon mailbox. Furthermore, the program has so many complex features that it can suit the demands of every user.
You can extract Multiple MDaemon users' email addresses simultaneously.
Extract MDaemon email addresses from fields like From, To, Bcc, and so on.
Provides you with the option to pick and choose what you want.
This tool allows you to choose the path to save the extracted email ids from MDaemon account.
MDaemon email addresses may be extracted from files and folders in two modes.
The utility is capable of extracting email addresses from attachments.
Extract Email Addresses from MDaemon Emails: Steps to follow
Let's have a look at the MDaemon Email Address Extractor's workflow.
First, read this: We've included a FREE DEMO VERSION so you can try out the application before you invest any money. This free version will allow you to test the full functionality and features. It's also capable of extracting email addresses from an MDaemon server. Upgrade to the licensed edition when you're satisfied with this tool.
Have you downloaded the application? If that's the case, then follow the procedures below.
1: Install the tool correctly, start it, and then select Open

2: Choose Email Servers, then MDaemon Files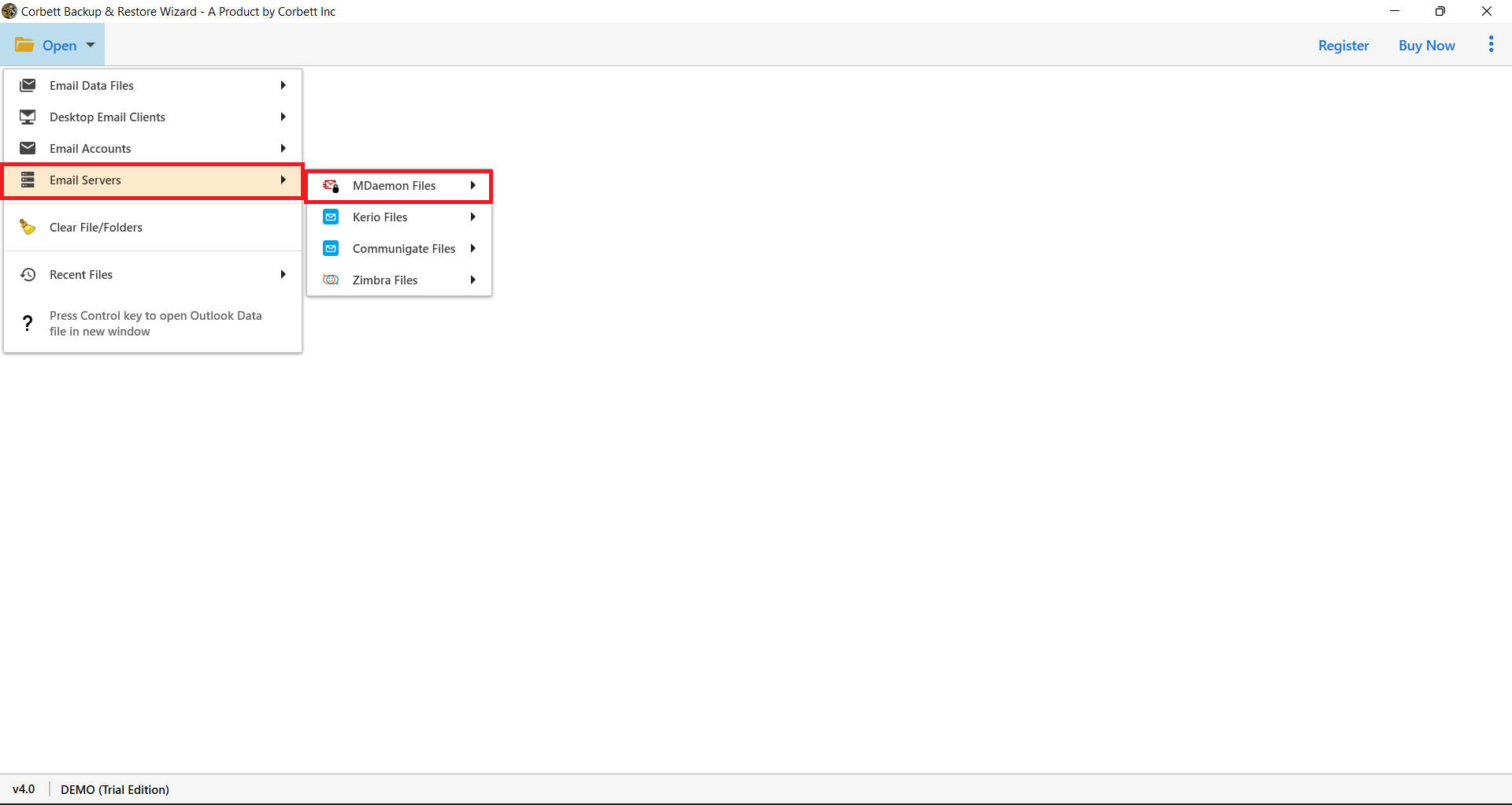 3: To import data from MDaemon, the tool will provide you with two options: Choose Folders / Choose Files or Configure Account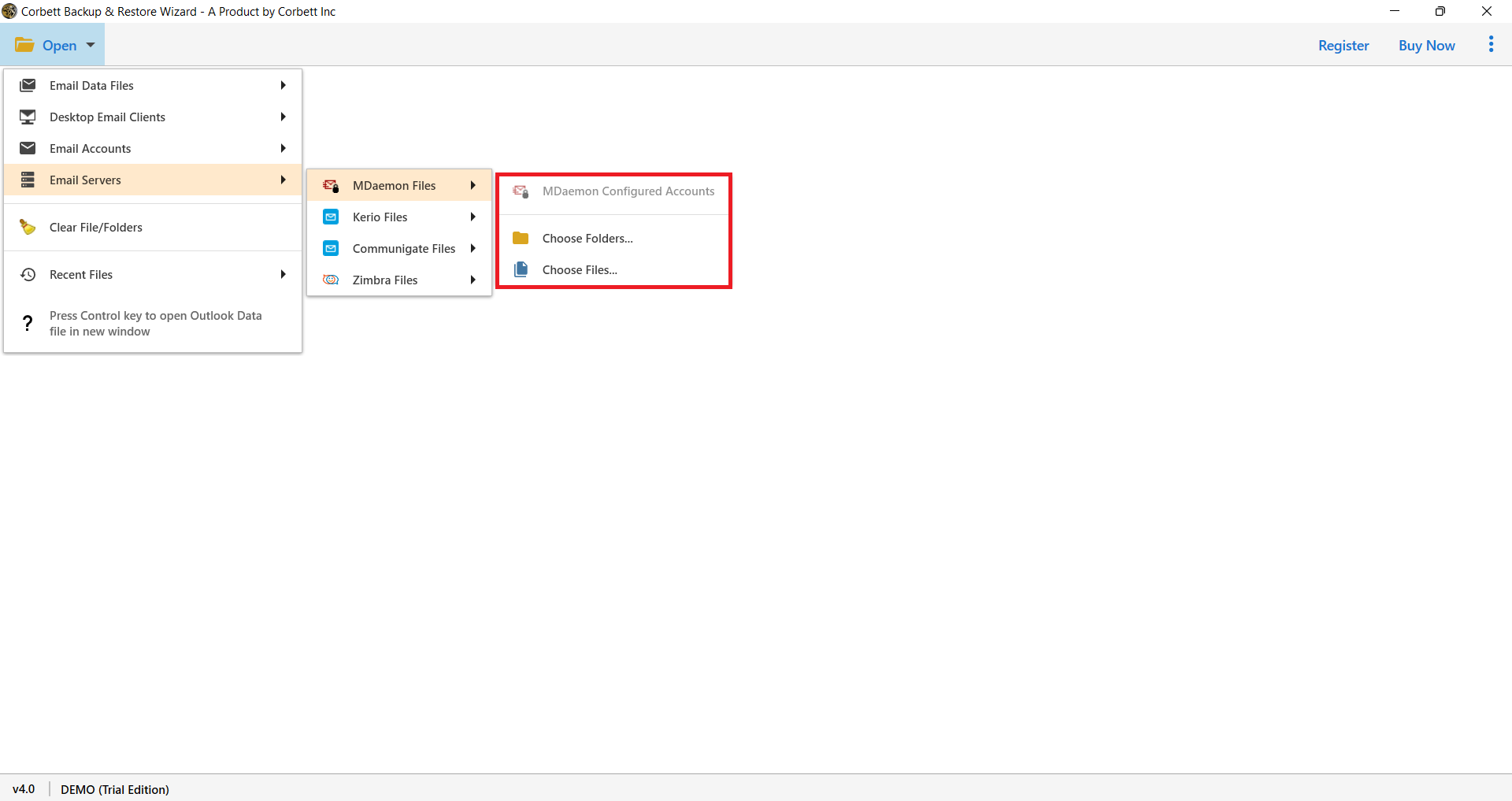 4: On the left panel, the utility will automatically load MDaemon files and directories.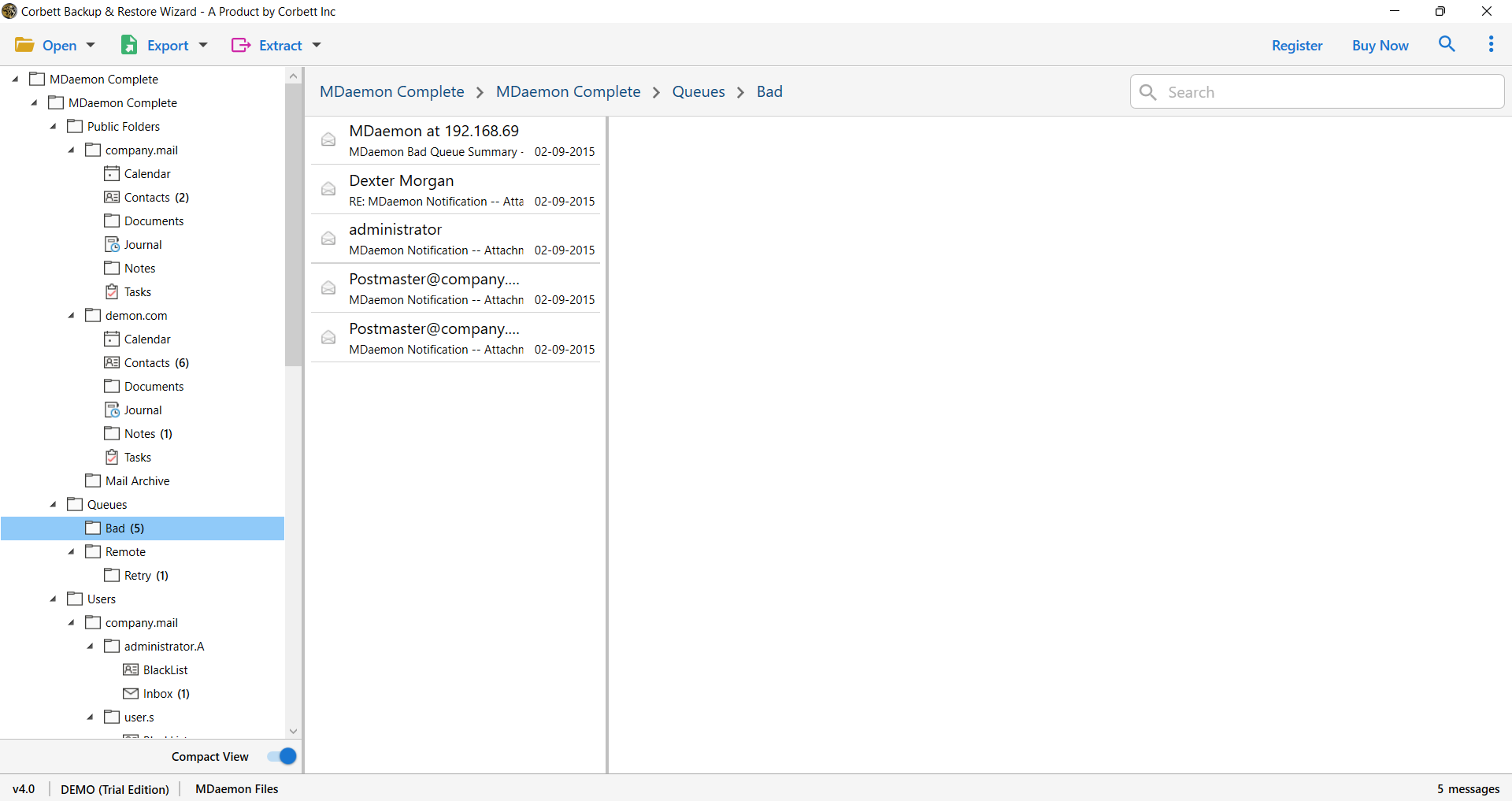 5: If you want to get a preview of MDaemon Server emails and attachments, double-click a folder.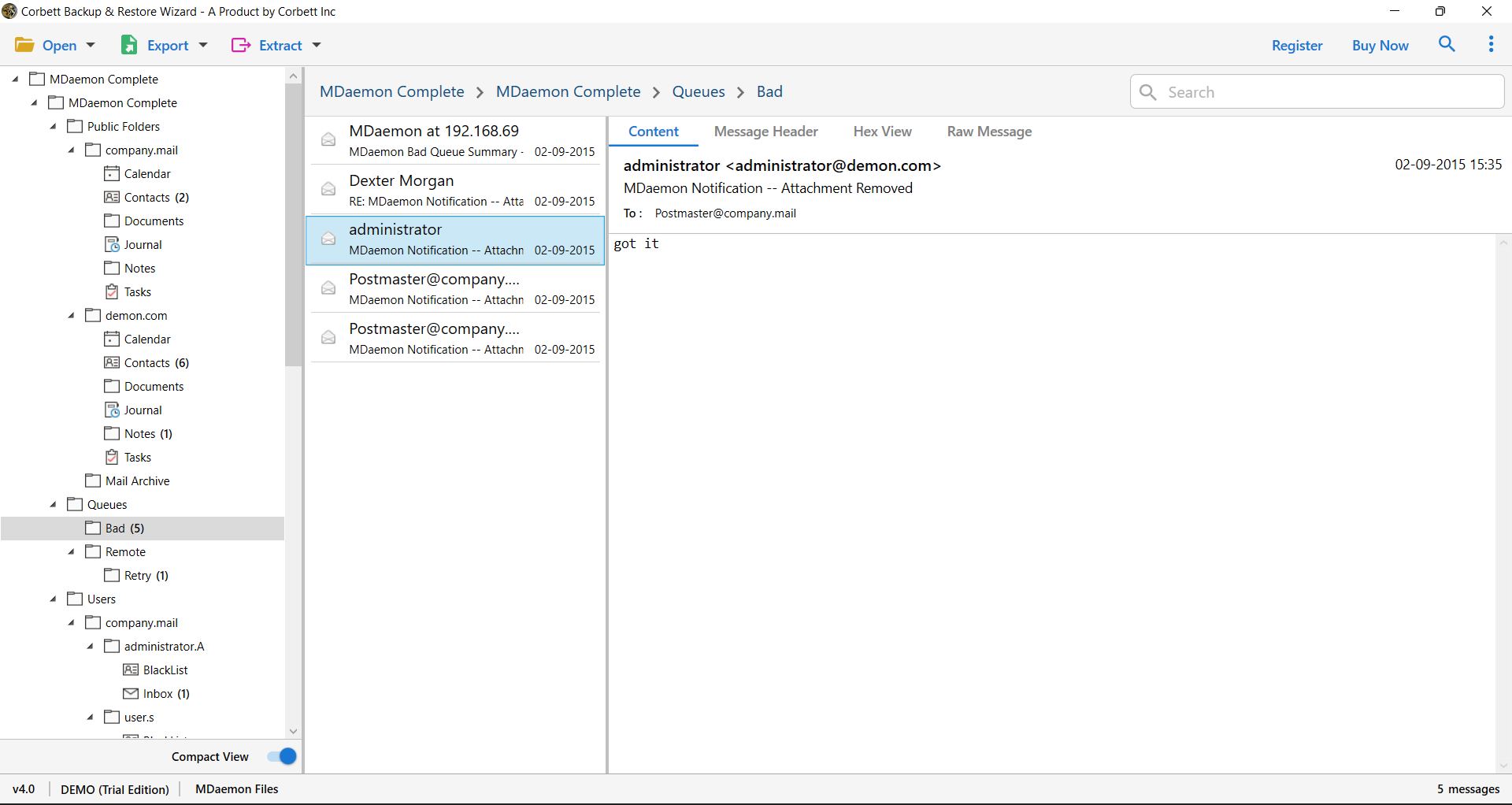 6: Select Email Addresses from the Extract menu.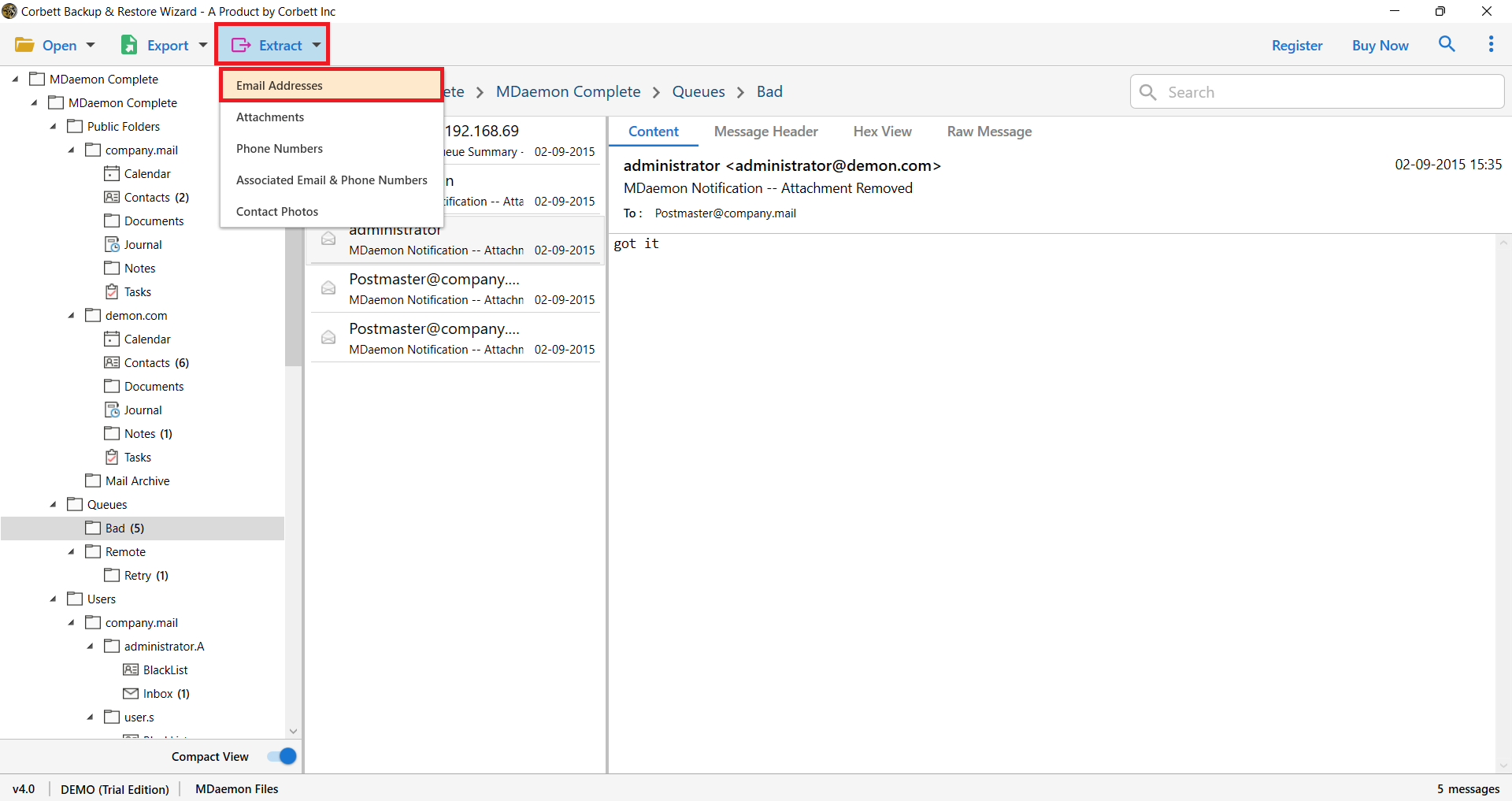 7: Select a location, fill in the appropriate fields, and then click the Extract button.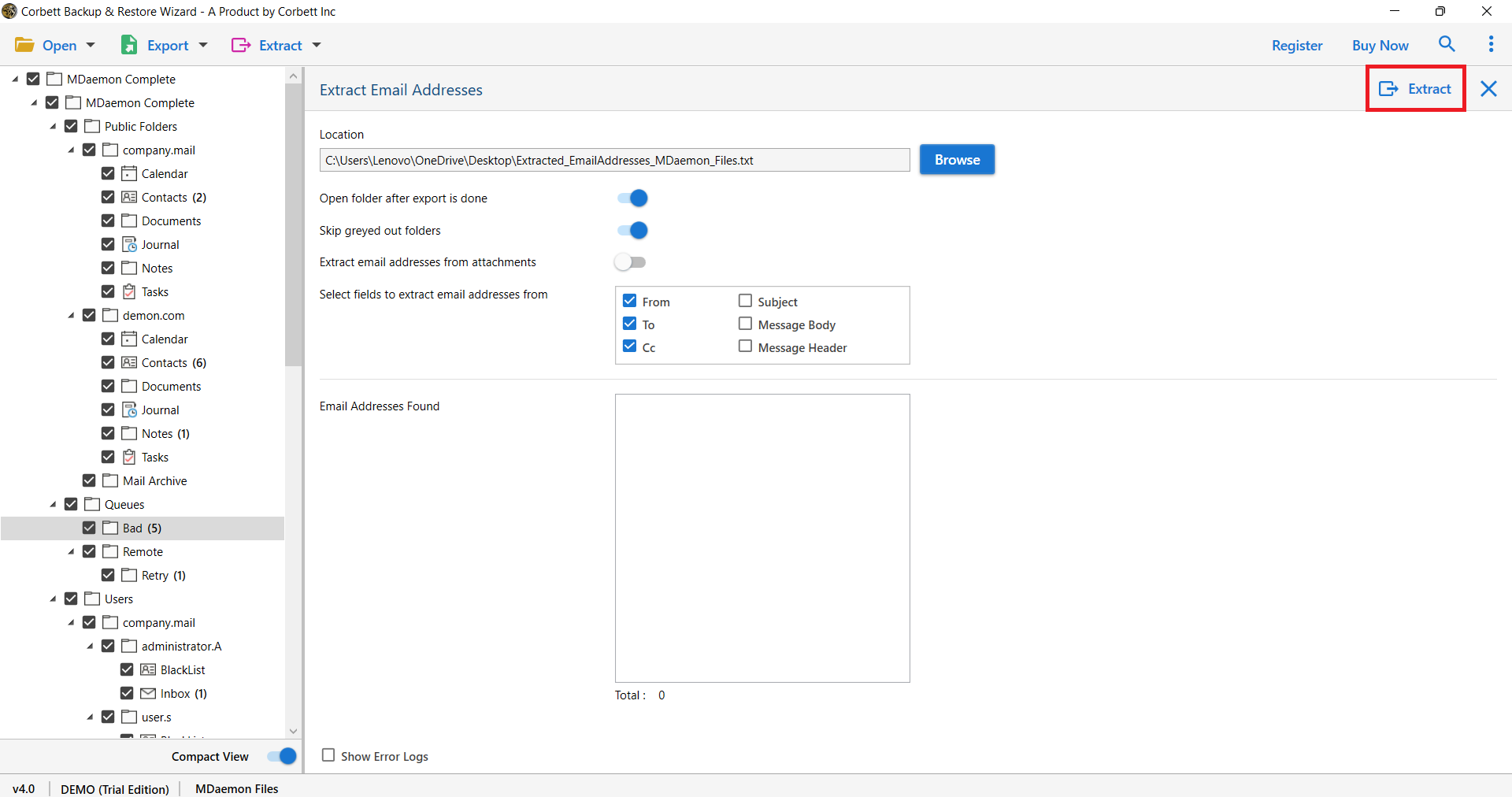 8: It's here. The utility will begin retrieving email addresses from an MDaemon Mail Server account almost immediately. As illustrated in the screenshot, your software panel displays all of your email addresses.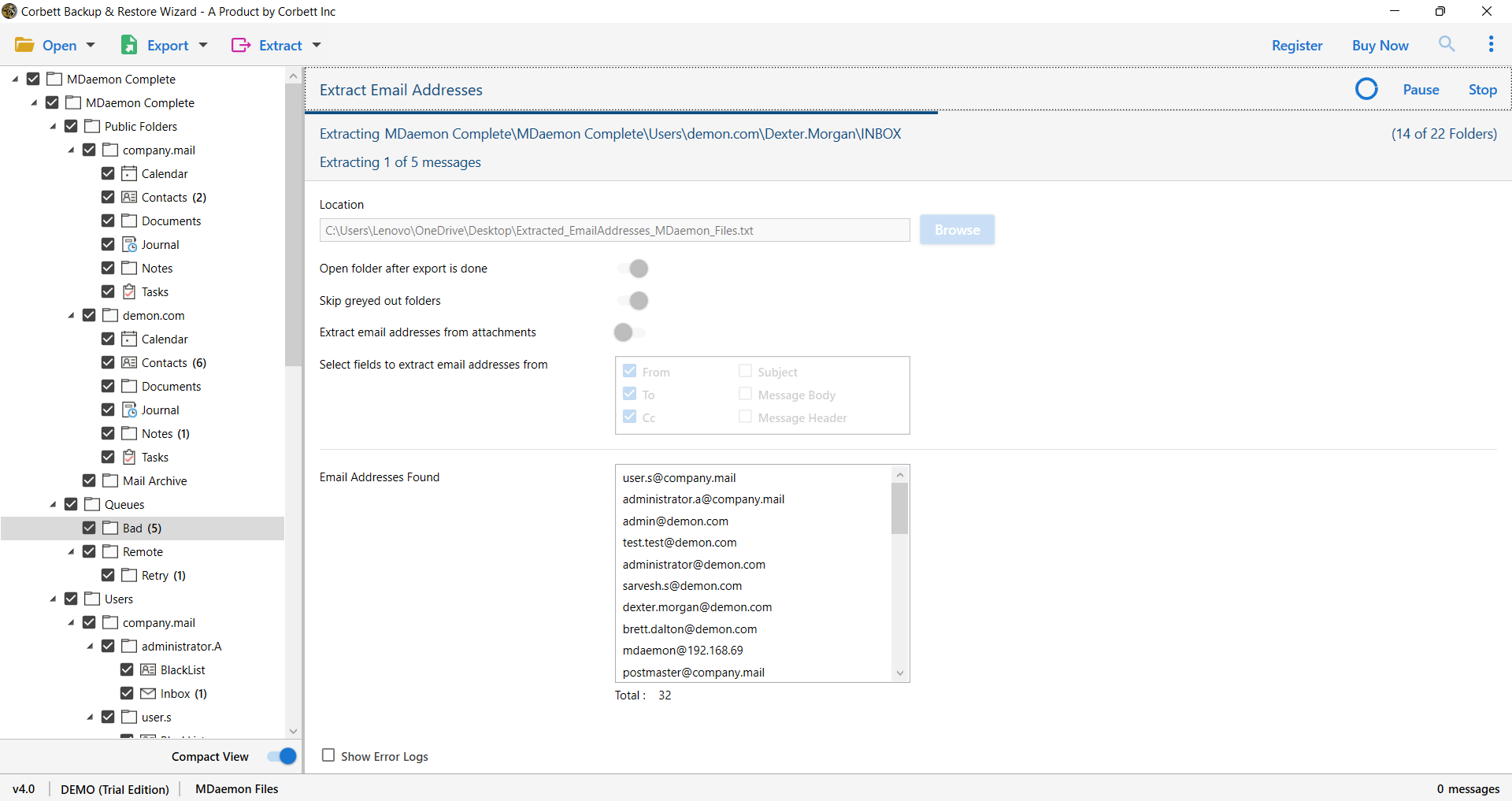 With This Software, You can Eliminate all of the Hassle
MDaemon Email Address Extractor is a safe and secure application. So please feel free to make use of our software. We promise that it will provide you with a completely safe, precise, and accurate result. Furthermore, you do not require technical support to utilize our tools. It features a straightforward user interface. The application is user friendly which helps the users to use. This tool is used by both technical and non-technical people without any issues.
MDaemon Server Email Address Extractor's Advanced Features
Save Bulk email addresses: It's a wonderful software with no file size restrictions. It allows you to quickly retrieve all of the email addresses from your MDaemon Mail Server account. You can migrate MDaemon emails into Office 365 Account, and other popular platform without any restriction without any file size limitation.
Select a Path to Your Destination: This application can help you obtain the extracted email addresses where you want them. the tool allows you to choose the destination location where the extracted email addresses should be save.
Extract Email Ids from Attachments: Do you use attachments in your emails? Do you want to get email addresses out of it? If that's the case, this software can assist you. You can extract email addresses from MDaemon attachments with our tool.
Selective Email Address Extraction: You may simply extract email addresses from chosen MDaemon folders using this fantastic utility. This function can help you save time and effort.
Compatible with all versions of Windows: MDaemon Email Address Extractor works with all Windows systems. On Windows 10 and older editions, you may easily download and run this software.
The Final Word
Congratulations. Now your email addresses from MDaemon is extracted. Now you can save them in the desired location for further use. Users can use the above-mentioned automated solution to complete the process without difficulty. With this tool you can extract attachments, phone numbers, contact photos and many more.
Read More Related and Interesting Topics: