Export Emails from MDaemon Account to Gmail Step by Step
If you're seeking answers to the questions like how to migrate from MDaemon to Gmail then you've come to the correct spot. Continue reading to get the answers to the questions above. You'll learn how to export MDaemon email to Gmail at the end of this post.
In Short MDaemon Overview
MDaemon is a mail server for Microsoft Windows. It was designed by Arvel Hathcock and developed by Alt-N Technologies. MDaemon is a lightweight email server that may be used for a network of up to 30 users with only a few pieces of information. It means that data isn't as critical here as it is when dealing with thousands of emails or 20 GB of data. This implied that you have a lot of data and are concerned about its availability. As a result, according to customer feedback on various review websites, MDaemon is no longer a good choice for email services.
Gmail in Short Overview
Gmail is the ideal alternative because it is, first and foremost, a completely free email service. If you want a domain-based email service, though, you'll need to subscribe to G Suite. Gmail offers email as well as a variety of other services such as Google Drive, Calendar, Sheets & Document Management, Video Calling, and Online Chat, among others. Furthermore, it is quite dependable and safe, allowing you to handle yours on a massive scale.
How to Migrate from MDaemon to Gmail in a Simple Way
First and foremost, Corbett MDaemon Migrator Software must be downloaded and installed. Without any drawbacks, this utility may transfer emails from World Client to Gmail accounts. To perform the MDaemon to Gmail migration process, follow the steps below. Not only does the software transport emails, but it also keeps track of folder hierarchy and crucial elements.
Steps to Start the Migration Process with this Utility
To perform the migration process perfectly users need to download this utility in their respective Windows operating system and run it. To start the process of Export MDaemon email to Gmail.
 1: To start the process select the Open option in the first tool's window

 2: Select the Email Servers and MDaemon Files choice from the option given by the tool
3: Then choose Files or folders from the system or directly configure your account
4: View the tools in-depth features after completing the setup process.
5: Select the Export option and hit Gmail from the drop-down options provided by the utility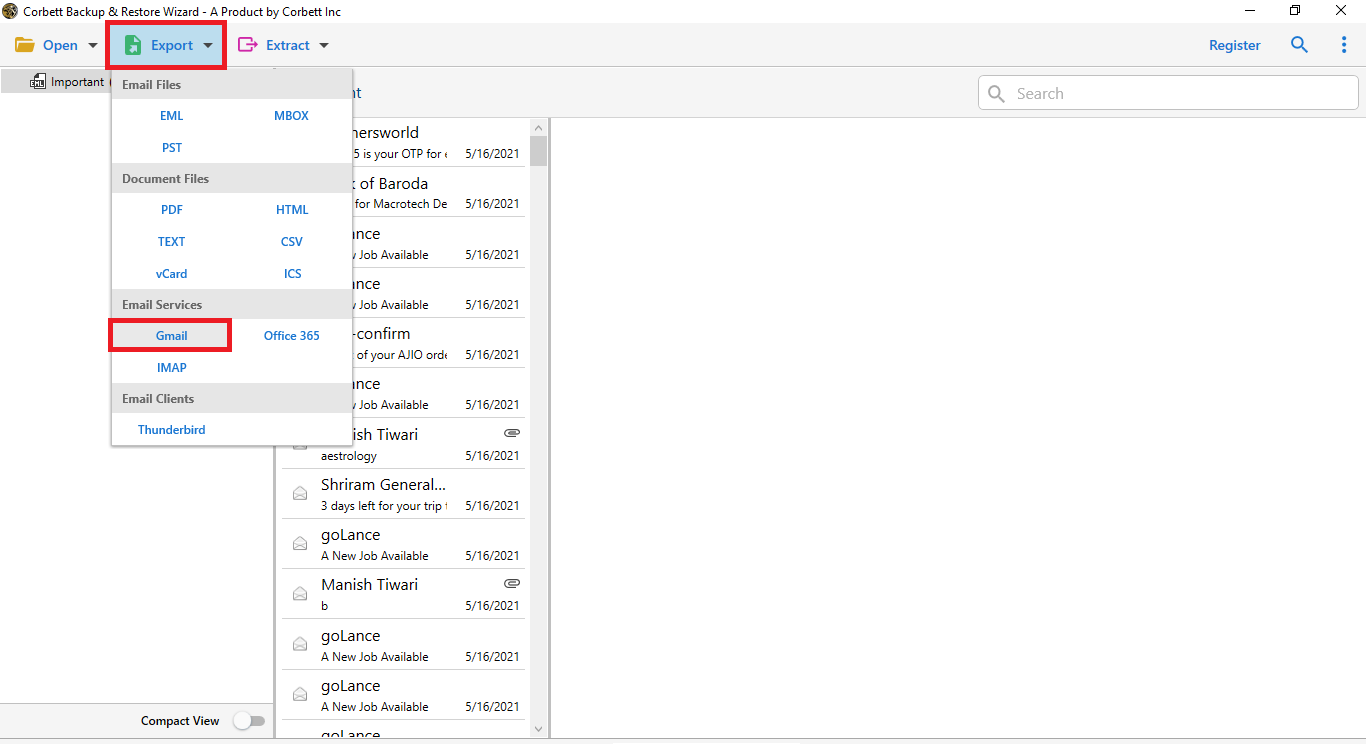 6: Hit Save to start the process and you can view the live migration process
Note: This tool provides multiple enabling options along with the migration process. And users can view the live process and can be paused and stopped as per their need.
Reasons to Transfer MDaemon Email to Gmail
There are several reasons to migrate MDaemon emails to a Google Mail account:
Gmail has grown in popularity as a result of its large storage capacity. Gmail now provides 15 GB of free storage, with Gmail for Business increasing this to 25 GB.
It is a free Webmail service provided by Google that allows users to access their mailbox contents from anywhere online at any time.
Maintenance is more flexible, less expensive, and requires less manpower. Gmail is a low-cost, low-maintenance, and data-driven email service.
Cloud storage is an option all of your emails, contacts, calendars, and other information is always accessible. It also offers free IMAP and POP3 services, making it compatible with any third-party email client such as Outlook, Thunderbird, or Mac Mail.
Features and Benefits of Automated Toolkit
There are two ways to choose a batch: The solution comes with two options that allow you to choose from a variety of MDaemon mailboxes. The first one is to configure your MDaemon account and the second option is to Select Folders option. Which allows you to quickly stack a large number of client records. As a result, you can use these options to migrate many MDaemon clients to Gmail.
Alternatives for Migrating Selective Emails: The solution comes with a plethora of email filters. Specific MDaemon messages are moved to Gmail using these filters. These channels may surely be used to move MDaemon messages by date range, to, cc, bcc, subject, and so on.
Keep Email Metadata: During the migration cycle, the application keeps track of email metadata. As a result, once you've completed the cycle, you'll have all of the properties you need, such as email with connections, email addresses, email subject, email hyperlink, email pictures or content, and so on.
Process for Migrating MDaemon to Gmail in a Secure Way: If you're concerned about your safety. Then take a deep breath and relax. A 100 percent secure interface UI panel is included with the product. It also won't save your Gmail account credentials in the user interface panel.
Conclusion
In this blog, we mentioned the best solution to transfer MDaemon email to Gmail along with attachments. This MDaemon Migration tool helps you to export bulk emails to Google mail with a properly maintained file structure and folder hierarchy.