How to Extract Attachments from MSG Files?
Summary: Want to learn how to batch extract attachments from MSG files? Well, in this blog, we will be discussing three different ways, a manual solution, Python Script and an automated solution by Corbett to complete the process. So, let's continue with post…
To store email messages, Microsoft uses it proprietary MSG format. When a user drags and saves an email message in a local folder on their computer, the message is stored with a .msg extension. This file format stores the metadata of the email message as well. The file format also saves the links and attachments of the email message. The MSG file format is easily sharable among users. One can import and open this file format in Outlook. Unfortunately, non Outlook users are an exception to this trade.
Therefore, in this article, we have brought you top three solutions that you can use to successfully extract attachments from MSG files. So, without further ado, let's dive right into the article.
User Query: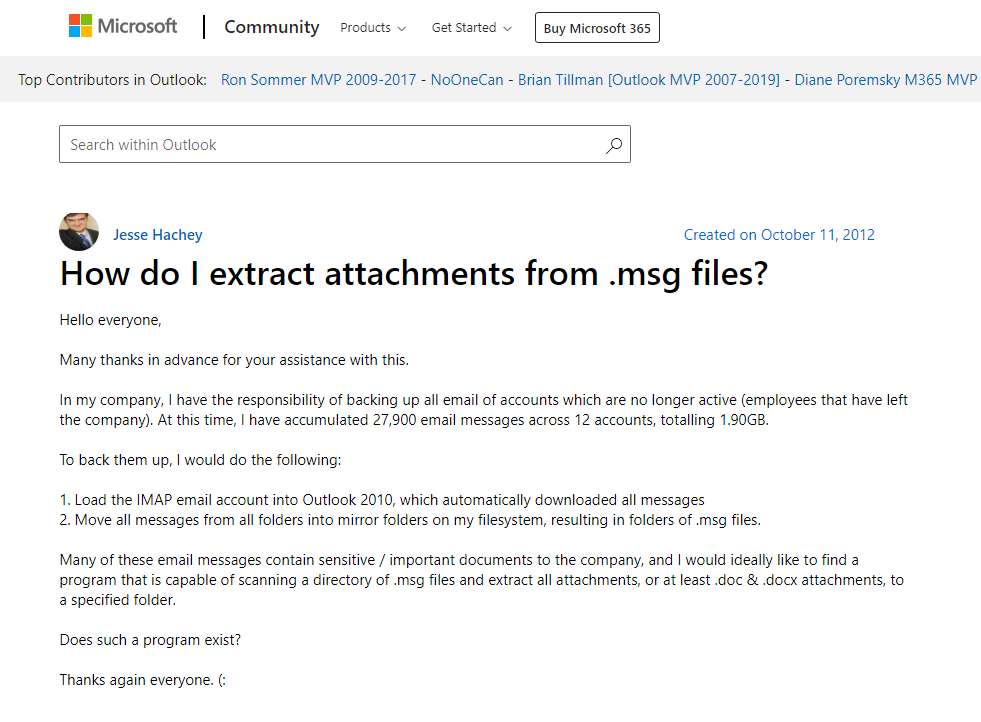 Reasons Users Extract MSG File Attachments
There are several reasons why users seek methods to extract attachments from MSG file/s. In this segment, we have shared the most common reasons.
MSG file attachments are not easily searchable nor easily editable.
MSG backups occupy significant space on disks, network shares prominently due to their large attachments.
Extracting and saving attachments from MSG files makes it easier for users to manage the attachment files without having to search through all the emails over and over.
Now that we are aware of the prime reasons why users look for solutions to extract their MSG files attachments. Let us dive further into the article and know the solutions.
Manually Extract Attachments from MSG Files
To apply the manual method, you are required to import MSG files into Outlook. Doing so, one can extract attachments from preferred MSG files easily. Follow the instructions given below to apply the manual approach.
Drag and drop MSG files in Outlook window.
Select and highlight the preferred MSG file to preview its attachment.
Now, click on the attachments and from the top of Menu Bar, click on the "Save all Attachments" option.
Provide preferred location to extract and save attachments from MSG files.
So this was the manual solution to accomplish the task. Unfortunately, there are certain limitations associated with this method. Let us have a look at them in the next segment.
Limitations Associated with the Manual Solution
Since the solution is manual in nature, there is a high chance users could face data loss or corruption if anything goes wrong during the execution.
Using this method, one can only extract a few attachments from their MSG files, it is not possible to bulk extract attachments from MSG using this solution.
There is a chance that the formatting and structure of your MSG file attachments could change after the manual extraction process.
One must execute the procedure with extreme caution as not paying enough attention can cause multiple errors that could lead to atrocities like corrupted or lost attachments.
So, as you see, these stated limitations make this process an unappealing choice for users. Therefore, they look for a reliable method that can successfully bulk extract MSG file attachments.
Extract Attachments from MSG Files Python Script
The procedure to retrieve attachments from .msg files using Python is a complex process. However, if you are familiar with Python, then you can easily extract attachments from MSG files using Python.
To achieve this, one can use the PyMsgBox package, which provides a simple way to parse .msg files and access their attachments. After installing the package, one can use the MsgReader class to read the .msg file and then access its attachments.
To know the detailed procedure to save multiple attachments from MSG files using Python, refer to this StackOverflow post.
Limitation Associated with this Manual Solution
This method is only applicable for Python users, i.e., this manual way of extracting email attachments from MSG files requires technical knowledge of Python and the installation of multiple library packages. If you are familiar with Python, use the script to extract attachments from MSG files, however, if you cannot use this method, you can move forward and check out the automated solution suggested by experts.
Use the Expert-Recommended MSG Attachment Extractor
Corbett Email Attachment Extractor is the only solution, that allows users to download all attachments from MSG files irrespective of their size & extension. In addition, the toolkit offers you multiple advanced features that let users sort & extract attachments from specific MSG files.
The graphical interface of the MSG Attachment Extractor is very simple and easy to understand. This tool is compatible well with Windows Operating System. A non-technical user can easily operate the tool and perform the process without any hassle. Now, let's check out the working of an automated solution to extract attachments from MSG files.
Steps to Batch Extract Attachments from MSG Files
Launch the Corbett MSG Attachment Extractor on your Windows system. Click on Open >> Email Data File >> MSG Files.

Upon doing so, the tool will list all the data in the preview panel.

Afterward, click on the "Extract" button from the menu bar and select the "Attachments" option from the list to batch extract attachments from MSG files.
And you are done with the hassle-free procedure to batch extract MSG attachments. Furthermore, in the following segment, we have also mentioned some of the prime features users get when they opt for this too.
Prominent Features of the Professional Utility
Keeps File Structure and Folder Hierarchy: The MSG Attachment extractor maintains the file structure and folder hierarchy during and after the process. Users can easily batch extract attachments from MSG files in bulk with this software.
Save Email Attachments into Various Formats: It enables you to save attachments into various document formats such as PDF, HTML, TEXT, and CSV.
Extract Bulk MSG File Attachments: Users can easily extract email attachments in bulk. And can select particular files from the bulk data.
File Extensions Filter: It enables you to find attachments in bulk MSG Files. Such as doc, pdf, xls, etc.
Free Demo Edition of this Utility
The MSG Attachment Extractor provides a free demo edition for users to understand the tool's graphical interface. It enables you to extract the first 10 files and folders from MSG files. Users can download the tool from the above-given download now button. And understand the complete tool's function.
Frequently Asked Questions
Q1: Does the tool affect data integrity or structure of MSG files while retrieving attachments?
A1: No, the tool does not affect or alter the original folder structure and formatting of user data during the extraction process, thus, you can extract MSG file attachments without any worries.
Q2: Can I batch extract attachments from MSG files using the utility?
A2: Yes, you can. The professional tool supports retrieving MSG file attachments in bulk mode to save user's time and effort.
Q3: Would this tool work smoothly on a Windows 11 system?
A3: You can use this professional tool on any Windows machine as it is compatible with all versions of the Windows Operating System.
Q4: What do I do if I only want to extract attachments of a specific file extension?
A4: Use the above-mentioned automated utility. It provides an advanced filter that helps in extracting MSG attachments with your desired file extension. This greatly helps when you want to selectively extract MSG attachments for better organization and management purposes.
So There You Have It
In this guide, we discuss the top three most recommended solutions to extract attachments from MSG Files in bulk. Here, we discussed a manual drag and drop method, Python Script & an automated solution by Corbett Software to complete the process. Unfortunately, the manual method comes with heaps of drawbacks and the Python Script method is only applicable for fluent Python users. Therefore, our recommendation is to go with an automated solution that delivers secure & precise results. This tool provides you with multiple options along with attachment extraction. In addition, the software is tested and verified by IT Admins and experts.