One and Only Method to Extract Email Addresses from .msg Files
Overview – In this blog, you'll learn how to use a professional way to extract email addresses from .msg file. You'll also see an example of how a user might search for solutions to such a query. Let's get this process started.
If you are searching for a solution to extract email addresses from .msg file then read this blog to the end. Everyone knows that an MSG file (.msg) is a single message file that is created by dragging and dropping an email from Outlook onto your desktop. The topic, header (which includes characteristics like From, To, Cc, Bcc, and so on), and email body are all stored in the MSG file.
There are a variety of instances where a user simply needs the email content and not the other MSG attributes. There are also many scenarios where a user is attempting to extract email addresses from MSG file but is unable to do so. Take a look at one such query to see if it can be clarified to extract all email addresses from .msg files.
Query by User – I received approximately 100 MSG files from my supervisor. I've been given the task of retrieving all of the email addresses that it contains. Opening each email and copying and pasting the email ids from there will take a long time, and I don't want to go through that. Is there any other method to make the work go more smoothly? If so, could you please explain how?
Many more users, like the one mentioned above, seek to pull recipient addresses. Let's look for an easy answer to this problem.
What software can be Used to Extract Email Addresses from MSG Files?
There are no effective methods for obtaining your email addresses. If there are only a few MSG files, you might try copying and pasting the email addresses from each one. However, if you have a large number of emails to send, this strategy will not be practical.
You can use the Outlook Email Address Extractor Tool to extract email addresses from a variety of Outlook files, including PST, OST, and MSG.
We'll show you how to obtain the addresses from the MSG file in this blog because that's what we need. But first, let's get a better understanding of the software.
The Tool's Working Steps for Extracting Email Addresses from.msg Files
1. This software should be downloaded and run. Starts from the Open option as shown in the screenshot.

2. Select Email Data Files and select MSG files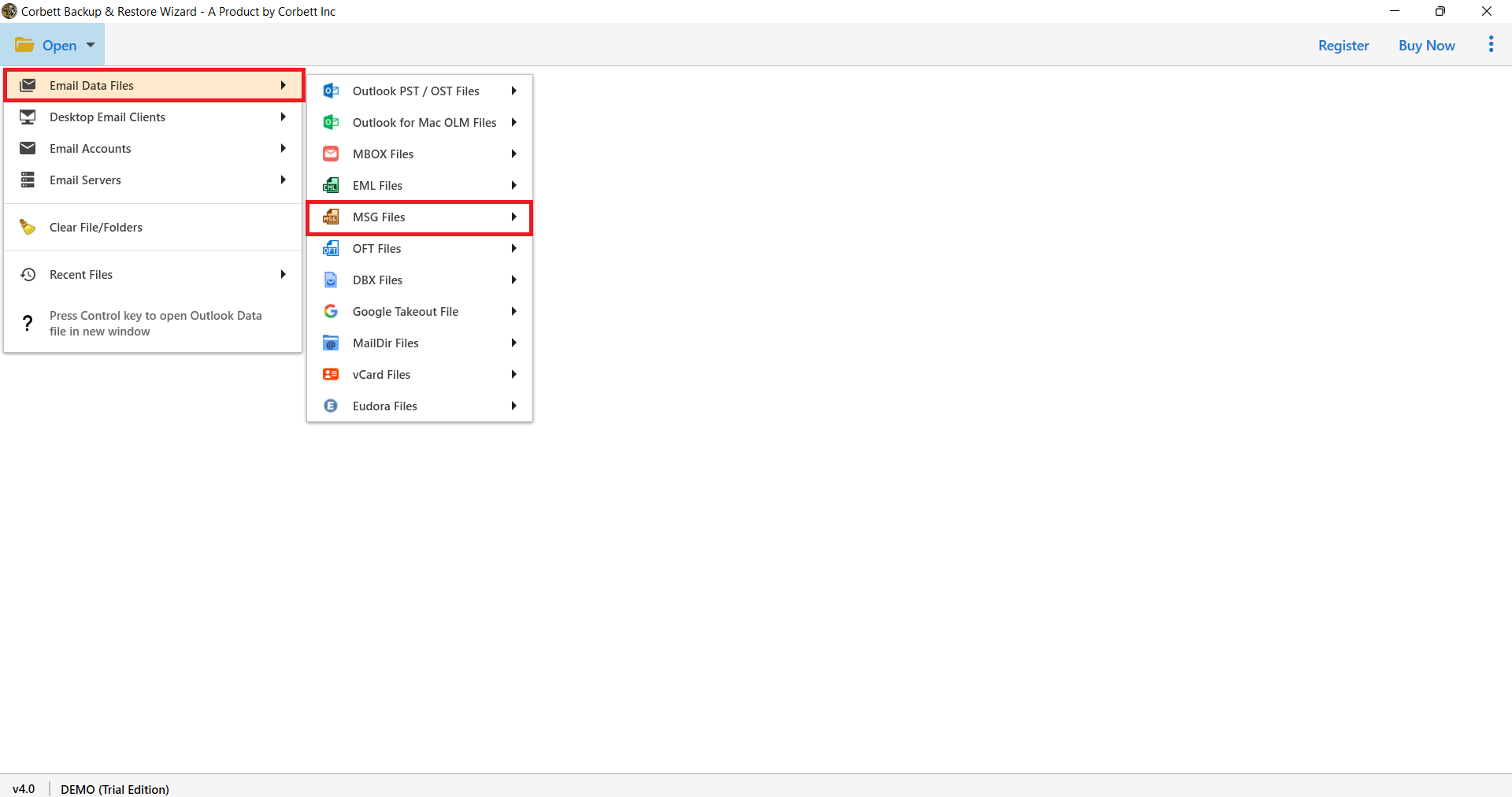 3. Browse the Files and folders from the system by selecting Files and folders.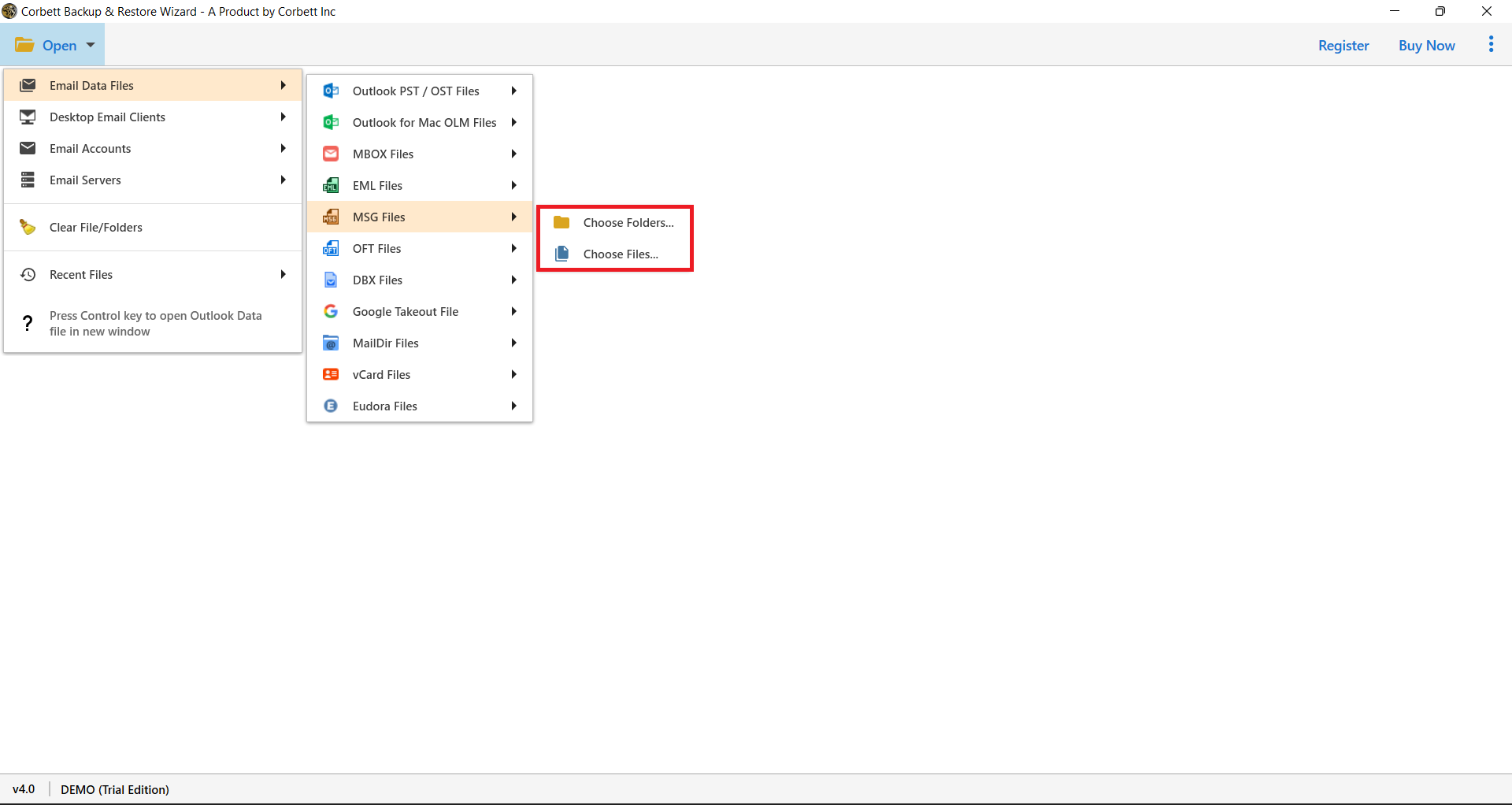 4. Then click Extract and select Email Addresses from the given options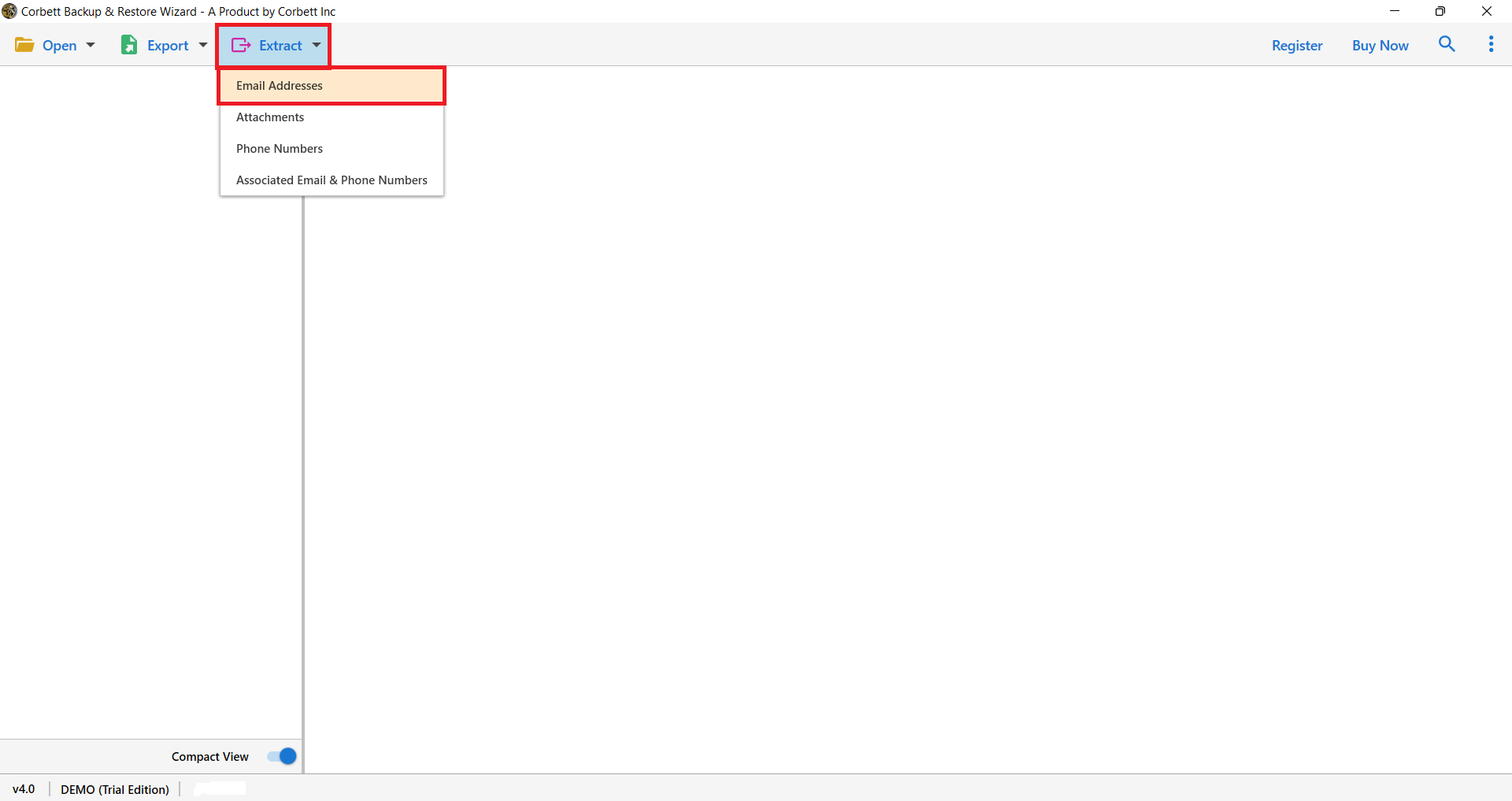 5. After that the tool shows the Email Addresses Extraction window where you can enable the options and browse the destination location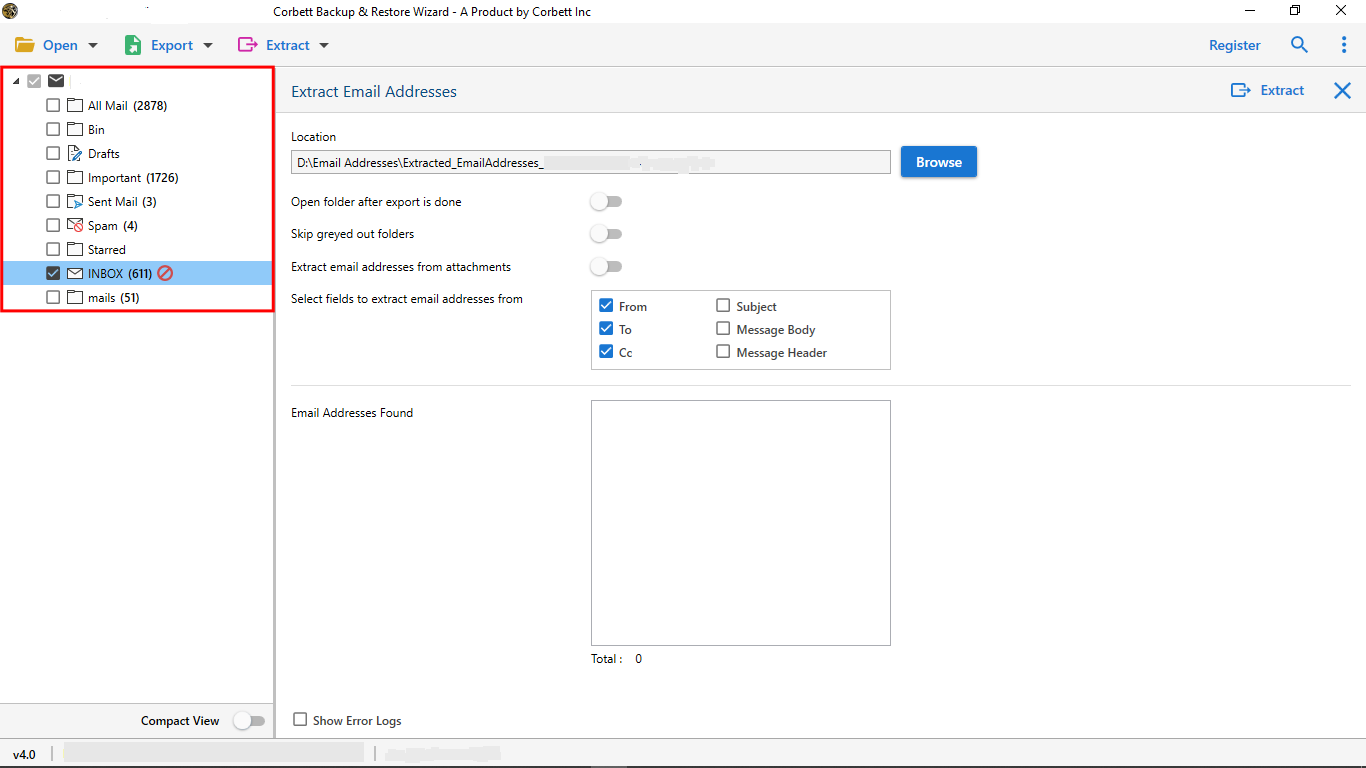 6. Finally select Extract to start the process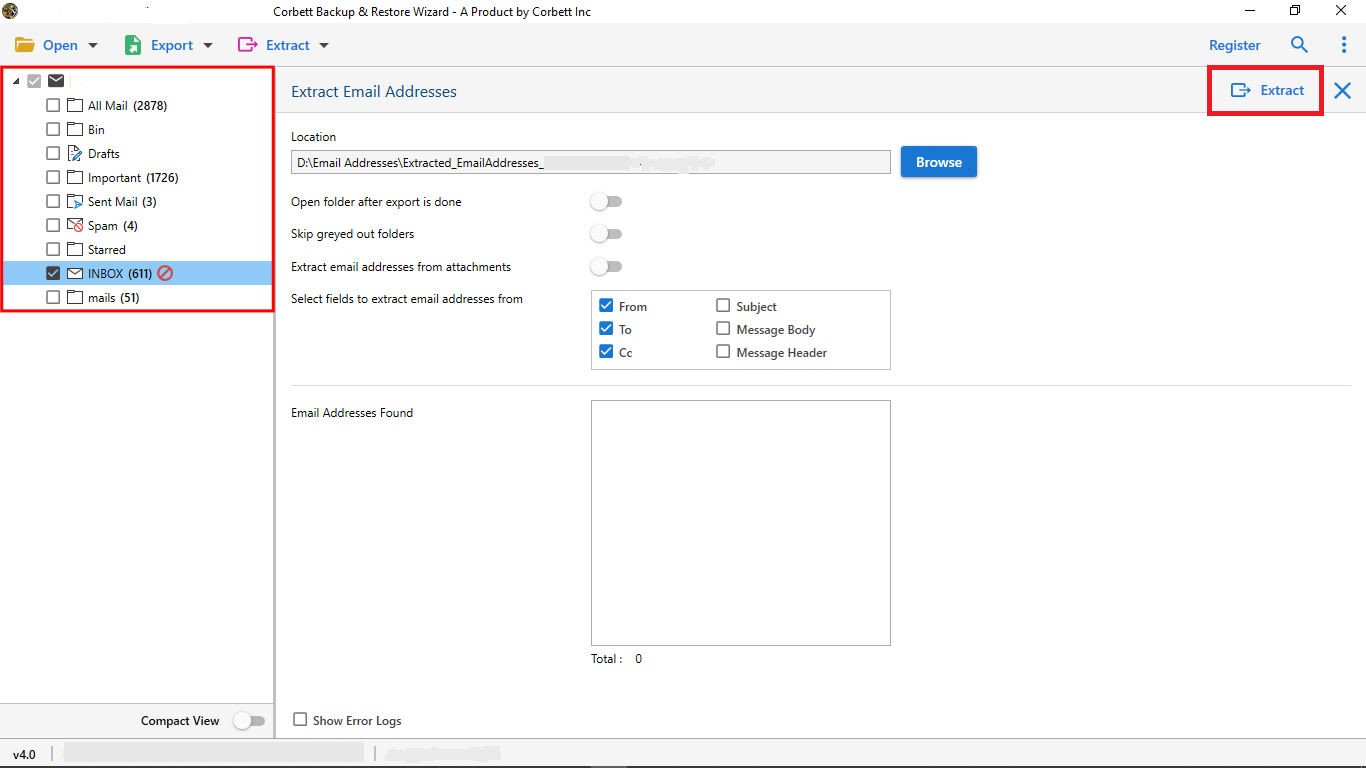 That concludes the software-assisted extraction process. The process of extracting email addresses from .msg file is done. If you want to
Export .msg Files to Microsoft Outlook
read the given linked article.
Points to Consider for a Better Understanding of the Application
The software provides a wide range of advantages. We will examine a few below.
Extract email addresses from MSG files: This software is capable of extracting email addresses by allowing users to add files or folders according to their needs.
Exporting Data in a Variety of Formats: The application provides three alternative file formats for you to choose from when extracting email addresses. The recipient addresses can be saved in PST, MBOX, or CSV file formats. Any of these formats can be used depending on your needs.
Email Addresses Can Be Included or Excluded: When extracting email addresses from an MSG file, you have a number of alternatives. Select the checkboxes to include or exclude emails that contain certain terms.
Filter-based selective extraction: You can utilize the tool's two sorts of filters to your advantage. These are listed below:
Date-Filter: By providing the software with the Start Date and End Date, you can extract email addresses from a given time range.
Select the following properties: If you wish to extract recipient addresses from a certain property, such as From, To, Cc, Bcc, and so on, select that option.
That's All There is to it!
Only if you know what you're doing, extracting email addresses from .msg file is a simple operation to understand. The user is required to accomplish nothing more than a few clicks here and there with the help of this software. Outlook 2019, 2016, 2013, and earlier versions are supported by the utility. Additionally, it works on all Windows versions.