Is It Possible to Bulk Extract Attachments from SeaMonkey?
Looking for a Solution to Extract Attachments from SeaMonkey directly. Then this blog will give you all the answers to your question.
In the digital era, Every person uses the digital facility to make their life simple and easy. As we move forward in the digital platforms, we use email clients to send and receive emails directly. But as we know that there are plenty of email clients on the internet. Some of them are web-based and some of them are desktop-based email clients.
So in this blog, we covered SeaMonkey in this blog. Along with sending and receiving the emails attachments are also play a major role in the emails. Attachments are the most important email item which contains images, documents, and so on. Many users are looking for a way to Extract Attachments from SeaMonkey, In this blog, we will provide you n
Why Do We Need to Extract Attachments from SeaMonkey Webmail?
If you're using SeaMonkey and need to mass extract attachments from it, you've come to the perfect place. Be prepared to extract attachments from SeaMonkey because this platform will address this problem by providing you with a suitable answer.
Attachments, we believe, hold more valuable information than everything else in the email account, thus we must continue to secure them in order to minimize future risks. One of the safeguards we can provide customers is a backup of their data.
User Query!
Hello, I have a lot of attachments on my SeaMonkey account, and I'd like to make a backup of them so that if I lose them for whatever reason, I'll be able to recover them. Please assist me in figuring out how to mass extract attachments from SeaMonkey. Thanks
It is a request from a valued customer who needs the same solution as you do. Please see here for a detailed procedure. As a result, this task must be completed within a limited time, as attachment extraction is one of the time-consuming processes. Afterward, we recommend the best solution for you, which you can implement immediately to extract SeaMonkey attachments without wasting any time.
The Best Way to Get SeaMonkey Attachments from Emails
Corbett Software Email Attachments Extractor is a tool that can make this task uncomplicated for you. It is the tool that will lead you to your destination, and it will do so in a very smooth manner. Trust us when we say that this is an all-in-one tool that can accomplish a lot more than you might imagine.
This utility has all you need from your ultimate answer. It provides all of the functionality required to extract attachments from SeaMonkey. This tool is jam-packed with features that will make your extraction process more simple.
To complete the process as soon as possible follow the given steps. And start extracting attachments from the SeaMonkey Emails.
Steps to Extract Attachments from SeaMonkey Webmail
To begin the extraction process, download and execute the utility on your Windows operating system, then follow the extensive step-by-step instructions, which include screenshots of the tool.
 1: After you've opened the utility, click the Open option in the Tool's window.

2: In the Open section, select Email Account and then Add Account to enter your SeaMonkey email credentials.

3: Next, manually configure your SeaMonkey account by entering your email credentials in the displayed dialogue box and selecting Advanced Settings.

 4: Next, go to the tool's interface, where you may sort your emails into different categories and utilize advanced and quick search to discover your email.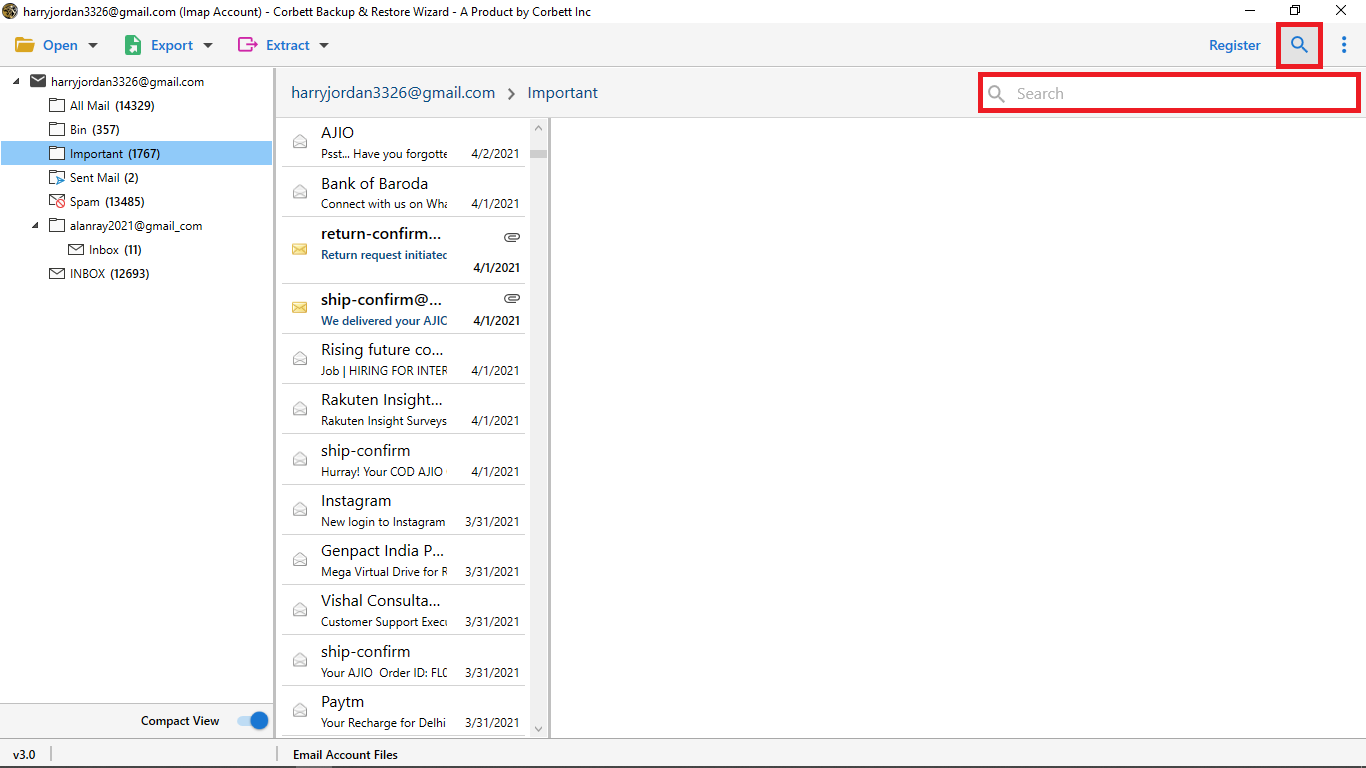 5: Select the Extract option in the upper menu bar section and hit Attachments from the drop-down option given by the tool.
6. Finally, press the Save button to begin the process. Users may watch the extraction process in real-time after selecting the save option.
Your SeaMonkey account attachments will now be extracted in a matter of seconds. Congratulations! Your extraction has now been completed, and we must add, it has been completed in a convenient manner.
Now that you're aware of the procedure, you'll find it to be extremely simple. This guidance will also assist you in completing the process on time. But now it's time to look at the tool's additional advantages. Take a look at the available options. This will also assist you in getting a better understanding of the application.
Additional Advantages of the Extraction Utility
This tool provides you with multiple extraction processes along with attachments. Some of the options we are describing in this article rest of the options you can view yourself by downloading the tool in your Windows OS.
File Extension Filter: This tool enables you to add a file extension filter in the Extraction process such as doc, pdf, and so on. Only one file extension attachment can be extracted.
Select Location: Users can easily locate the location in their computer system. One can save their extracted attachments in any location. There is no set default location so users don't need to worry about their location.
Enable automatic open folder after completion: You can enable the option to automatically open the extracted item folder and can easily view them.
Save Attachments in Document Format: One can save their email attachments into various document formats like PDF, HTML, Text, CSV, and many more.
Final Thoughts
SeaMonkey Attachments Extractor can be used to extract attachments from SeaMonkey for backup purposes or for any other reason. This utility is dependable and requires very little effort from you. Your task will be completed in only a few clicks. As a result, it is strongly advised that you try and experience this tool.