How to Extract Email Addresses from SeaMonkey Effectively
If you are one of those users who are searching for the correct methods to extract email addresses from SeaMonkey accounts, then, at that point this is the right spot for you. There are loads of reasons why users search for the automatic solution. As there is no manual method to extract bulk email addresses from SeaMonkey, but don't worry we have a reliable solution to complete the task in a single click.
Reasons to Extract & Save Bulk SeaMonkey Email Address
In many situations when users get various email concerns. A couple of times users required email addresses from their emails. But, there is a huge stock of SeaMonkey email messages and it's difficult to go over every single email.
Many users need their email addresses from the SeaMonkey emails for personal use.
For business use, customers extract email addresses from SeaMonkey Webmail to send their customers emails or for other business use.
There are unlimited reasons based on the user's situation and need. All users have their own reason to extract and save email addresses from the SeaMonkey Mail.
How to Extract Bulk Email Addresses from a SeaMonkey Account?
Users stress over the solution to extract email addresses from SeaMonkey. Due to the lack of solutions on the internet users continuously search for a reliable and trusted solution. Notwithstanding, there is a specialist tool called the Email Addresses Extractor Tool by Corbett Software. This utility is known for being straightforward and simple.
Having a simple and unique GUI makes the extraction of email addresses from SeaMonkey easy. Another amazing part of this application is that it works for both technical and non-technical users. This utility is working on the Windows operating system only for the current time.
Detailed Steps to Extract Email Addresses from SeaMonkey Webmail
Download the software to extract email addresses from SeaMonkey Account from the Download Now button.
1. After you are finished with the establishment, open the apparatus and take a look at the 'Open' button you can see on the screen.

2. There will be a few choices that you can see, out of which select 'Desktop Email Client'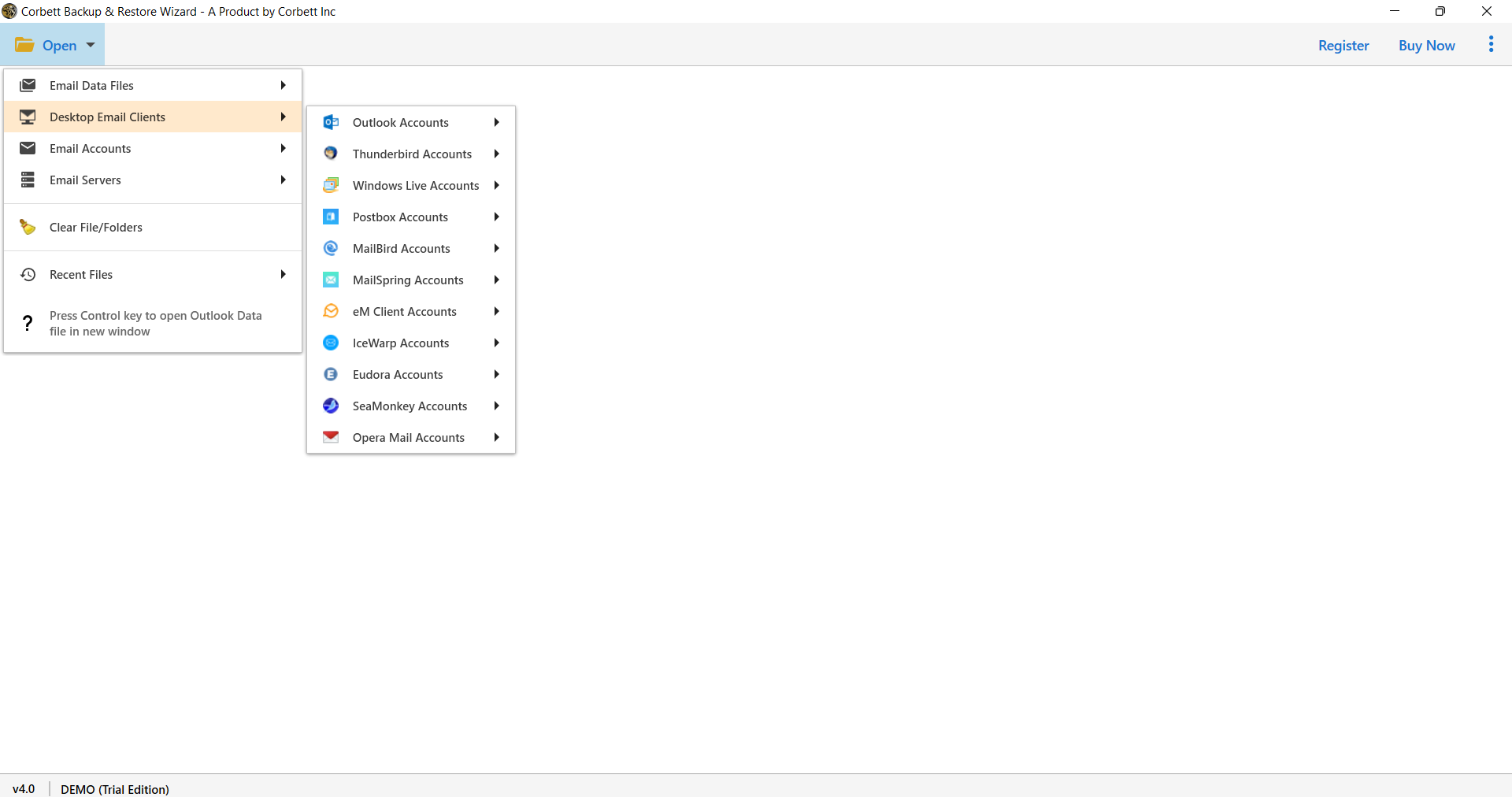 3. From there, select 'SeaMonkey Account'. Then Select on 'Choose Folders'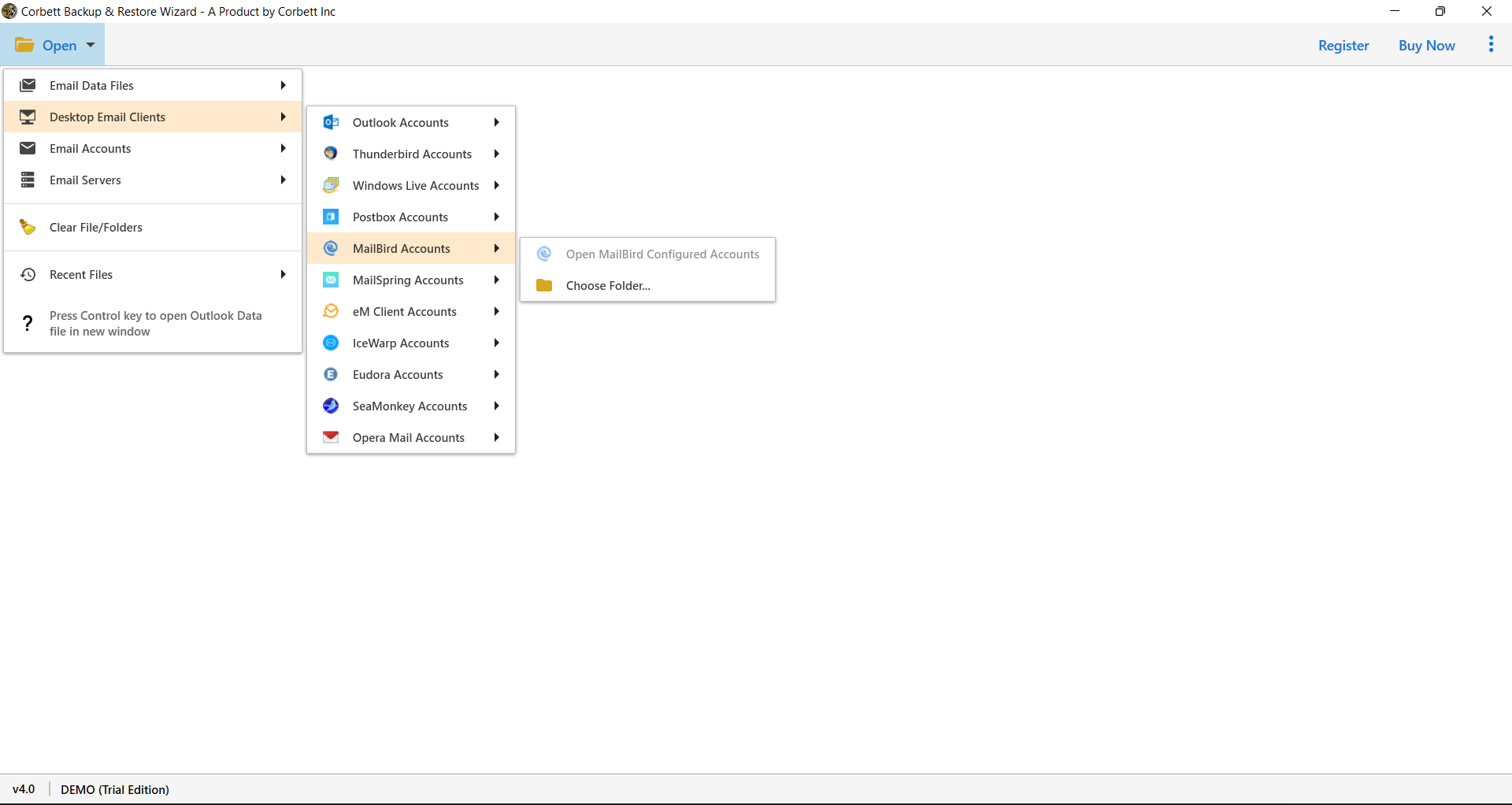 4. Then the tool migrate your SeaMonkey data into the tool to extract bulk addresses from the emails
5. Hit the Extract option from the ribbon section and select Email Addresses from the given options

6. The tool shows you the Email Addresses Extraction window where the tool shows you some advanced option and then hit Save
What are the Key Features of this Utility?
If you choose something, you should consider the level of benefits related to it as shown by a wider perspective. A detail of the main section of using Corbett software should be seen.
Data Security: When you're moving from one email to the next, think about data security. If you're interested in keeping track of what's going on within and outside your inbox, You should select a tool that does not compromise security. When it comes to obtaining information and data, this utility is the best fit for your migration.
Move Selectively: If you're looking for a way to unequivocally extract email addresses, this tool will help you out.
Quick and to the point: Even if you're a client with limited information. This software can assist you in finishing the saving email addresses from Seamonkey and completing the process.
Author's Recommendation
If you're looking for a way to finish the process of extracting email addresses from your SeaMonkey account, this blog will be invaluable. This Extractor is a fantastic tool that allows you to directly extract email addresses from your SeaMonkey account. The utility can swiftly extract the email addresses of a bigger quantity of emails. It runs on Windows systems such as Windows 10, 8.1, 8, 7, XP, and Vista. This application also has no constraints in terms of collecting all email IDs from a Seamonkey account. So, get it immediately and use it carefully to extract all email addresses from the SeaMonkey database in multiple forms.