How to Extract Email Addresses from Kerio Mail Folders: Complete Guide
You may only require the email address from the email data files, an email account, or simply a single email. Getting the email address isn't nearly as difficult as we think. When you need hundreds or perhaps tens of thousands of new email addresses, the problem emerges. Users of Kerio Server experience the same problem, as they need to know how to extract email addresses from their Kerio account mailboxes.
This is where we come into consideration. When a question occurs, we are there to assist in addressing the problem, since our primary goal is to provide the finest answer for the most challenging problems.
Because the email address can appear everywhere, such as in receiving email, in the Cc field, or a variety of other areas. As a result, the best solution is one that can extract email addresses from Kerio regardless of which fields they're in.
As a result, if these criteria are taken into account, we will provide you with a solution that focuses just on extracting the email address, allowing you to save time and avoid complications.
A Solution to Extract Email Addresses from Kerio Mailboxes
Corbett Email Address Extractor is a tool or a solution that can help you solve your present problem by directing you to a location where you can complete the work. You've been hunting for a solution like this for a long time. It makes extracting email addresses from Kerio simple.
This software is fully automated and can quickly extract email addresses from any field. With the help of this Kerio email address extractor, you can easily do this task. Due to the automation of functions, there isn't much you need to do with this application.
Extraction of Email Addresses from a Kerio Account
To begin, download the Kerio email address extractor for Windows to your computer.
1: Install the application, and then run it. After that Select the Open option

2: Pick the Email Servers option to select Kerio Files from the drop-down options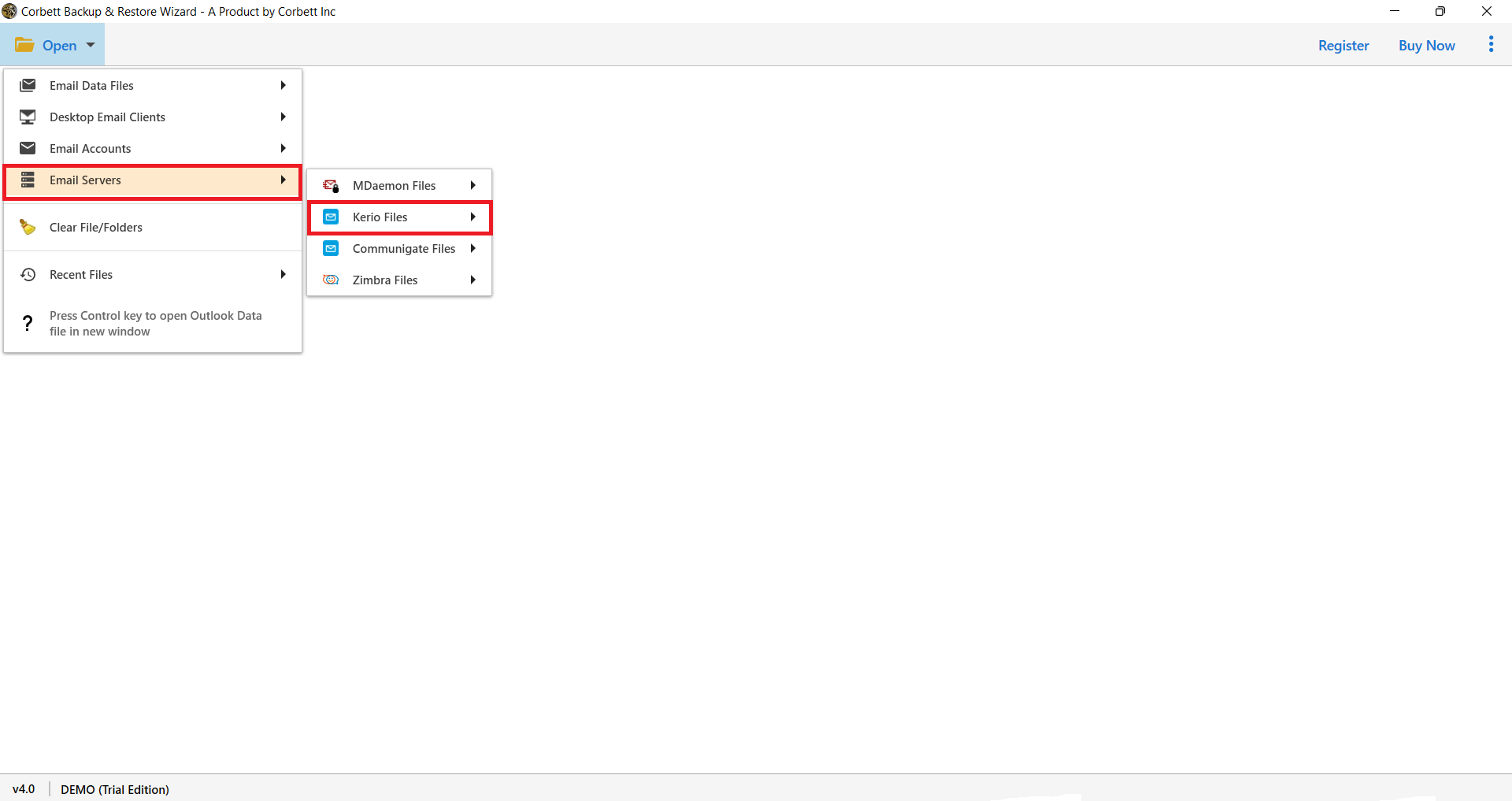 3: Select Choose Folders or Files from the drop-down box. You can also configure the Kerio account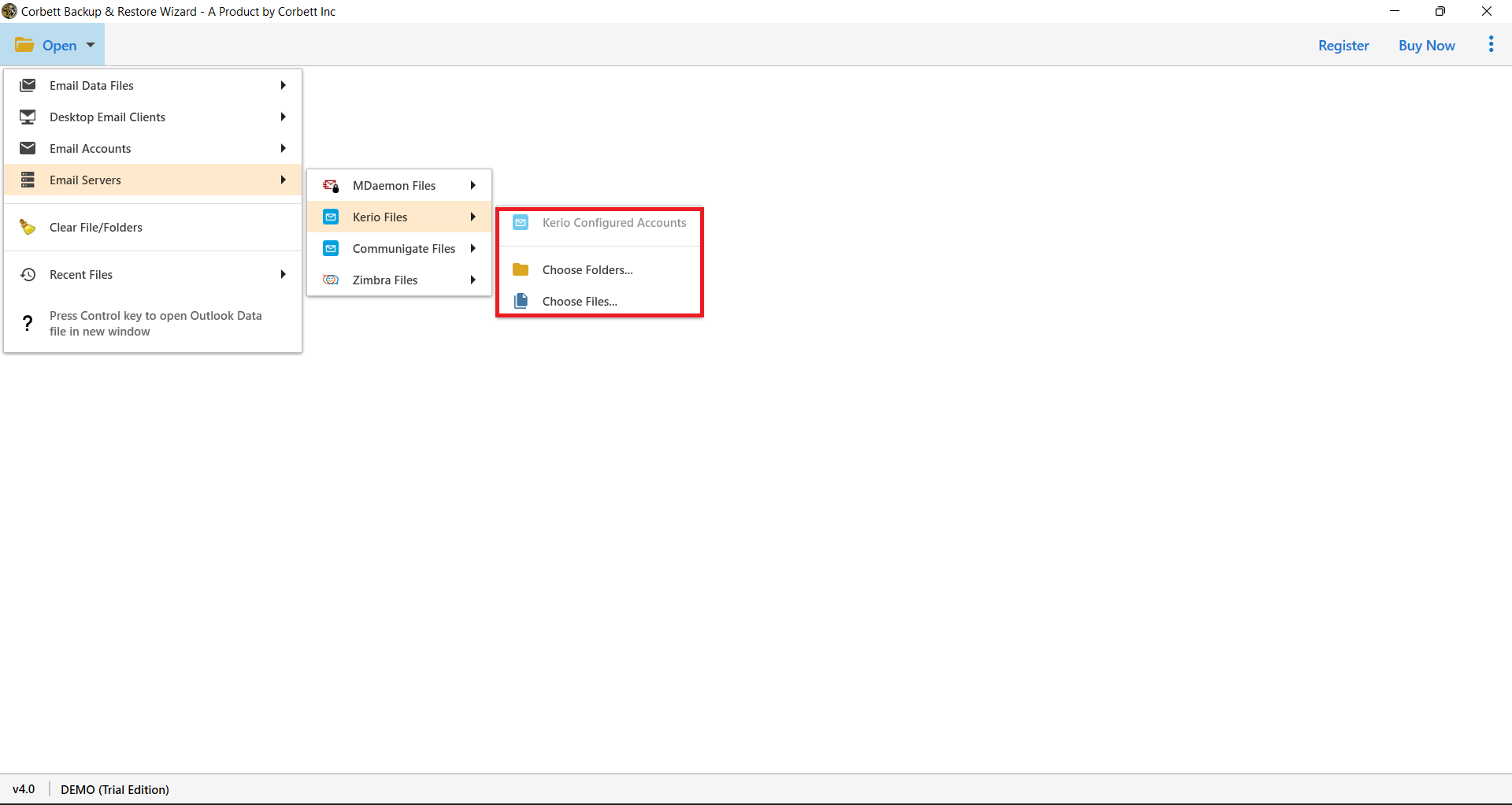 4: This software will load all of the files on the left panel when you choose all of the appropriate Kerio mailboxes from which you want to extract email addresses.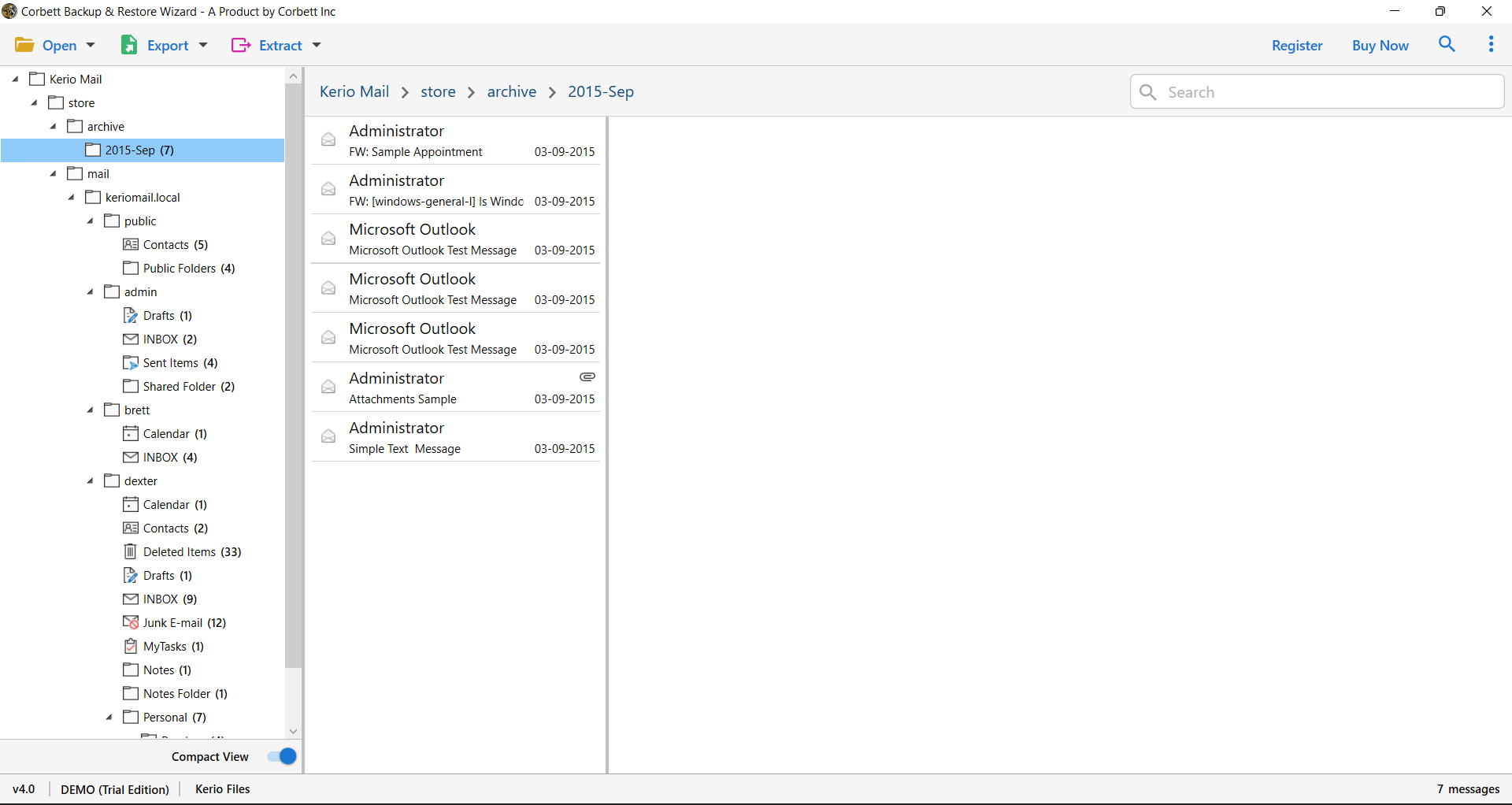 5: Select Email Addresses from the drop-down list after clicking the Extract tab.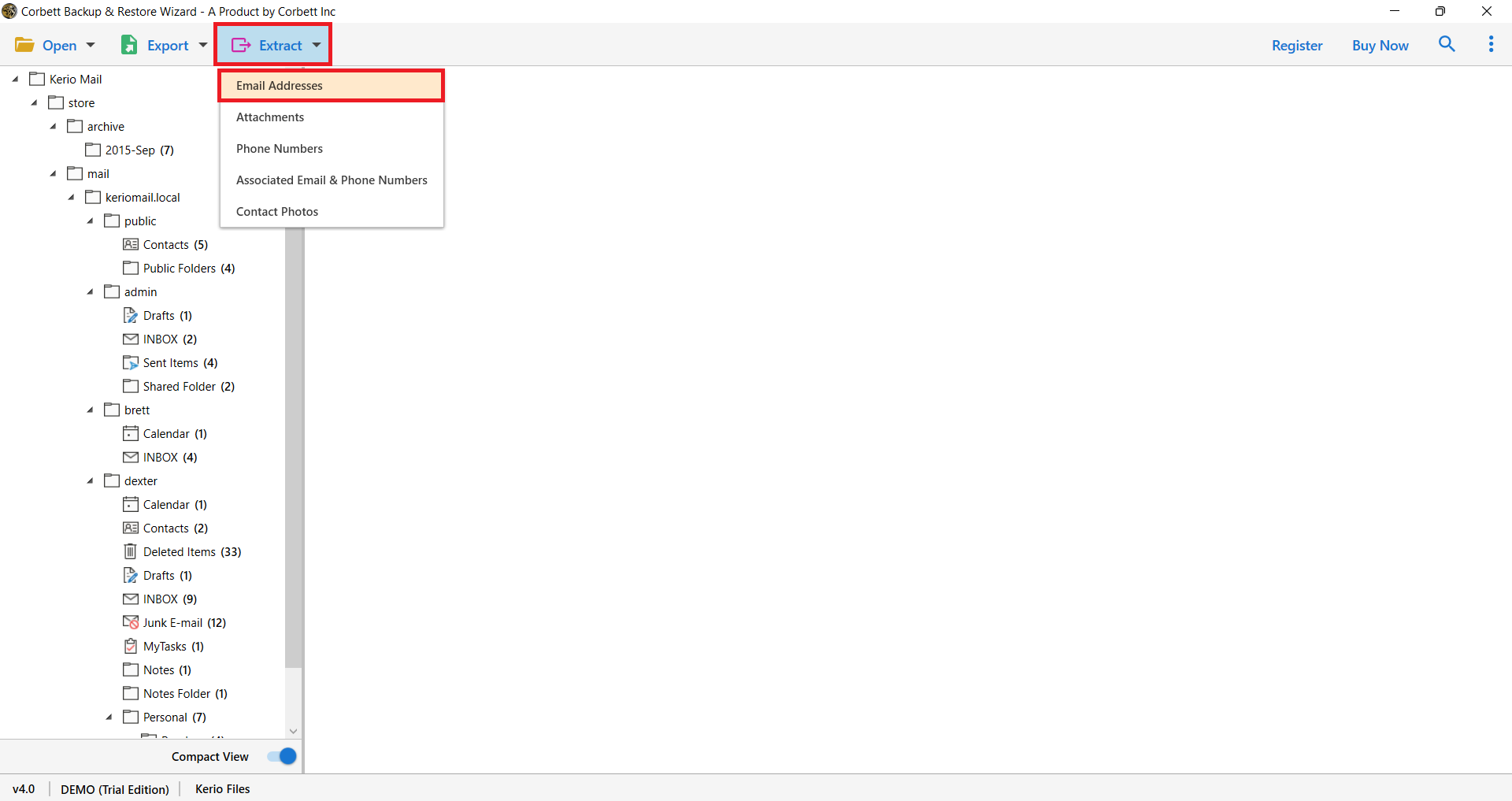 6: Select a place for the resultant files by browsing the location and clicking the Extract button.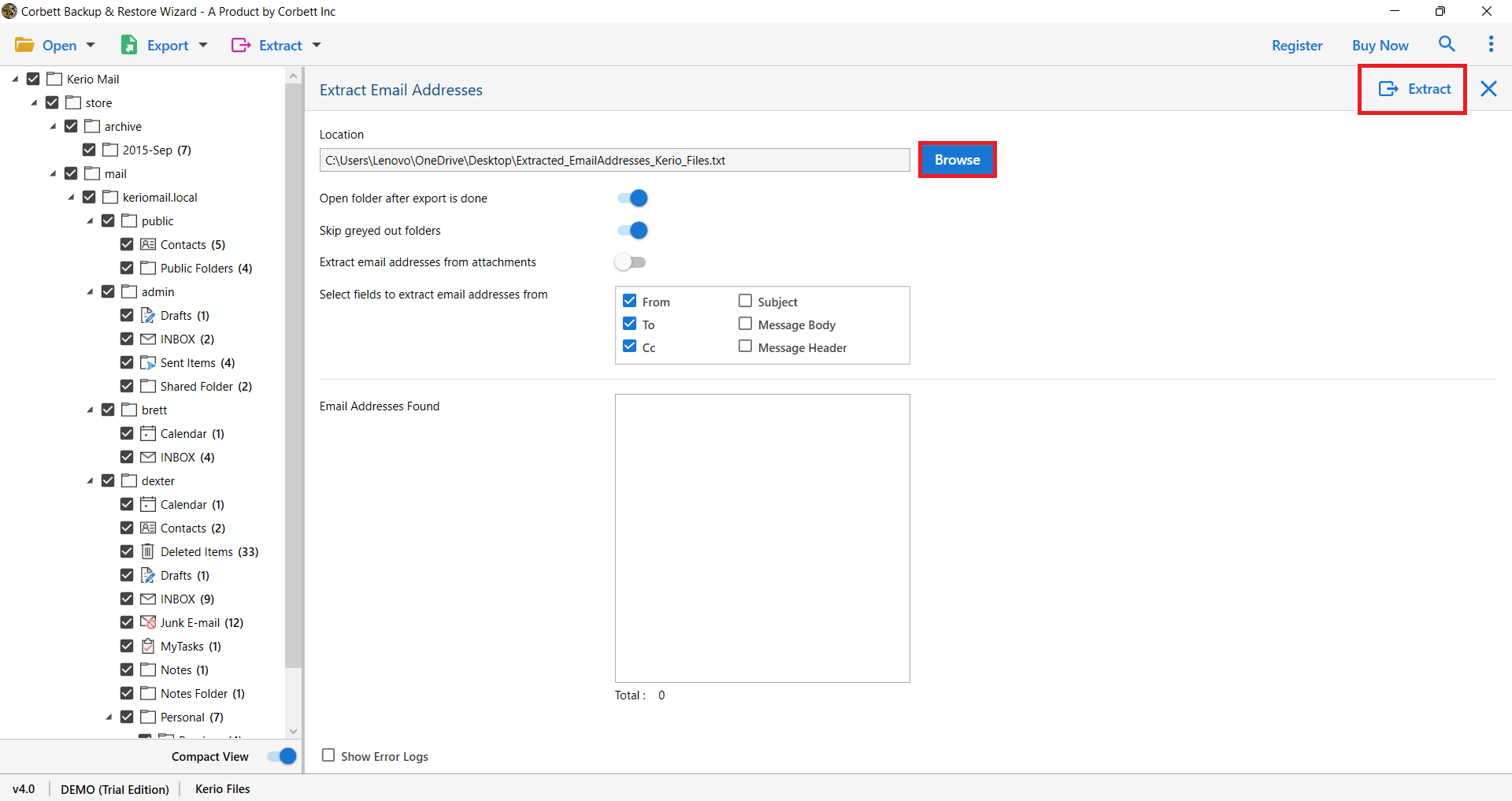 Your extraction process is now finished.
Now you must understand the tool's individuality, which lies in the features as well as the many filters that can be used to extract the email address from the specified data. Let's take a look.
Kerio Email Addresses Extractor Features
Different Fields to Choose From: As previously said, the email address might be in a variety of fields, making it tough to obtain an email address from them, but not with this application.
Simple one-click Process: Using this program you will be given the option to enable the fields from which the email address will be collected before the email address is extracted. You have the option of selecting certain fields or all fields from, to, cc, topic, message content, and message header.
Extract Email Addresses from Attachments: No issue if your Kerio account has a lot of attachments and they all include a lot of email addresses. By authorizing it, this application also gives you the option of extracting email addresses from Kerio account attachments. As a result, your issue has been resolved as well.
Extraction of Bulk Email Addresses: Have tens of thousands, if not hundreds of thousands, of email addresses. Are you scared now that you can extract them all at once? Don't worry, this application isn't constrained by data size. You may extract as many email addresses from the Kerio account as you wish, and yes, at the same time.
Preview of Email Addresses and Attachments: If you want to see the email addresses as well as the attachments that contain email addresses, this function can be quite beneficial. You can simply see all of their attributes by previewing them. As a result, we can state that this application is all-in-one.
Export Kerio Emails Directly: With this automatic utility you can directly export Kerio emails to Mozilla Thunderbird,  and many more email accounts. Not only email clients this tool can convert Kerio emails into PDF, PST, etc.
Continue Reading
Do you think this feature is useful? We must point to you, however, that these aren't the only options available with this application. There are plenty of features in this tool. You must use this tool if you wish to extract email addresses from Kerio with more ease.
Yes, there is one more thing you need to know to do this task, and that is the method. You'll need to familiarise yourself with it so that when you run the tool, you'll already know what to do. As a result, it is suggested that you go through the process.
Final Thoughts
Extracting the email address from the Kerio account may have been a more challenging process in the past, but with the Kerio Email Address Extractor, it's now one of the simplest. This suggested application is incredibly simple to use and provides a variety of features to make your process more enjoyable. Give the tool a try if you need to extract email addresses from Kerio server mailboxes more easily and quickly.