How to Extract Email Addresses from Kerio Mail Folders: Complete Guide
Are you looking for a reliable solution to extract email addresses from Kerio? Well, you have steered to the right post. Here, we have provided the best solution for users to easily export email addresses from Kerio Connect. We are going to provide the well needed guidance in order for you to accomplish the task successfully. So, without any further ado, let's get it into the article.
Kerio Mail Server is developed by a tech company named Kerio Technologies. Other than that, the company also offers various products such as Kerio Connect, Kerio Control, Kerio Operator. Furthermore, if there are only a few email addresses that you need to extract then it is not much of a problem, however, if you have a large number of email addresses to extract from Kerio Mail then, according to experts, you require a professional tool for that. So let's see how to proceed with that.
Professional Solution to Extract Email Addresses from Kerio Mail
As per the technical experts, a professional solution is always the best choice in case of any data extraction. That is because an automated software is specially designed to tackle the problem proficiently. This makes it easy for you to accomplish the task without facing any data corruption or worse, data loss. A great expert-recommendation is the Corbett Email Address Extractor. This magnificent tool is the best in its field and aims to provide the best result for users. Moreover, it includes various incredible features which make the whole task extremely simple.
Remarkable Features of this Extractor Software
Different Fields to Choose From: As previously said, the email address might be in a variety of fields, making it tough to obtain an email address from them, but not with this application.
Simple one-click Process: Using this program you will be given the option to enable the fields from which the email address will be collected before the email address is extracted. You have the option of selecting certain fields or all fields from, to, cc, topic, message content, and message header.
Extract Email Addresses from Kerio Attachments: No issue if your Kerio account has a lot of attachments and they all include a lot of email addresses. By authorizing it, this application also gives you the option of extracting email addresses from Kerio account attachments. As a result, your issue has been resolved as well.
Extraction of Bulk Email Addresses: Have a large number of email addresses to extract? Confused if you can extract them all at once? Don't worry, this application isn't constrained by data size. You may extract as many email addresses from the Kerio mail account as you wish, as this software supports bulk extraction with ease and reliability.
Preview of Email Addresses and Attachments: If you want to see the email addresses as well as the attachments that contain email addresses, this function can be quite beneficial. You can simply see all of their attributes by previewing them. Thus, we can state that this application is an all-in-one solution to resolve this issue.
Export Kerio Emails Directly: With this automatic utility you can directly export Kerio emails to Mozilla Thunderbird

,  and many more email accounts. Not only email clients, this tool can

convert Kerio emails into PDF

, PST, etc.
All these splendid features add up to the overall functionality of this software and make the whole process easy, smooth and interactive for you.
Steps to Export Email Addresses from Kerio Connect
To begin, download the Kerio email address extractor for Windows to your computer.
1: Install the application, and then run it. After that Select the Open option

2: Pick the Email Servers option to select Kerio Files from the drop-down options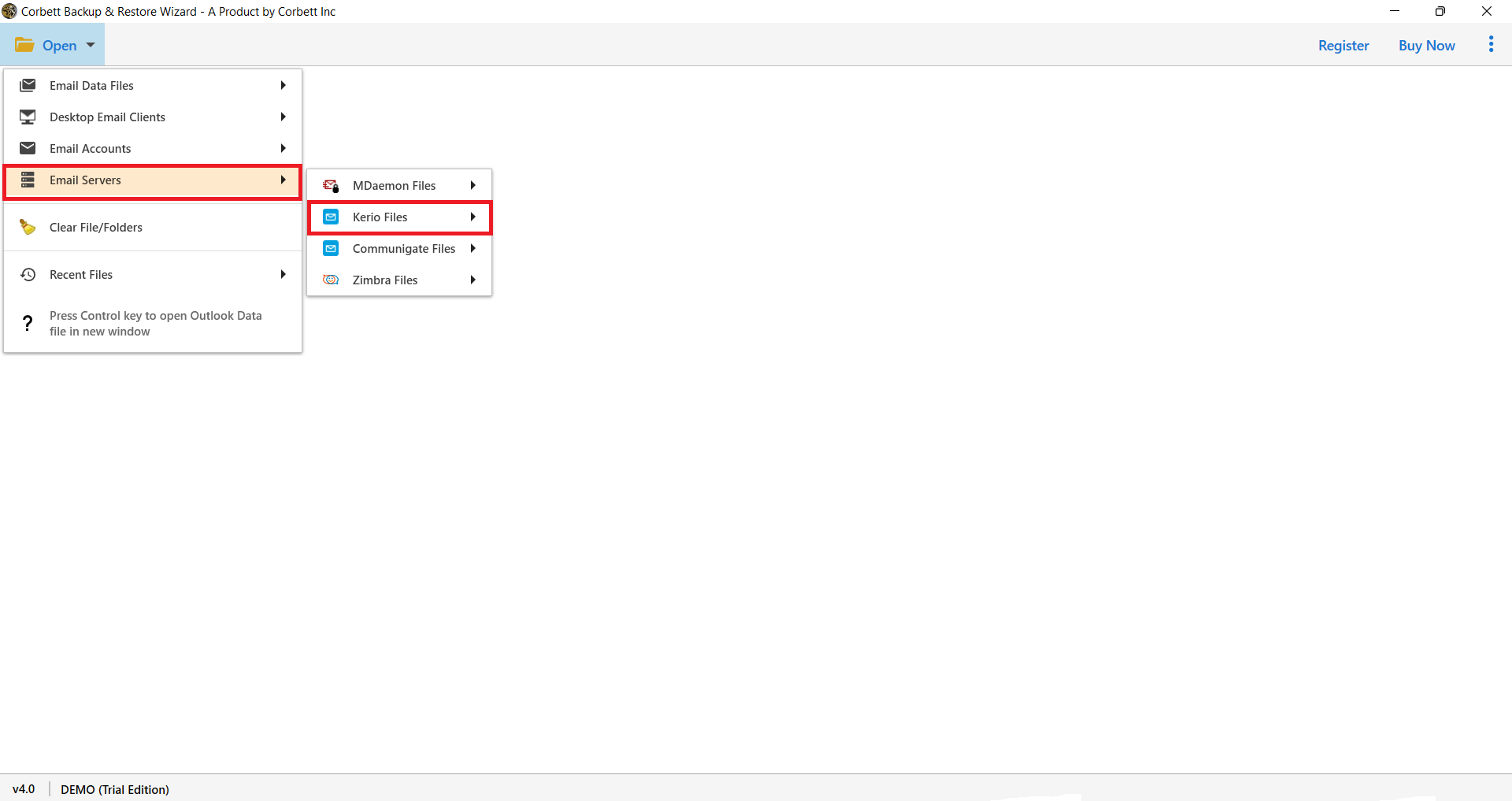 3: Select Choose Folders or Files from the drop-down box. You can also configure the Kerio account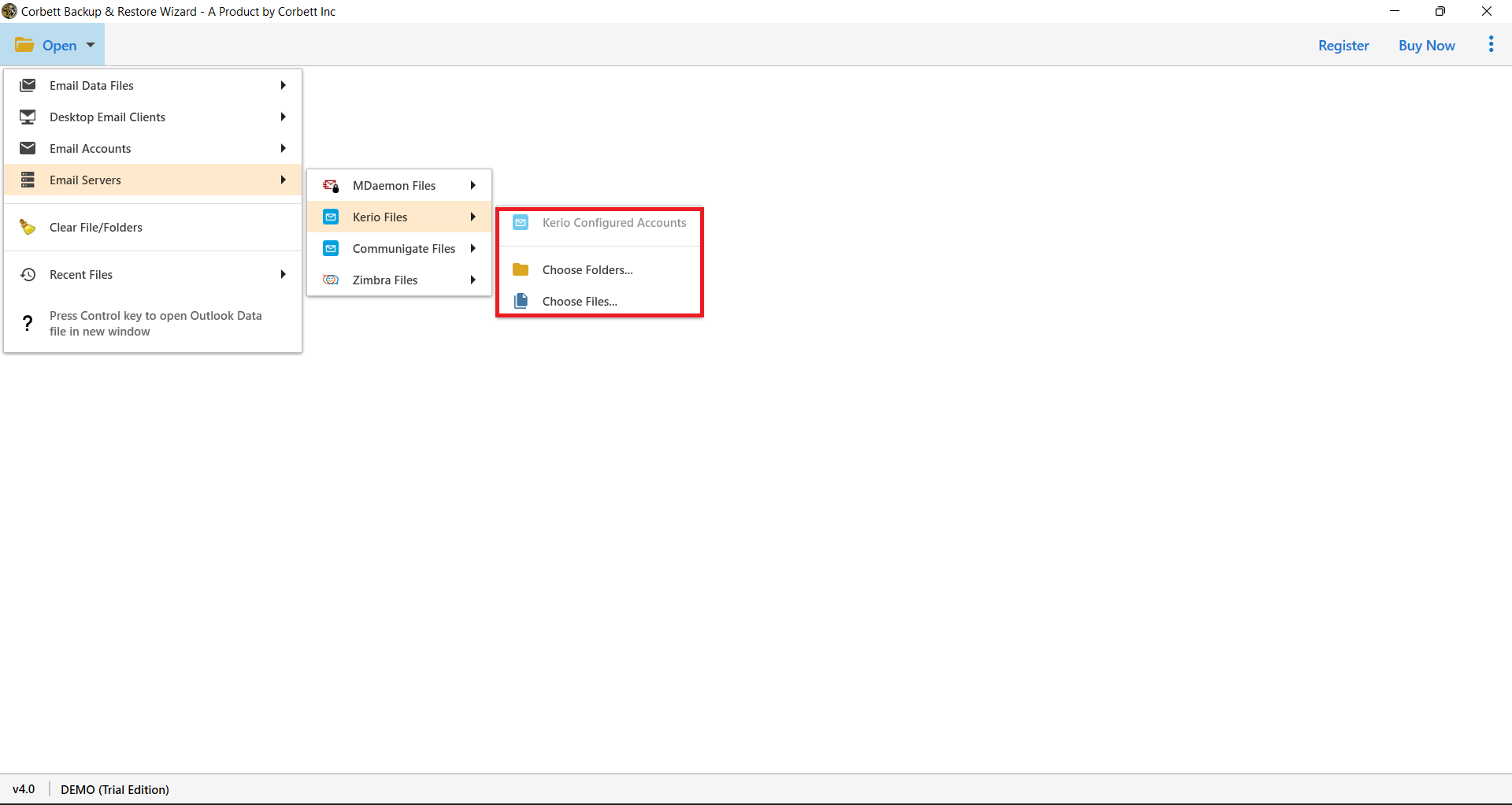 4: Then your selected folders will show up on the software panel where you can easily proceed to extract email addresses from Kerio.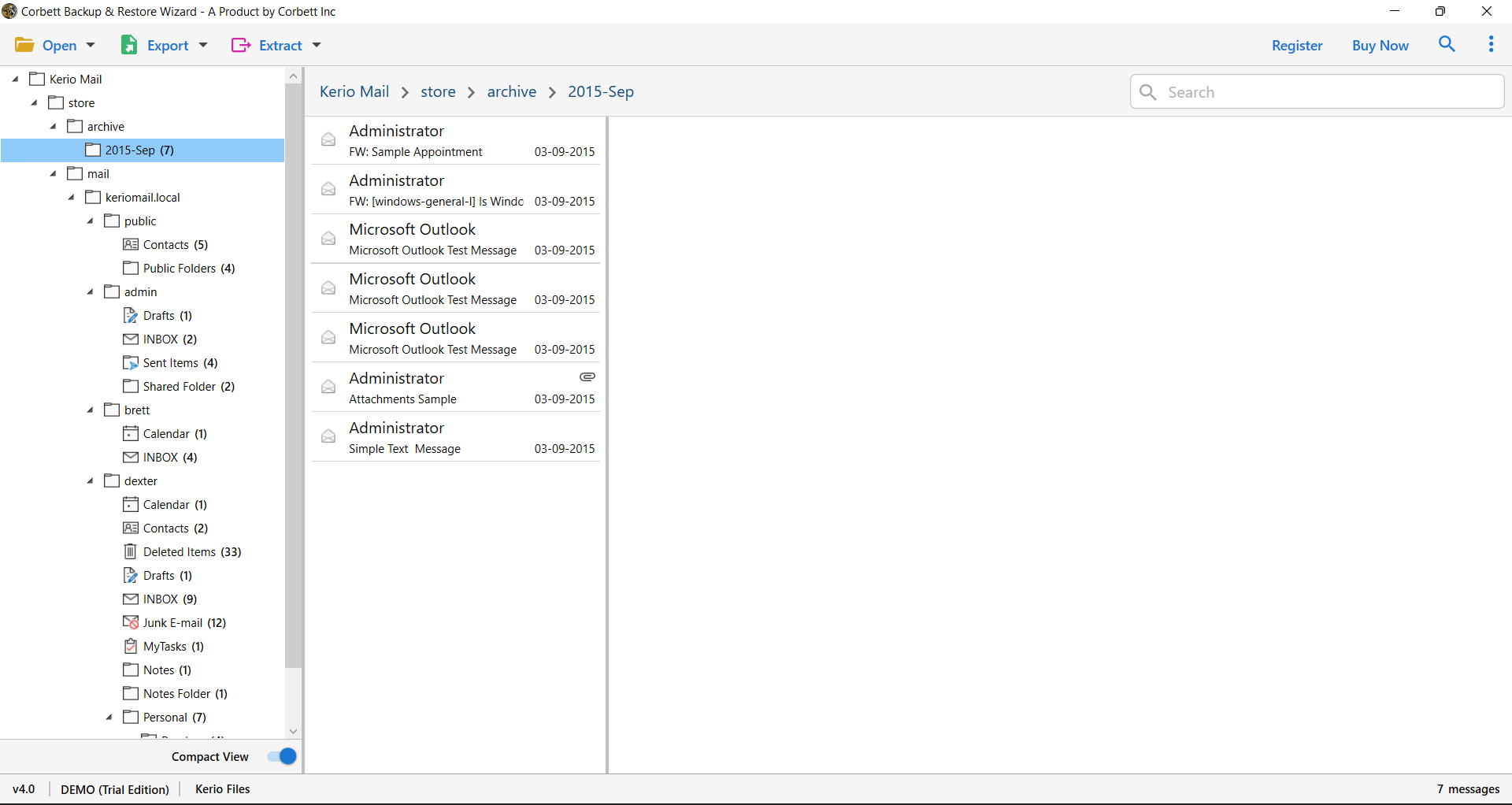 5: Select Email Addresses from the drop-down list after clicking the Extract tab.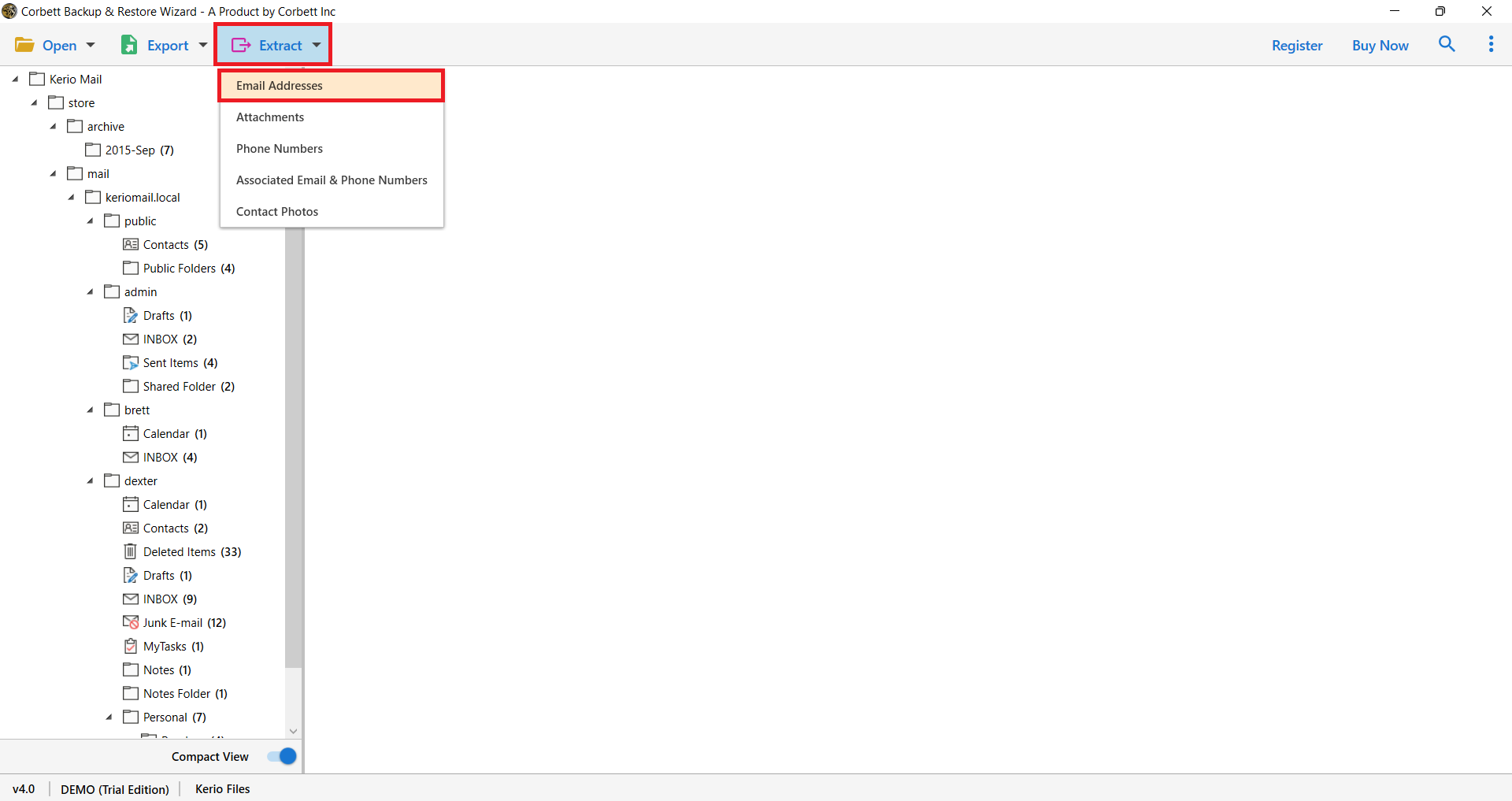 6: Select a location for the resultant files with the Browse button. Then click the Extract button to extract email addresses from Kerio mail.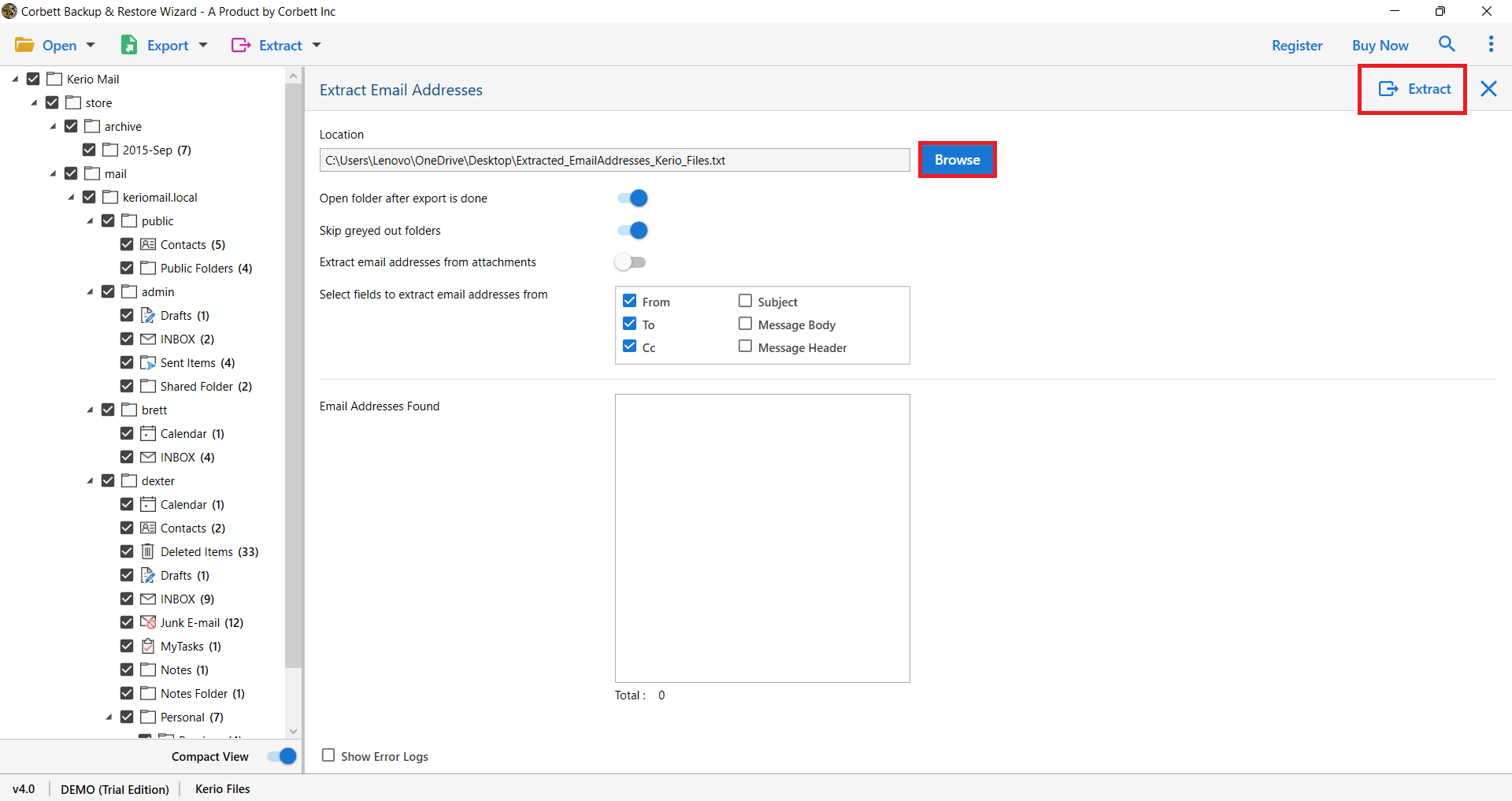 Your extraction process is now finished. As you can see, how easy and simple are all these steps to conduct the process. This is another reason why this software is an expert favorite. So, go ahead and export email addresses from Kerio connect in an easy and effortless manner with the help of this amazing tool.
Final Thoughts
Extracting the email address from the Kerio account may have been a more challenging process in the past, but with the Kerio Email Address Extractor, it's now one of the simplest. This suggested application is incredibly simple to use and provides a variety of features to make your process more enjoyable. Give the tool a try if you need to extract email addresses from Kerio server mailboxes more easily and quickly.