The Best Way to Convert Kerio Emails to PDF Format?
Summary: Are you seeking a way to convert Kerio emails to PDF? Do you want to save Kerio as a PDF file with attachments? Read this blog to discover a suitable solution to the problem.
Kerio Connect is available in a variety of configurations, including Windows, Mac OS, and Linux. It is a cross-platform collaboration tool that includes all of the necessary features and functions.
However, some Kerio email customers would like to convert their emails to PDF format. PDF files are simple to use and display the same content regardless of the operating system you're using.
How to Directly Convert Kerio Mailbox to PDF Format?
Corbett Kerio Backup Wizard is an automatic tool that allows you to convert Kerio emails to PDF files with 100% correctness. It allows you to print Kerio Connect in PDF format together with any attachments. It's also a stand-alone application. As a result, Kerio to PDF conversion does not necessitate the installation of any additional software or applications.
Kerio Mailbox to PDF Files – A Step-by-Step Approach
It is not possible to manually convert from Kerio to Adobe PDF. However, this solution will undoubtedly assist you in quickly converting Kerio emails to PDF. look at how you can start the process step by step.
1: Download the Kerio to PDF migration application's setup file. Run the software as instructed and then hit the Open button

2: The utility then gives you the option to pick Email Servers and then Kerio Files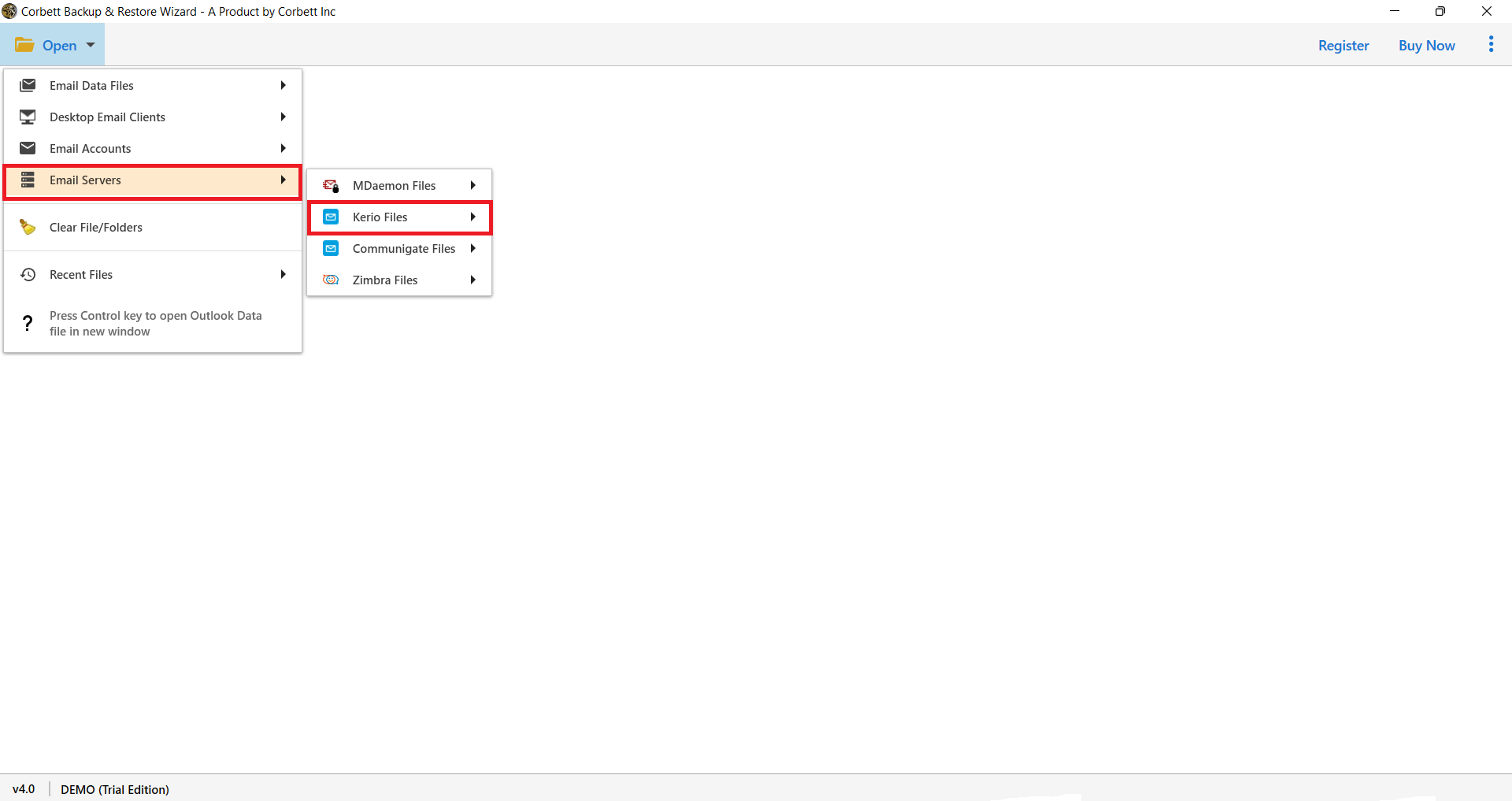 3: In the software panel, there are two choices for importing Kerio emails:
(A)Choose files: In the GUI, you may upload all of your Kerio emails at once.
To upload files via the GUI, just choose one or more files and click the Open tab.
(b)Choose folders: Import emails from Kerio into a folder.
After that, just choose a Kerio email folder of your choosing.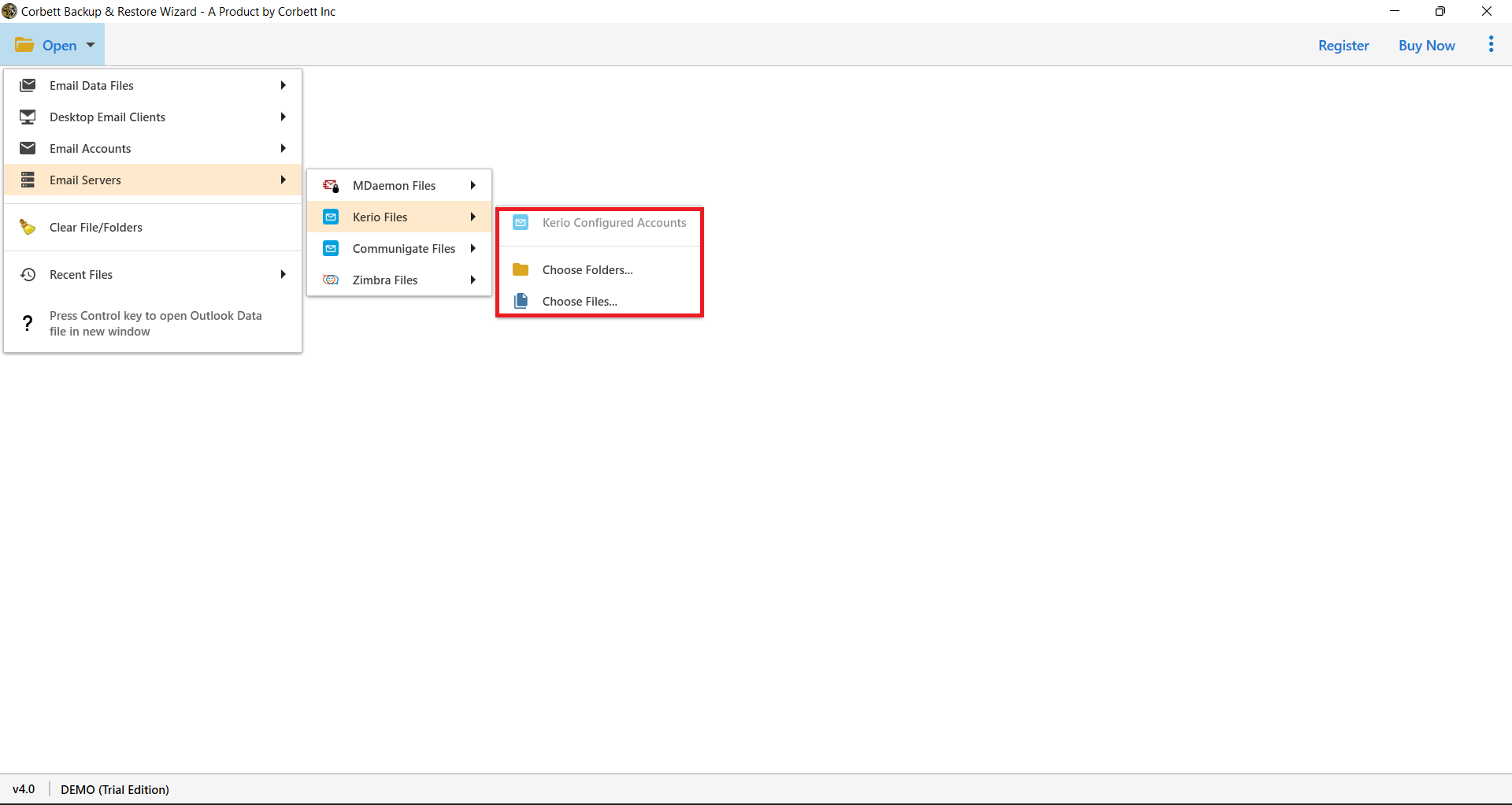 4: The software then begins the procedure by uploading files and directories into the program. The program allows users to preview emails in a number of different ways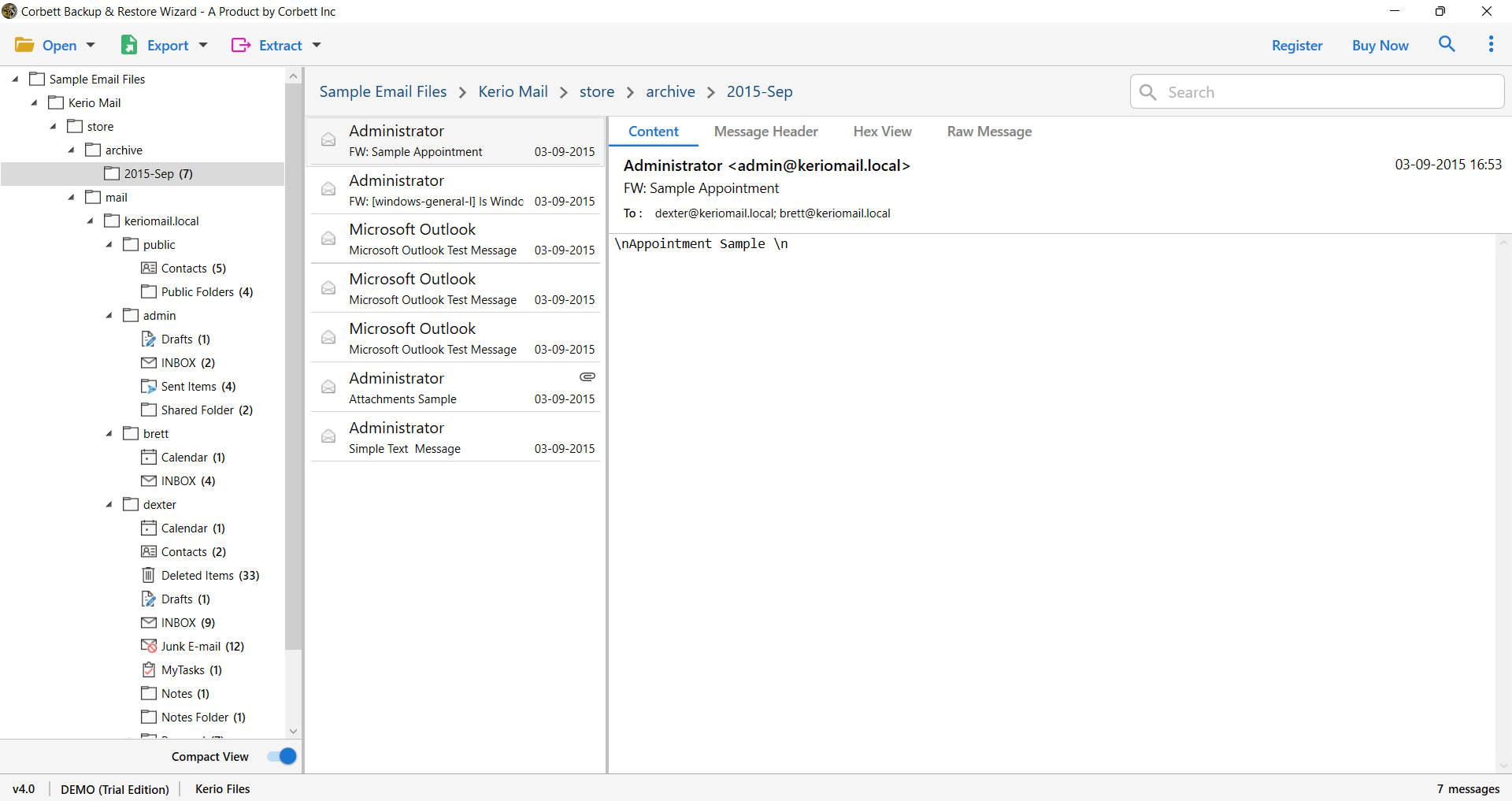 5: After that, go to the Export choices list and select PDF from the drop-down choice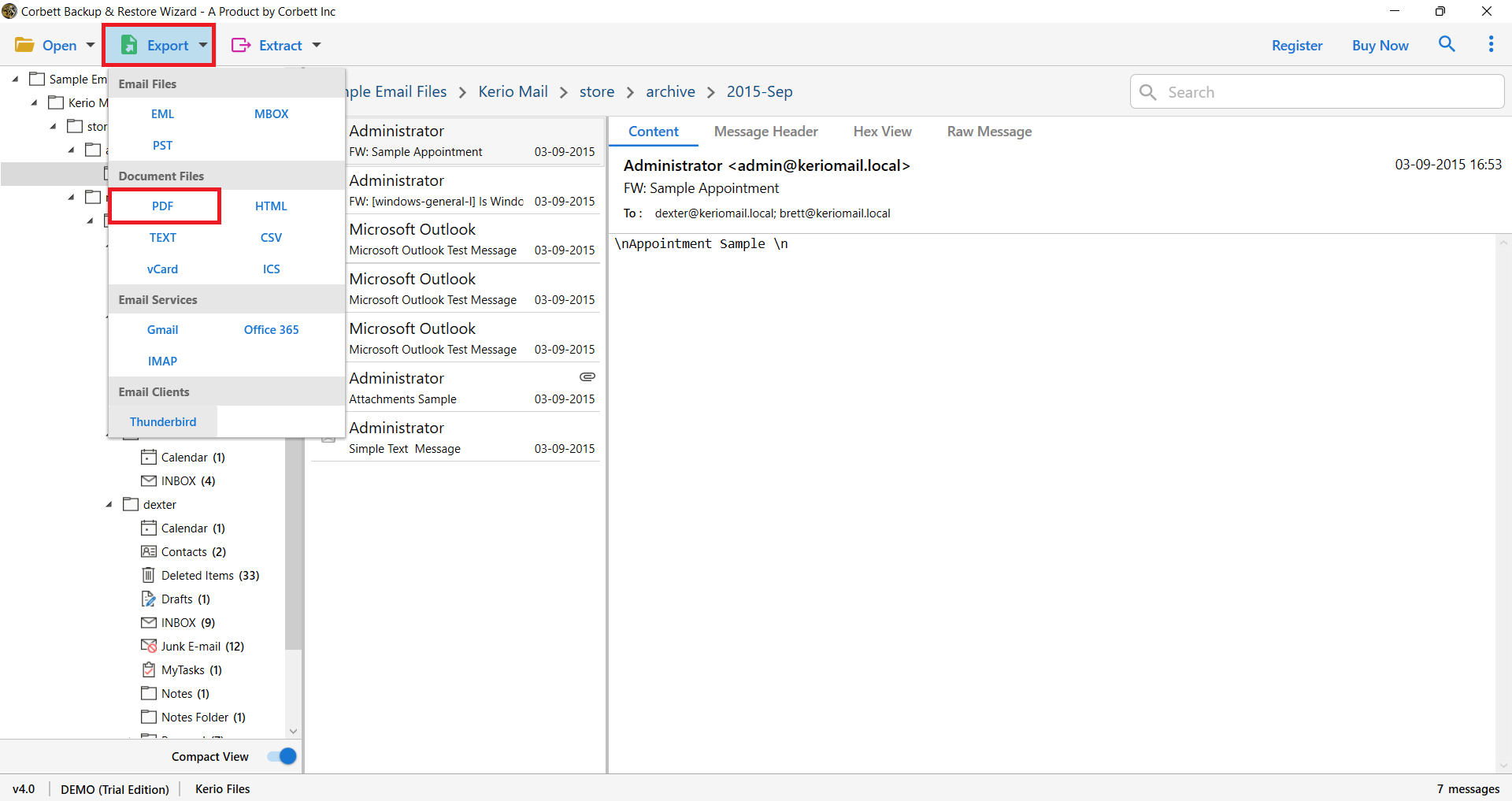 6: To organize the resulting data, select a file name choice from the application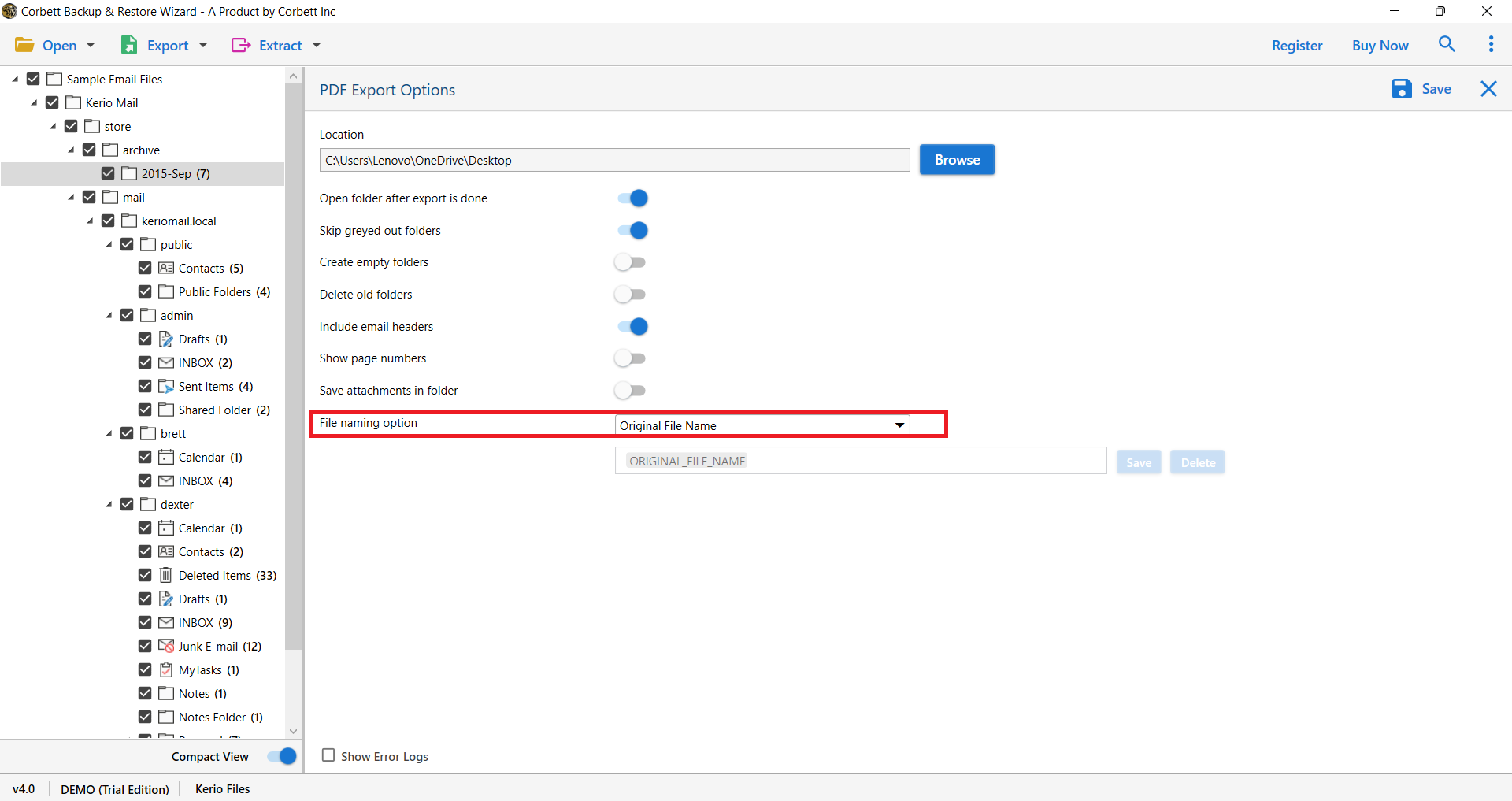 7: The output target PDF file may then be saved to a designated location

8: Finally, click the Save button to begin the Kerio to PDF conversion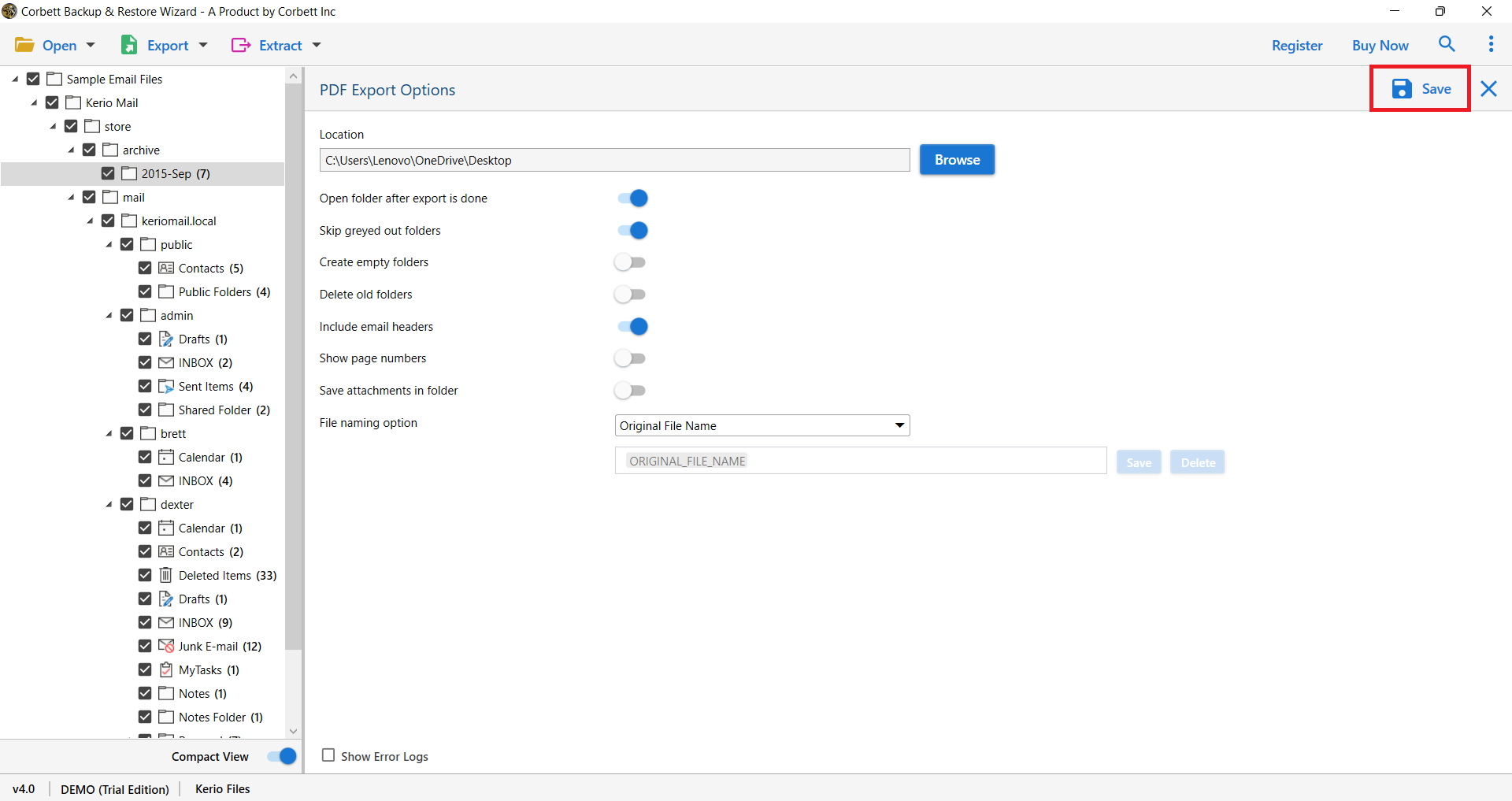 9: The migration procedure was completed successfully, and a message was displayed at the conclusion. Select the Open Folder button to open a folder
10: As a consequence, the software will open the resulting folder, which contains your Kerio mail to PDF files
Convert Kerio Webmail Emails – Use the Best Export Tool
This migration utility is a fantastic piece of software with a fantastic user interface. It's a full-featured program with a lot of complex features. This tool is compatible with all versions of Microsoft Windows. Kerio to PDF conversion tool may be used on Windows 10, Windows 8.1, Windows 8, Windows 7, and other operating systems.
Additional Advantages of Exporting Mailboxes to PDF:
Export Kerio emails in bulk to PDF: If you have numerous Kerio mailboxes that you wish to convert to PDF format in a single pass, you can batch export Kerio emails to PDF. Then use email conversion tool to move emails from Kerio in bulk.
Transfer emails to PDF selectively: There are a few emails or folders that you don't want to convert to PDF. This software allows you to convert Kerio emails to PDF files selectively.
Save PDF data to a chosen location: This utility allows you to save Kerio to PDF files and export email data to a specified location.
Free demo version: You may use the free demo version of the utility to test the software's functioning. This allows the first 10 items from each Kerio mailbox folder to be converted to PDF files. You can upgrade to the licensed version of the software later.
Simple and safe software: When converting emails from Kerio to PDF format, the user will have no problems. The reason for this is that the tool has a very clear and straightforward user interface.
Maintains email attributes: During the Kerio to PDF export process, the software has been configured to keep the email components intact. It preserves sender and receiver information, as well as subject, formatting, inline graphics, and hyperlinks.
Maintains data integrity: It ensures that data integrity is maintained. It keeps the internal folder structure when converting emails from Kerio to PDF format.
Export Kerio Emails into Multiple Platforms: You can directly export Kerio emails into Office 365, and popular platforms.
Putting It All Together
We've described a way for converting Kerio emails to PDF format in our blog article. Any technical or non-technical person can easily use the given solution. If you have any questions about converting Kerio to PDF, please contact our technical support staff.
Next Read: