How to Export Kerio Contacts to CSV with Complete Properties?
If you want to export Kerio contacts to CSV but are unaware of the proper process and execution, worry not! In this technical write up, we'll show you the finest way to export Kerio Contacts to CSV format. This blog post will walk you through the step-by-step process of converting Kerio contacts into CSV format. 
Kerio Connect is an email server by Kerio Technologies. It is one of the well-known cloud-based email clients used for managing data, contacts, tasks, calendar and emails. Moreover, this email service is widely used by plenty of users. Where most of those users are searching for solutions to export Kerio contacts to CSV and in this blog, we are going to share that solution. 
On the other hand, CSV (Comma Separated Values) is one of the most popular formats to store contacts and other databases. CSV format is supported by platforms such as Excel, Google Sheets and Outlook. In this format, the data is stored in a tabular format i.e. tabular format and thus databases such as contacts are easy to manage in this format.
Now, when we talk about methods that you can use to convert your Kerio contacts in CSV format, the best method out of all turns out to be an automated tool. Although you can manually export Kerio contacts to CSV, it comes with certain limitations. Thus, numerous technical experts suggest that it is much more efficient to go with a professional tool. So, before we dive into the method, let us first get a quick glance at this user query.
Hello all, I work as a senior support engineer at a top multinational corporation. For a long while, I was facing trouble managing my contacts in Kerio. When I searched for solutions,  I came across the approaches to convert Kerio contacts to CSV. However, I have more that 45 thousand contacts in my Kerio connect account and do not want to lose them due to errors of using a manual technique. So, it is my request that if anyone can share a professional method to export Kerio contacts in CSV format, then that would be extremely helpful. Thank you in advance.
If you have the same or a similar query to this, then keep reading this article. In the next segment, we have shared the finest expert-suggested method for you to successfully accomplish the task.
Professional Approach to Export Kerio Contacts to CSV Format
For a smooth and successful Kerio contacts to CSV conversion, we have brought none other than the expert-favorite Corbett Kerio Mail Backup Wizard. This splendid software does the job quickly and efficiently. Moreover, it secures your data throughout the entire process so you don't lose even a bit of your precious contacts. This tool is specially designed to cater all your needs regarding Kerio contacts to CSV export process. In addition, it has multiple noteworthy attributes such as:
Supports bulk conversion of your Kerio Connect contacts into CSV format
An option to preview all your contact files before exporting them
Supports selective conversion of Kerio contacts file to CSV
Its Extract functions helps extracting specific data from Kerio files efficiently
Generates a log report after the completion of the entire process
Provides the option to save resultant CSV files at a desired location on the system
All these features contribute to the overall functionality of this tool and make it an expert favorite. Now, let's move on to the steps required to execute the process using this tool.
Steps to Use the Tool to Convert Kerio Contacts to CSV File
To transfer bulk contacts in CSV files, follow the procedures in the Kerio Mail Server to the CSV converter toolkit.
1: First & foremost, Install and run the professional toolkit on a Windows-based computer.
2: Second, Start by clicking on the Open tab to export Kerio contacts to CSV.

3: Next, Select Kerio Files from the Email Servers drop-down menu.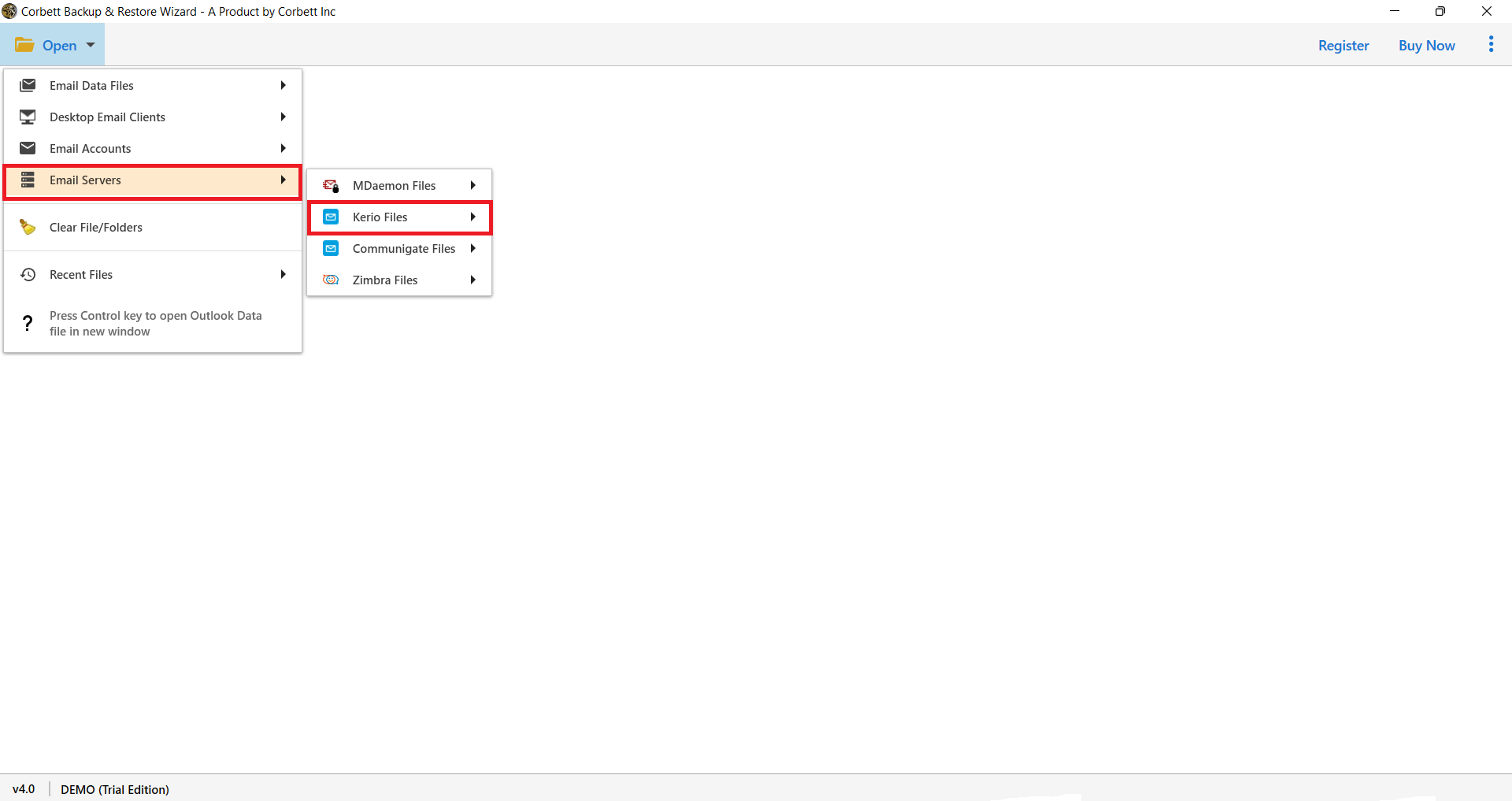 4: To explore Kerio contacts on your system, select Choose File/ Folder. (Select the configured account option to automatically access the Kerio contact file from the profile if the user has a Kerio account setup on the machine).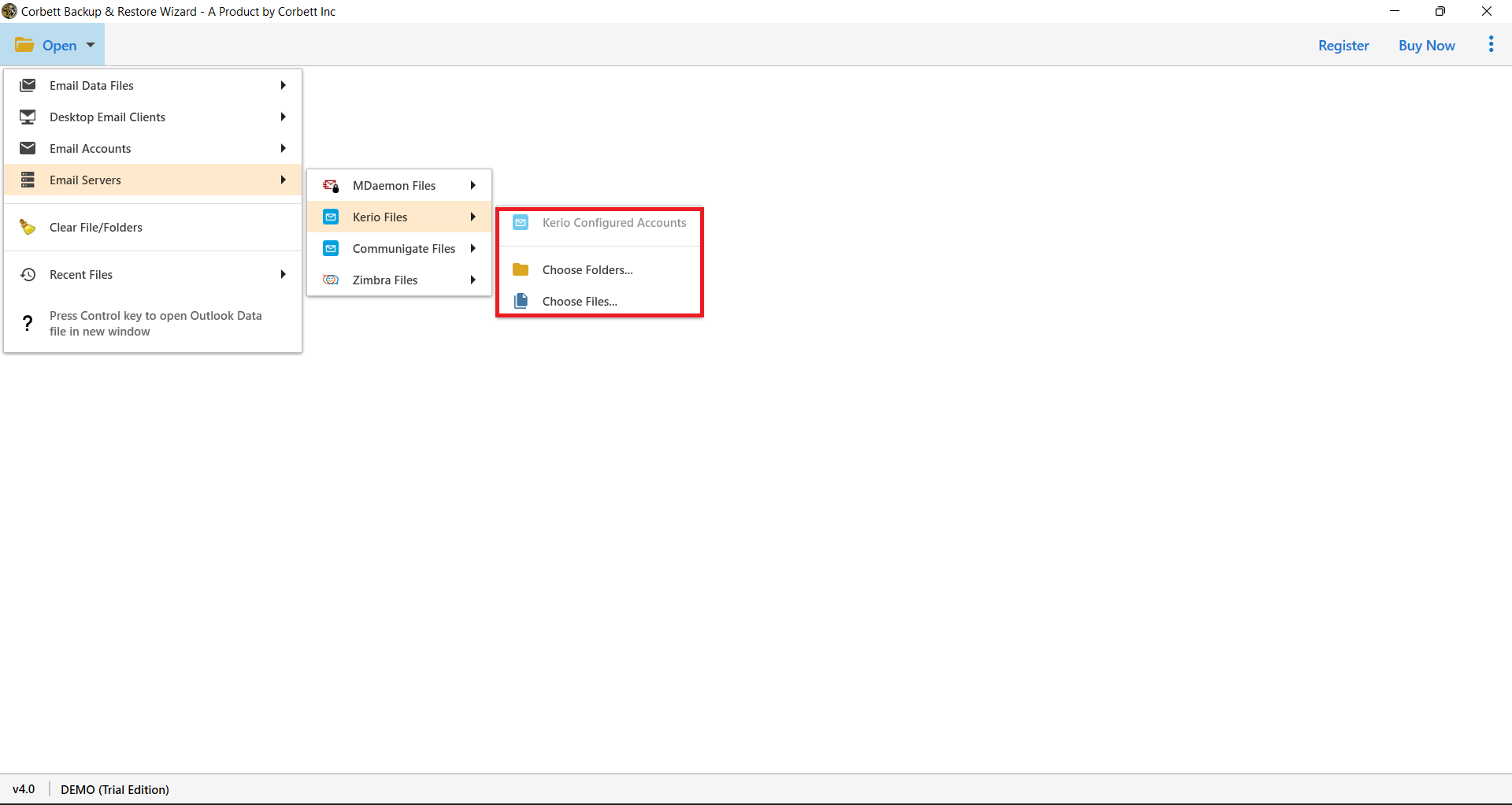 5: Check all of the contact files on the interface by tapping on the folder. To get the complete view in the special preview window, choose the appropriate contact.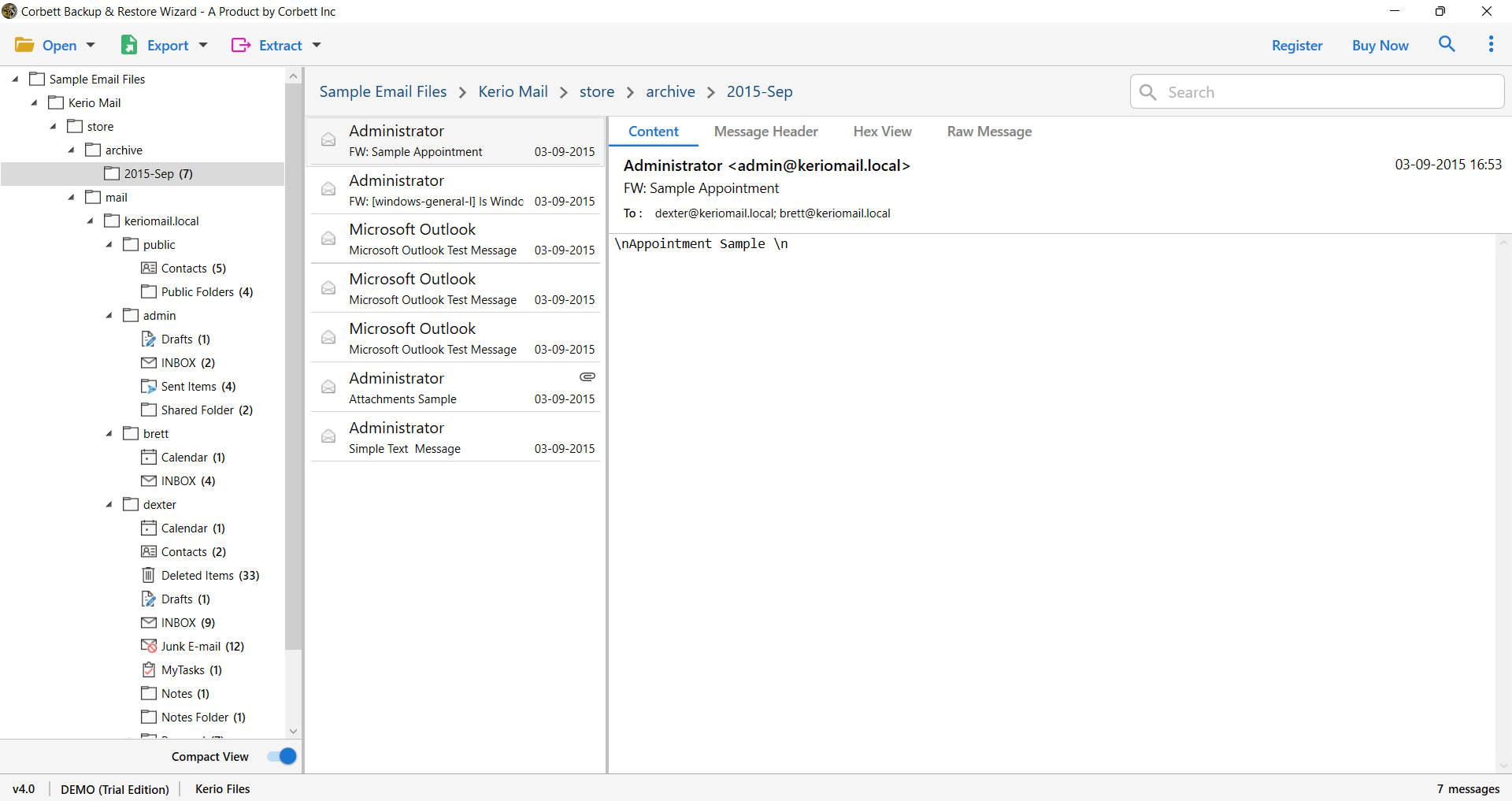 6: After that, click on the Export tab and select CSV to export Kerio contacts to CSV.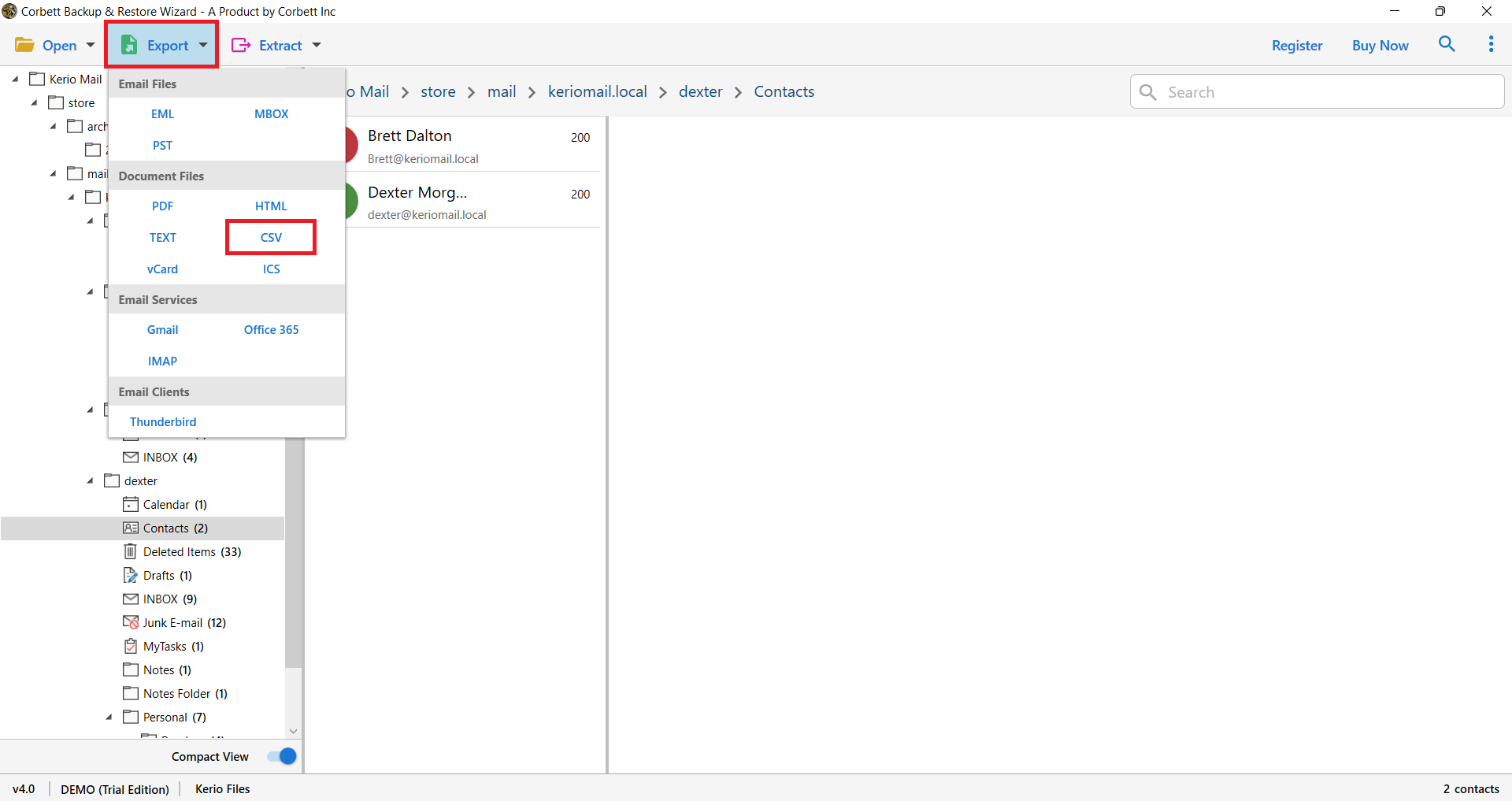 7: Upon pressing the Save button, the software panel will display a live conversion report.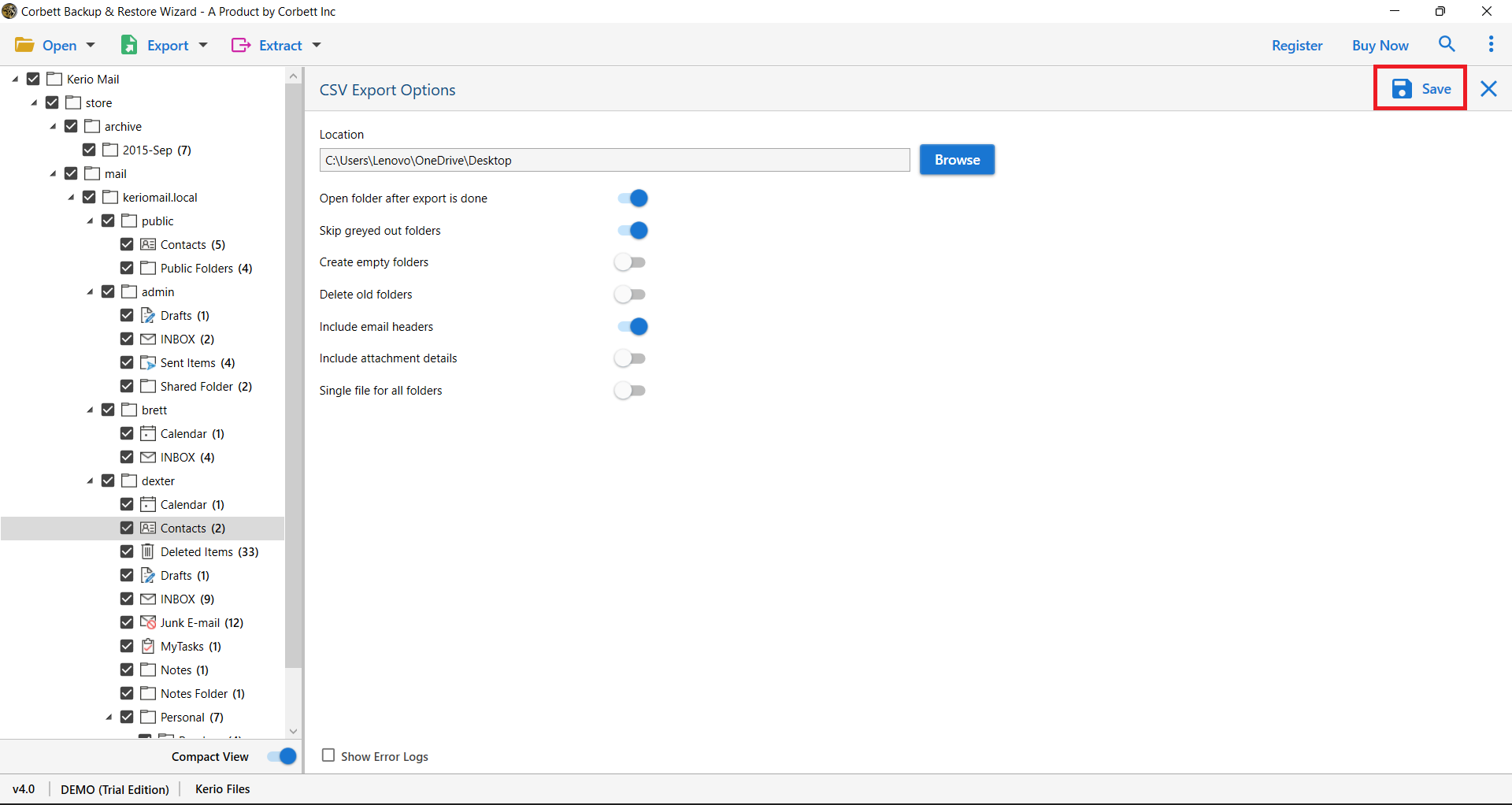 That is all there is to it. These are the simple steps needed to export all Kerio Mail contacts to a CSV file with all information intact. Next up, let's have a look at the advanced features of the solution that make it the best Kerio to CSV converter software.
Download the Kerio Connect to CSV Export Tool for Free
Download the trial edition of the Kerio to CSV migration utility on your Windows system to check out the free edition. After that, launch the program and choose the first 10 contact files to convert.
The procedure is simple and quick to complete. The tool generates a successful trial report after it's finished. Users may activate the licensing edition by clicking the Buy Now button and entering the license key to convert Kerio to CSV indefinitely and safely.
Standout Features of this Professional Software
There are multiple important benefits to using a professional solution to Bulk Export Kerio contacts to vCard. Learn more about them by looking at the highlighted points below:
Easy-to-use and context-sensitive interface: The finest software for converting Kerio Mail Server contacts to CSV has an intuitive and user-friendly interface. It ensures that users will not experience any difficulties during the procedure and will receive comprehensive results.
Export a large number of Kerio contacts at once: This software has the capability of converting numerous Kerio contact files to CSV format without losing any data. On the other hand, The bulk option speeds up and saves time throughout the converting procedure.
Multiple Choices for Browsing Kerio Contact Data: There are three options for browsing Kerio contacts in the tool to export Kerio contacts to CSV files.
(A) The configured account option is available to users who have a Kerio account set up on the system.
(B) If they don't have an account, they can use the Choose File and Folder options to explore Kerio contact files without logging in.
Maintain Kerio Address Book Properties: When migrating Kerio contacts to a CSV file, the robust and advanced solution retains all contact file information intact. Also, Throughout the procedure, it keeps track of attributes such as phone number, name, email address, picture, and more.
Advanced Forensic Capabilities: The application has a number of forensic features, such as a preview mode for analyzing contact data. In addition, It also offers search filters that allow you to discover specific information from the Kerio contacts file by typing in a keyword. Furthermore, the tool has a separate extract tab for quickly extracting phone numbers, email addresses, files, and other data.
So, these are some remarkable features of this advanced software which make it stand out among the rest of the competition. Furthermore, as stated above, there is also manual technique to accomplish the task. Thus, in the next segment, we have also shared the manual solution to export Kerio contacts to CSV and some limitations that come along with it.
Manual Technique to Export Kerio Connect Contacts to CSV File Format
For the manual solution, you can directly convert or export Kerio contacts to CSV file format. This method does not require any extra installation procedure as it can be directly executed from Kerio Mail. Now, let us see the steps to execute this manual procedure.
Steps to Follow:
Open your Kerio Email Server and navigate to the Menu.
Then, select Accounts >> Users.
Next, select the contacts that you want to export to CSV format.
Then, click on Import/Export and select the "Export to a CSV File" option.
Lastly, browse a preferred location on your system and save the file. 
Now as mentioned above, this method comes along with a few limitations that hinder this technique to be the best solution for users to convert Kerio contacts to CSV files. The said drawbacks are as follows.
By using this method, you can face data loss as it is not a 100% secure method.
To go through this method, you must have a thorough technical understanding.
This procedure takes a significant amount of time and effort of users. 
These hindrances are the reason why most users and professionals avoid the manual method and steer towards an automated solution.
Concluding Thoughts
In this technical writeup, we shared with you the finest method/s to export Kerio contacts to CSV file. We introduced you to an expert-favorite automated software to accomplish the task. This software is specially designed to accomplish the task and provide users with desired results along with utmost security to their data. Moreover, we also shared the manual technique, however, that comes along with certain limitations that professionals recommend to avoid in order to protect data. Therefore, an automated software solution is the way to go.