How to Export Kerio Contacts to CSV With Complete Properties
In this post, we'll show you how to use the finest automated way to export Kerio Contacts to CSV format.
A file with the.csv extension is useful for saving large amounts of data in a tabular format. This simple text file may be independently imported into another spreadsheet or database. This blog will walk you through a step-by-step process to export Kerio contacts to CSV. Continue reading this blog article if you're seeking a professional and automated way to convert Kerio contacts to CSV.
The Most Common Needs for Kerio Contacts Export to CSV
Kerio Mail Server makes managing and shares groupware resources like calendars, emails, contacts, shared folders, and so on. If you're using the Kerio Connect mail server and can't seem to discover a way to export Kerio contacts to CSV format, try this approach advised by experts.
This Kerio Migration Tool is one of the most effective tools for transferring Kerio contacts from Android to Outlook. The finest feature of this application is the ability to select many Kerio mailboxes at once. But first, let's look at some user questions before we go over the tool's recommended answer.
Let's look at the User Query in more detail:
Hello, In a leading IT MNC, I work as a senior support engineer. I'd been having trouble maintaining my Kerio contact info for a long time. When I was looking for a solution, I discovered how to convert Kerio contacts to CSV. I have over 50,000 contacts in my Kerio Connect account and don't want to lose a single one due to some haphazard manual solution. So I ask the expert to assist me in finding a secure way to convert Kerio Connect contacts to CSV.
With questions like these, it's easy to see why users don't think of manually exporting Kerio contacts to CSV.
Now, let us show you how to mass transfer Kerio Mail contacts to CSV using a strong and professional solution.
Find Out More About Kerio Contacts to CSV Converter
Corbett Kerio Mail Backup Wizard is a professional and accurate method for migrating numerous Kerio contacts to CSV files without losing any information. This application uses the most advanced algorithm to protect user data throughout the conversion process. It has a number of distinguishing characteristics, including:
Kerio Connect contacts may be converted in bulk to CSV files.
View Kerio contacts and their related information.
Allows you to convert a Kerio contact file to a CSV file.
To quickly extract information, there is another extract option.
After the Kerio to CSV transfer is complete, you will receive a log report.
The ability to store the resulting CSV file in any location requested by the user.
This isn't only about the advanced Kerio to CSV converter. A free trial of the software is also available.
This isn't only about the advanced Kerio to CSV converter. A free trial is also available to export selected contacts from Kerio to a CSV file. Check out the section below for further information.
How to Convert Kerio Contacts to a CSV File in a Few Easy Steps
To transfer bulk contacts in CSV files, follow the procedures in the Kerio Mail Server to the CSV converter toolkit.
1: Firstly, Install and run the professional toolkit on a Windows-based computer.
2: Secondly, Start by selecting the Open tab.

3: Select Kerio Files from the Email Servers drop-down choice.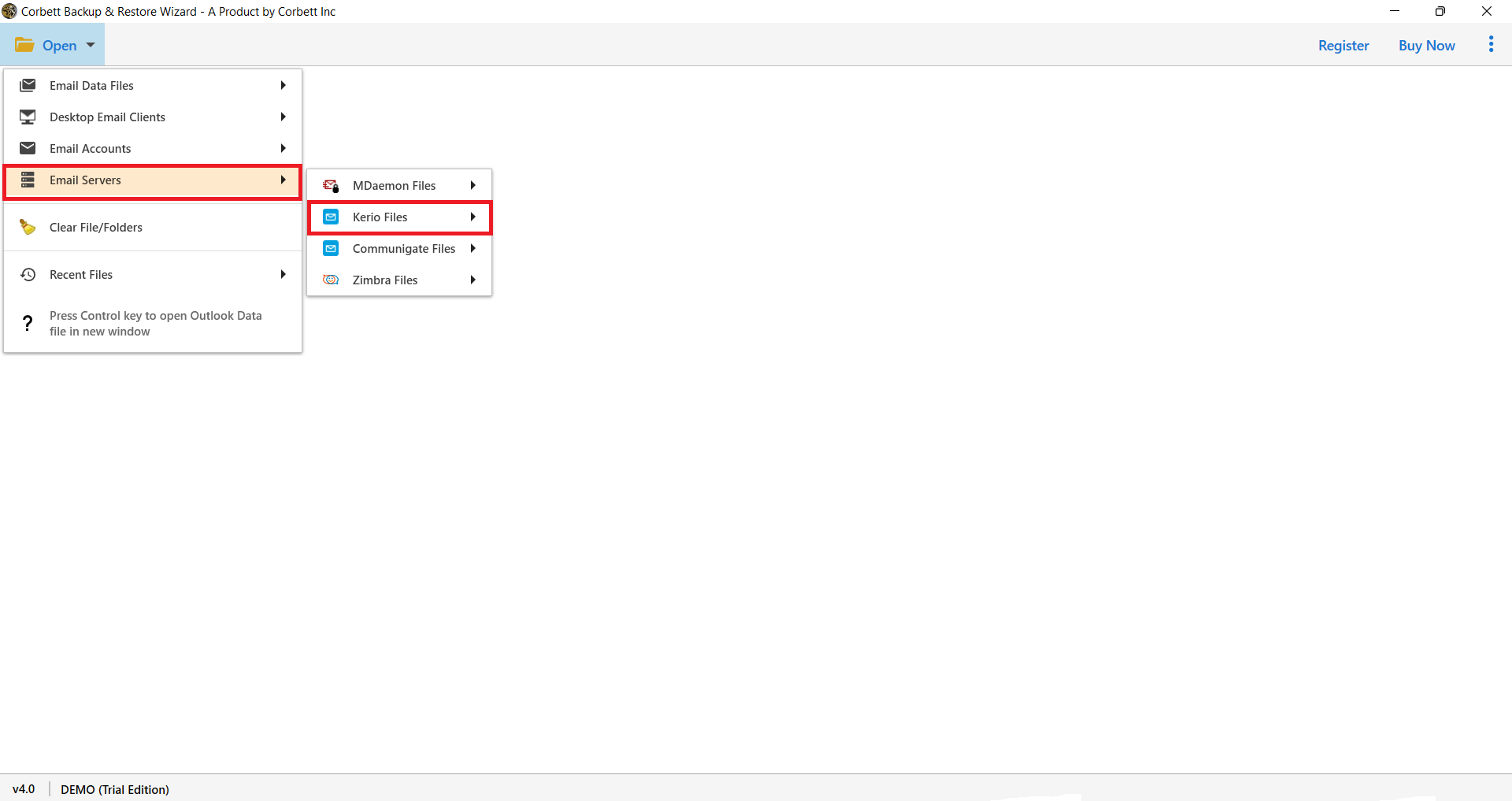 4: To explore Kerio contacts from your system, select Choose File/ Folder. (Select the configured account option to automatically access the Kerio contact file from the profile if the user has a Kerio account setup on the machine.)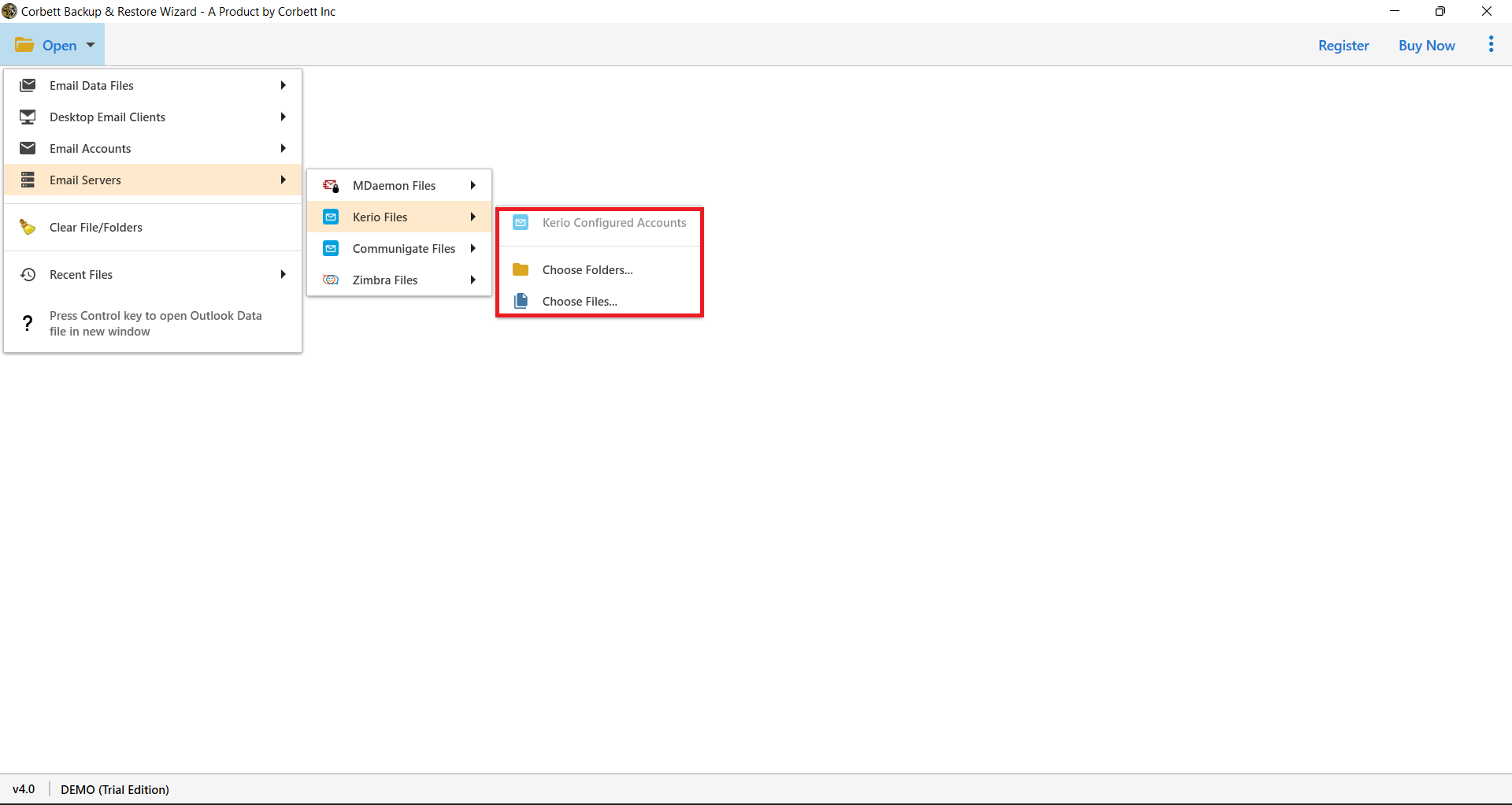 5: The software now analyses the selected contacts file and displays the file and folder in a graphical user interface. To complete the task, tick the box next to the necessary folder.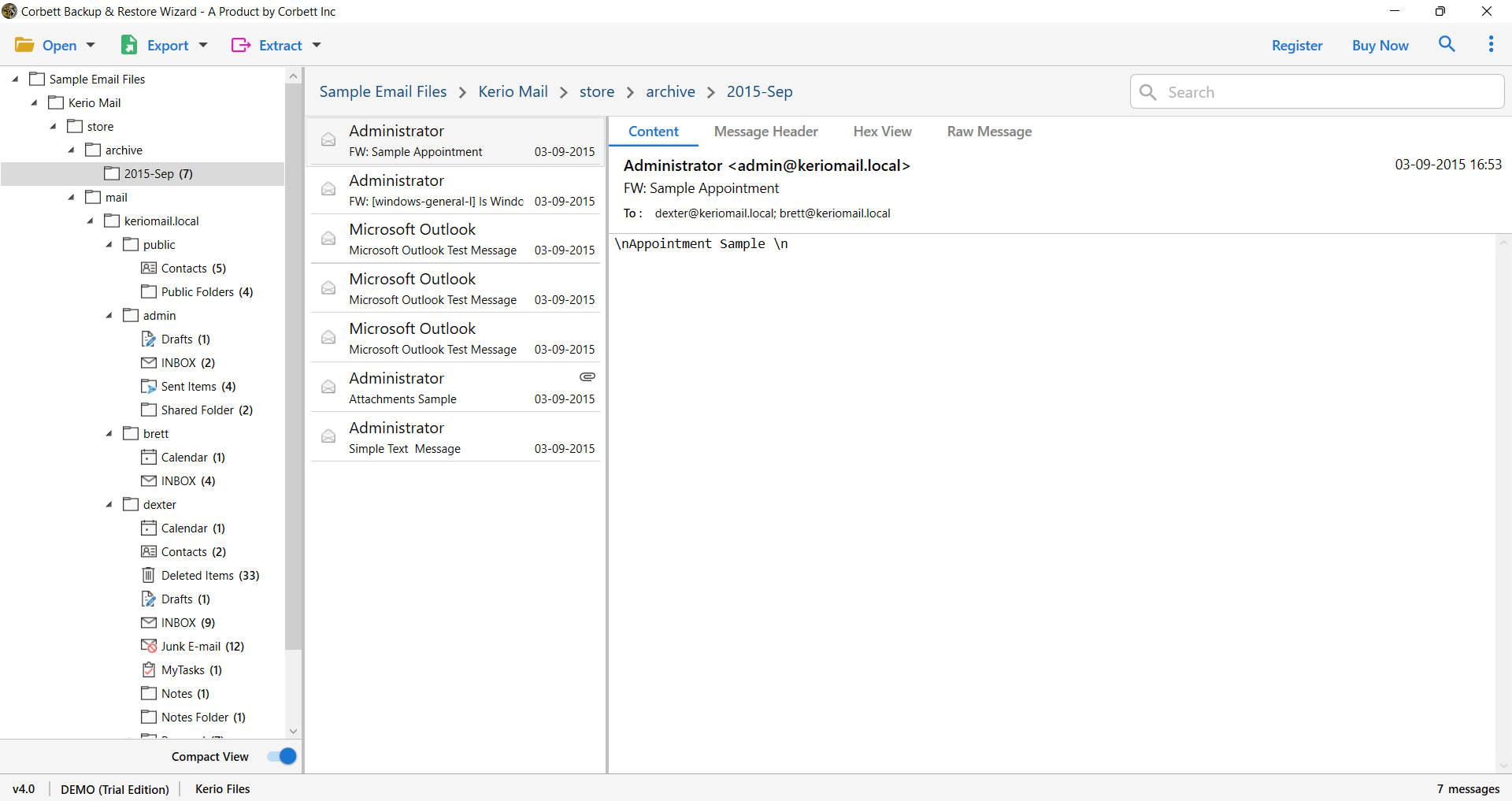 6: Check all of the contacts files on the interface by tapping on the folder. To get the complete view in the special preview window, choose the appropriate contact.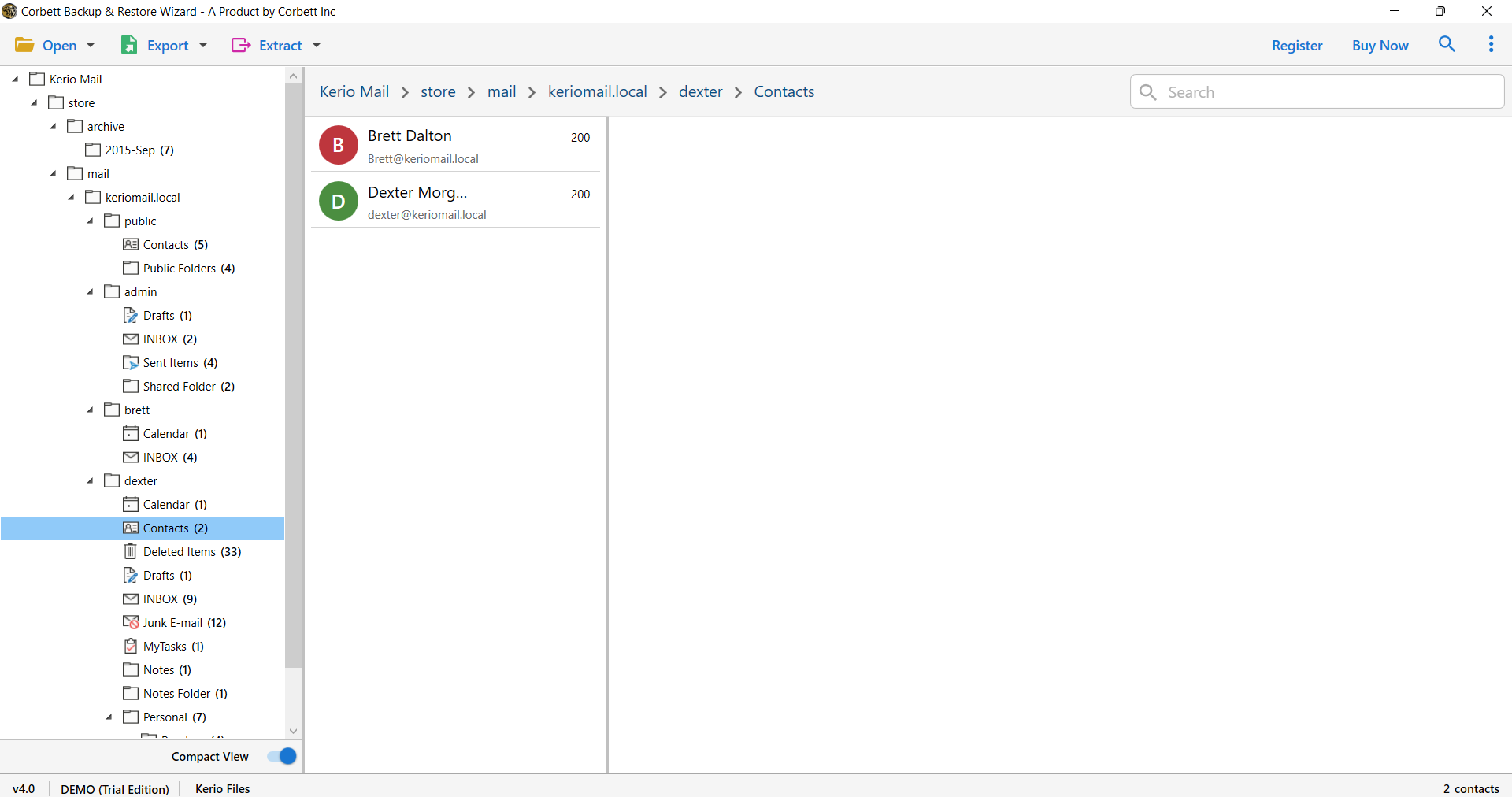 7: After that, go to the Export tab and select CSV to convert Kerio Webmail contacts to CSV.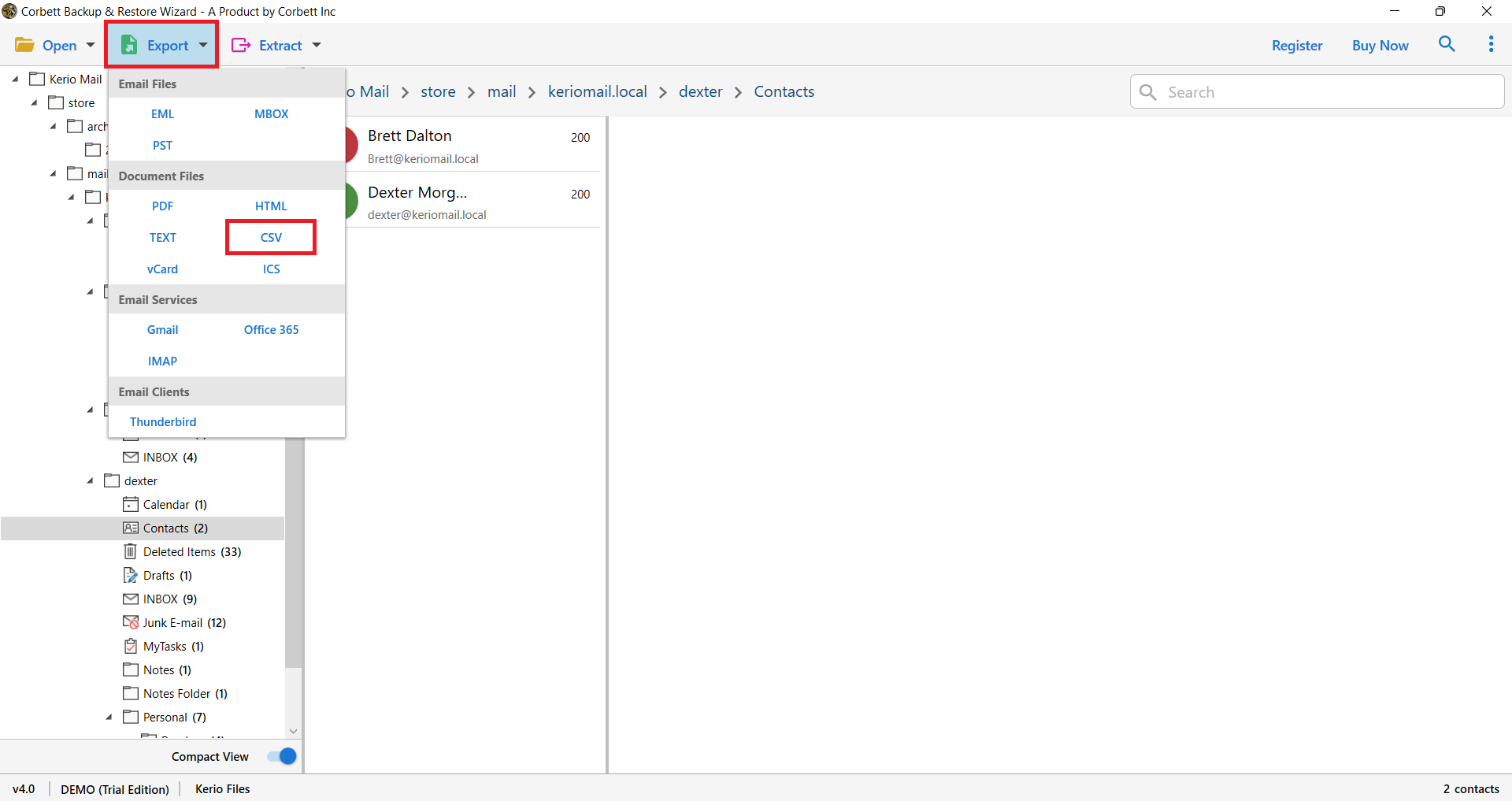 8: After pressing the Save button, the software panel will display a live conversion report.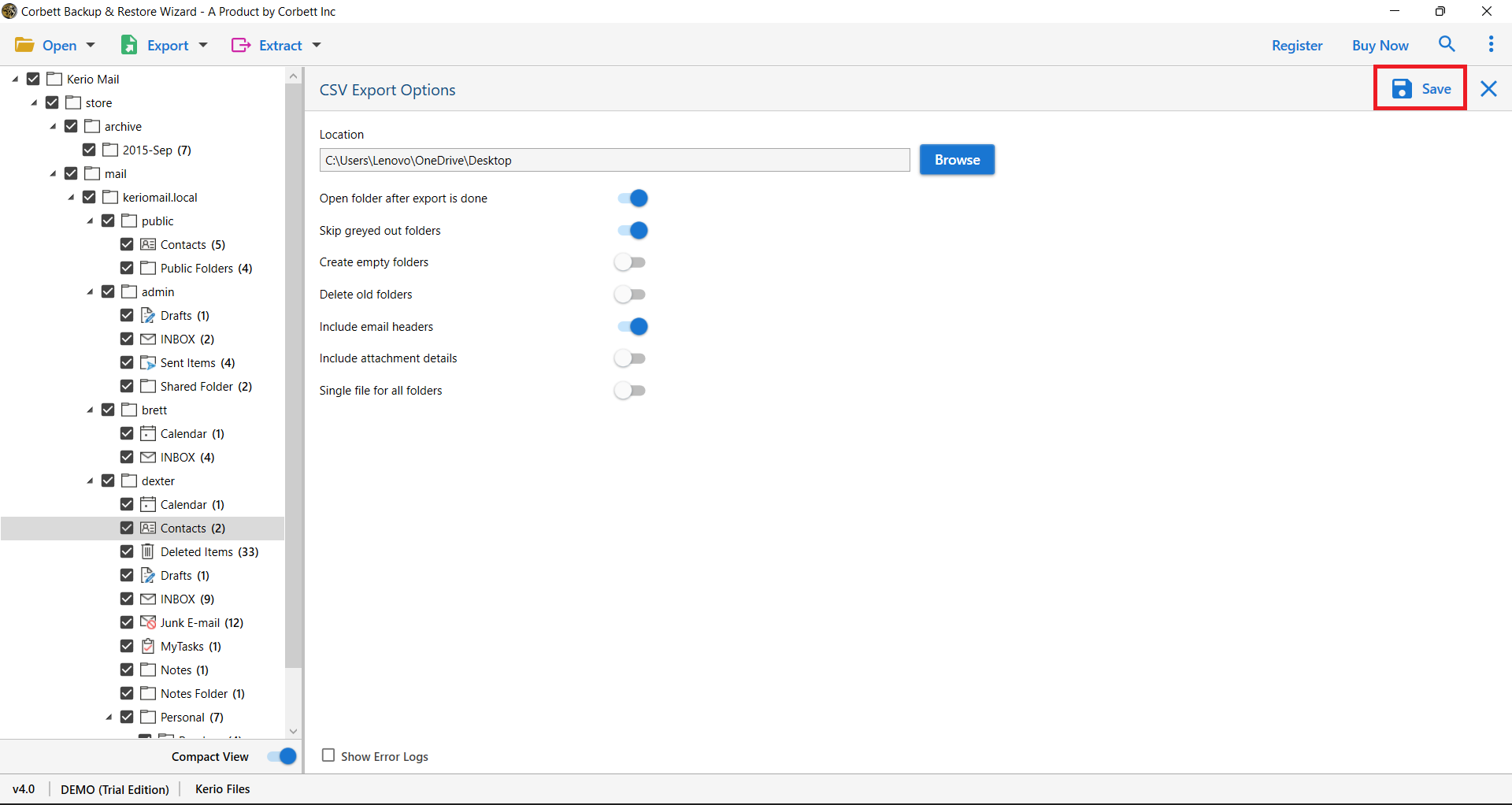 That is all there is to it. These are the basic procedures for exporting all Kerio Mail contacts to a CSV file. Let's have a look at the advanced features of the solution that make it the best Kerio to CSV converter software.
Download the Kerio Connect to CSV Export Tool for Free
Download the trial edition of the Kerio to CSV migration utility on your Windows system to check out the free edition. After that, launch the program and choose the first 10 contact files to convert.
The procedure is simple and quick to complete. The tool generates a successful trial report after it's finished. Users may activate the licensing edition by clicking the Buy Now button and entering the license key to convert Kerio to CSV indefinitely and safely.
One-Stop Kerio to CSV Migration Software's Standout Features
There are multiple important benefits to using a professional solution to Bulk Export Kerio contacts to vCard. Learn more about them by looking at the highlighted points below:
Easy-to-use and context-sensitive interface: The finest software for converting Kerio Mail Server contacts to CSV has an intuitive and user-friendly interface. It ensures that users will not experience any difficulties during the procedure and will receive comprehensive results.
Export a large number of Kerio contacts at once: This software has the capability of converting numerous Kerio contact files to CSV format without losing any data. On the other hand, The bulk option speeds up and saves time throughout the converting procedure.
Multiple Choices for Browsing Kerio Contact Data: There are three options for browsing Kerio contacts in the tool to migrate Kerio Mail Server contacts to the CSV files.
(A)The configured account option is available to users who have a Kerio account set up on the system.
(B)If they don't have an account, they can use the Choose File and (C) Folder options to explore Kerio contact files without logging in.
Maintain Kerio Address Book Properties: When migrating Kerio contacts to a CSV file, the robust and advanced solution retains all contact file information intact. Also, Throughout the procedure, it keeps track of attributes such as phone number, name, email address, picture, and more.
Advanced Forensic Capabilities: The application has a number of forensic features, such as a preview mode for analyzing contact data. In addition, It also offers search filters that allow you to discover specific information from the Kerio contacts file by typing in a keyword. Furthermore, the tool has a separate extract tab for quickly extracting phone numbers, email addresses, files, and other data.
Conclusion
In this article, we'll walk you through the process of exporting Kerio contacts to CSV format using the Automatic method. The software can be downloaded for free to migrate certain Kerio contacts to CSV format. Switch to a licensed version of the Kerio to CSV Converter Tool if you have a large number of contacts on your Kerio data.
Also Read: