What is the Bulk Export Method for Kerio Contacts into vCard Format?
Well, when it comes to vCard, it is the most ideal platform for keeping your contact numbers secure and organized, so if you're using it to save your Kerio Server contacts, this is the greatest choice, and we'd be happy to assist you. As a result, let us assist you in finding the best technique to export Kerio contacts to vCard.
If you have thousands, or perhaps twice as many, contacts and need to preserve them all in one file, vCard is ideal. It is apparent that keeping one file is easier, therefore using this file format might help you a lot with organizing your contact numbers.
As a result, in order to make use of this fantastic tool, you must first export Kerio contacts to vCard, and we provide you with the greatest solution for doing so. So, to get the work done, go through everything quickly.
One of the Best Kerio Contacts to vCard Converter
The Corbett Kerio Migration Tool is a solution that prioritizes your comfort and provides you with one of the most significant benefits in achieving your objective. This software has been used to resolve users' Kerio data migration queries on a constant basis. This software has a lot of features and can convert Kerio server contacts to vCard with ease.
This Kerio contact to vCard exporter is incredibly effective and efficient, and it just takes a few minutes of your time. Yes, this is entirely automated and requires only a few clicks to export Kerio contacts to vCard in seconds.
Now you must figure out where to make those few clicks. We would like to provide you with comprehensive instructions for this task. They go through it thoroughly so you understand how to use this tool to convert Kerio Server contacts to VCF.
How to Export Kerio Server Contacts to vCard in Detail
To begin, click the button below to download the Kerio Contacts Exporter to your Windows-compatible device.
1. Install the utility, then run it and click Open in the first Window

2. Then, from the drop-down box, choose Email Servers and then Kerio Files.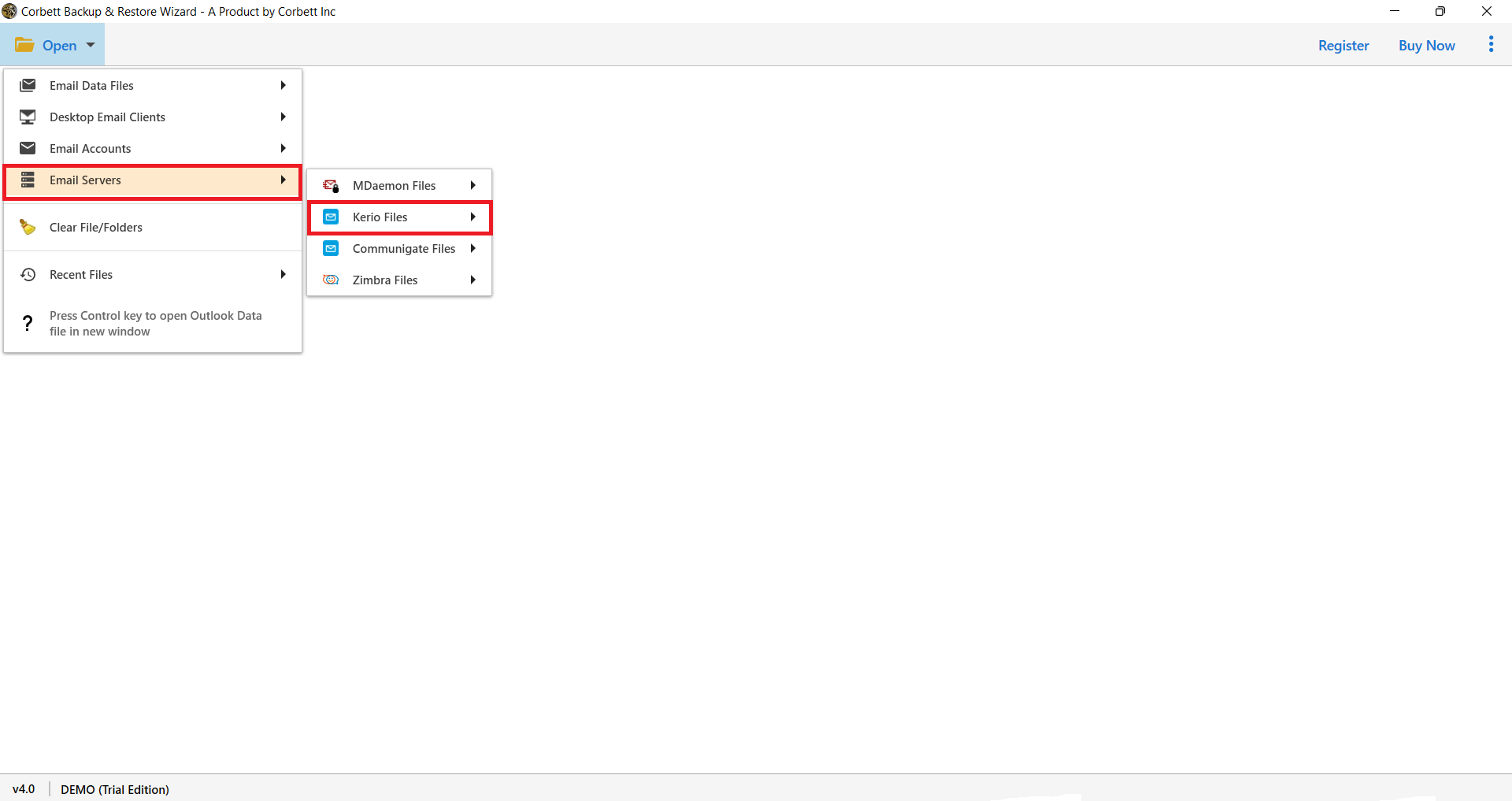 3. The mailboxes of your selected account will now be loaded into the tool's left section. You may export all of the Kerio contacts folders from this screen.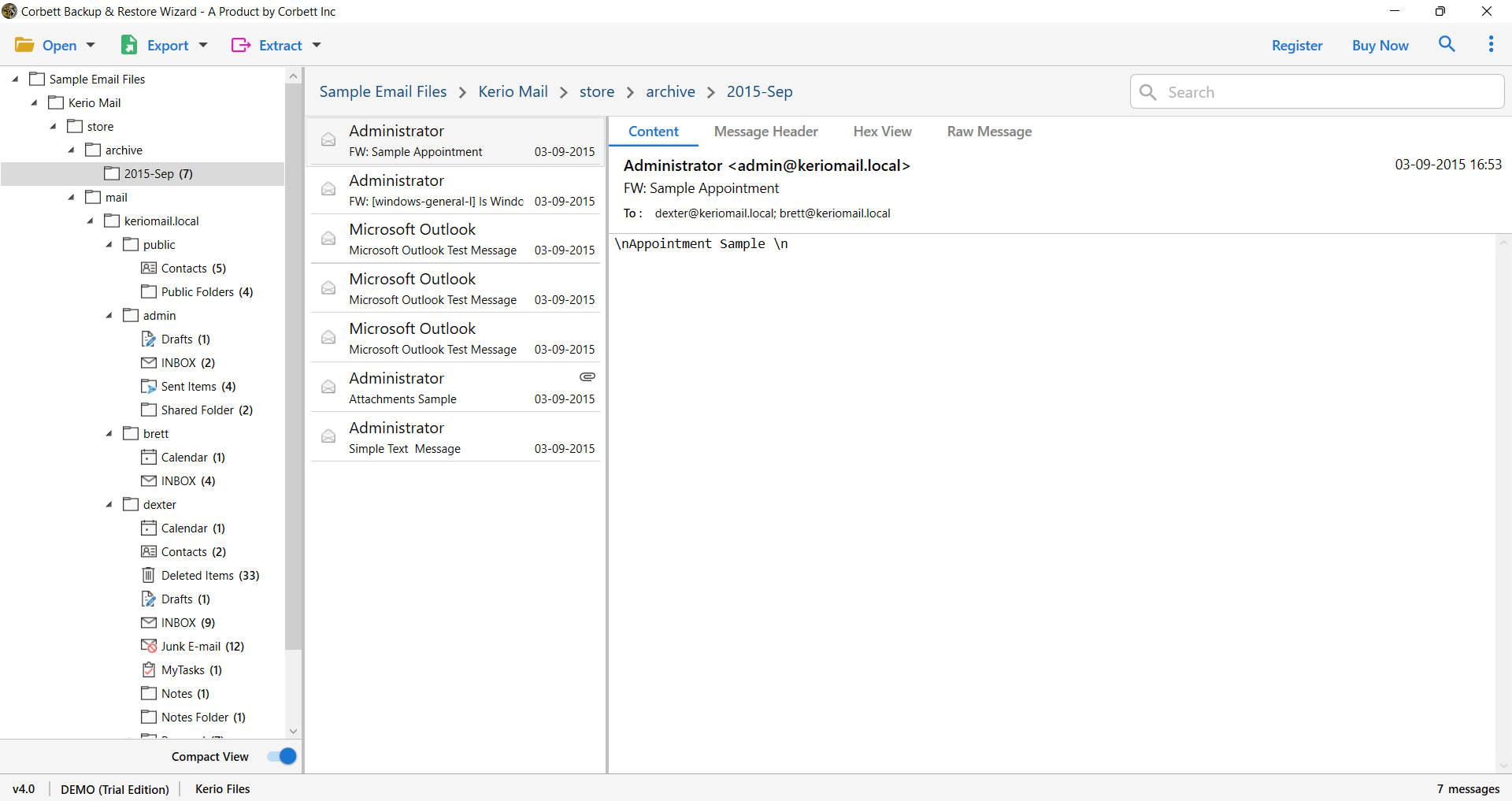 4. Select vCard from the drop-down menu under the Export tab.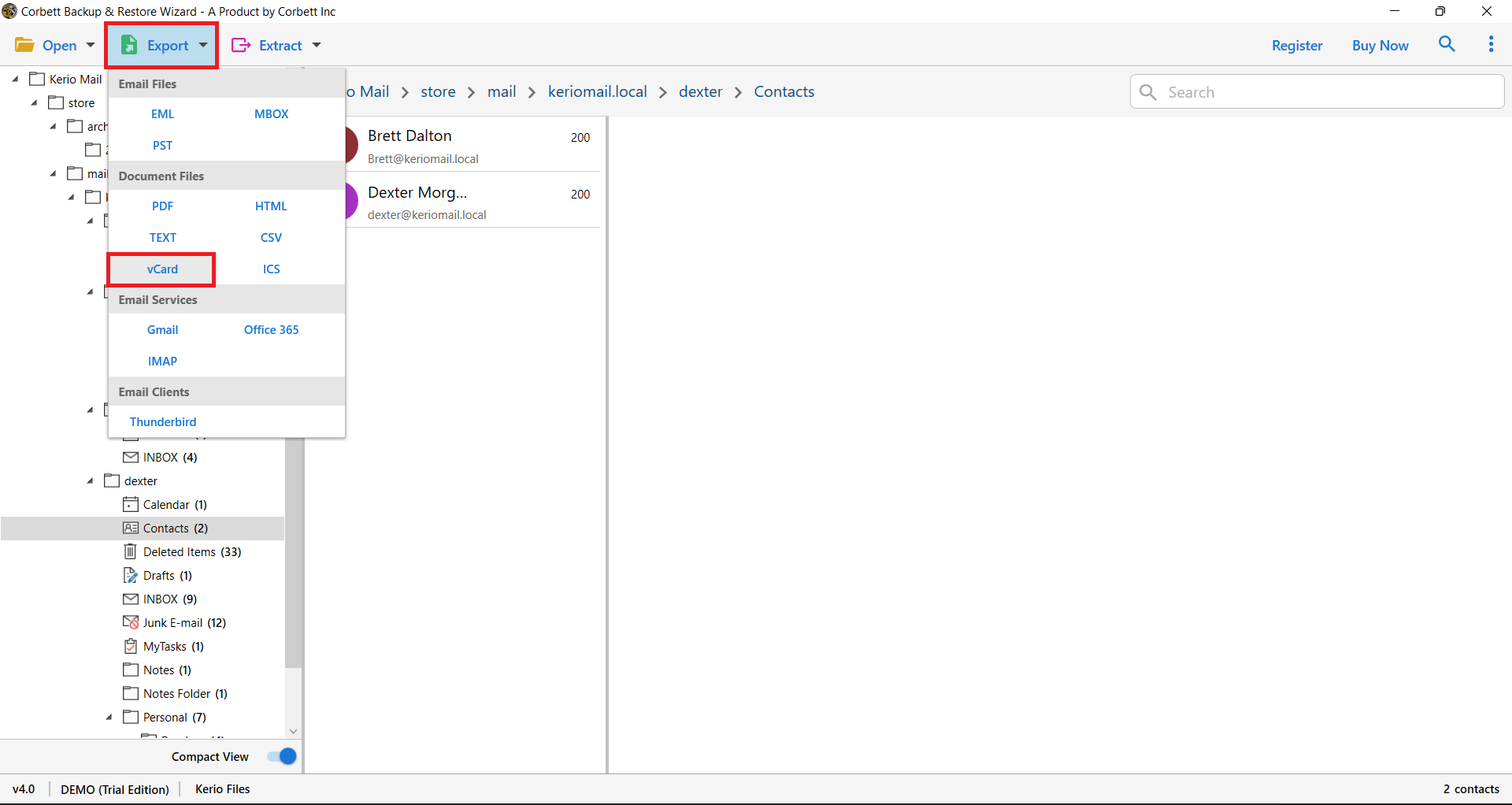 5. Now, pick a location to save the resulting files by clicking the Browse option. You may also choose the vCard file version that best suits your needs. Finally, press the Save button.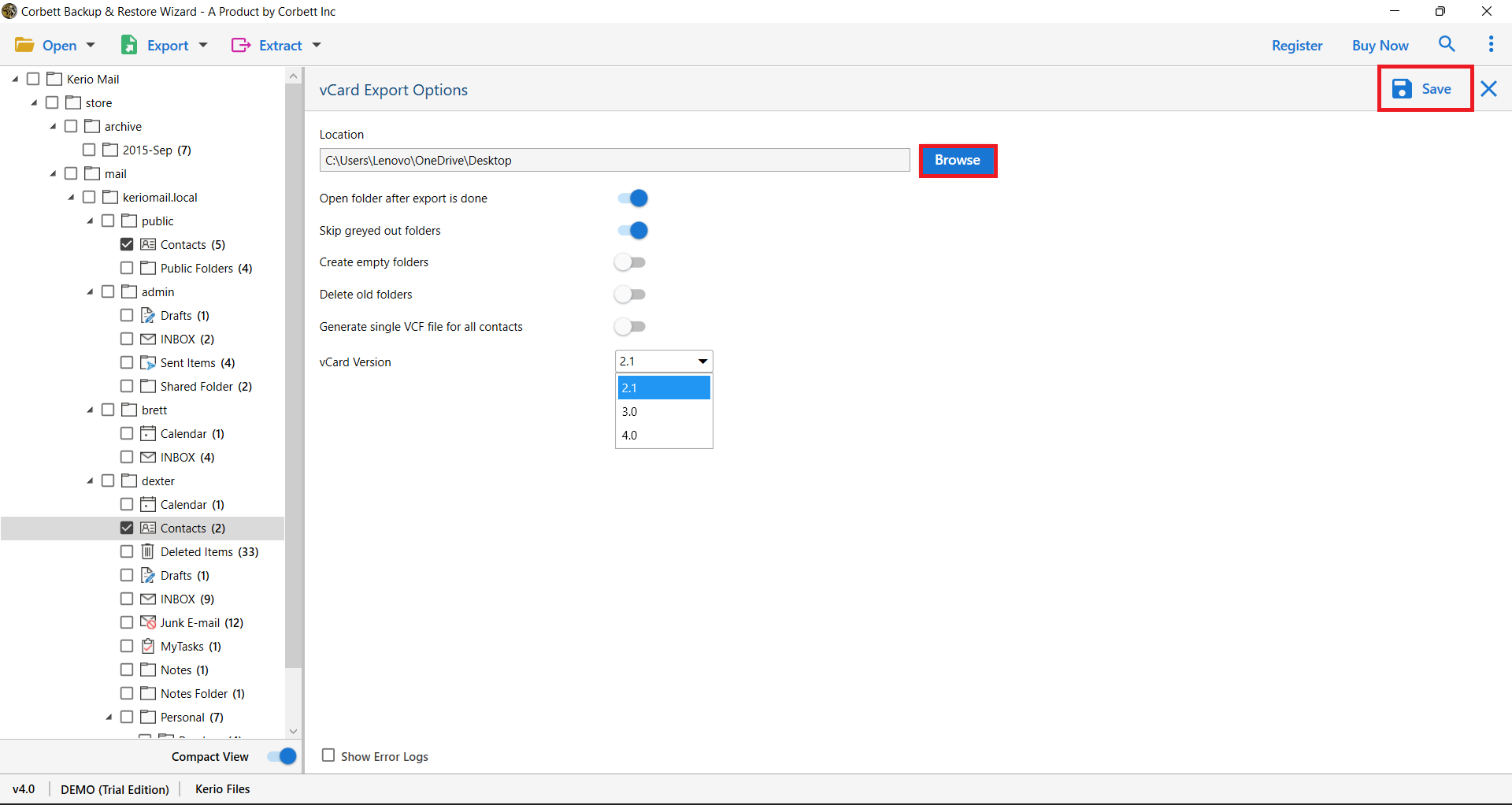 The export has now begun, as you can see. It simply takes a few seconds, and when it's finished, the tool's UI will display information to let you know.
Now that you're familiar with the tool and the steps involved in exporting Kerio to VCF, you can either complete your task or learn more about the tool. We've included a few of the features to assist you to evaluate whether or not this software is necessary for this task.
Check Out Some of the Astonishing Features of this Tool
An easy-to-use interface: This is an essential feature of any software for exporting Kerio contacts to vCard. As a result, this application has the most user-friendly design, ensuring that you will not encounter any difficulties in reaching your aim.
Manually Pick Kerio Data: This application not only allows you to select the configured Kerio account. You may also choose the Kerio files and folders from the device manually. It is not an issue if you are not configured with the account.
Kerio Server Contacts to VCF in Mass: This program enables you to bulk export Kerio server contacts to VCF. This software isn't only for delivering big volumes of information. So, if you have numerous contact folders, you may export them all at once in one process.
Support Multiple Versions: As you may be aware, there are multiple versions of VCF. As a result, this application supports all of them; you may select any of them based on your requirements. Versions 2.1, 3.0, and 4.0 of the vCard are supported by this application.
Kerio Contacts Preview: This advanced email converter tool not only allows you to export Kerio contacts to vCard format, but it also allows you to examine them. If you don't have a suitable application for accessing Kerio contacts and don't have an account set up, you may use this application to do so. It can be used to preview Kerio contacts and other data as supported software.
Browse Storage Location: You have the option of saving the produced files to whatever location you like. You may browse for the destination while exporting Kerio to VCF, so you can pick a location that is fully independent of other data.
These are only a handful of the numerous features available, as stated in the headline. Once you've run the tool, you'll notice that there are a bunch of other features and options that you can use for a variety of reasons, so good luck.
Author's Suggestion
Finally, the Kerio contacts exporter proves to be one of the best tools for exporting Kerio contacts to vCard. This software is simple to use and provides several benefits. There are several elements that might make your task easier and even shorter. As a result, you should use the suggested tool for a better experience and make this work easier.
Related Blogs: