How to Migrate Kerio to Office 365? Here's How to do it!
This blog will teach you the best solution to migrate Kerio to Office 365 account. If you are interested in completing this task effortlessly, then stick to the post and read it thoroughly. Most importantly, here, we will use one of the best Kerio Connect to Office 365 migration tool to complete this process with complete security and safety.
Also, we have seen many enterprise users searching for a way to export from Kerio to Microsoft 365 profile. The upcoming section will discuss the manual and automated solutions to complete this task. So, keep continuing with the post to get precise results.
Table of Contents
A Quick Overview of Kerio Mail and Office 365
Kerio Connect: is a sophisticated Enterprise-class email client that can easily and expertly organize emails, contacts, calendars, and tasks. Because of its enterprise-level functionality, low cost of ownership, and unparalleled simplicity, it is an excellent solution for small and mid-sized organizations. It also offers on-premises, partner-hosted deployment, Kerio Cloud, and Kerio Cloud Private deployment options. Kerio Mail saves and exports email data in the EML file format.
Microsoft Office 365: is a cloud-based service that is designed to meet the needs of businesses, such as reliable security, user productivity, and other requirements. On the other hand, Office 365 includes a user-friendly interface with strong security measures. To secure user mailboxes, Office 365 includes enhanced security features such as anti-malware and anti-spam filtering.
Professionally Perform Kerio Connect to Office 365 Migration
If you want to migrate Kerio to Office 365 without any data loss, then there is only one solution which is to use an automatic tool. An automatic solution provides you with a 100% accurate result. To start the process with the Corbett Kerio Mail Migration Tool to transfer bulk emails from Kerio Connect to Office 365 directly.
This tool was tested and verified by IT admins and experts. In addition, users can try this tool by downloading the free demo version of the utility. The trial edition only transfers the first 10 files and folders from Kerio mail server to Office 365 account.
Steps to Migrate Kerio to Office 365
Install & Run the Software on Windows.
Click on Open > Kerio Connect > Add User.
Preview User Mailbox data with Attributes.
Next, select the export option as Office 365.
Click the save button to migrate Kerio to M365.
These are the quick steps of the software, to know more about the software visit the following section of the blog
Steps to Migrate Kerio Connect to Office 365 with Attachments
To start the process you need to download the tool in your Windows operating system and run it. After completing the installation start the process step by step.
1. Firstly, start with the Open option in the top left corner of your screen

2. Secondly, choose Email servers and select Kerio Files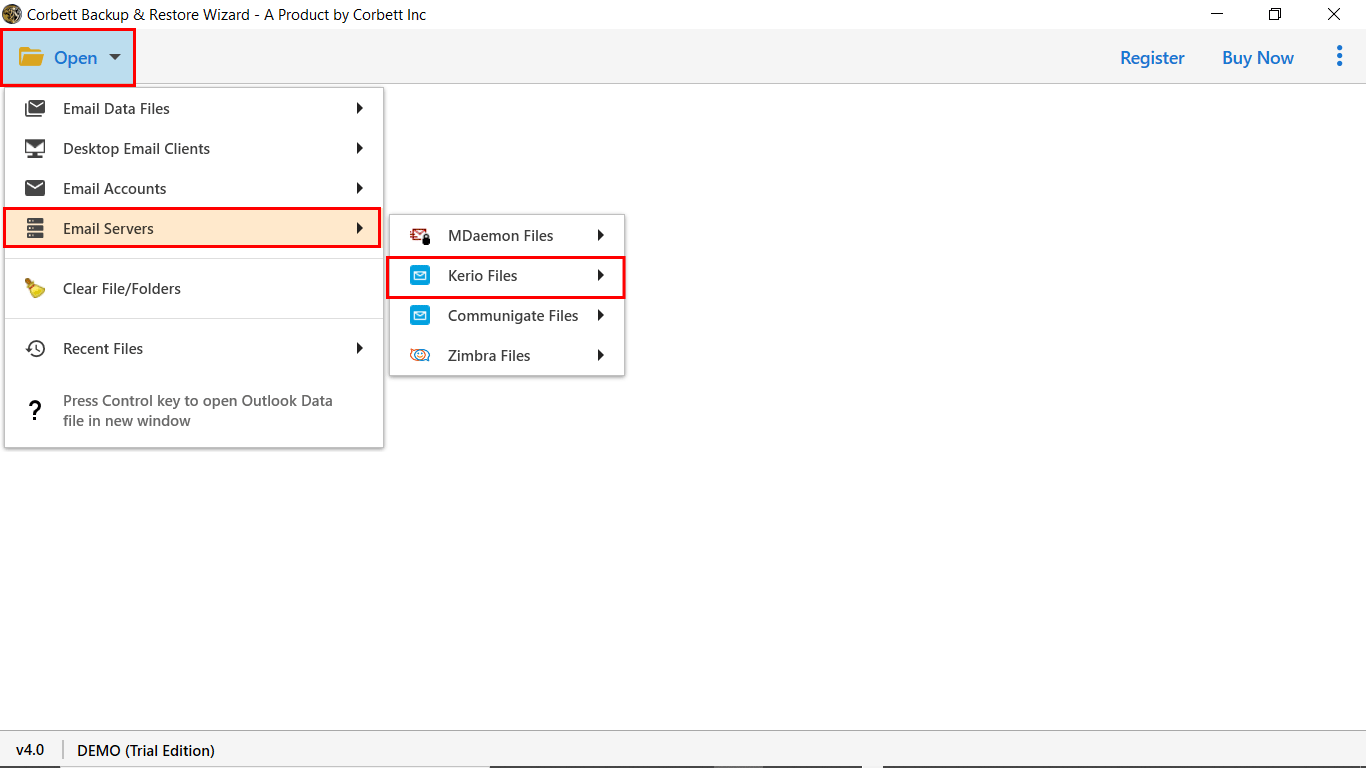 3. Thirdly, Configure your Kerio account or choose a file from your system
4. Afterward, select Export and Choose Office 365 from the drop-down menu, and that's all about automated solution to migrate Kerio to Office 365 account.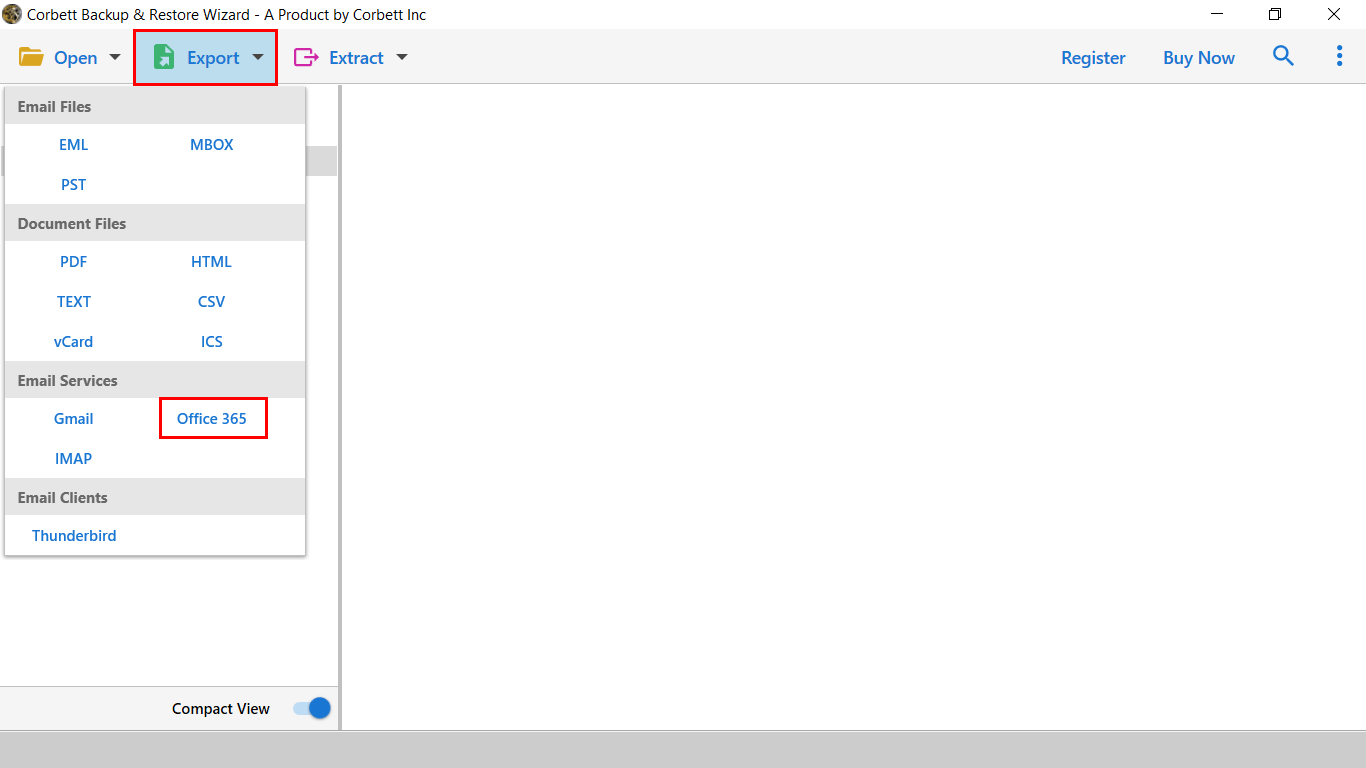 5. Hit Save, you can view the live process of the migration
After reading the steps mentioned above, one can easily perform Kerio Connect to office 365 migration. This automated toolkit enables to migrate Kerio connect to Office 365 without any downtime. Also, The software is an excellent solution for users, especially in terms of speed and precision.
Manual Solution to Migrate Kerio Connect to Microsoft 365 Profile
Users can perform this task manually, but it involves chances of data loss. For safe and secure results, users can go with the toolkit mentioned above, which offers precise and fast results. In the manual solution, we will use Kerio Outlook Connector Tool.
Step 1 Download and Integrate Connector With Windows
Open Kerio Login Panel, and Click on Integration with Windows.
Open Profile Drop-down menu >> Select Integration Option.

Now, the tab on the Download Kerio Outlook Connector.

Step 2 Integrate Connector With MS Outlook Application
Launch Outlook >> File >> Info >> Add Account.
Select "Manual Configure Server Settings" in the next panel and click Next.
In Choose Service window, select the "Other" Radio button, Kerio Connect (KOC Offline Edition).

After performing, these steps, log in to your main account and enter the login credentials to migrate Kerio to Office 365 account.
Prime Features of Automated Toolkit
Advanced algorithms are included in the program to make email data migration simple and efficient. However, the following are some of the advanced features that will be available with this toolkit:
Users can migrate Kerio to Office 365 with unlimited mailboxes with any size limitation.

The toolkit is all-in-one, allowing it to run independently without the need for any modifications to the original code.

Provides a direct option to migrate Kerio Connect to an Office 365 account. The software will only ask users to enter the account login details of the resultant Office 365 account.
The program will export emails, contacts, calendars, and other items from Kerio to an O365 account.
The advanced filter of Kerio connect to office 365 migration wizard allow for selective conversion of Kerio mailbox items.
Users can use the tool to move their emails from Kerio Mail to an Office 365 account.
Kerio Mail to O365 Migration runs on 32-bit and 64-bit versions of Windows 10, 8.1, 8, 7, and many more.
The Final Thoughts
To sum up, we learned how to successfully migrate Kerio to Office 365 account in the preceding post. In conclusion, It is built with a number of sophisticated algorithms that enable users to export Kerio emails and attachments. The Kerio Connect to Office 365 migrator will encrypt all Office 365 account login information and will not store it in its database.