Kerio to Gmail Migration With Attachments – Complete Solution
Searching for Kerio to Gmail Migration? Let us guide you to the best solution to accomplish this process with one of the reliable ways. To migrate Kerio mail emails to Gmail with attachments is a complex process.
In this blog, we provide the trusted solution with proper images and steps to guide you the best from our side.
Kerio is an email, contact, calendar, and contact management software that allows users to send and receive emails. In January 2017, GFI Software acquired Kerio, which was founded in 2001.
Easiest Way to Kerio Mail Server to Gmail Migration
Understand the query of Kerio to Gmail Migration? Kerio Mail saves its mailbox data in an EML file into a folder. So the question is users need to migrate or transfer their EML files into the Gmail account. And there is any manual or direct way available?
As per my knowledge that there is no manual method available in Gmail to upload Kerio mail emails to Gmail Account.
Moreover, there is only one way left which is an alternative solution i.e. Corbett Kerio Mail Server Migration Utility. This tool is specially designed for needed Kerio users who are looking for a reliable way to transfer Kerio emails to a Gmail account. Use this software for Kerio to Gmail Migration along with attachments, and mailbox folder into Gmail account.
Important Note: .eml is the file type used by Kerio Connect for storing mailing data. The path is C:\Program Files (x86)\Kerio\MailServer\store\mail\yourdomain.com
Here are the Steps to Export Kerio Emails to Gmail Account
To use this tool users must have the Windows Operating System to install this utility. Because this tool is currently available for Windows 10, 7, 8, 9, and all below versions.
1: To explore the tool install and run. After downloading open the utility and hit the same Open option in the top left corner of the first appeared tool's Window.

2: After that select Email Servers from the drop-down options. And hit Kerio Files.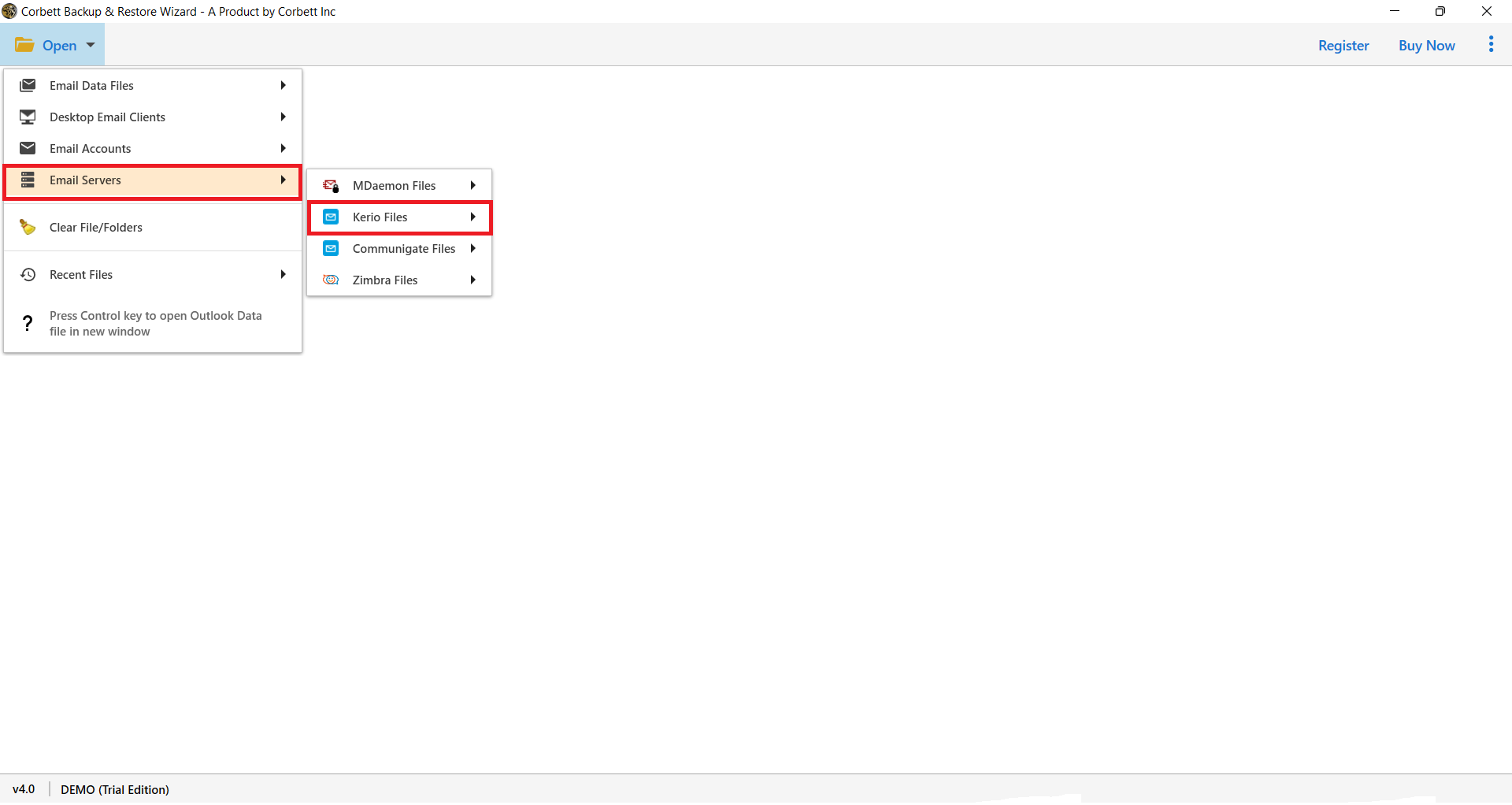 3: Now, the tool provides you with three options: Choose Files, Choose Folders, or Configure Kerio Account. Choose the option that best suits your needs.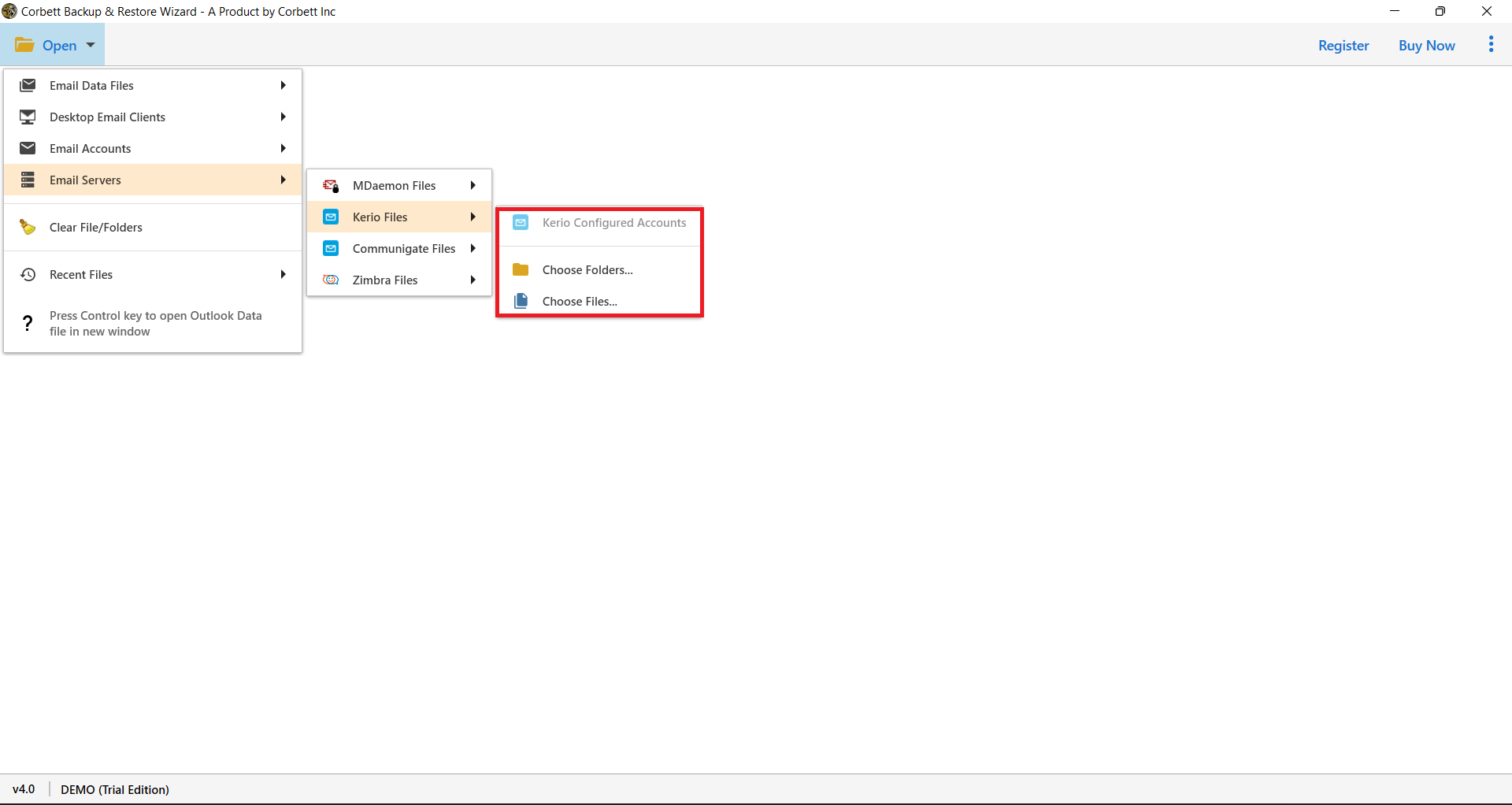 4: After the tool starts uploading Kerio files & folders into the Software. You can preview the emails into various options.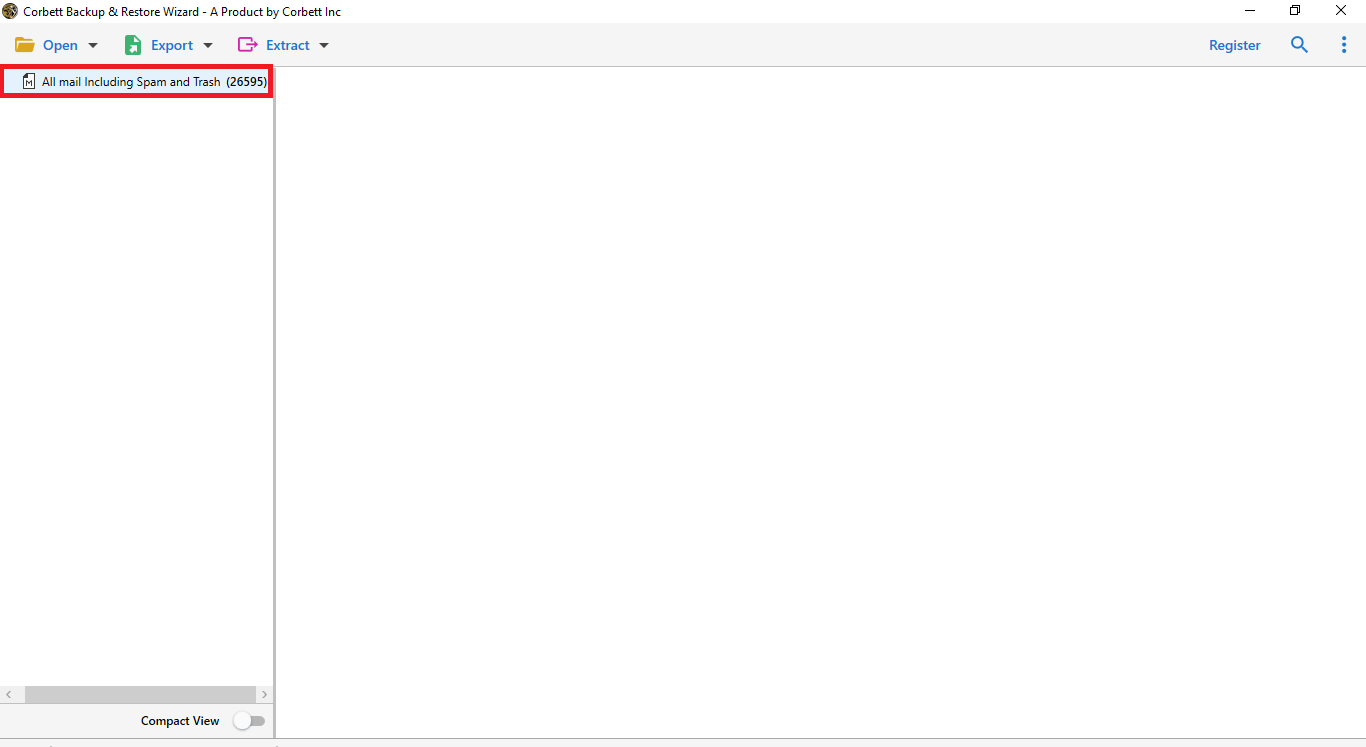 5: To start the process hit Save and view the live Kerio to Gmail migration process.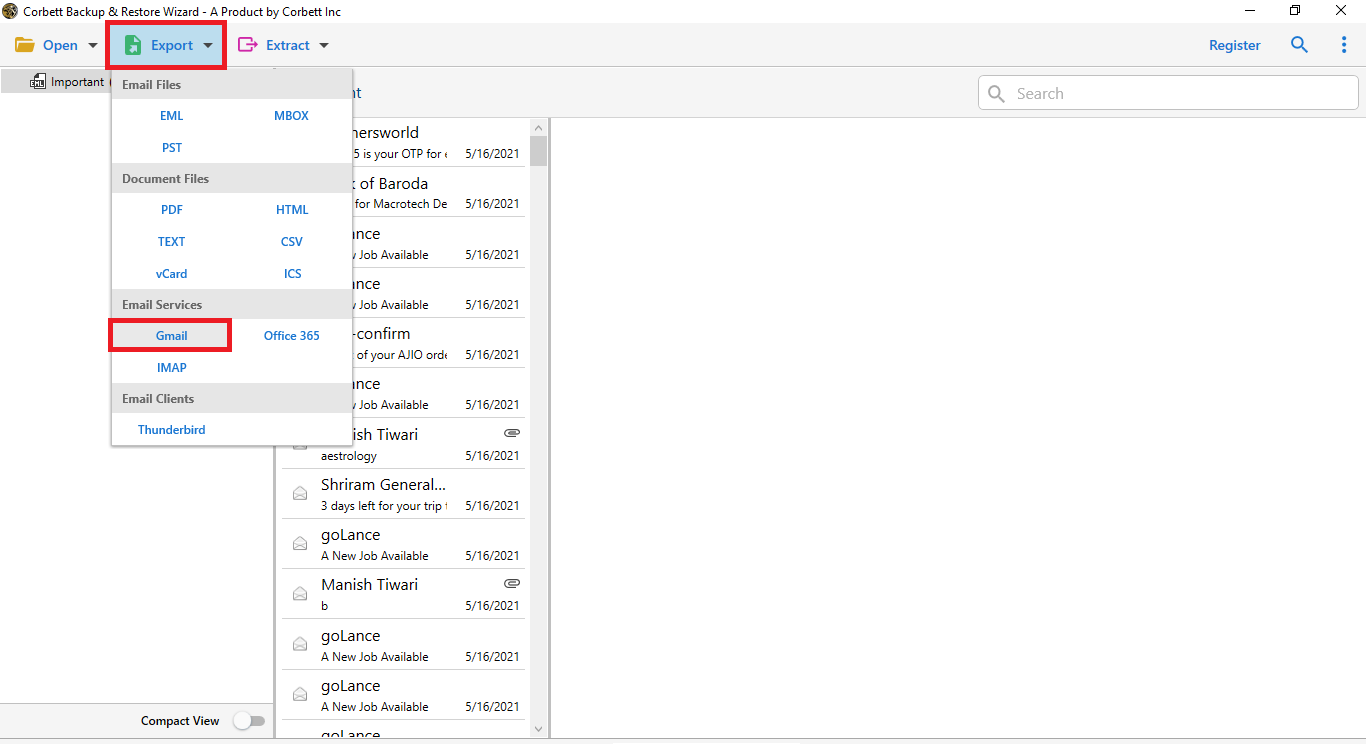 6: In the end, the tool shows you a successful message and the option to Open Gmail directly to view migrated emails.
Why Choose Kerio Migration Tool to Migrate?
This tool helps you unconditionally and removes your all fears of data security and safety. With a variety of features, any user can download and try this tool without any difficulty.
Advance Emails View Option: As per our research our developer designed this tool for every user whether they are technical or non-technical. This tool is the best fit for all users. Along with an email preview, this tool enables you to view emails into various options such as Content, Message Header, Hex view, Raw Message.
Maintain File Structure and Folder Hierarchy: In many situations, where the user maintains their data and needed to export it into a different email client. They face the issue of data change in the end result. But this tool ensures you keep your data unalter during and after the migration.
Selective File and Folder Migration: With this Kerio to Gmail migration tool, you can select the required files and folders from the Bulk Kerio data. Many users don't want unnecessary data from their Gmail account. This option helps users to maintain their data size.
Migrate Kerio Emails Without Size Limitation: If you have bulk Kerio emails and wanted to export them all to Gmail then there are no restrictions. Users can purchase the full version of the tool can perform the task without limitation.
Direct Kerio to Gmail Migration: Without wasting any more time you can migrate Kerio mail to Gmail directly. With an advanced algorithm of this tool, it wouldn't take much time to upload your Kerio mails into the tool-less than a minute you can start the migration.
Final Thoughts
As per my view, you understand every step of Kerio to Gmail migration without any hassle. A detailed steps and tool's screenshot helps you a lot in the process of migrating Kerio mail to Gmail. If you face any difficulty in the process of Kerio to Gmail Migration you can directly contact our support team to get help.
Also Read: