Best Solution to Extract Email Addresses from MailBird
In today's digital age, email is an integral part of everyone's life. When we go from a physical to an online form, our lives appear to be much easier and simpler. However, there are no limits to what you can do in online mode. I'm not suggesting there are only limitations; there are a plethora of benefits. In this blog, we discuss how to Extract Email Addresses from MailBird.
Many people are searching for a way to extract email addresses straight from Mailbird emails. So, in this article, users will learn how to extract email addresses from Mailbird files.
There is no method to extract email addresses from Mailbird manually. Users must select an automated method for completing the task. This user guide will provide you with the finest recommended solution from IT professionals and experts.
Recommend Reading!
User Scenario
"My name is Marin, and I'd want to introduce myself. I used to own a bakery store, but after my marriage, I closed it. Now, three years later, I want to reopen it, and I need the email addresses of my clients so that I may send them emails or inform them that my bakery shop has reopened. How can I discover their email addresses because they are in bulk?"
As you have seen from one of our user queries. we have numerous queries; each person has his or her own set of issues and they all seek a solid solution.
So, to overcome all of these issues, we'll recommend you an automatic tool that can solve all of your problems.
MailBird Email Address Extractor to Save Bulk Email Addresses
Software by Corbett Email Address Extractor Tool allows you to directly extract email addresses from Mailbird files and folders. Any user can only make use of this tool. Whether the user is technically savvy or not. This tool's graphical interface is basic and straightforward to use.
Many users find this program to be extremely user-friendly and simple to comprehend. Options that are simple to understand and technical terms that are easy to understand are very beneficial to the user.
This program is only compatible with Windows-based operating systems. This extract utility can be used by anyone with a Windows computer.
Steps to Extract Email Addresses from MailBird
Download the application and run it in your Windows OS to start the export process
1. Select Open to view the next options

2. Choose Desktop Email Clients and Select MailBird Accounts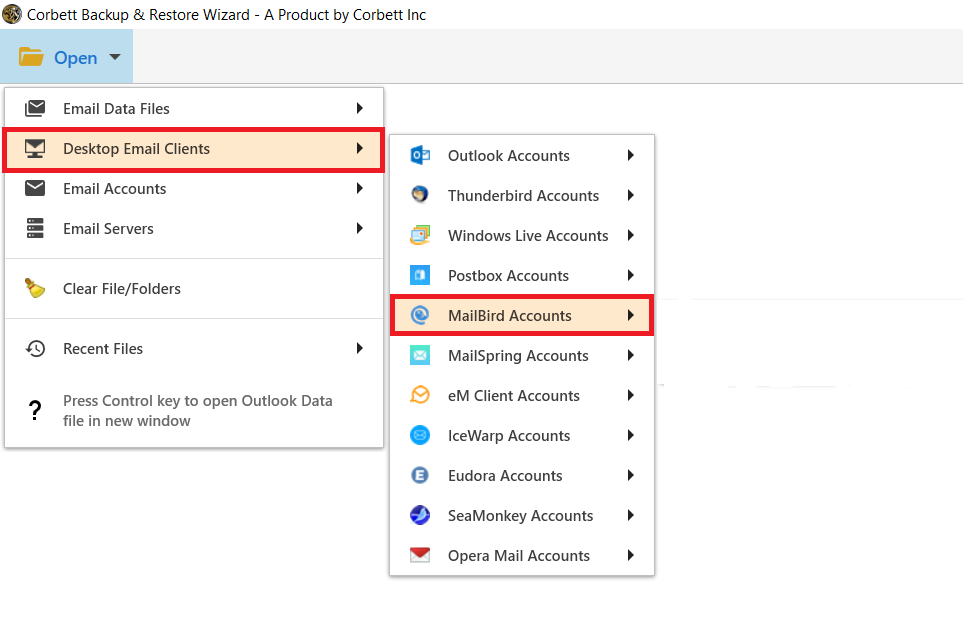 3. In case you have the MailBird account in your system you can directly configure it in the tool or can do it manually.
4. Or can transfer MailBird Files into the tool and can perform the activity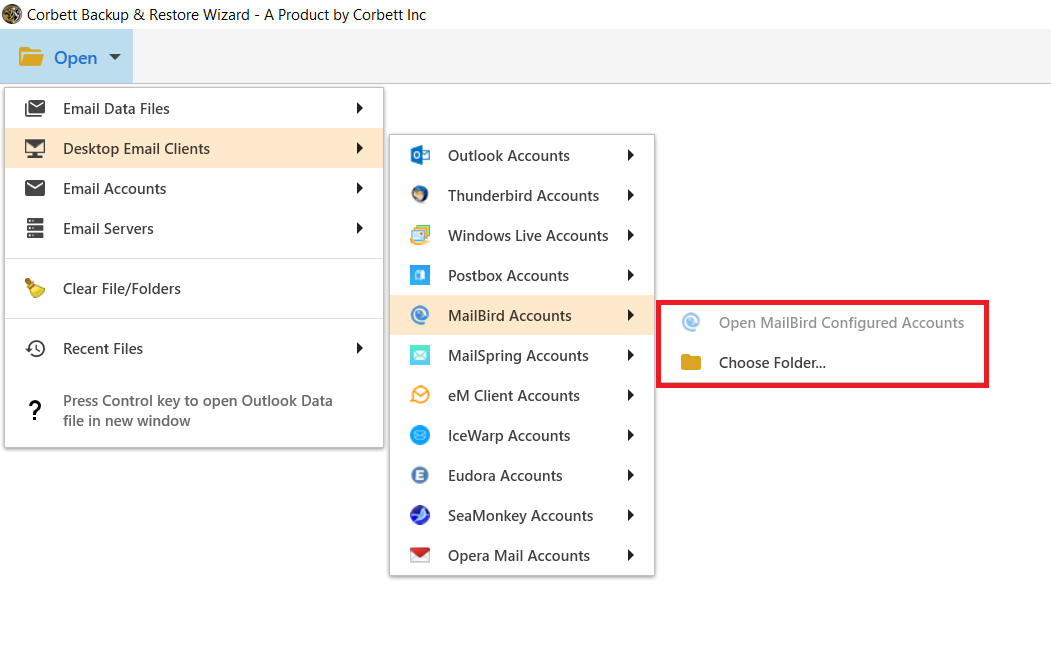 5. After that Select Extract Option and choose Email Addresses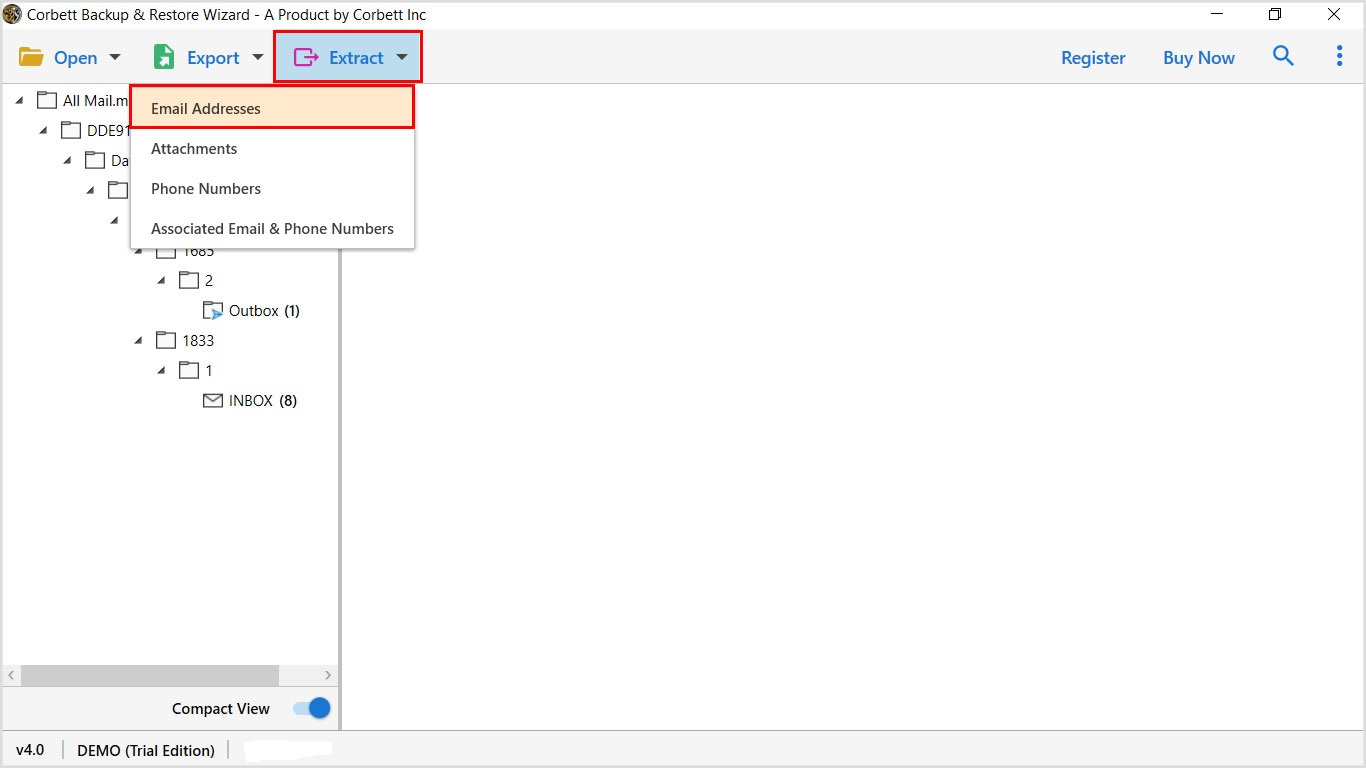 6. Then Extract Email Addresses option Window will open and you can enable the options as per your requirement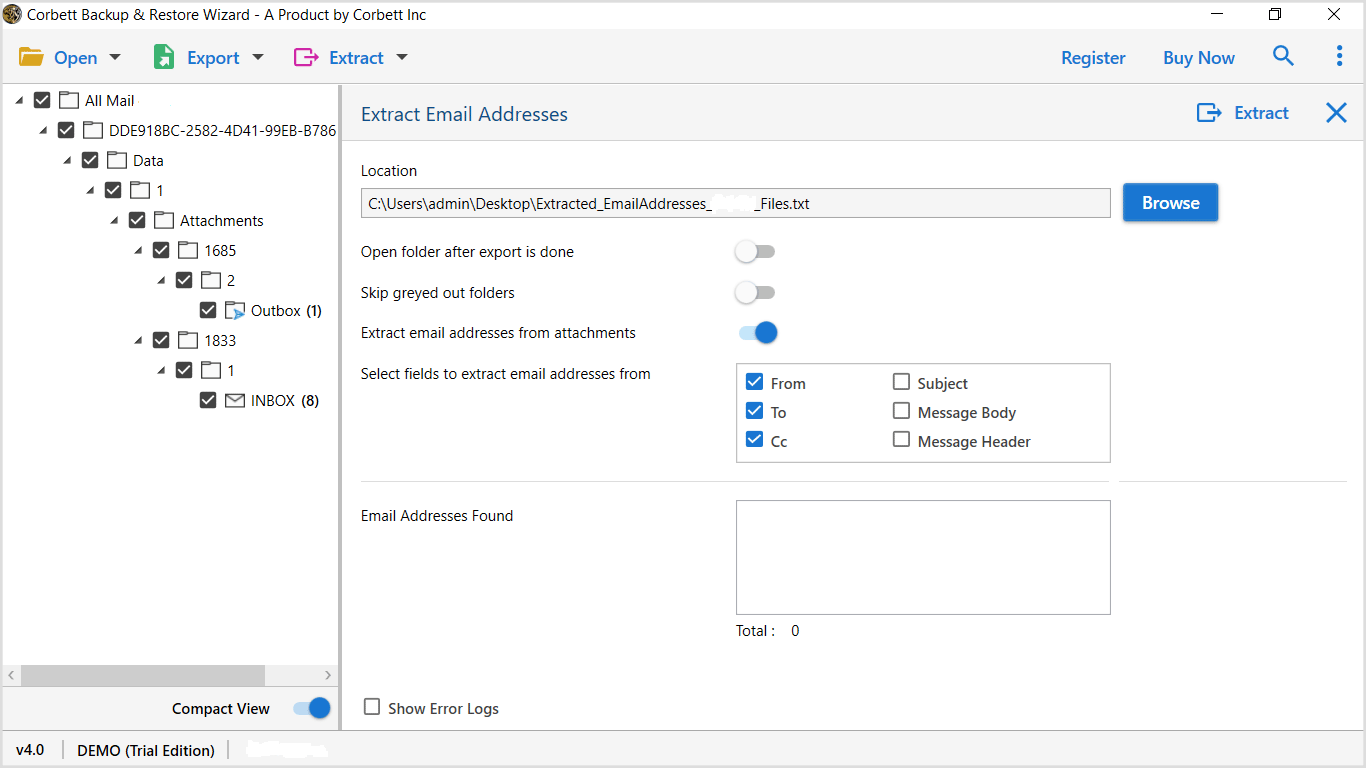 7. Hit Save to start the extract process and you can view the live export process.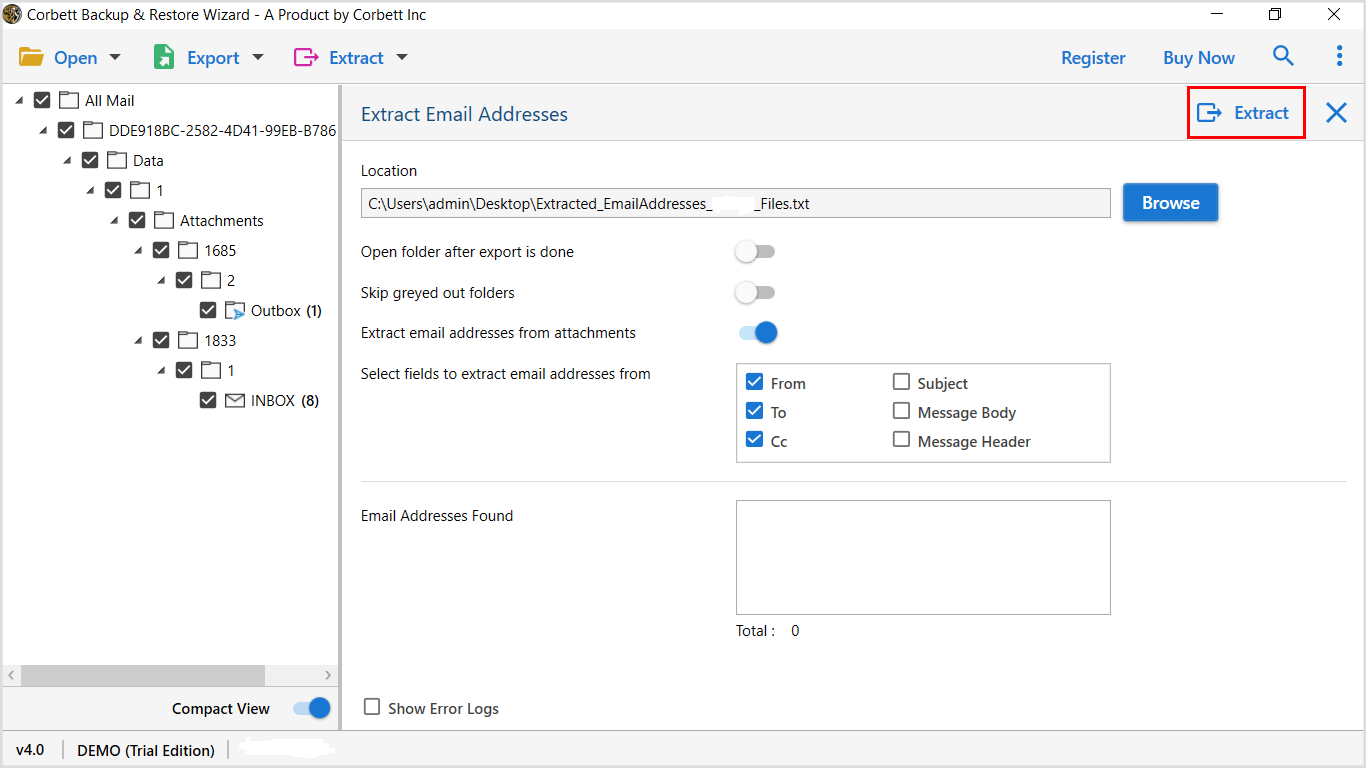 Prominent Features of this Email Address Extractor Tool
Email Addresses from the Mail Server
The Email Address Extractor Tool works with any email data file to recognize and extract email addresses. It can also extract email addresses from the body of an email message, the email header, and email attachments.
Get the Mail ID from the Attachments
The email address extractor application has the ability to extract email addresses from attachments, which is a unique function. It reads and extracts email addresses from information in attachments like PDFs and Word documents. Simply download the software and run it on a Windows computer.
Compatibility of Desktop Email Clients
This Email Address Extractor Software can extract several email addresses from an email client on your local PC that has previously been set up. Accounts for Outlook, Thunderbird, Windows Live Mail, Postbox, MailSpring, eM Client, and IceWarp are all supported.
Show Email Addresses Discovered
After extracting, the "Email Addresses Found" section displays a preview of email addresses recovered from messages. This will display all of the emails addresses that have been retrieved as well as the overall number of addresses before they are saved locally.
Suggest Reading!
Author's Conclusion
The best answer on the internet is provided in this blog post. This tool is the only one that can guarantee you a positive outcome. Many users adore this application and find it really useful; the users' main attraction is the graphical interface.