Extract All MailBird's Attachments – Complete User Guide
Many users want to know how to extract email attachments from MailBird in the correct way. There are numerous blogs on the internet, but none of them offer a comprehensive solution. As we'll show you later in this article.
Please read the article from beginning to end. Because in this article, we'll show you how to quickly and easily extract MailBird email attachments with just one click.
There are two methods for extracting email attachments in bulk from MailBird emails.
If you are also looking for a solution to Export Mailbird Emails to G Suite. Then, read the article and understand the best solution to export emails directly without the need for technical knowledge.
Why Would You Want to Extract Attachments from MailBird Emails?
Many MailBird users are looking for a reliable method of extracting and saving email attachments from their inboxes. Extraction of email attachments from MailBird emails is simple.
When it comes to extraction, the majority of users have only one problem.
Users may easily extract Email attachments from MailBird emails so that they can open each one individually and download the attachments to their computer.
However, how may bulk email attachments from MailBird emails be extracted? There is no guarantee that the attachment data will be secure.
Users desired to extract and store email attachments from their MailBird email accounts for a variety of reasons.
How to Extract and Save MailBird Email Attachments
There is two way to extract and save email attachments from MailBird emails.
The first one is to extract them manually from the MailBird account. And the second way is to perform the process with the automatic tool with 100% security and safety of your data.
Both the methods are best in the user's situation. If a user is using the MailBird account for personal use they can choose the manual way to extract and save single email attachments from the Email.
But if a user is using the MailBird account for business use and has bulk email attachments then they should go with the automatic way. Because the automatic solution provides various options and features along with extraction like Save Mailbird Emails as PDF.
How to Extract Attachments from MailBird Manually For Free
To extract attachments manually. You have to login into your MailBird account and follow the steps carefully to perform the process.
There is an article by MailBird Support. You can read that article to perform the Manual steps.
The mailBird support team wrote this article and mentioned each step with a screenshot. Users can easily understand and perform the process without any difficulty. But remember this process is only for an individual person. Who wants only selective email attachments from MailBird emails.
Extract Bulk Attachments from MailBird Emails
Many MailBird users are seeking solutions on the internet. How to extract bulk email attachments from Mailbird directly with data security. There are many concerts of a user like:
Whether my Attachments will be extracted from emails that contain images, documents, contacts, and many more.
There is only one solution for a user to remove their all concern which is non-other. CorbettSoftware Email Attachments Extractor tool to easily extract and save your email attachments from the MailBird account directly.
There are very simple steps to do this extraction process. Any user can perform the process in this tool without any technical knowledge. A simple and unique user interface helps the users to perform the process within a limited time.
Steps to Perform the Process With the Tool
Download the tool from the Download Now button and Install it on your Windows OS
1. Select the Open option in the top left menu bar

2. Hit on the Desktop Email Clients and choose Mailbird Account
3. Choose Folder or directly configure your account in the tool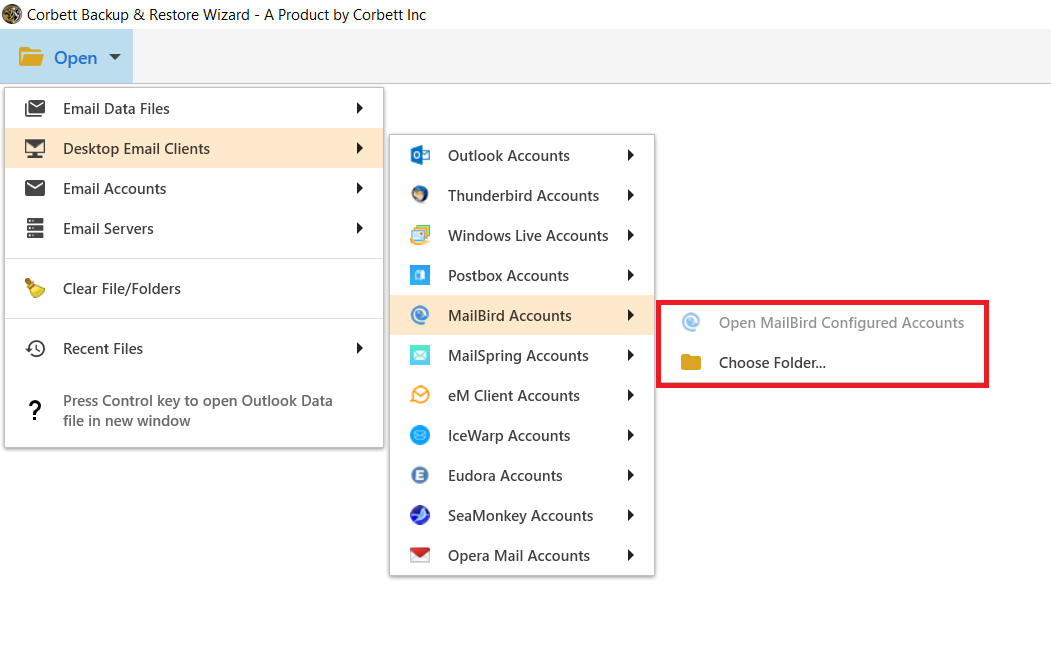 4. Select the Extract option and select Attachments from the drop-down options
5. Hit Save and start the extract process
Complete the step-by-step direction given above. With the help of this, you can easily extract and download the attachments in bulk from the Mailbird emails.
The Benefits of Using a Professional Extraction Tool
If you choose something, you should consider all of the benefits associated with it on a fundamental level. The main functions of utilizing the software should be hidden.
Data security should be considered when extracting attachments. When it comes to gathering information and statistics, the software is fantastic.
Move Carefully: This contraption will work for you if you are knowledgeable about how to extract attachments
Quick and to the point: Even if you're a user with limited information. The tool can assist you in completing the attachments for your trip. Basically
There have been no modifications to the main records: When you progress through the extraction cycle, you will face plenty of dangers. Regardless, employing the software will protect you from any data loss that may occur during the extraction process.
Conclusion
In this blog, we mentioned the best solutions to extract email attachments from the MailBird email. Both the methods are useful and can be performed by users without any hassle.