Extract Email Addresses from MBOX File – The Complete Guide
If you need to extract email addresses from the MBOX file, it's the perfect way to let you do that. In this article, I will show you the simplest trick to extract email addresses from MBOX quickly and easily.
In today's world, email is an essential tool to get your work done. But when it comes to organizing the emails, how can you find the email addresses?
Email address extractor is a tool to extract email addresses from the MBOX files. MBOX is a file format used to store email messages that can be extracted to be worked on by an MBOX file converter. The tool can extract the Email addresses in the MBOX file to export them through multiple formats.
There is no manual way to extract an email address from MBOX files. Users have to choose the Automatic way to complete the process.
How to Extract Email Addresses from MBOX Files – Best Solution
Use CorbettSoftware Email Address Extractor to extract and save. With this tool, users can easily extract various email items such as Email Addresses, Contact Photos, Attachments, Phone Numbers, and many more.
This utility has a very fabulous graphical interface. Any user can understand the interface of the tool and operate it easily. Understand the steps of this tool to perform the MBOX email address extraction process.
Steps to Extract Bulk Email Addresses from MBOX Files/Folders
1. Install and Run the tool in your Windows Operating System
2. Select the Open option in the upper left address bar section

3. Choose Email data files from the popup window
4. Select MBOX files and Browse the files/folders

5. The tool move your data into software

6. Select Extract option and Hit Email Addresses

7. Enables Multiple Extract Email Address options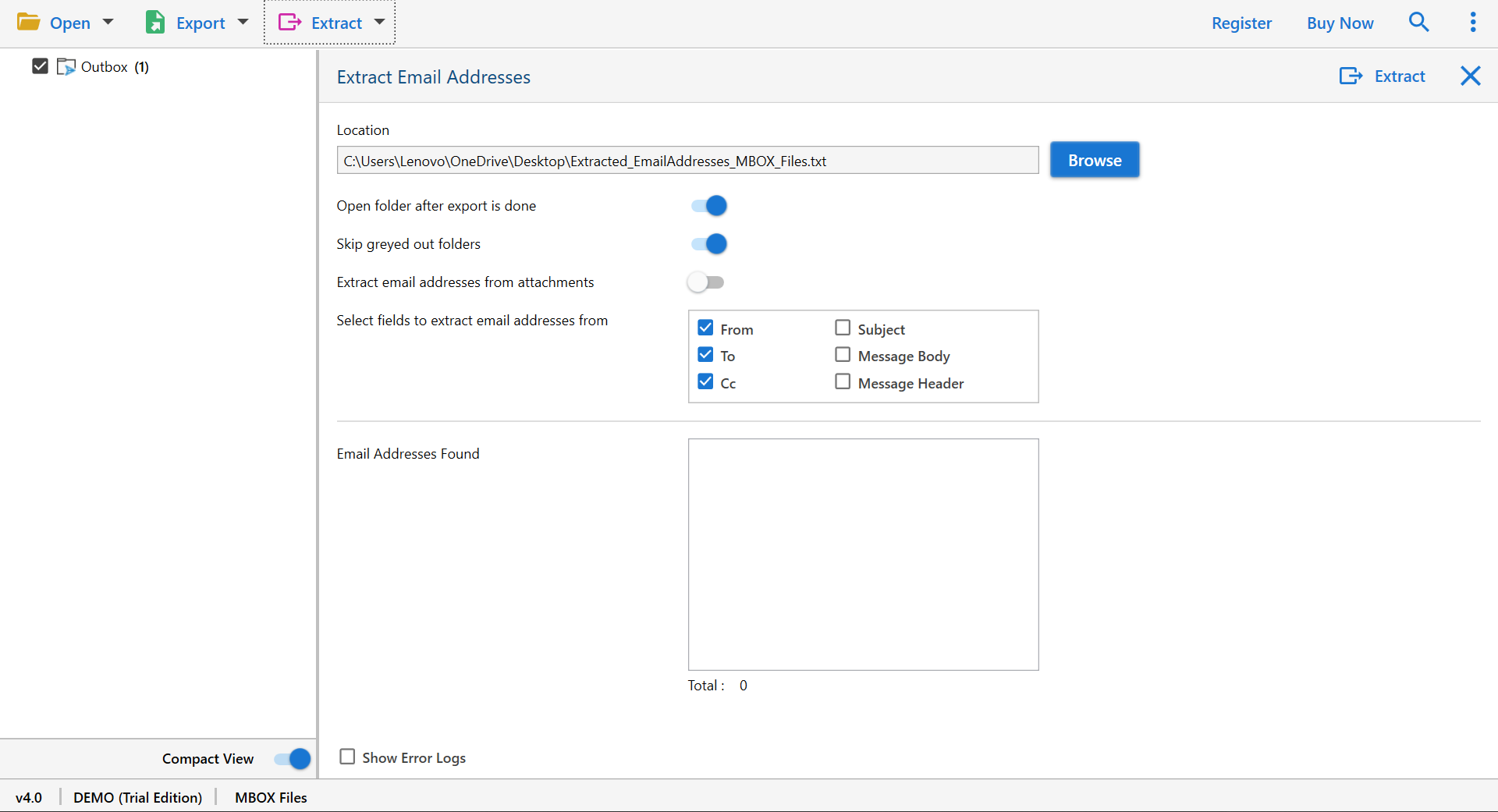 8. Select Extract to complete the process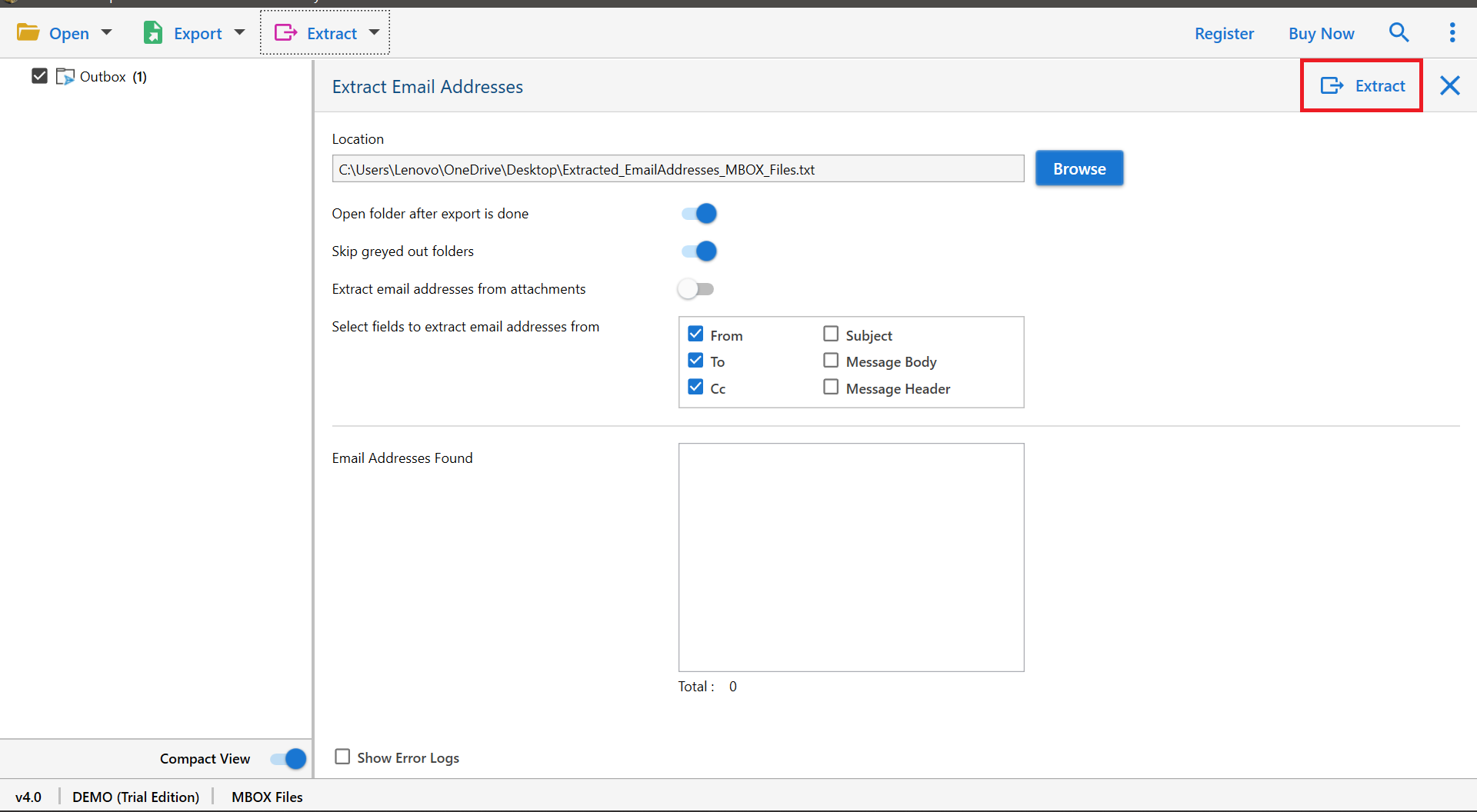 Noteworthy Features of Email Address Extractor
Corbett Software develops this tool to extract various items from MBOX files in a single go. You can easily take out bulk email addresses from the files and folders smoothly. This tool is especially for Windows users.
Wonderful Graphical Interface of the Tool
Tool's UI is the main concern of a user. Many tools have a technical interface that causes the users to understand. Non-technical users can not operate a technical interface without knowledge of the terms.
But this tool helps you to understand everything and can perform the process without the need for technical knowledge. The simple and easy UI maintains the balance between user knowledge and technology. You can perform the Extraction process without any hassle.
Free MBOX Email Address Extractor Tool
This tool enables you to extract MBOX email addresses from bulk files and folders for free. The tool offers you to perform the process within the first 10 files/ Folders. Try this free version to understand the tool's performance and Interface.
It Supports Multiple Domain Name
The tool is capable to provide you with multiple domain email addresses from the email files. And you can preview the founded email addresses before the extraction process.
An email address, such as nick.smith@example.com, is made up of a local-part, the symbol @, and a domain, which may be a domain name or an IP address enclosed in brackets.
Select Fields to Extract Email Addresses From
The automatic solution offers you to enable multiple options such as From, To, Cc, Subject, Message Body, Message Header. You can enable the options as per your requirement and need.
Conclusion
As a writer, it's my duty to guide you to the best solution to your query. In this blog, I covered the user's query on "How to Extract Email Addresses from MBOX Files". This automatic tool is best for your query it helps you more than you thought. With this tool, your work is done within a few minutes.