MBOX to Apple Mail Converter to Import MBOX to Apple Mail
Summary: In this article, we will explain the entire procedure of how to import a mbox file into apple mail using the best approach. If you are one of the users who are looking for a direct solution to import Mbox to Apple mail with complete mailbox data.
User Query
"Ques. Mail unable to import .mbox folder
Hi there, I was wondering if someone could advise me.

I've just done a clean install of el captain and my email account is now set up as IMAP rather than pop. All good. But on my old system mail had a filing structure 'On My Mac'

these folders and emails are very important and I expected to be able to simply import them but no.

I've tried all methods that I know, import as Apple Mail does nothing, as mbox says there are no valid mbox files. I've checked permissions, and deleted the envelope index, and let it rebuild. But, even tried importing them into Thunderbird, to export them again (this once worked)

But, the mbox folder in the correct directory in Library/Mail and rebuilt the index again. Still no.

Can please someone help. It's very important and I've spent too long today trying.

THanks
David Jones"
If you are one of them you are also stuck in the middle of MBOX to Apple Mail conversion then don't worry. Here, we will provide you with the Best MBOX Converter Tool to convert your mailbox files to mac mail without any hassle.
Try this Hassle-Free MBOX to Apple Mail Process
Download the tool and hit Open in the first tool
Select Email Data Files and click MBOX Files
Click Choose files and folder to upload Mailbox files
Hit Export and click IMAP
In the end, select Save to start the process
How to Import MBOX to Apple Mail Using the Best Approaches
Importing mailbox files to apple mail using the manual method is not beneficial at all. Because mailbox files contain all the subfolders and mail.
Manually Import Mailbox Files to Apple Mail
1. Open the Mail app in your mac mail
2. Then choose file and select import mailboxes option
3. In the list, select a source.
Read the information below the list, then click Continue.

Limitations of Using Manually Import Mailbox to Apple Mail
Didn't import complete MBOX files with subfolder
Accidentally shutting down can cause data loss
Bulk mailbox files can't import into apple mail directly
It takes days to complete the bulk import mailbox file to apple mail
Best Approach to Import MBOX to Apple Mail With Subfolders
Download this MBOX Converter tool to import mailbox files into mac mail without any limitations. With this tool, you can easily import bulk MBOX files to apple mail with a properly maintained file and folder structure.
Steps to Import MBOX to Apple Mail Using the Expert Tool
1. Select Open after installation of the tool in your Windows OS

2. Then click Email Data Files and click MBOX Files

3. Then choose the files and folders option to browse the files and upload the stored MBOX field in the tool's panel.

4. After uploading the files click the Export option and select IMAP from the drop-down options.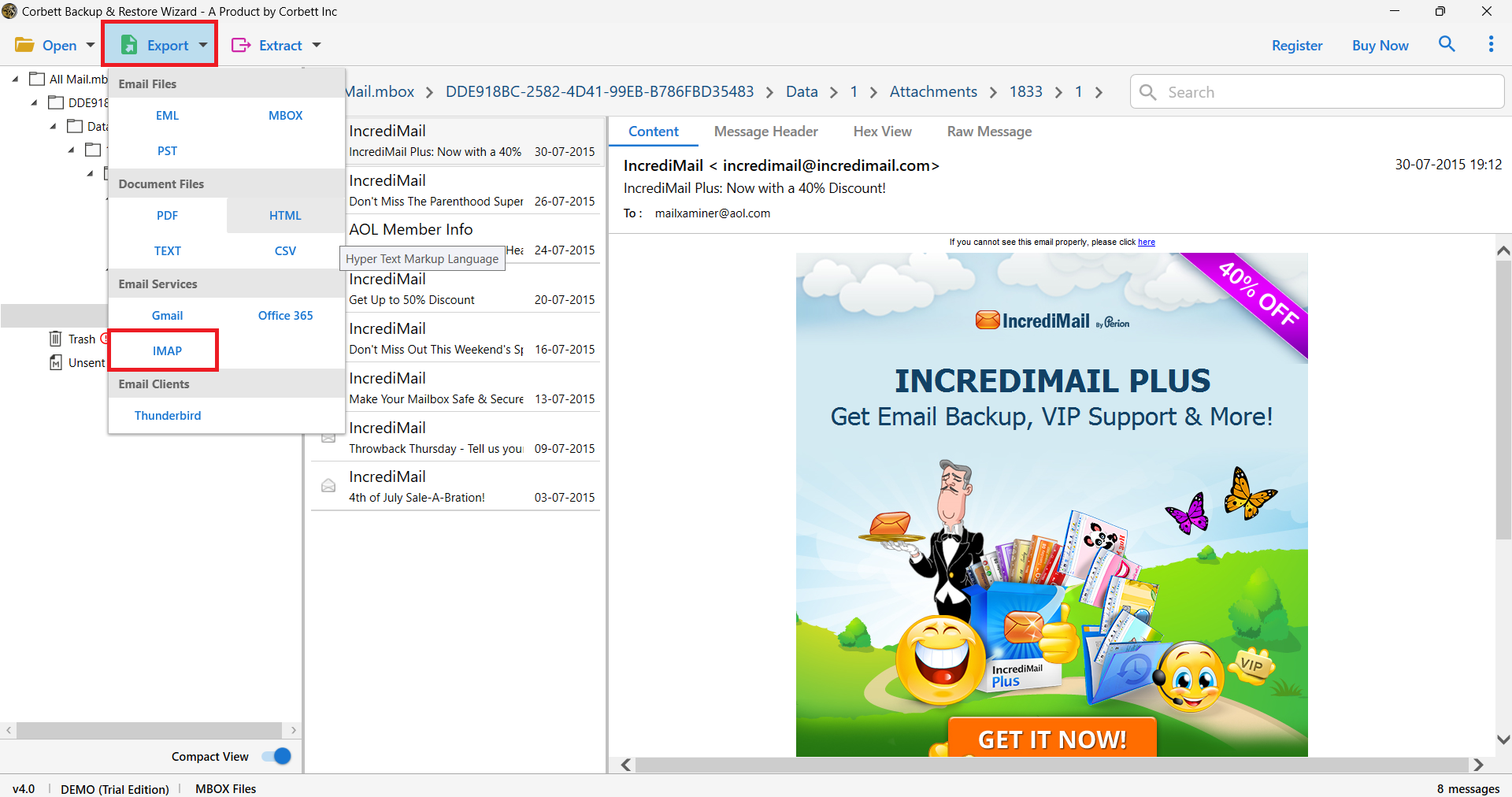 5. In the end, click Save in the IMAP Export options window.
The Advantages of this MBOX to Mac Mail Application
Ensure complete data security and safety when importing MBOX files
Using this utility, you can import data in bulk
With email attachments, import MBOX files to Mac mail
Showing error logs when converting Mailbox to Apple Mail
Displays only relevant folders when using Compact View
To search the mailbox file in bulk emails, use this quick search bar
There are multiple filters in the advanced search option
Users can preview mailbox emails in various modes
The option for extracting attachments, email addresses, contact photos, etc.
Free MBOX to Apple Mail Converter Demo Version
This tool provides you free demo version to export MBOX to Apple mail for free. Just to understand the functionality of the tool, and the straightforward interface is the most uniques feature of this utility. Also, the demo version only enables you to import the first 10 files and folder to mac mail for free.
If you want to import bulk mailbox files to Apple mail then you need to purchase the full edition of this utility. Then this tool is completely yours to import unlimited mailbox files to Apple mail or any other IMAP-supported email clients with complete Mailbox subfolders.
Author's Recommendation
In this article, we explained the best two methods to import mbox to apple mail with complete subfolder data. Also, we highly recommend you use the professional utility to import the mailbox files to apple mail with attachments. This solution is completely secure and safe, and it also maintains your complete mailbox file and folder structure.