How to Import MBOX to iCloud Mail With Complete Attachment
Summary: With the rise of Apple mail. Users looking for a solution on how to convert their previews data into Apple Mail. For example, read this below user query:
"Recently switched from Windows to Apple Mail. I used to use Gmail as my main email client on Windows, but now I use iCloud to store my email data. I used Google Takeout to export my account data from the Gmail application. Now I have MBOX files that I'd like to import into Apple Mail. Can you tell me the best way to import MBOX files to iCloud?"
Apple Inc. launched iCloud, cloud storage and computing service on October 12, 2011. From 782 million users in 2016 to 850 million users in 2018, the service had an estimated 850 million users
Due to higher popularity and security, many users want to switch their email data to iCloud mail. In this article, we are going to elaborate to you on how to import MBOX to iCloud with complete attachments.
Import MBOX File to iCloud Mail Using Expert Tool
Import MBOX to iCloud with complete security and safety. Because it is not an easy task to import a file format into an email client directly. But don't worry about the procedure because this Professional MBOX Converter helps you to import bulk MBOX to iCloud with complete attachments without any hassle.
You will get exact data in your apple mail with a complete maintained file and folder structure. This MBOX to iCloud Converter tool is simply designed with an advanced algorithm. A straightforward GUI helps you to understand the procedure step by step.
Start the Import MBOX to iCloud Procedure by following the below steps.
Steps to Import MBOX File to iCloud Mail
1. Open the utility after installing and select Open

2. Then select Email Data Files and MBOX Files from the drop-down list

3. After that, you can choose MBOX files and folders as per your need. This software enables you to upload single MBOX or Folder MBOX files.

4. In the next step, select an individual MBOX email to get a preview. You can preview emails in different modes.

5. Then, select the Export option in the top ribbon bar and click IMAP from the provided options.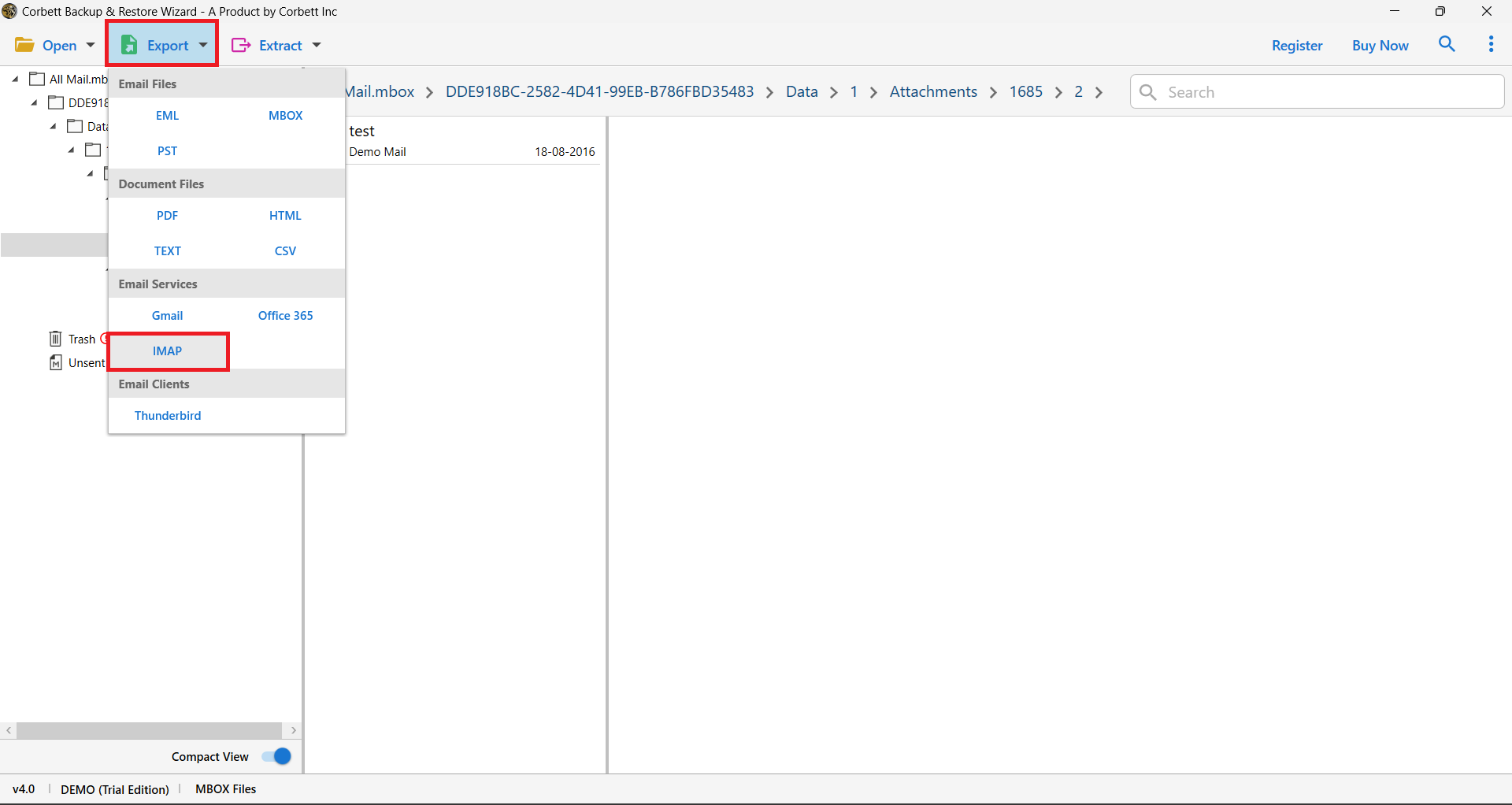 6. In the IMAP Export Options window, click the Save button to start the MBOX to iCloud process.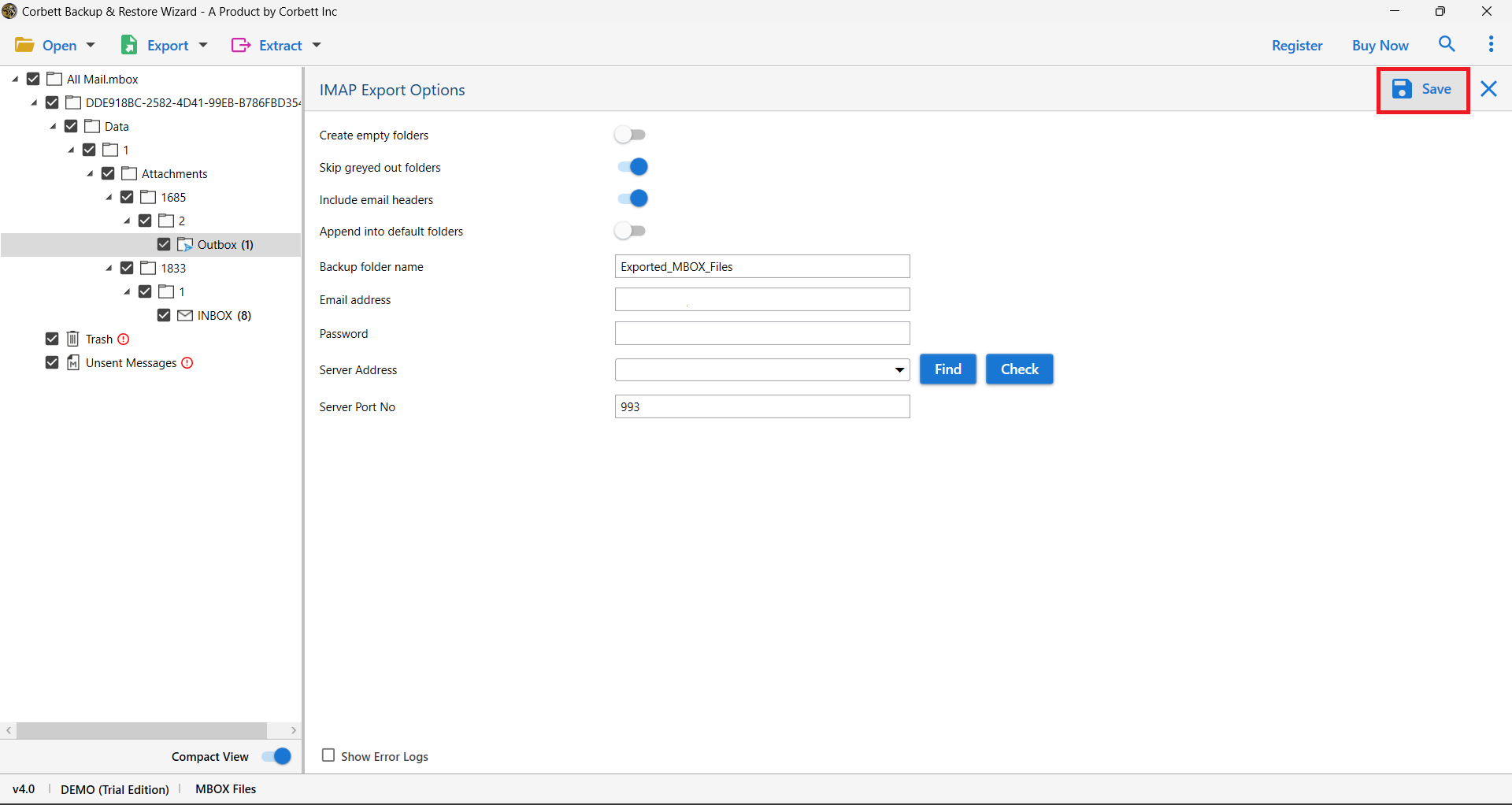 MBOX to iCloud Converter Features and Benefits
Fastest Solution to Import MBOX to iCloud: In Less than a minute your bulk MBOX files uploads in the tools panel. This MBOX to Apple Mail wizard is the fastest utility for uploading the data into the preview panel.
Double Mode to Upload MBOX Files in the Utility: You can choose either a single MBOX file or can choose a folder of MBOX Files. It is based on the users how much MBOX data they want to import into the iCloud mail account.
Supports all Email Clients MBOX Files: You can import any email client MBOX files to iCloud. Whether it's a Gmail MBOX file or any other Mailbox file. this tool supports all MBOX files and folders in the Import MBOX to iCloud process.
No Supporting Application is needed: To use this application you don't need to install any additional software. This toolkit is a standalone application that runs individually without any assistance.
Complete Security and Safety of your Data: This solution is completely safe and secure during the import MBOX to Outlook procedure.
Preserves the MBOX email properties: During the procedure to import MBOX files to iCloud, this tool keeps intact all your email attributes safe such as Sender details, Recipient details, Subject, Attachments, Inline Images, Hyperlinks, and so on.
Frequently Asked Questions
Ques 1: Is it possible to install this program on my Windows Server 2016 application?

Ans: Yes, the product works with all versions of Windows software. This application, however, can be used as a client-based application.

Ques 2: Is the email folder hierarchy maintained by the software during the process?

Ans: During the procedure, the program keeps the file structure and folder hierarchy of the MBOX email.

Ques 3: Is it possible to use this application to import four MBOX files to an iCloud account in one go?

Ans: Yes, the software allows you to pick multiple MBOX files at once using dual selection options.

Ques 4: Is it possible to use this program to upload a Thunderbird MBOX file to my iCloud account?

Ans: Yes, the wizard lets you easily import Thunderbird MBXO files into your iCloud account.
Author's Suggestion
We have previously explained how to upload an a.mbox file to an iCloud account. The above-mentioned technique is the most efficient way to reduce manual labor and save time. The MBOX to the iCloud application will safely transfer emails with attachments from MBOX to iCloud. Download the free trial version to evaluate the utility's functionality and dependability.
Read More Related Blogs:
How to Import MBOX Files to Office 365 Account With Complete Account Data