How to Import PST to Outlook with Emails, Contacts, and Calendar? Know the Step Wise Procedure
PST is the most compatible file format for Outlook to store email messages along with contacts and calendars. For various reasons, a lot of home and professional users are looking for a way to import PST to Outlook.
We understand that every bit of data is very crucial for any organization. Our blog team is always trying to provide you with the best solution for your technical queries.
Therefore, this blog will explore a manual approach to migrating emails, contact, and calendar from a PST file to an Outlook Desktop Application.
So, without any further delay, let's get started.
What's the Best Way to Transfer PST File to Outlook PC?
To move the PST file to the Outlook desktop edition, follow the number of steps for good.
Note: The procedure mentioned below is to transfer the PST file into the Outlook account on the assumption that you already exported the PST file from the source.
1) Launch Outlook. At the top of the ribbon bar, click on "File."

2) Select "Open & Export" from the left navigation pane and click on the "Import/Export" Wizard.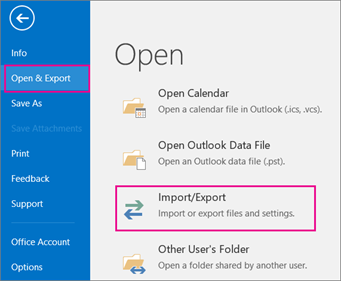 3) From the next window panel, select Import from another program, then click "Next" to continue.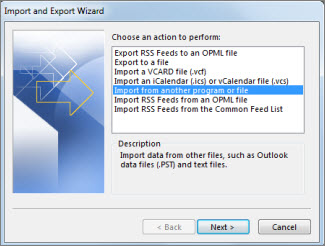 4) Select the Outlook data file (.PST) and click on the "Next" button.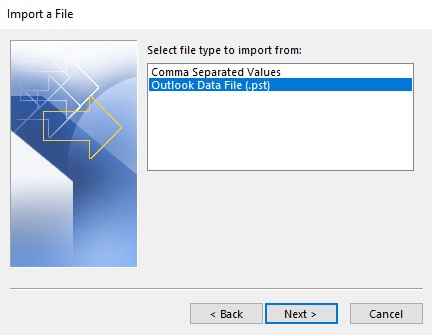 5) The next step is to browse the PST file from the machine and select the option as required. Click "Next."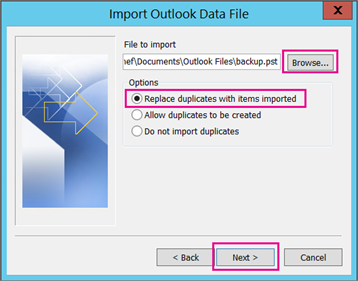 6) If you have a password-protected PST file, enter the credentials and proceed.
7) Select the appropriate profile from the imported Outlook data file and click the Finish button.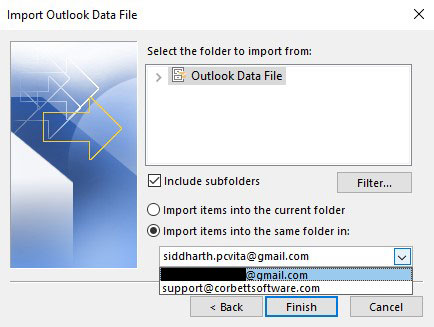 That's all for the steps to successfully import old emails into Outlook PC. Let's check out what type of data is imported into the Outlook application.
What Data Elements are Moved from PST file to Outlook Account?
The PST file is created when you export emails, contacts, and other data files from the source. Outlook makes a copy of the data in the PST format.
When you export PST from supported platforms, it includes emails with attachments. So, when you import a PST file to Outlook PC, you will get all emails with other files.
Outlook doesn't support extra metadata filters such as (Permissions, Auto-Archive, Block User List) So you won't be able to access them in your Outlook account.
When Outlook generates a PST file, it makes an exact copy of data (emails, contacts, and calendars), and there is no change in the formatting of data when you access the exported data in Outlook.
Also Read: How to Open PST File Without Outlook?
So There You Have It
This blog is a perfect solution for all users who want to import PST to Outlook manually. We have described a step-wise procedure with attached screenshots. So that you don't get in trouble, any user can efficiently perform the above steps to transfer emails, contacts, and calendars of PST files to Outlook Profile without any difficulty.
Also, Read Related Articles