Zimbra to PST Converter | Why There is a Need for an Automated Solution?
Summary: Are you thinking to export Zimbra mailbox to PST format? Then you are at the right place. In today's blog, we will explore how a user can easily convert Zimbra TGZ file to PST format. Also, we are going to explain a trustworthy Zimbra to PST Converter Software that lets users export data without any failure.
Zimbra is an Open Source Email Platform that lets users execute their daily activities on Online and Offline environment. In this competitive bearing, users are always inclined towards the application that meets their requirements. As a result, the data conversion takes place between two different platforms.
Both TGZ and PST formats are different from each other, and there is no direct option provided by both email platforms to accomplish this data conversion. Well, don't be discouraged. Our team has come up with a reliable solution, i.e., an Error Free Zimbra Converter Tool that allows exporting entire Zimbra data files to PST in a fraction of seconds.
So keep continuing with the blog post and follow several steps to export Zimbra mailbox to PST format.
Export Zimbra Mailbox to PST Format | Direct Solution
Before forwarding towards the solution section, download the Zimbra to PST Migrator.
1) Install and Run Zimbra to PST Converter Tool on Windows OS.
2) Now Navigate to Open Tab and Select Email Account.
3) Click on Add Account and Enter your Login Credentials.
4) The software will scan and fetch all the data stored in the webmail account.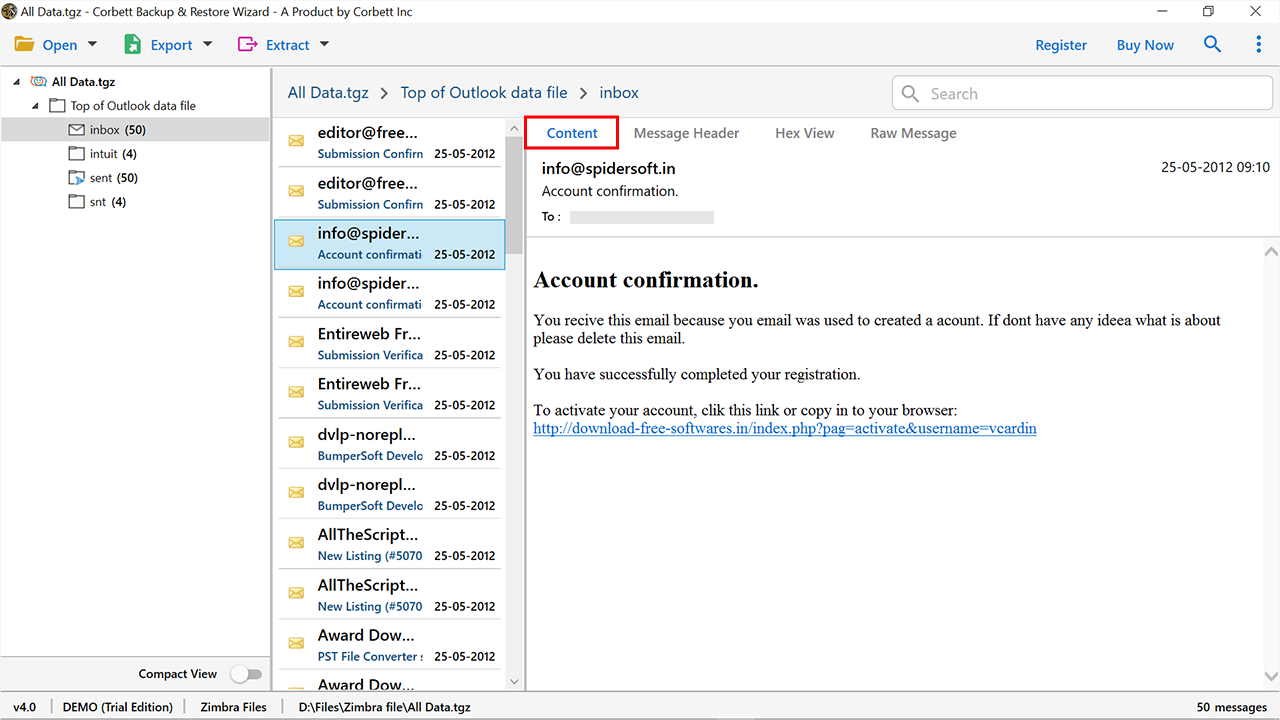 5) Users can preview and sort the email data with attachments.
6) Now, click on Export Tab and select PST as conversion option.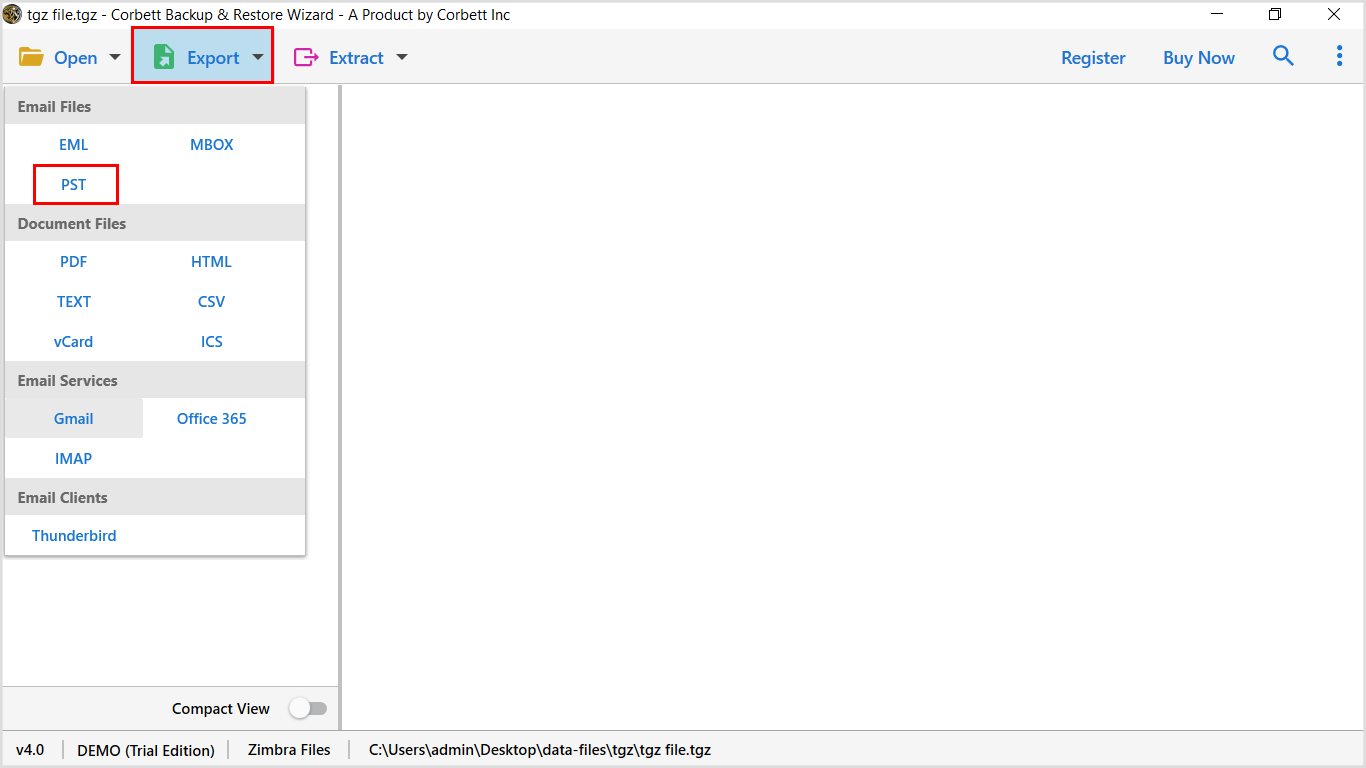 7) The last step is to apply the data filters and click on the Save button.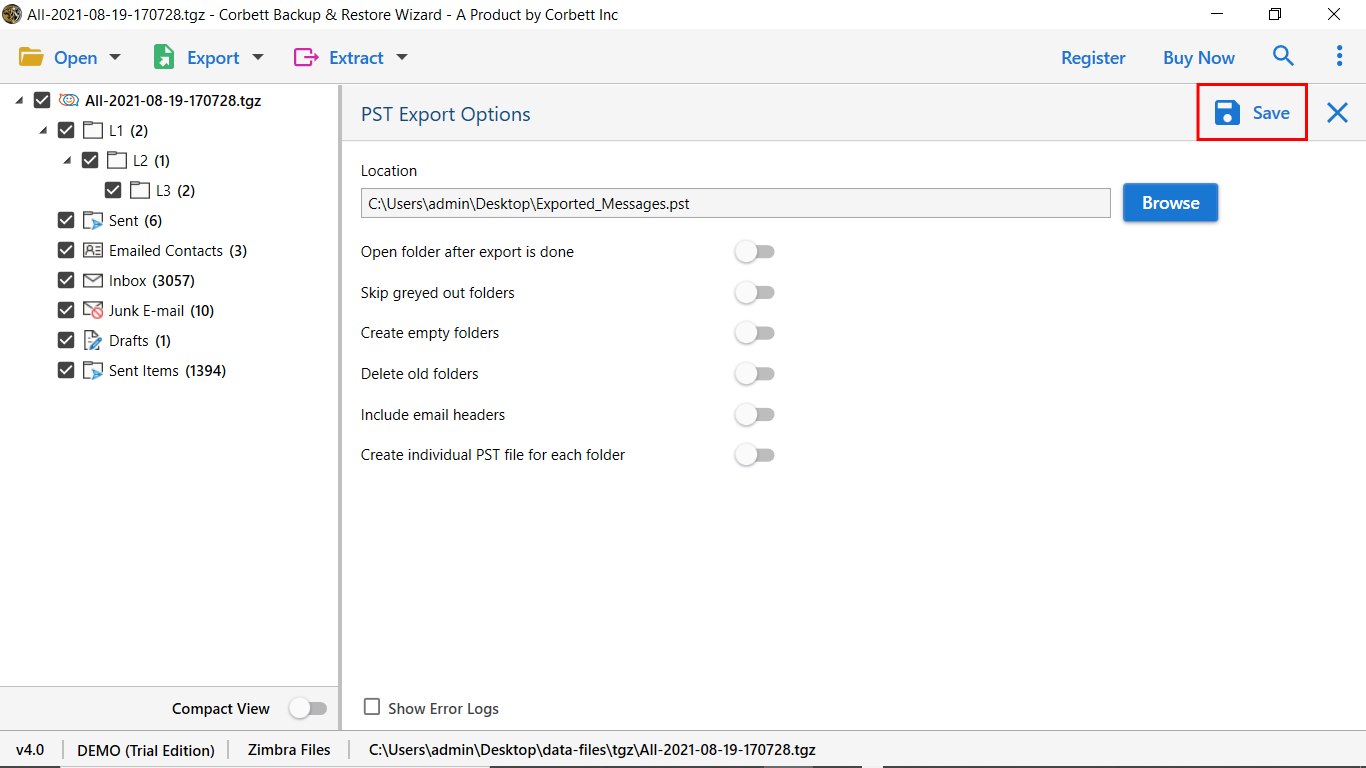 That's all now. The software will export Zimbra mailbox to PST format with all data attributes. Additionally, users can convert any size of data file in one go.
What are the Reasons Behind Data Migration?
You already get the procedure to export Zimbra TGZ to PST format in the above blog post. In the next section of the article, the user will know about the reasons for data migration from Zimbra to PST format.
Secure Platform: Microsoft provides a high array of protection and prevents email data from external attacks when it comes to data security.
Compatibility: When you import PST to any email application user will get device compatibility support. If you are using Zimbra On-premises, you can access your data files from network only.
Account Management: Zimbra Discontinued his desktop client services. It isn't easy to manage multiple profile data that can be a primary reason why users are looking for a way to export Zimbra mailbox to PST format.
Data Filtering: The spam filtering option is not efficient in the Zimbra application, and users will get all spam messages in the primary mailbox.
Why Choose Zimbra to PST Conversion Software?
The TGZ to PST Migration Solution is an independent program that let users to export Zimbra Mailbox data to PST format. Also, the conversion process of this software is easy to understand, and one can effortlessly migrate complete data files.
Moreover, multiple data filter options are available that let users migrate selected or bulk data files in a single round. Also, there is a demo edition of the software available that permits users to check the software's functionality without investing any amount. Users can download this automated wizard on all editions of Windows OS.
What Makes Zimbra to PST Migrator a Perfect Solution?
Support Multiple Mailbox Conversion: For large-scale TGZ to PST migration, the automated approach offers a batch mode that lets users convert multiple data files in a single go. Also, the software fetches all configured data files from the source location.
Single Folder Conversion: This mode let users migrate specific mailbox as per user requirement. Also, a date filter option is available that allows filtering emails based on the month, year, week, etc.
Retain Mailbox Structure: During the migration process, the Zimbra to PST converter preserves all data attributes intact from header source (From, To, Cc, Bcc, time, date, subject), body source (font, text, color, line, table, etc.), images, etc.
Works On Windows OS: The Zimbra to PST Migrator is programmed for Windows OS and can easily be accessed on 32 & 64-bit Machines. Also, it supports the latest Windows 11 and its older editions.
So There You Have It
The data conversion process from Zimbra to PST can be a complex task because there is no manual option available to accomplish it. Thus, to make this task easier for everyone, we have listed an all-rounder solution that is Zimbra to PST converter, a professional toolkit with multiple benefits. It's a recommended solution to perform all types of Zimbra conversion.
Next Read: